You're Killing Me Smalls
Hi friends!
Happy Tuesday!
Remember the movie the Sandlot?
Source
Well I pretty much lived the adult version of it last night.
First of all, I have probably seen the Sandlot more than any young boy my age that played baseball. It was ALWAYS playing in my house. I haven't seen it in years and could still probably quote the whole movie.
Of course Squints was my main man.
"FOR-EVVVV–ERRRR". If you grew up in the 90's chances are your vocabulary included saying forever the way Squints did.
Anyway, Tony played ball growing up and plays softball on a league weekly. He asked me to come watch. Of course I wanted to go! When I told G-Mama she said it brought back memories. She used to go watch my dad play when they were first together. Funny how history repeats itself huh?
It definitely felt like summer. It was warm out, the sun was shining, and fields were filled with people playing sports.
I just LOVE these pictures. The bright blue sky, green grass, and my #35!
It was fun to see Tony in his element. I know the gym Tony, so being introduced to different parts of his life is so exciting for me. It's like every day is a new adventure with us. Big or small.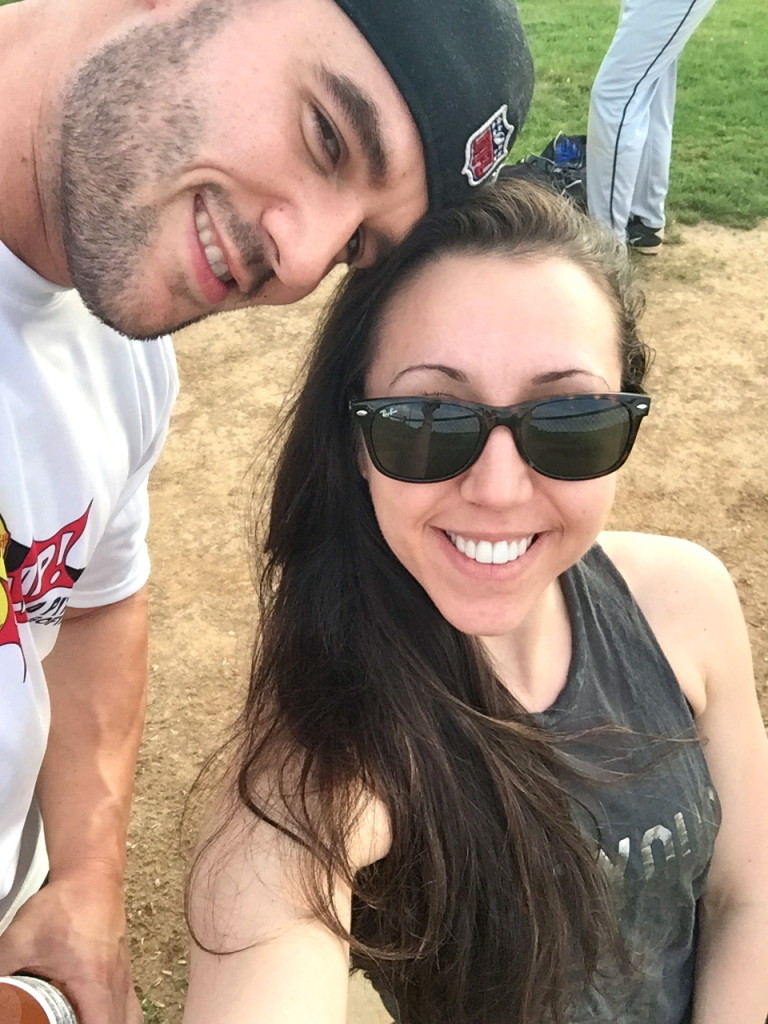 The sun was setting and it was BEAUTIFUL!
Out came the lights for some night time ball!
Life isn't always about when I am getting in a lift or my cardio. These are the moments I cherish.
Even more fun I can look back at this one day and "remember when". If you don't have a diary or journal I highly encourage it. This is sort of my diary, and I think it'll be awesome to read again one day when I'm old and gray. 🙂
Have a great Tuesday. I'll be back tomorrow with fitness things!
XOXO With a Cherry On Top,
-Minnie