A Girls Day for Beasts
Good Morning friends and HAPPY SATURDAY. Oh Saturday, such a lovely day!
Yesterday I had planned on sleeping in until 9:30am, but that didn't happen. I fell asleep without putting my phone on silent, so around 7am the texts that rolled through woke both Phoebe and I up. As I went to roll back over, Miss Buffay had plans of her own. She jumped on my chest (still sore from chest day mind you) and then decided to take her paw, claw at my bottom lip and open it up. Yes, my dog did that. Actually I should just start calling her the fluffy human. Clearly she is not a dog…
Freshly washed puppy blankie! Oh yeah….
After breakfast I dropped Phoebe off at G-Mama and Pop Pops and went to get my hair trimmed. I just had Tiffany straighten it since I knew I was heading right to the gym.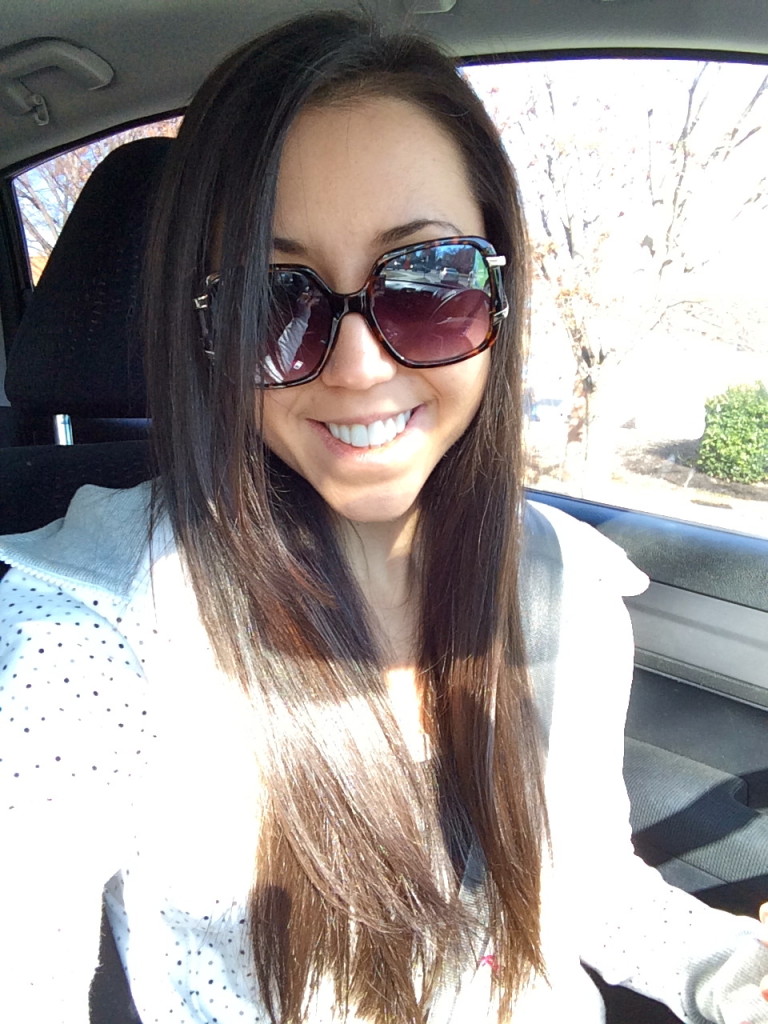 So shiny!
I met my girlfriends at the gym for a girls day, beast style! But first I had to fuel in the car. Look how fancy I am 😉
We usually do our own thing and then meet back for little things like abs and stretching. I tried to do the V ups with a kettle bell like the girls were doing, but my back would NOT handle it. I did some other things instead for abs.
And of course I tried to get a selfie shot. They look adorable and I have my eyes closed. Selfie fail.
Mary and I flexed it out later though in the locker room 😉
My gym session in the early afternoon consisted of a little bit of legs, the abs we did, and my big cardio session for the week. I did 25 minutes on the stepper (not step mill), 20 minutes on the treadmill doing HIIT, and then another 5 on the step mill.
Later on at home I decided to do legs in my apartment gym. 2 a days? Why not? I have the time!
I still have to work on my lower abs, but everything is getting there nicely! I tighten up and start getting a cinch in my upper abs first. 
The only place I normally wear gym shorts are at home, not sure why, I just don't feel comfortable in them in public. These are lulu of course! A clearance item I picked up in Portland.
Here's what I did for legs:
Smith machine squats, 50 added pounds, 12 reps x 4 sets
Stiff leg dead lifts with 30 lbs (just to stretch out legs), 10 reps x 3 sets
Walking lunges holding 20 lb weights in each hand, 10 reps x 4 sets
Plie squats, 30 lb weight in hands, 12 reps x 4 sets
Sumo squats, 15 lb weights above head, 10 reps x 3 sets
Leg extensions, 50 lbs, 10 reps x 4 sets
Leg press single legs, 65 lbs, 12 reps x 4 sets each leg
Stability ball wall squats, 15 reps x 4 sets
Booty bridge with feet on top of a small stability ball, 10 reps x 2 sets
And then I pretty much collapsed on the couch for a little bit before dinner. I couldn't do 2 a days all the time, it's an occasional thing. I prefer just doing one longer session than dragging my body to do round 2.
For dinner I needed a massive re feed, look at all these beautiful veggies 🙂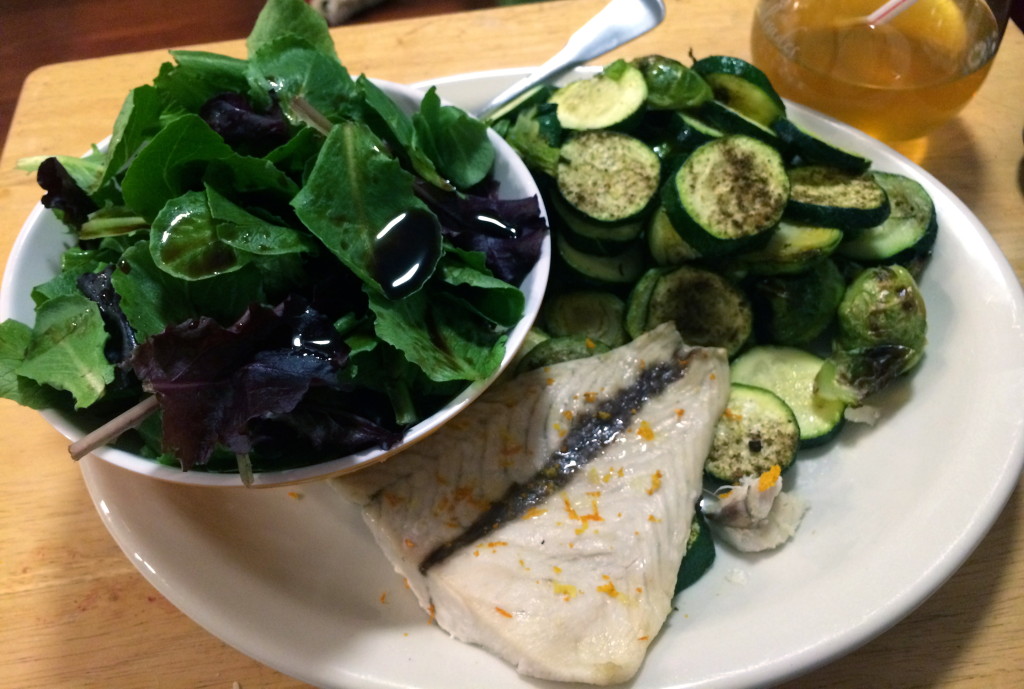 Veggies won't hurt you, eat as many as your little heart desires! I also like some green tea at night. I make huge batches for the week.
After dinner I played with some Christmas items including my juicer that attaches to Monana (pink Kitchen Aid).
Dad I will have to bring you some, it tastes amazing fresh! But man, two huge oranges and I got about 6 ounces. Makes you appreciate the jug full of OJ!
Then it was food saver time. I have to say it took me a while to understand what I was doing. I probably messed up the first one or so, then I thought is that how it's supposed to work? It vacuum seals SO tight, but I guess that's the point. Food stays fresh 5 times longer with this baby and I noticed my broccoli and lettuce needed to be saved ASAP since I haven't been using it.
This is kale. It was pretty fun using this thing.
I finished my night making some bison burgers for the week.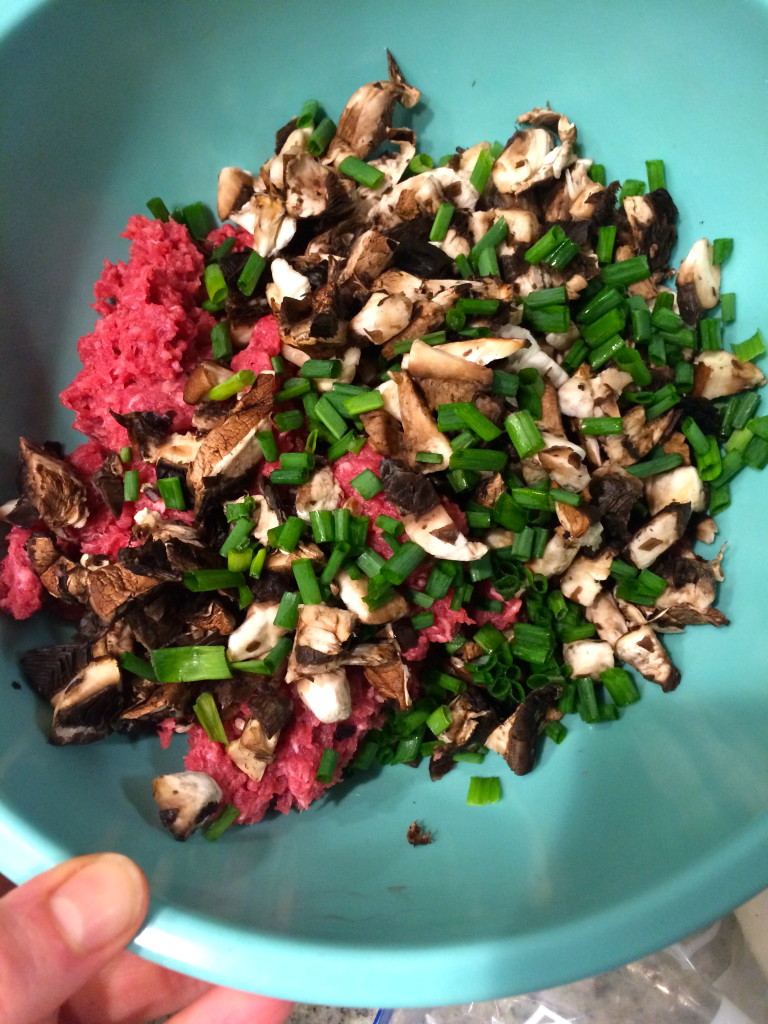 In here is chopped portobello mushroom caps and chives, that's it! I really like the flavor of bison to come through on it's own, so I don't do any spices.
Have a great day and don't forget to reach for the stars 🙂
XOXO With a Cherry On Top,
-Minnie