Cauliflower Chicken Nuggets
I love chicken nuggets! The little kid in me comes out. Really who doesn't love a little piece of chicken you can dip? The other night I was really craving some, but I didn't want extra carbs at night from the breading so I was looking for alternatives.
I peeked in my fridge and staring back at me was a huge head of cauliflower. I roast cauliflower all the time in the oven, could I possibly use this? I gave it a shot and it worked!
These nuggets are "breaded" in finely chopped cauliflower bits. I of course used a food processor to make little crumbs, along with some spices to make it like a true breading. So easy, delicious, and low carb!
For this recipe you will need:
2 large boneless skinless chicken breasts, cubed into nugget form
1/2 head of cauliflower
1 1/2 teaspoons of onion powder
1 1/2 teaspoons of italian seasoning
Dipping sauce:
2 Tablespoons of plain nonfat greek yogurt
1 Tablespoon of organic ketchup or Simply Heinz
1 teaspoon of honey
(Makes 20-22 nuggets, 2-3 servings)
Start by pre-heating your oven to 400 degrees Fahrenheit.
Cut your large head of cauliflower in half and break down into smaller size florets. They don't have to be very small, the food processor will do the work for you. Place in a food processor with the spices and give it a whirl! Mix until finely chopped and you have cauliflower bits.
Slice your chicken breasts into cubes and lightly spray with extra virgin olive oil
Take each piece of chicken breast and dip into the cauliflower mixture. You almost have to mold the cauliflower to the chicken. It will press on nicely. Continue until all nuggets have been coated.
Line a pan with tinfoil and give it a quick spray. Place nuggets on the tray and cook for 40 minutes or until the cauliflower has browned.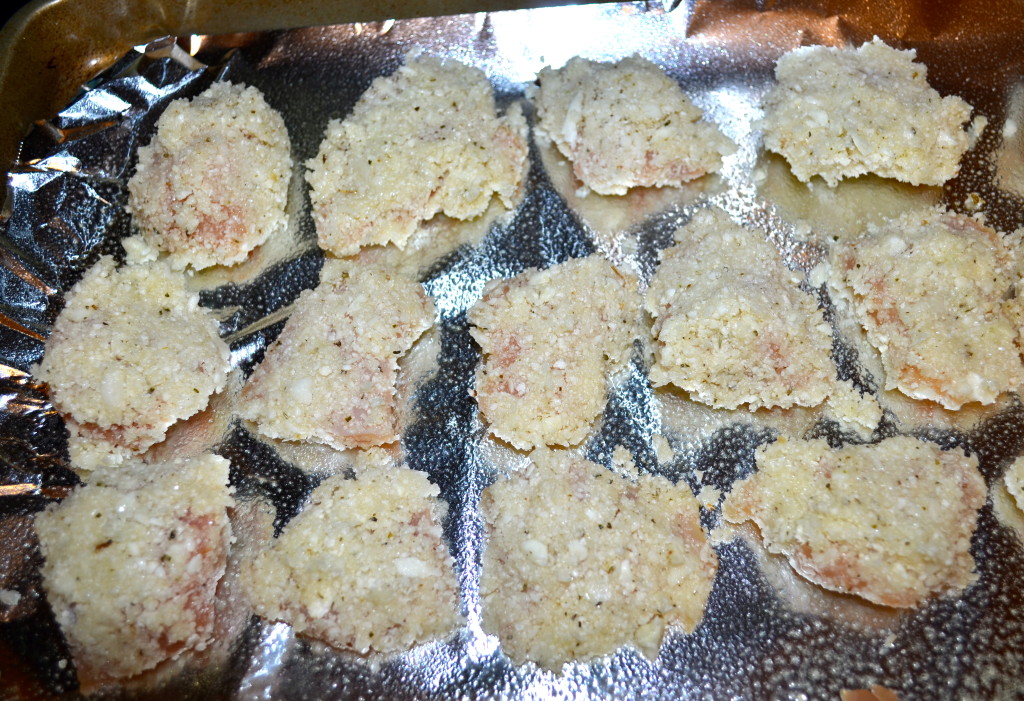 In the meantime mix together the dipping sauce. The ingredients sound weird, but it's quite delicious! Ketchup, greek yogurt, and honey! Little sweetness and tang 🙂
And in 40 minutes you have low carb nuggets!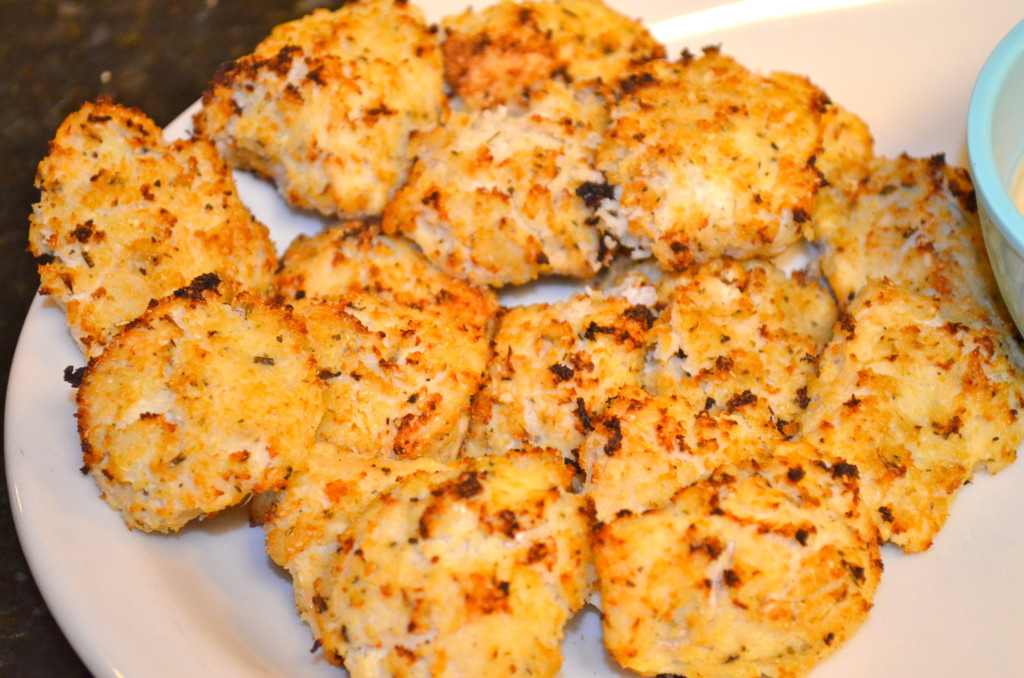 This makes 2 servings. Each serving has: 260 calories, 2.2 grams of fat, 4.2 grams of carbs, and 54 grams of protein! If you eat less nuggets than I do (I like a lot… no surprise here), and divide this into 3 servings, you would be around 173 calories, 1.46 grams of fat, 2.8 grams of carbs, and 36 grams of protein.
The dipping sauce has: 48 calories, 0 grams of fat, 7.3 grams of carbs, and 3.1 grams of protein.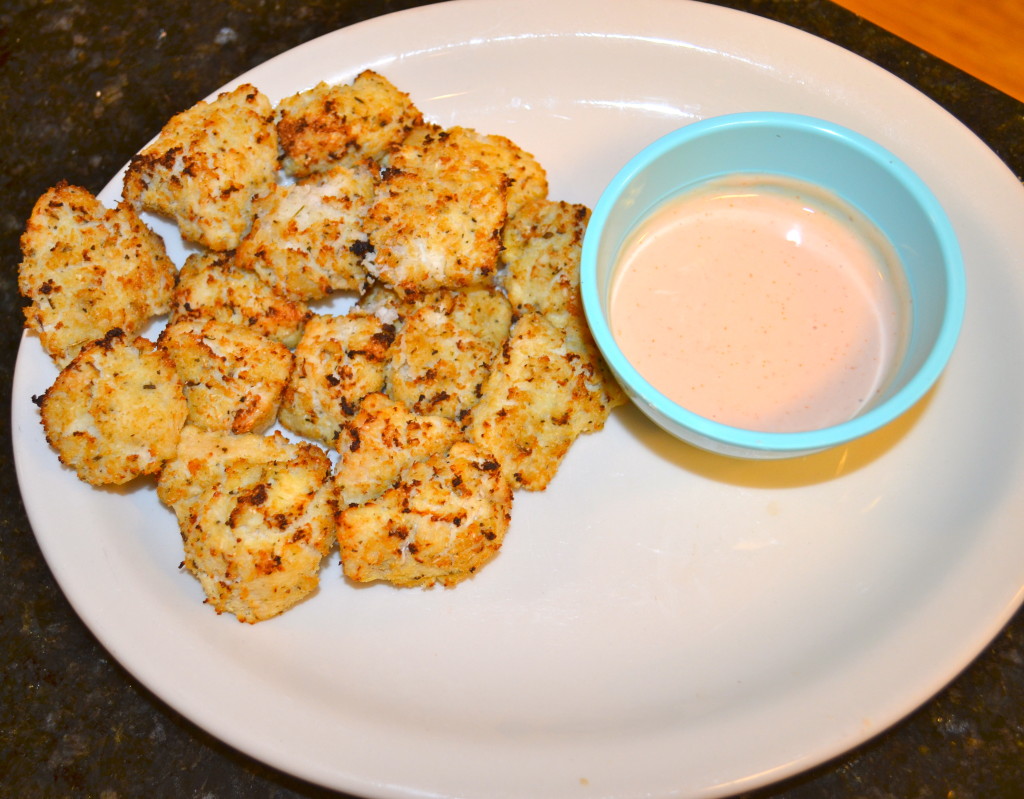 Compare these to fast food nuggets which have up to 500 calories a serving, and 29 grams of fat!
So make these cauliflower nuggets instead. Your waist will thank you later 😉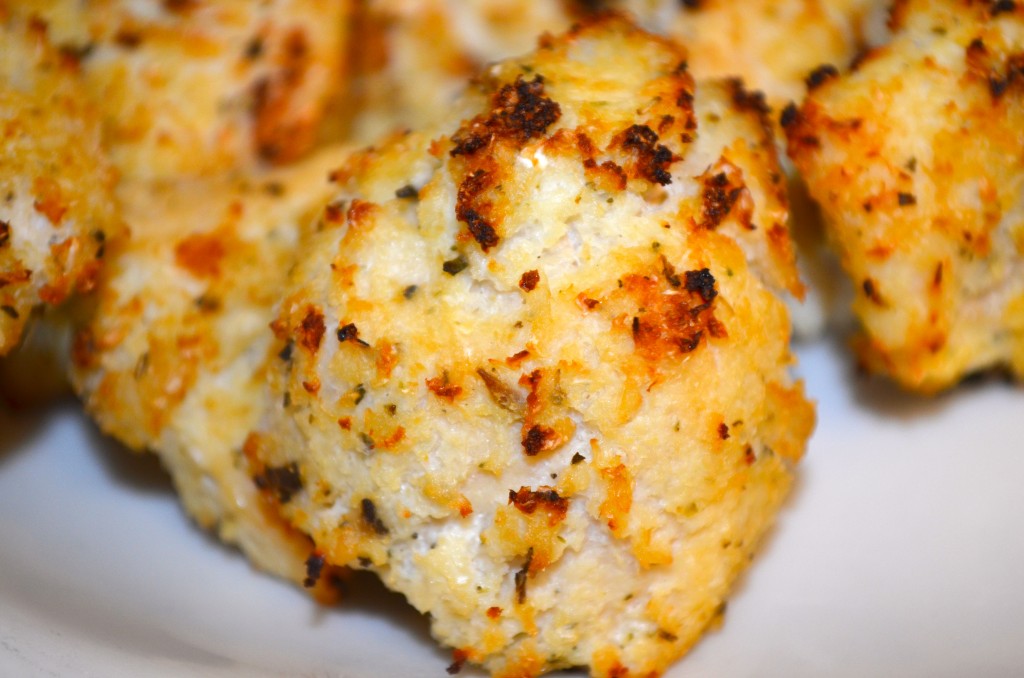 Happy eating…
XOXO With a Cherry On Top,
-Minnie