Cherry Cherry Boom Boom
Welcome to Saturday!
I've been waiting for this day because I have plans to workout early, then do some blog work and some heavy napping/lounging.
Even though I mentioned this my last blog, I have now officially picked a date for my next show! November 2, 2014! One of the biggest NPC shows of the year for my area. It's at a theatre where they do off broadway shows, YIKES! I have about 19 weeks to bring an amazing package and I plan on working hard to get there. I also might do a show 2 weeks before, depending on how things go, but my official show that I'm working towards will be the NPC Jay Cutler Baltimore Classic. It's going to be very difficult for me to place, coming in as a newbie in the NPC, but I'm going to try my hardest! I've already picked my suit color too 🙂
Here's the thing about these shows. You have to respect the hard work that goes into them. Are they my style? Not really. I don't feel like I fit in with the "meathead" crowd at all. It kind of reminds me of the popular kids in school. I'm not out hanging with the so called "cool kids", I'm really just sitting at home, blogging, or watching big brother repeats on DVD (yes all of those things happened last night on a Friday evening). I know I talk about these shows a lot on my blog, and it is a big part of my life, but if you're interested in doing them and don't feel like it's truly "you", well take a look at me! I'm just a regular book worm in a teeny little bikini 😉 So you're not alone if you feel like it's not your style. Do what makes you happy and if you don't want to socialize and mingle with the other bodybuilders, you don't have to! If I had to choose bodybuilding things over blogging, I'd drop bodybuilding in a second. The shows are my hobby, but my writing is my passion!
Moving on,
Yesterday I went to Wegmans, you all know this is my happy place! It was a beautiful day out. Windows down, sunglasses on, mesy top bun, and a cappuccino!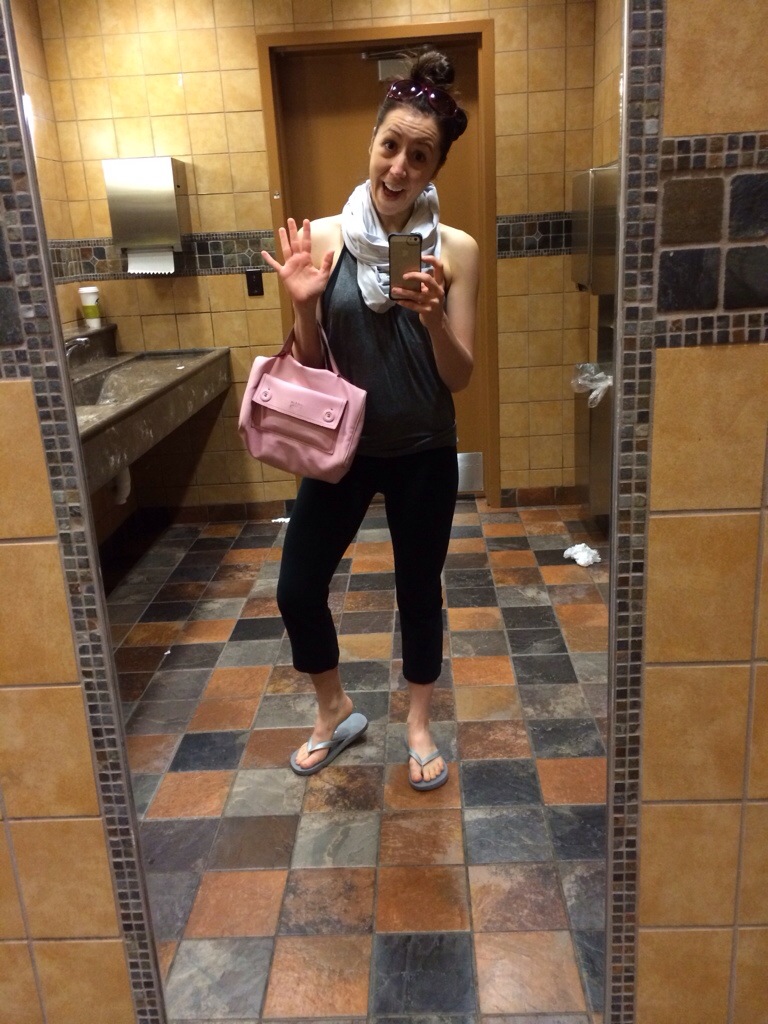 Shameless Wegmans bathroom selfie
I was very excited to find some yummy cherries (that I paid more for than I'd like to admit).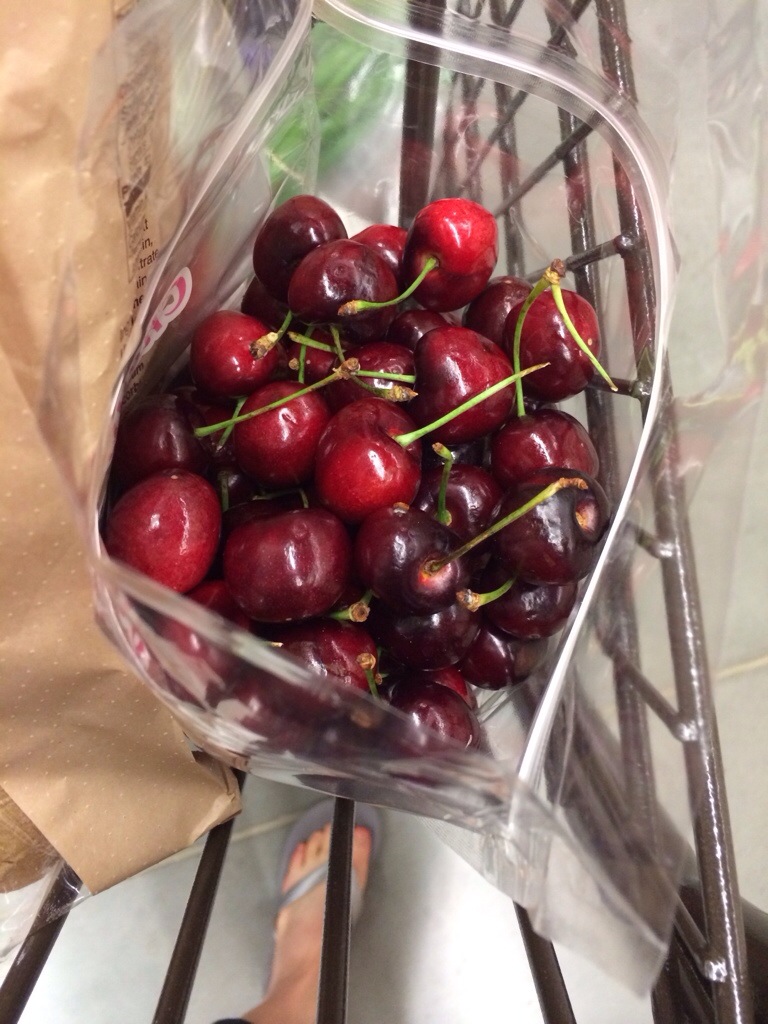 June is the BEST month of the year for fruit! Cherry season hits its peak (usually there is a 2 week window and it's approaching). These are pretty good, but not at the peak yet. I still couldn't help myself, I ate way too many. This happens every year. The anticipation of the season, then I can't stop eating them! Hey, you only have so long to have them 🙂
In the evening I went looking for a plug for my iPad keyboard. I started to rummage through old purses and purse after purse I collected cash!
$146 to be exact
HOLY COW! Phoebs we struck it rich!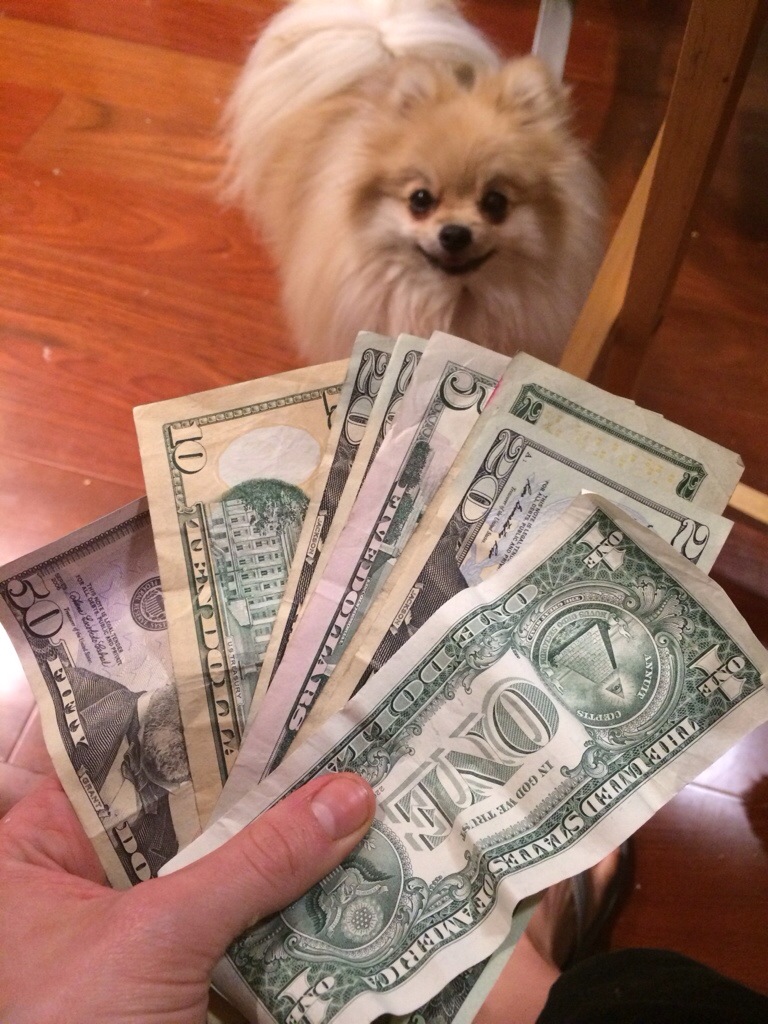 Okay maybe not rich, but now I don't feel so bad about spending that cherry money.
So what am I doing with this money I didn't know I had? Well at first I said I'm heading to lulu! Then I said nope, I'm putting it away and I'm going to buy myself something nice in Savannah that I really don't need but want 🙂 Sounds like a good plan to me!
——-
I'm off to work on my e-book a little bit, but since yesterday was National Donut Day, I have these lovely donuts I shared on my instagram page yesterday! Recipe after the jump 🙂
XOXO With a Cherry On Top,
-Minnie