Crazy Bright Weekends
Good Morning and Happy Saturday. Pretty much everyones favorite day of the week, I think most would agree. Although I tend to be SUPER boring on weekends. I've never been one of those people that go out and get crazy when Friday hits. Crazy for me would be a dinner out or actually leaving my apartment. Some people are just not meant to be a social butterfly. And by some people, I mean me.
Like I mentioned yesterday, I slept in with the pup super late. We got up, I made a fluff, and then I traveled over to Starbucks since I was completely out of coffee. I ordered a large iced coffee, black. When the girl went to put half and half in it I pretty much jumped over the counter and said "NO! NO CREAMER!" She stopped, I apologized for being a freak and snapping.. whoops, and I took my drink back over to my apartment.
Since dairy has been EVIL to me lately, I decided instead of plopping in some of the creamer I love, that I would do soy milk at home too (usually at Starbucks I do soy). Not only did my stomach thank me later on, but it tasted better to me than the creamer. Less artificial! So bye creamer, you will be replaced with soy from here on out 🙂
Oh and did I mention that was the only coffee I had? Same for the day before. One large coffee and that's it! I've really cut back and my body is agreeing with it a lot more. I was drinking way too much.
Phoebe and I then headed over to G-Mama's. Since it was Friday, Bella stopped by after school and we went outside to walk the pups. Well "walk" means a quick potty for Shelby. Bless her heart, she's not really into walks. Phoebe loves it though!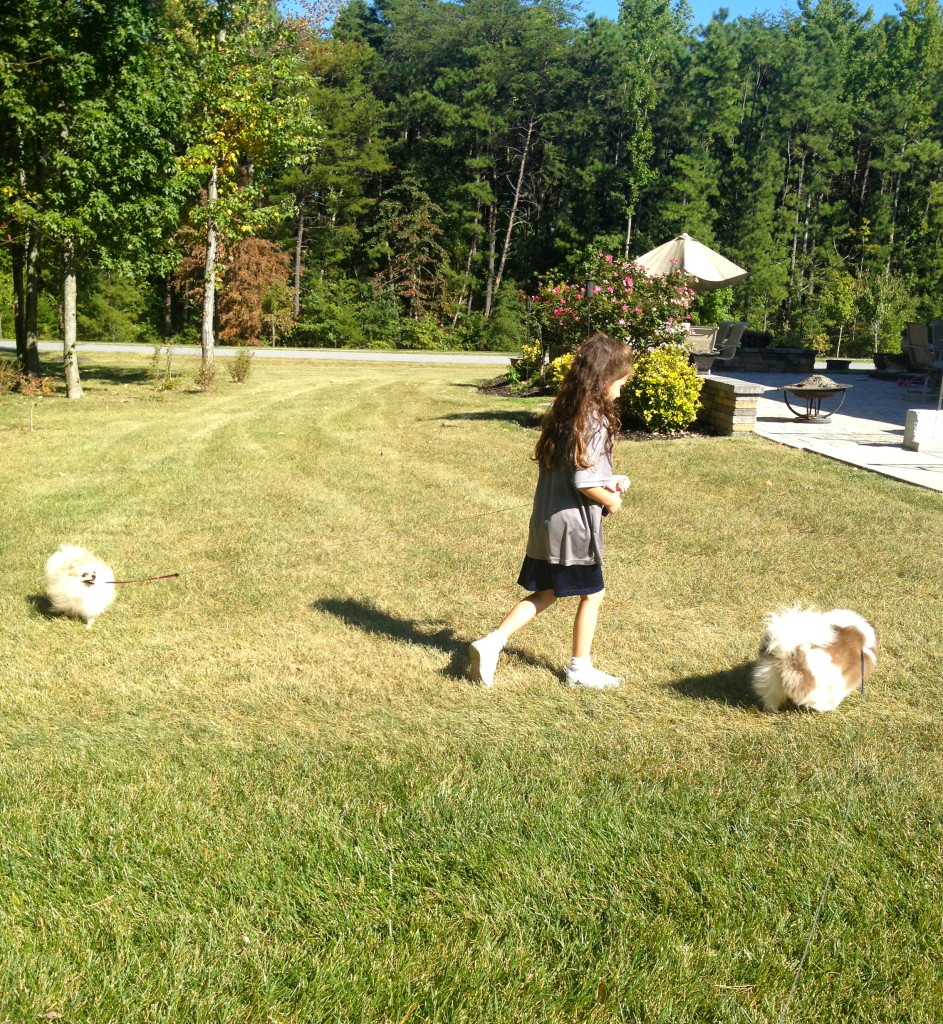 Bella took Phoebe and I walked Shelby.
Then they got a bit tangled. Bet you can't guess it's always my dogs fault 😉
My girls!
Then I went to the gym for a nice long session. I started with a 3 mile run on the treadmill. I've been liking the treadmill lately huh? It really kills my legs since I'm not used to it. Feels good to switch things up. I ended up walking to 4 miles and then hit some shoulder and back work, working in the beautiful booty booster work for the day too.
Cable upright rows, 40 lbs, SLOW, 12 reps x 4 sets
Underhand grip cable rows, 70 lbs, 10 reps x 2 sets, then OVERhand, 80 lbs, 10 reps x 2 sets
Shoulder shrugs, 95 lbs (smith), 12 reps x 4 sets
Deadlifts, 95 lbs (smith), 8 reps x 3 sets
200 squats! I did about 80 weighted, others free. (split into 10 sets)
50 booty bridges, weighted with a 35 lb plate (split into 3 sets)
Lat pulldowns with barbell behind neck (works the traps!), 44 lb bar, 8 reps x 4 sets. These killed me. 
Rear delt raises, 25 lb weights, 10 reps x 4 sets
Front plate raise, 35 lbs, 10 reps x 3 sets
I love vascularity!
I also did 20 minutes in the spin room and some stretching!
Busting out those hot pink pants again. My sister said to me yesterday "wow those are bright".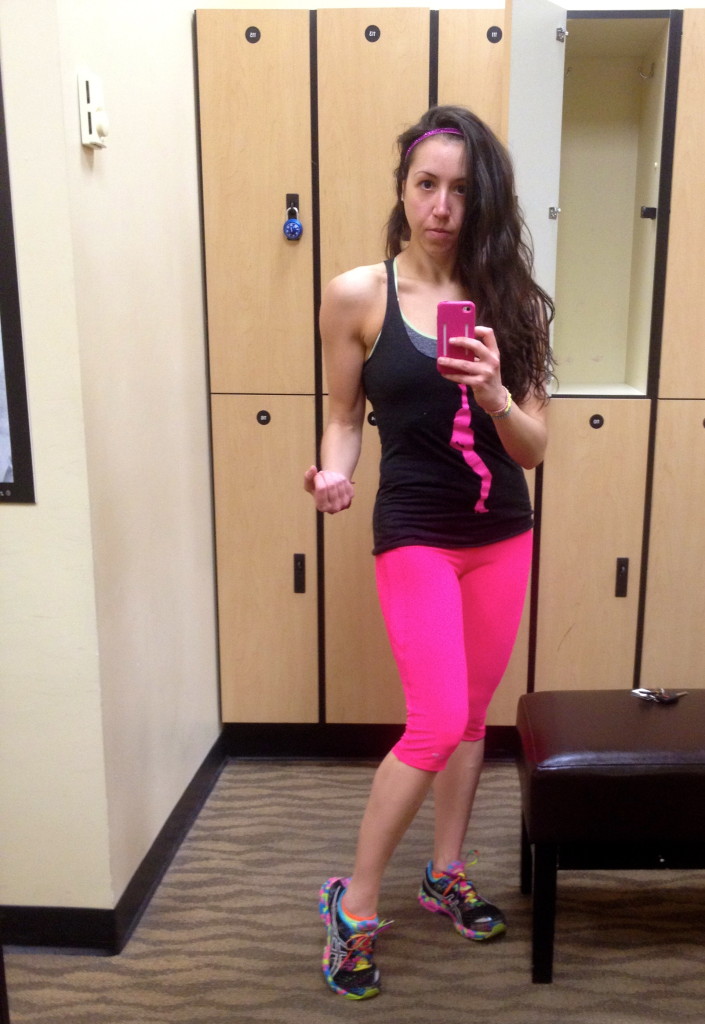 I look very dead tired and unhappy here… but I think it was just a bad pic! I had a killer workout and felt great when I finished.
Yesterday I forgot to post the next round of our booty workouts. So here is what we are aiming for today:
The reverse booty pikes are basically a name I made up because I don't know what else to call them. Here is a picture of them:
The scissor planks are regular planks on forearms, but you alternate lifting your feet and scissoring them out. Do 3 sets of 20 to make 60. You will feel it in the outer side of your butt 🙂
Lookin' good! And Phoebe chomping her bone, she cracks me up.
Today I am hoping to work on a new recipe or two. I'm craving something Asian influenced! But I really don't want to go grocery shopping, I have food in my fridge and cupboard to get rid of first.
Enjoy your Saturday and get your booty moving 🙂
XOXO With a Cherry On Top,
-Minnie