Deconstructed Sushi Bowl
Sushi! Delicious!
If you go out to a sushi restaurant, yes you could probably stick to plain pieces of raw fish and rice, but chances are you are going to splurge and have the shrimp tempura roll. Fried, greasy, and not waist friendly.
Even if you are a good little boy or girl, it's still white rice, so not really clean eats. Plus, your wallet will hate you when you could have just made a cheaper and better version at home!
I miss sushi, so I had to come up with a way to get the sushi taste, but keep it as clean as possible at the same time. This recipe is "deconstructed" because it's all the parts of a sushi roll, but in a bowl instead. I'm not a sushi chef, and let's face it no matter how hard I were to try to roll it, it would never look like theirs!
So here's a fabulous sushi dinner, perfect for a little date night at home 😉
For this recipe you will need:
-6 large shrimp (deveined and peeled)
-3/4 cup of cooked brown rice
-1/2 cup of chopped carrot
-1/2 cup of peeled and chopped cucumber
-1/4 cup of shelled edamame
-2 large asparagus cooked and chopped
-1/2 small avocado
-1 Tablespoon of toasted sesame seeds
-a splash of low sodium soy sauce (this is considered a clean food if you use a little bit)
-1 Tablespoon of extra virgin olive oil
-1 teaspoon of wasabi powder
-1 sheet of nori seaweed paper
-2 thinly sliced pieces of smoked salmon
-pepper to taste on the shrimp
This looks like a lot of ingredients, but basically it all goes in a bowl!
Start by cooking your shrimp. I used the olive oil here and a little pepper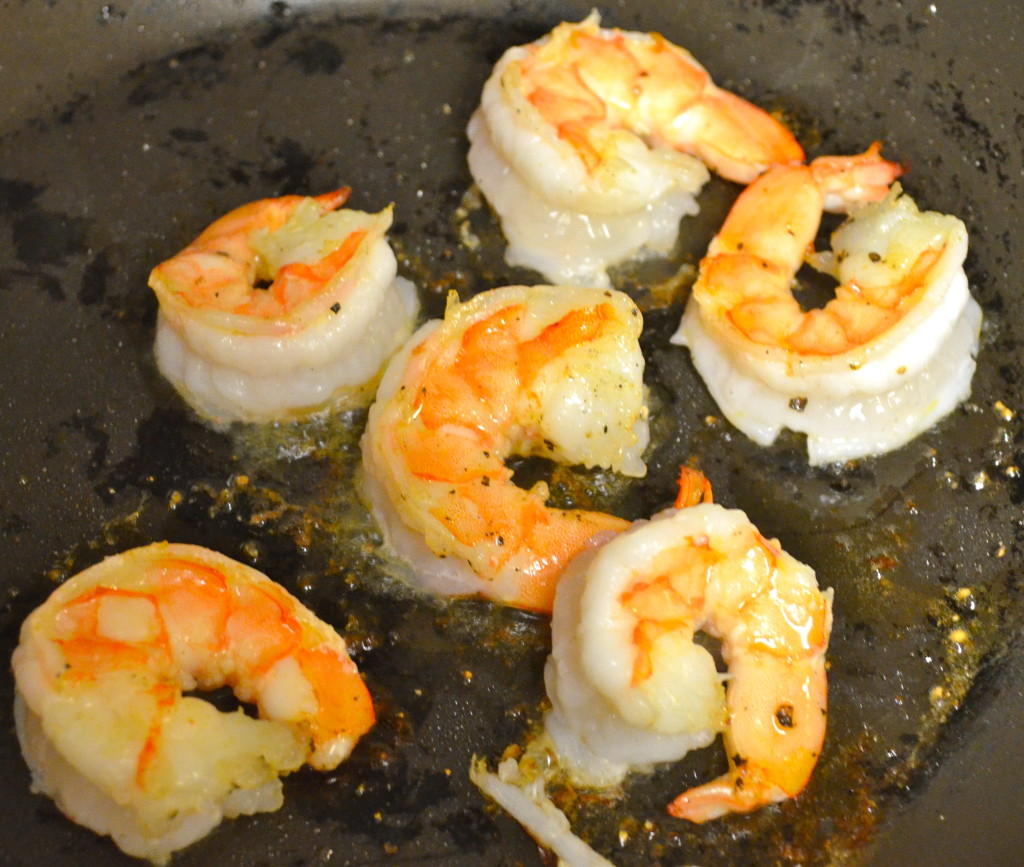 After the shrimp was cooked, I plopped in 2 asparagus spears (sorry I didn't take a picture), and then chopped them up, along with the shrimp.
My rice was already cooked from the big pot I made this week meal prepping. So I just added it to a bowl.
Next chop your carrots and cucumbers
I then get my Nori ready. Nori is toasted seaweed sheets
They are hard and crinkly, so I moisten mine a little with water and then chop it up!
Add the nori to your rice bowl
Next I just add everything in (carrots, cucumbers, asparagus, shrimp, edamame)
And I splash a tiny bit of low sodium soy sauce in the bowl and stir. Then sprinkle those sesame seeds!
Slice your avocado and smoked salmon and place on top
Finally prepare the wasabi. You take a teaspoon of wasabi powder and add a little bit of water until you have a wasabi paste!
Just place a little bit on top and you have a great deconstructed sushi bowl!
And then all mixed up a bit to get a little bit of everything 🙂
The perfect bite!
So skip the restaurant and have it at home 🙂
Happy eating…
XOXO With a Cherry On Top,
-Minnie