Easy Oreo Bark
Hi friends!
I hope you had a great weekend. I'll get to mine tomorrow, but since I'm short on time right now I thought I'd share the recipe I made this weekend!
Warning: this isn't healthy.. HOWEVER, it's a great party dish to bring to events when you don't have a lot of time, but still want to bring something homemade.
I give you Easy Oreo Bark- 2 ways.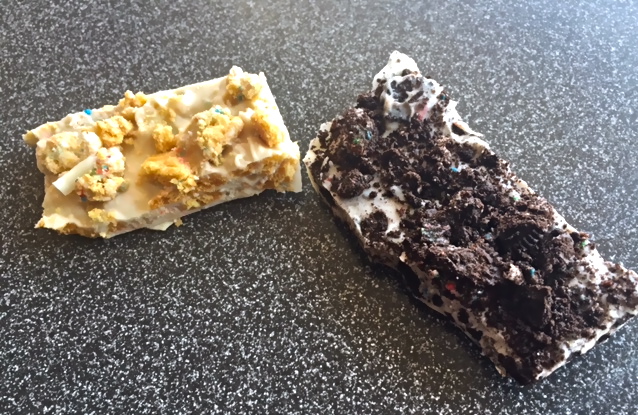 Here's what you'll need:
2 bags of white chocolate chips
1 package of Birthday Cake Oreos (or Oreo of choice)
1 package of Golden Birthday Cake Oreos
Simple right?
Melt the white chocolate chips using a double broiler. Here's what I do: a pot with boiling water, then on top a stainless steel pan that covers the pot. Pour the chips in the pan. I did one bag at a time since I wanted to make two versions. Plus, doing one bag at a time you can make sure you don't burn the chocolate.
Crush about 2/3 of the package of Oreos in a ziplock bag. I left the Oreos a little chunky.
Source
Line a baking pan with tinfoil or parchment paper. Sprinkle half the crushed Oreos on the pan, then pour over the melted white chocolate. Spread out the mixture evenly, then top with more crushed Oreos. Refrigerate for 30 minutes. It doesn't take long! Repeat the process with the other type of Oreos. So simple, this takes about 5-10 minutes! You really can't mess it up.
Once it's cooled and has hardened, break into bark sized pieces and enjoy. Hopefully it'll make it to the party the next day. I kept sneaking pieces 😉
I LOVED the Golden Birthday Cake bark because it tastes like Birthday Cake! You all know that is my favorite treat in the world.
Labor Day is next Monday so try bringing this to your cookouts! It certainly went at Tony's moms house 🙂
I hope you enjoy!
Happy eating…
XOXO With a Cherry On Top,
-Minnie