Edible Peppermint Candy Serving Tray
I cannot take credit for this one. It's from ABC's The Chew 
I watch The Chew every single day. If you aren't watching, it's pretty much like The View or The Talk, but focused around food, recipes, and living. Pretty much my idea of a dream show. I'd love to go to a taping one day, or as G-Mama says "Dream Big", I'd love to be on it! Okay, I'm gonna dream BIGGER and say I wanna be a co-host. Watch your back Daphne Oz! (she's adorable!)
Anyway, this isn't a recipe. Really, it's more an edible CRAFT! I saw this on the show the other day and just fell in love with it. Clinton Kelly is a craft God, and he has the best ideas! Way better than pinterest. I knew when I saw this I had to do it for my family's annual Christmas Brunch (this year it's on Christmas Eve)
For this recipe/craft you will need:
-2 packs of peppermint candies (get the cheap ones with the white circle in the middle!)
-a cookie sheet
-parchment paper
Preheat your oven to 350 degrees Fahrenheit
Grab your cookie sheet and line it with parchment paper
Next line up your peppermint candies on the sheet. You need to space them about 1/4 of an inch apart so they will melt into each other nicely. Keep some space around the edges!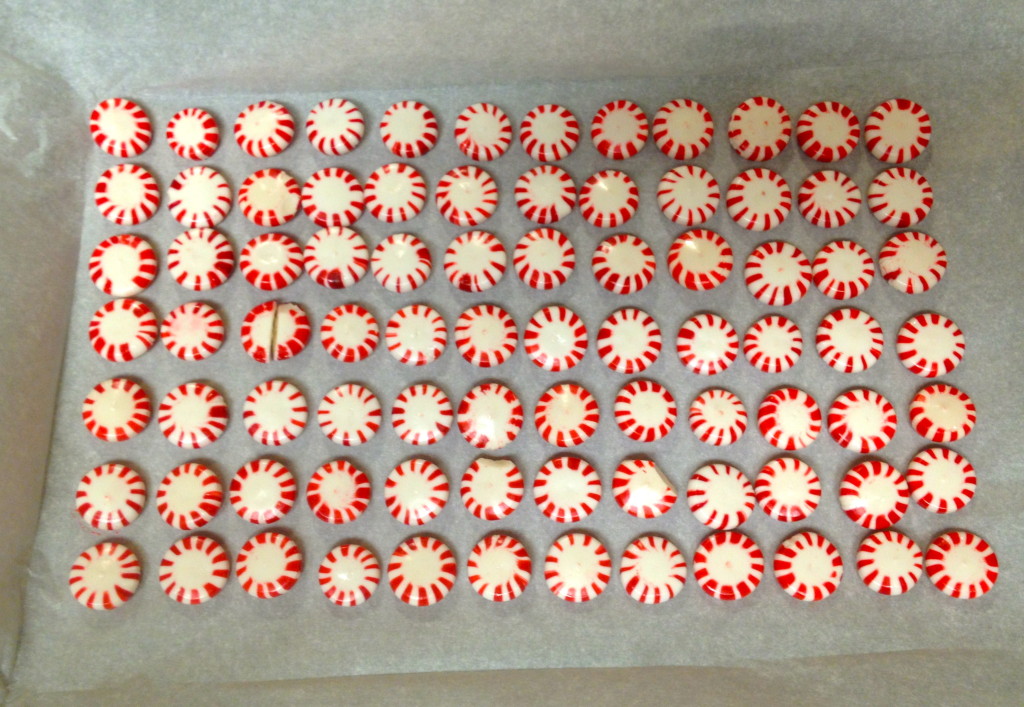 Put this in the oven for 5-7 minutes
When you take it out let it cool for about 30 seconds, then trim the edges to make it pretty!
I actually had a difficult time trimming… hey it happens!
Make sure you keep hot items off 😉
Happy eating… or… Crafting?
XOXO With a Cherry On Top,
-Minnie