Lucky Duck Day of Shopping
So it's December 22nd… fooled ya Mayans!
I said yesterday I wasn't going to leave my apartment much, but I quickly decided I was being silly, so I set out to finish some Christmas shopping. I already prepared myself that it was going to be just awful, the last Friday before Christmas. I had my coffee, and a nice big breakfast (oatmeal, almonds, and egg whites) because I knew it would probably take a while. Well, luck was DEFINITELY on my side!
I started at the toy store, tried to get the worst over first, but actually it wasn't bad at all! I couldn't believe it! I was in and out in no time and picked up exactly what I needed.
Then I headed to the mall. It's always extremely packed on a normal day, I knew I was pressing my luck on Christmas (no whammies, no whammies, stop!), but had to do it. I pulled into the most crowded parking lot I've ever seen, turned into a lane, and BAM! Open parking spot. Holy Moly! People were circling for at least an hour, parked in lanes waiting to stalk people, and I find a spot the first lane I searched. I felt like I had found a diamond ring or something!
The mall was definitely doable. I probably got in a decent workout because I power walked like crazy through that whole mall. My last stop was in a very crowded store and as I was at the cash register, a VERY KIND woman behind me said "here you go honey, I have a $15 dollar off coupon you can have". I was shocked and ecstatic. Not because I got that off my purchase (okay a little), but I was more happy that random acts of kindness still happen! It made me feel really good. It came out of nowhere, we weren't talking in line, I wasn't saying anything about prices, she just offered it! Of course I thanked her over and over, said God Bless You, and told her to have a very happy holiday! Cool, huh? Time to pay it forward!
Maybe she did it because my outfit looked questionable…
When I got home, I felt terrible again (hate being sick!), so unfortunately I still couldn't hit the gym. I hope I'm feeling better tomorrow. I am having major gym withdrawals 🙁
We were able to go to G-Mama and Pop Pops and the girls did their usual chewing on bones and treats
After a couple hours, Phoebe let's me know when she's ready to go home
At home I made some PB & J Protein Bars! (they are really a cake consistency, but still fabulous and loaded with protein) Yum! Click the picture for the recipe 🙂
While they baked, I wrapped some presents!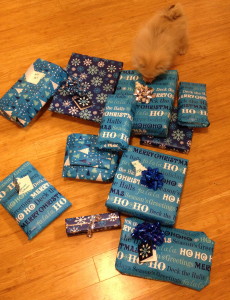 And then we watched more Friends together 🙂
Tomorrow is our last big round of shots at the vets 🙁 Don't worry we will NOT be seeing the vet that yelled at us before. Believe me I will storm out of that place before we see her again! I'm hoping to hit the gym early before our appointment, but I usually stay up super late. Can't shake that night shift job out of me!
Have a great weekend, and be patient out in those stores! (Oh and keep snacks in your purse just in case)
XOXO With a Cherry On Top,
-Minnie