Back to the Vets (and the Gym!)
Have you finished all your Christmas Shopping? I hope so! I live on the same street as a very popular attraction and mall here, and let me tell you traffic was lined up for MILES today. Luckily I went the back way every where I needed to go!
Phoebe and I had to go back to the vets today for her last round of major shots. I was very nervous because of what happened last time (the new vet was super mean)- see my post HERE
Well when we got there I was very polite to the girls that work at the front desk. I kindly explained my situation and they were VERY understanding and told us she would mark our chart and make sure we only see the vet we like. Phew! Evidently, I was not the first person to have issues with this other vet… makes you wonder why she chose that occupation?
So we get into the room and I'm told Phoebe's chart is flagged. FLAGGED!? EXCUSE ME? Turns out they had a big huge red label across the top marking Phoebe as a bad aggressive dog and a biter! First I fumed because I knew it was the mean vet who did it, but then I laughed… okay people Phoebe is 4 pounds, she is a puppy…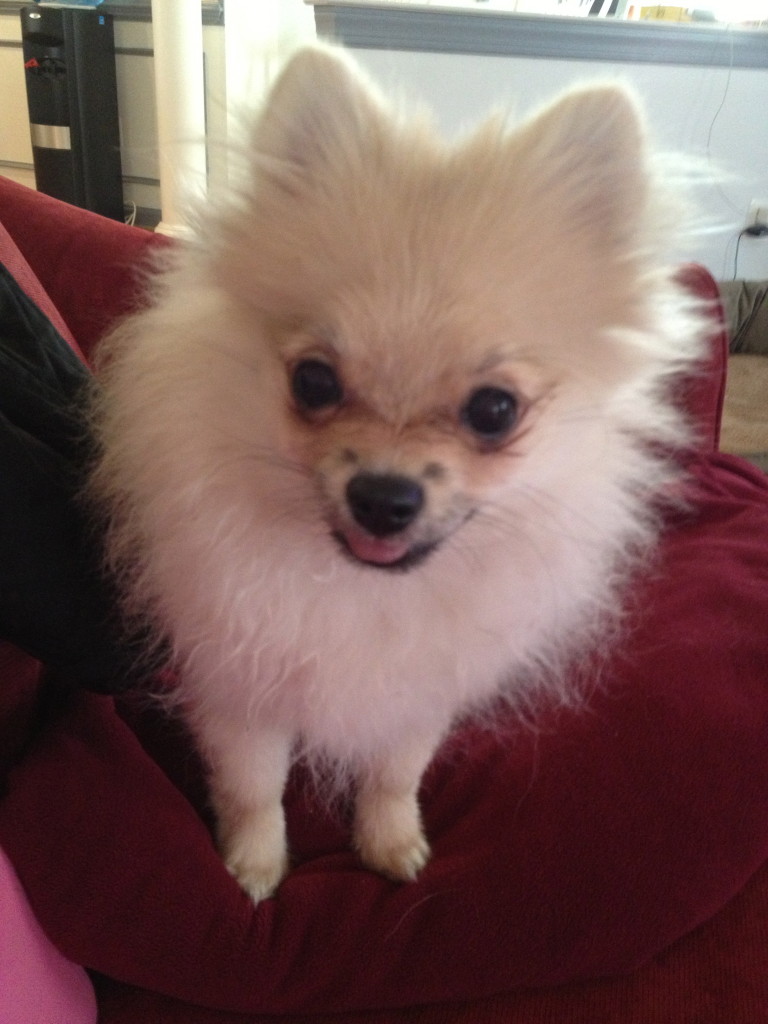 Luckily the vet we just adore laughed at this too. He is always so great with Phoebe and said oh come on, I see her almost every time. She is not a biter! And laughed. He told the nurse to take it off immediately. We love him 🙂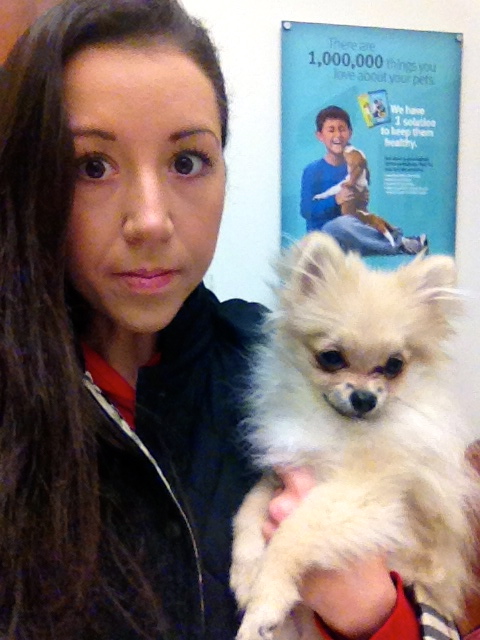 Thursday is Phoebe's BIG DAY. She is going to be spayed (fixed) and they are also going to repair her hernia at the same time. Talking about this with the vet I pretty much turned white as a ghost and felt like I was going to need a trashcan ASAP because I was nauseated. I have been in MANY operating rooms, but it's totally different when it's someone you love! Phoebe is my baby and I am going to be an absolute wreck that day. I know she is in wonderful hands though with our vet 🙂 Oh and yes, she has to wear a cone for 10 days… wonder how that's going to turn out
Later we went to G-Mama and Pop Pops and my niece Bella was there! She was working on decorations for the big family Christmas Eve Brunch! She did such a great job 🙂
The girls were busy playing tug of war 😉
And I was munching on a yummy veggie tray G-Mama made
I FINALLY made it back to the gym, and it felt so great to work up a sweat again. I started with interval work on the step again (I did about 20 minutes worth), but the first 5-10 minutes was extremely hard. You would have thought I was gone for 3 weeks and not 3 days! I pushed through and felt great again 🙂
I did back work and really upped my game. Yes this bar is a 60 pounder! Beast!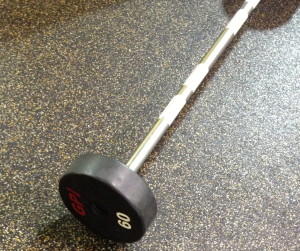 Low rows wide grip, 40 lbs, 15 reps x 2 sets. 50 lbs, 15 reps x 2 sets
Low rows narrow grip, 50 lbs, 12 reps x 2 sets. 60 lbs, 10 reps x 2 sets
Assisted pull-ups, 10 reps x 4 sets
Single arm rows using a cable, 20 lbs, 15 reps x 2 sets each arm
Single arm rows using a cable with an oblique twist, 30 lbs 12 reps x 2 sets each arm
Rows using the cable (both arms) 70lbs, 20 reps x 2 sets, then 90 lbs, 12 reps x 2 sets
Lat Pulldowns wide grip, 40lbs, 12 reps x 2 sets, then narrow grip 40lbs 15 reps x 2 sets
Lat Pulldowns with underhand grip, 50lbs, 12 reps x 2 sets
I also worked in some arc trainer and then some minimal ab work! A lot of this back work focuses on your core at the same time, so I don't like to push it too much with the abs on back day 🙂
I did stretch it out though!
When I got home I decided to be crafty and made my recipe of the day into an edible craft for the holidays! Check out this Edible Peppermint Candy Serving Tray (special thanks to The Chew)
I will be bringing this to our Christmas Eve Brunch!
Have a safe holiday weekend!
XOXO With a Cherry On Top,
-Minnie