Feisty Up in the Gym
It's Sunday AGAIN! This time I do not have the Sunday blues to the extreme because I am off tomorrow. Working Friday instead to help out someone on vacation.
Yesterday I started my morning off with a BIG breakfast. I used the last of my egg whites, threw in some mushrooms, and topped with Mrs. Dash Tomato Basil. Yum Yum! I also FINALLY did the amazing overnight oats in a leftover peanut butter jar that I have seen on Pinterest for months. Now I get the hype. It's incredible. Those last little bits you can't get out of the jar? Well once you put your overnight oats in there it all melts together and is so delicious. Now I am going to be eating lots of peanut butter to get those empty jars 😉
As I was cooking, I shattered a vase, yeah I know. I told you guys I am ridiculously clumsy. Then as I went to sit down and eat my breakfast, those yummy eggs?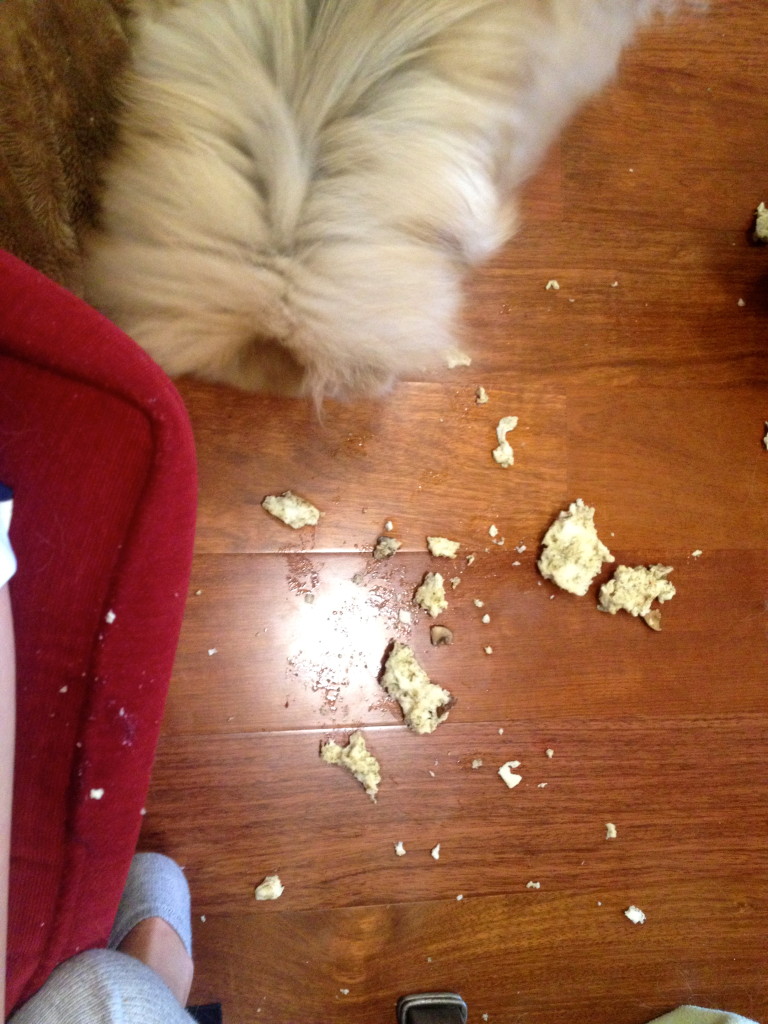 I stink at life!
So I had to settle for cottage cheese to get my protein in. I added a 1/2 Tablespoon of Nutella in there to make it extra good!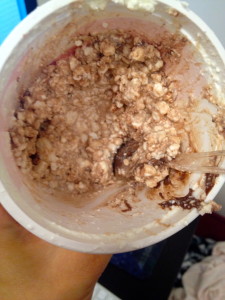 After food, I headed to G-Mama and Pop Pops with the pup-a-roo. Well first I had to get her to stop playing with her neon tennis ball. She loves these little things! She throws it in the air and at the wall. This time she played around in the mirror.
After a quick selfie for me, we hit the road.
So I did shoulders at the gym and cardio (elliptical and stairmaster). If you follow my Instagram account, you know it did not end well. Why? Well I could have easily been kicked out of my gym because I am super feisty and won't let things go.
The short story goes like this. I was on the cables and for those that use the rope pulldown like I do, you know they are hard to come by. They are always used! Well here I am standing an inch from it. In between sets and this MORON MEAT HEAD (excuse me) comes up behind me REACHES over me (literally hot breath all up on me), TAKES OFF the cable and puts it on his. First of all my face was that of complete shock. I like to keep my blog as PC as possible, but I said "alright then YOU …..", insert non nice name here.
So me being patient and sassy, I finished my sets on the cables with something else, meanwhile taking up ALL the space. I waited, then in between his sets I went right over, ripped off his cable, threw it at him and said "here …….." enter another not nice name. Then walked off in a huff with attitude. Some may think this is immature, but I couldn't let it go. How dare that guy! He definitely would not have done it to a man. I could go on and on about how mad it made me, but I think I got my point across. The worst part was it didn't even phase the jerk!
Moving on, as promised here was my leg workout from the day before, I think it's more interesting than the shoulder one! So enjoy 🙂
Smith step back squats (really, alternating lunges), 95 lbs, 20 reps x 3 sets
Smith DEEP squats, slow and controlled. 95 lbs, 10 reps x 4 sets
Side bends, 25 lb plate, 12 reps x 3 sets each side
Curtsy lunges, 12 lb kettles, 20 reps alternating x 2 sets
Box step ups, 12 lb weights, 10 reps x 4 sets
Side box step ups, no weight. 10 reps x 2 sets
Plie squats, 40 lb barbell, 12 reps x 4 sets with 8 sets of pulses
Calf presses, seated. 180 lbs, 12 reps x 4 sets
Good Mornings, 50 lb barbell, 10 reps x 4 sets
Super Slow DEEP squats, 50 lb barbell, 5 reps x 4 sets
Leg extensions, 95-105 lbs, 10 reps x 4 sets
Hamstring TRX curls, 10 reps x 3 sets
WHAT A LEG DAY! Oh my 🙂
When I finished at the gym and cooled down (figuratively and literally), I headed in the mall for some Bath and Body Works goodies and then to GNC. They FINALLY had the new Quest bars. I tried the flavor at FitBloggin' and I'm in love.
Back at G-Mama and Pop Pops I lounged on the couch for a while, then packed up my baby boo boo for home.
For dinner we made a fridge dish. These are my dinners I make when I need to get rid of stuff in my fridge, or I just don't have anything and need to scrounge something up.
This was shirataki macaroni noodles (tofu noodles), kale, onions, peppers, shrimp, topped with liquid aminos (all purpose soy seasoning that is less sodium than soy sauce!) and ground ginger. Delicious for a scrounge dinner.
Super filling too.
Saturdays are always a cleaning night for me. I live such an exciting life don't I? Wow a Saturday night and I'm bleaching my bathtub and scrubbing my wood floors. WINNER! I worked hard and plopped on the couch. Phoebe wanted up. Always by my side 🙂
I think we make a cute pair. Partners in crime 😉
Today I will be doing more exciting things like going to the gym and grocery shopping. Sarcasm anyone?
Meal prep pushed to Monday night since my work week shifts. Enjoy your Sunday Funday!
XOXO With a Cherry On Top,
-Minnie