FitBloggin 14, My Birthday
Welcome back to the Fitbloggin' adventures!
I last left you with me in a sugar coma from that late night treat. The following morning was my 29th birthday! It started off with a hearty breakfast and coffee.
Mary and I then did a workout that was meant to be the "anti computer workout", meaning you could do these moves at anytime if you work at a desk or computer for a long time. It included lots of moves like planks, glute bridges, pushups and strengthening exercises. The instructor was really cool and I loved her outfit.
The next workout was crossfit, but we had about 45 minutes to spare so we hit the hotel gym for some shoulders. Had to keep those gains going!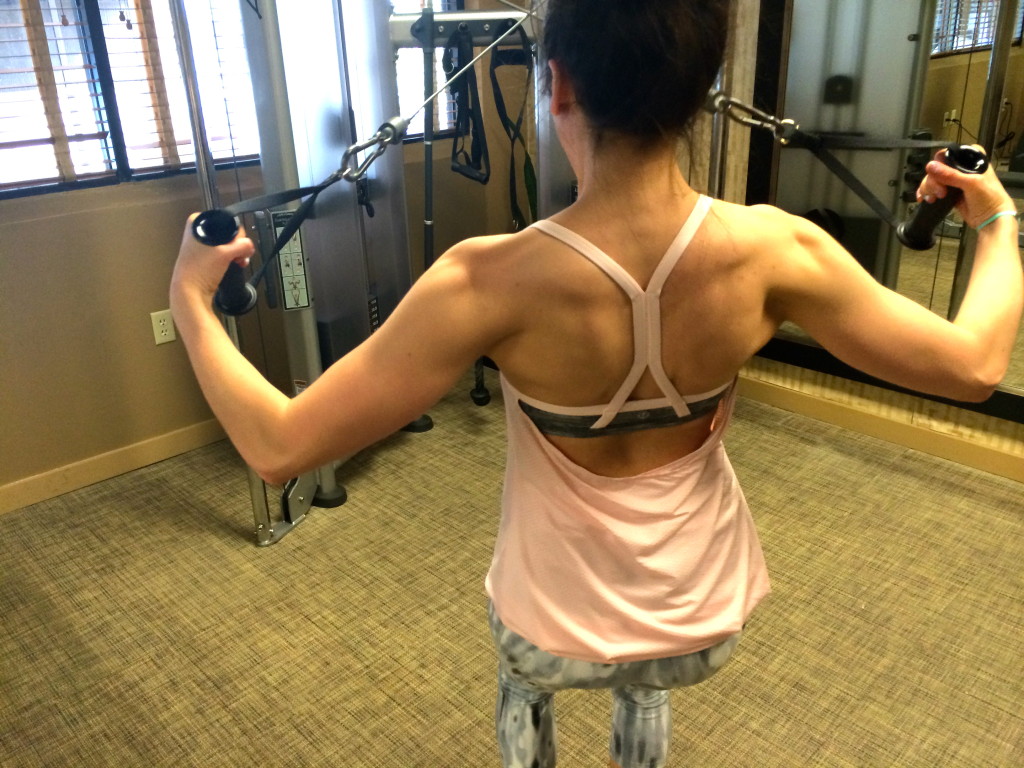 Back in the conference room Crossfit started. We worked in a group of 3 and did rounds of air squats, jumping jacks, pushups, supermans, planks, glute bridges, and situps. I definitely worked up a sweat. Last year when I tried crossfit I wasn't that fond of it, but this time I felt the burn so it was much better.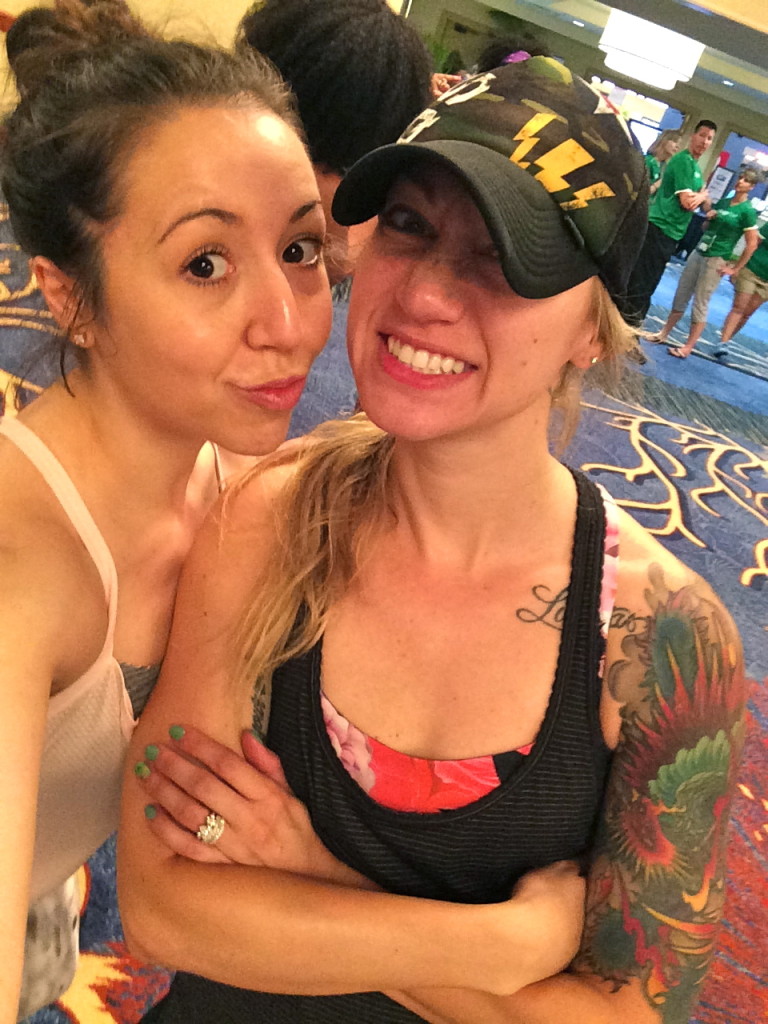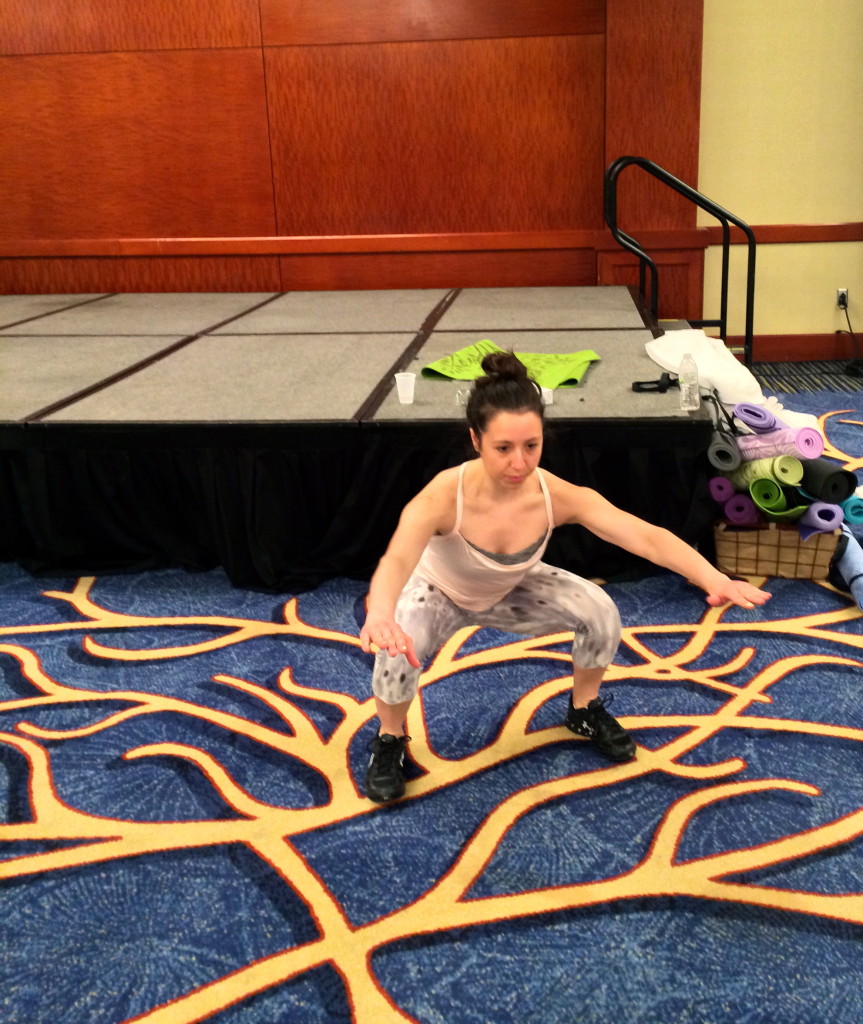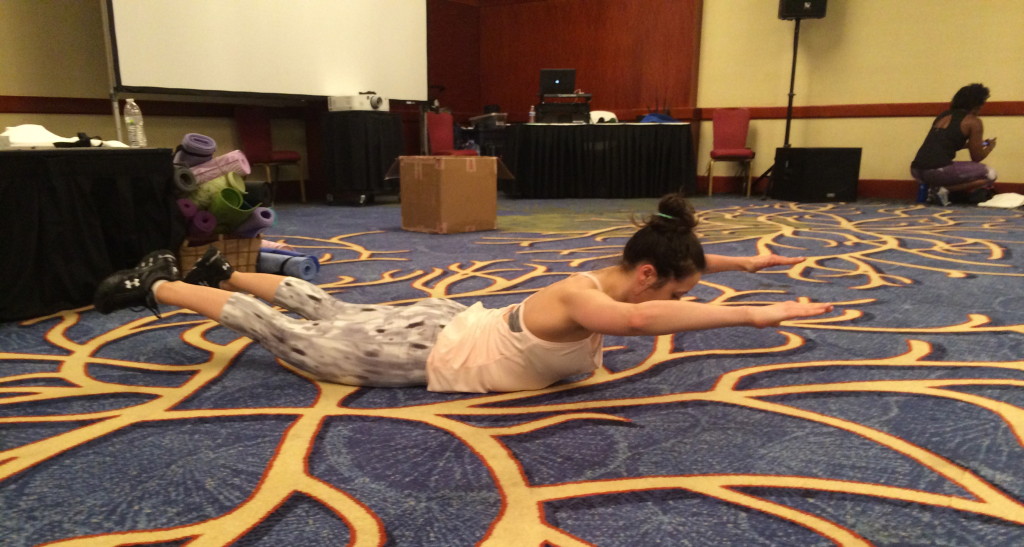 After classes we scoped out more swag, had an awesome blueberry muffin made from avocados instead of butter, and I was able to meet a blogger you may recognize, Monica over at Run Eat Repeat. She's so sweet in person and an inspiration to so many!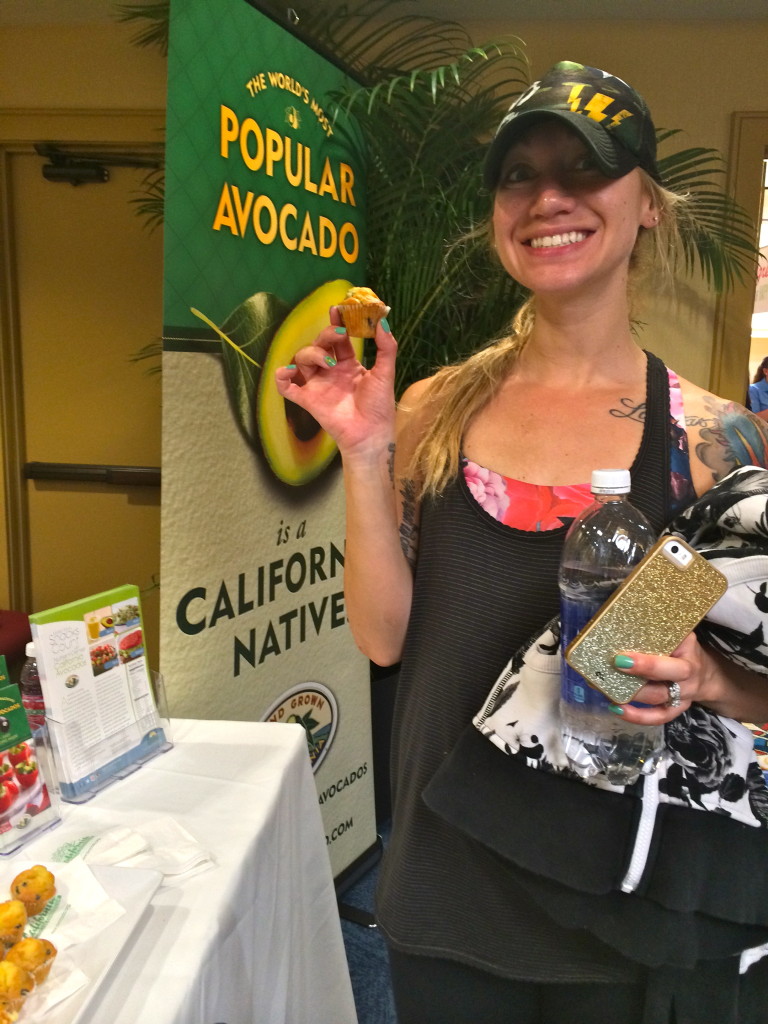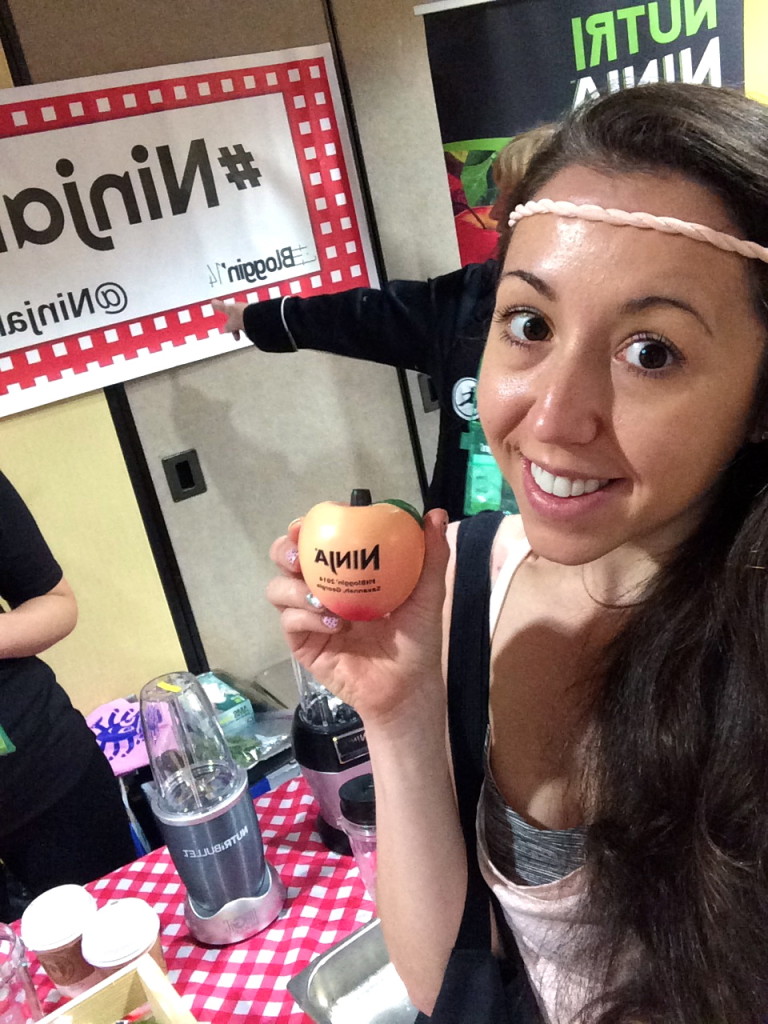 For lunch we had salads and sides while Run Disney presented and guess who showed up?
MICKEY MOUSE!
Can you see me flexing next to Mickey?
I also snapped a few photos with some blog friends and my main man Clark from Quest. Clark and I have kept in touch since last years FitBloggin' and he gave Mary and I some birthday goodies!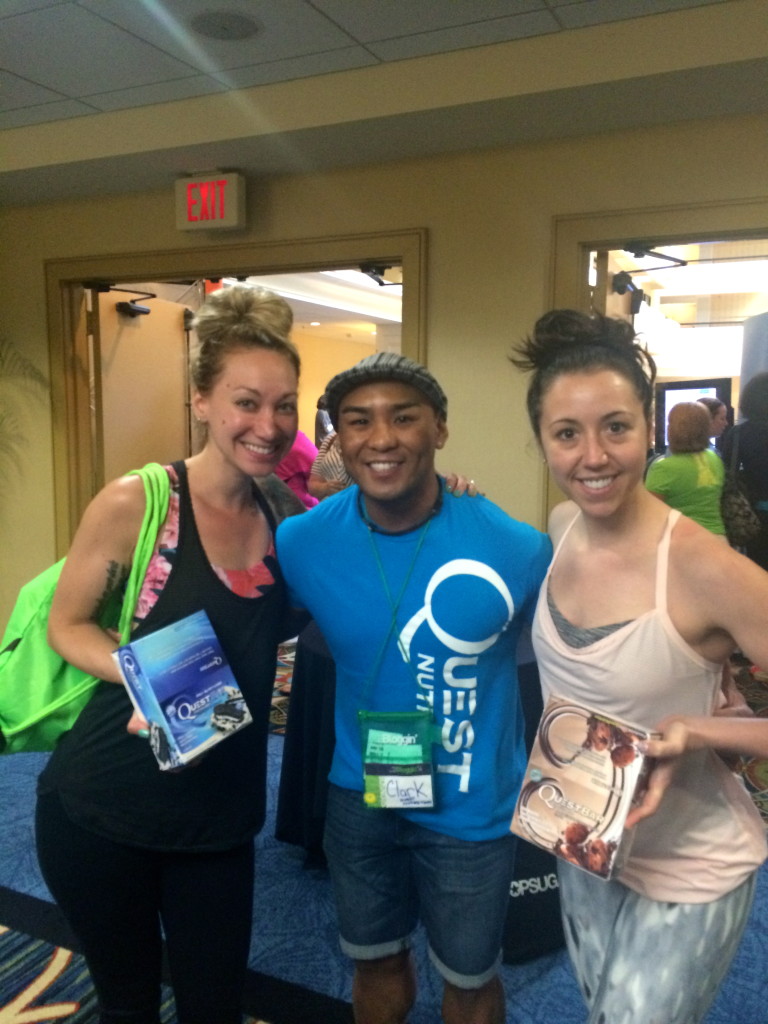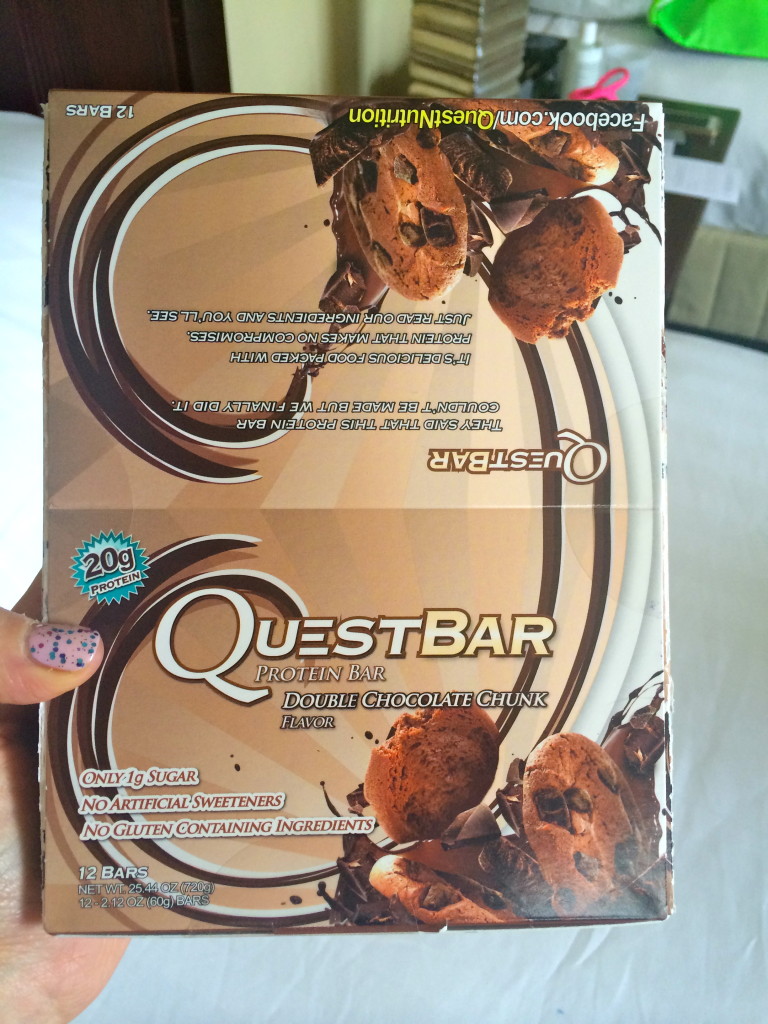 Alan over at Sweating Until Happy 
The remainder of the afternoon Mary and I hit the shops in Savannah!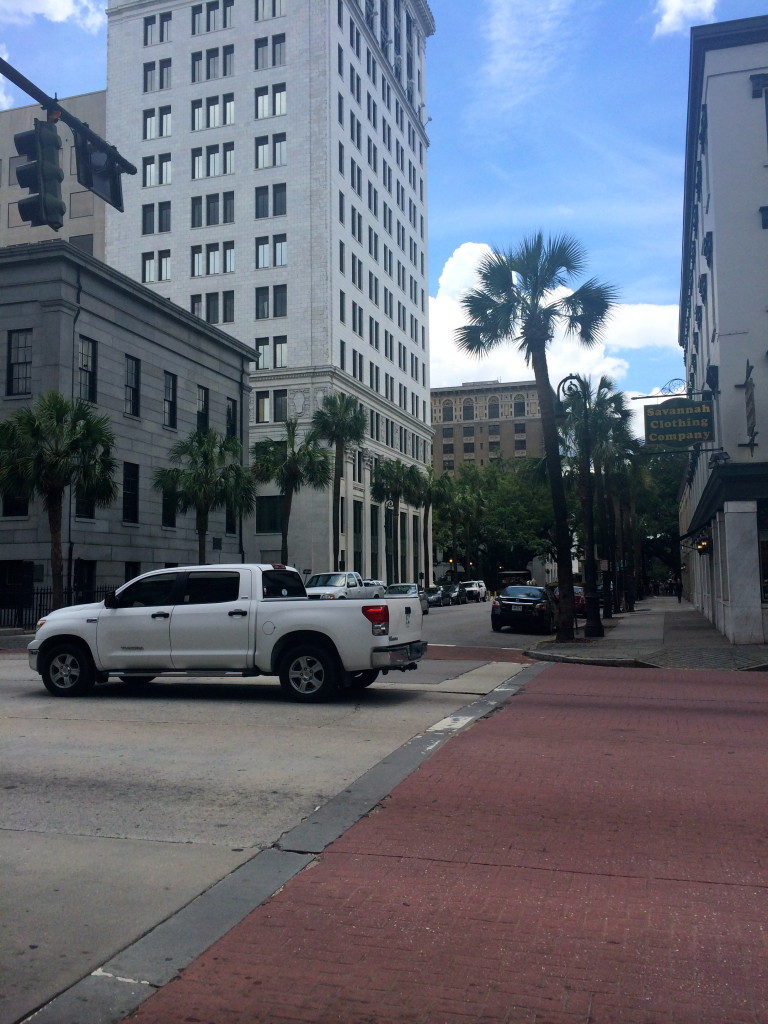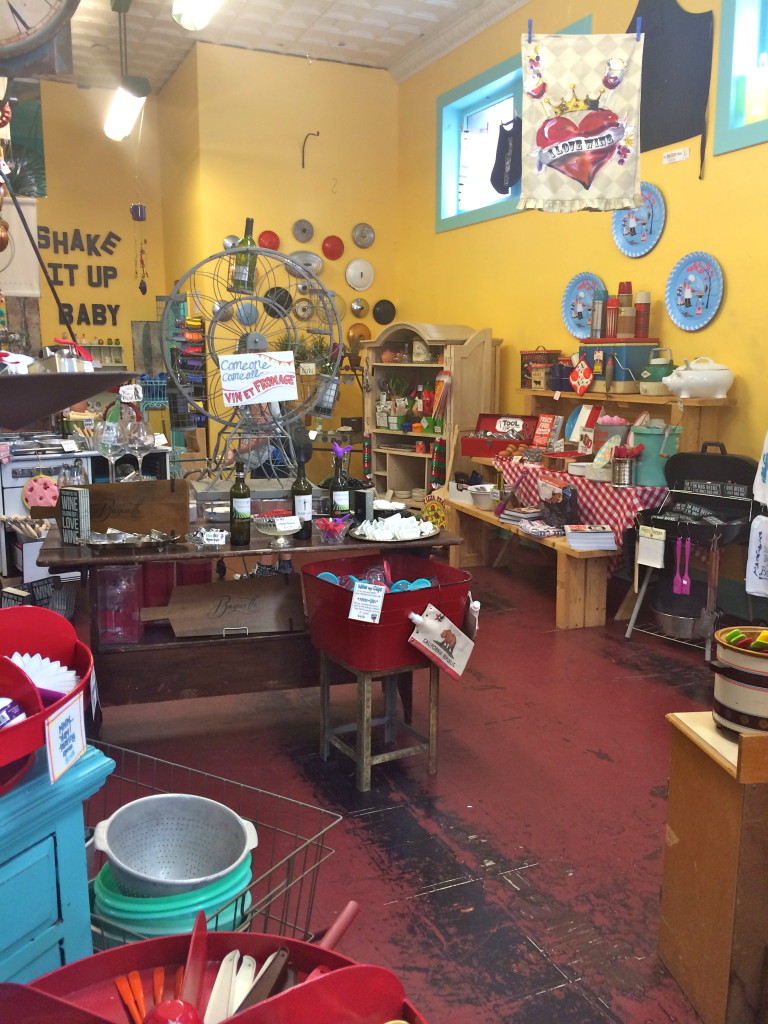 This store was my FAVORITE. A little place called Kitchen. It was full of retro kitchen items that I just fell in love with. I could have looked around for hours, but I kept it to a minimum. I did end up buying a few items!
Do these pots look familiar G-Mama? 
These kitchen towels… I couldn't resist! Especially since dog hair IS a condiment in my house… yuck! And Skinny Minnie was patiently waiting for her Paula Deen biscuit.
An "ice cream spoon", but great for anything in a container!
Isn't this the coolest sign? I just love it! I spied it as I was checking out and I said "I need that!"
We also found an awesome shop with tons of "bikini girl jewlery". I ended up getting a new ring for my next show, and an adorable peace top!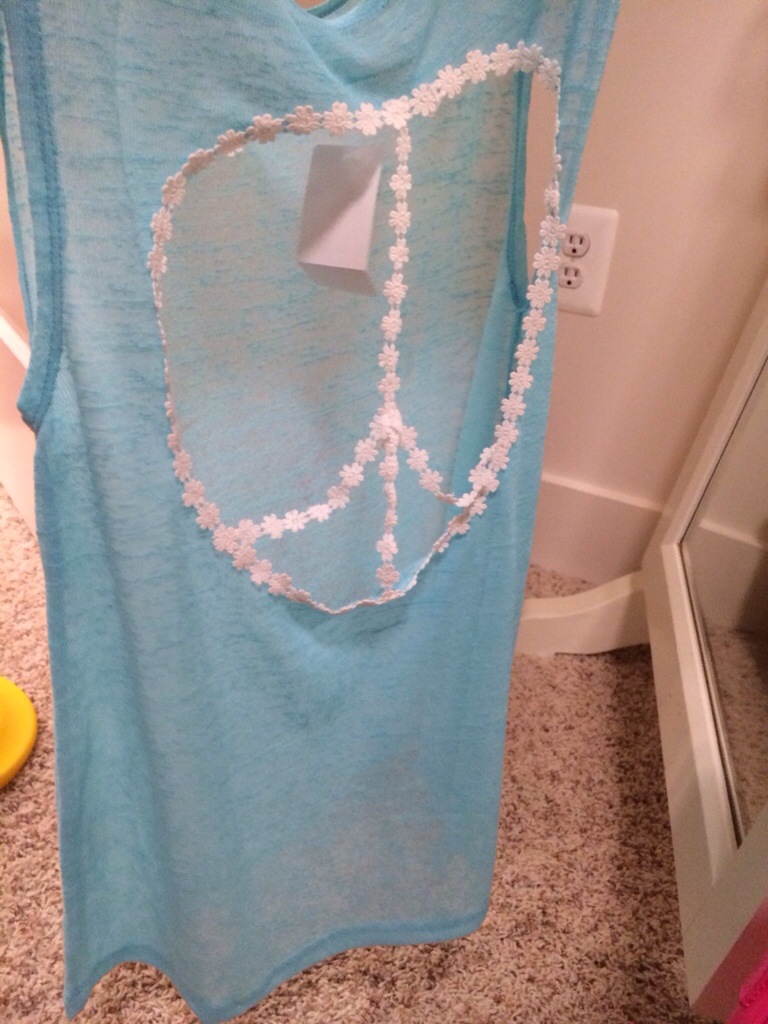 Next we stopped in a spice store that smelled like spice heaven. We both ended up getting these two spices for prep! Pizza egg whites here we come!
After some awesome fro-yo
We spotted Lady and Sons! We decided to check out the shop first since dinner was later that night. It was so fun. We both ended up getting a mug and flavored lip balm (yes one is butter flavored).
When we went up to the second level I took a picture in front of the large Paula portrait and all of a sudden Mary said "oh my gosh it's Friday and Paula is flexing behind you". The perfect flex friday photo! So you know of course we had to flex in front of Paula 🙂
Later on in the evening we showered and got ready for my birthday night out! Mary takes a little longer to get ready (bless her heart) so I went down to the hotel to hear some blogger presentations before our Paula reservation. They served a couple snacks, but I was saving my appetite.
And I couldn't resist posting this picture. This is what happens when you get a bunch of bloggers together… all staring down at their phones.
Finally it was time for Paula Deen food! We were OVERLY excited and snapped a few pics with the cardboard cut out Paula.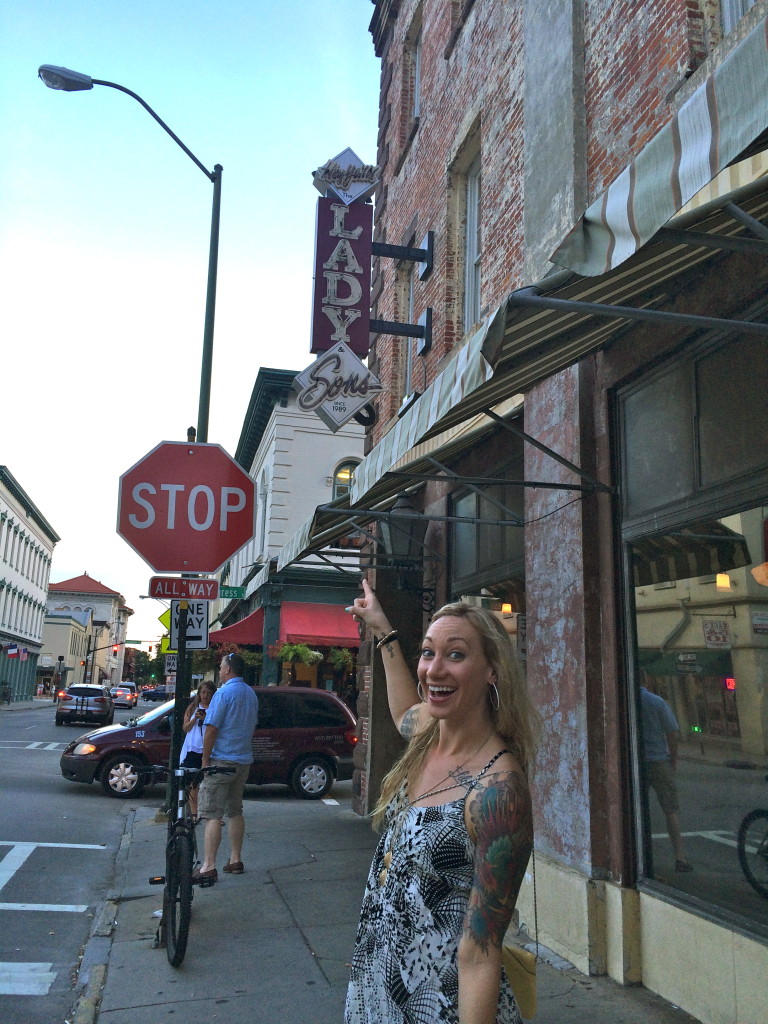 Look how cool the doors were! Cast iron skillets on the doors 🙂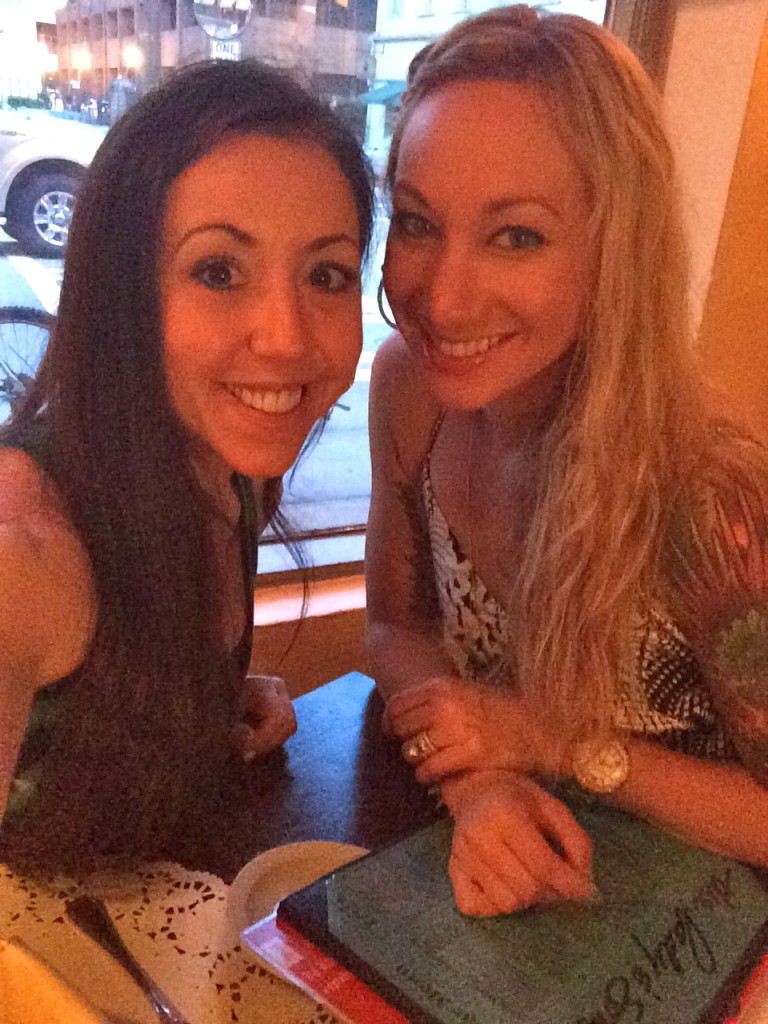 And the moment I waited months for, the biscuit! Not just a biscuit, a biscuit on a cornbread pancake… OH MY!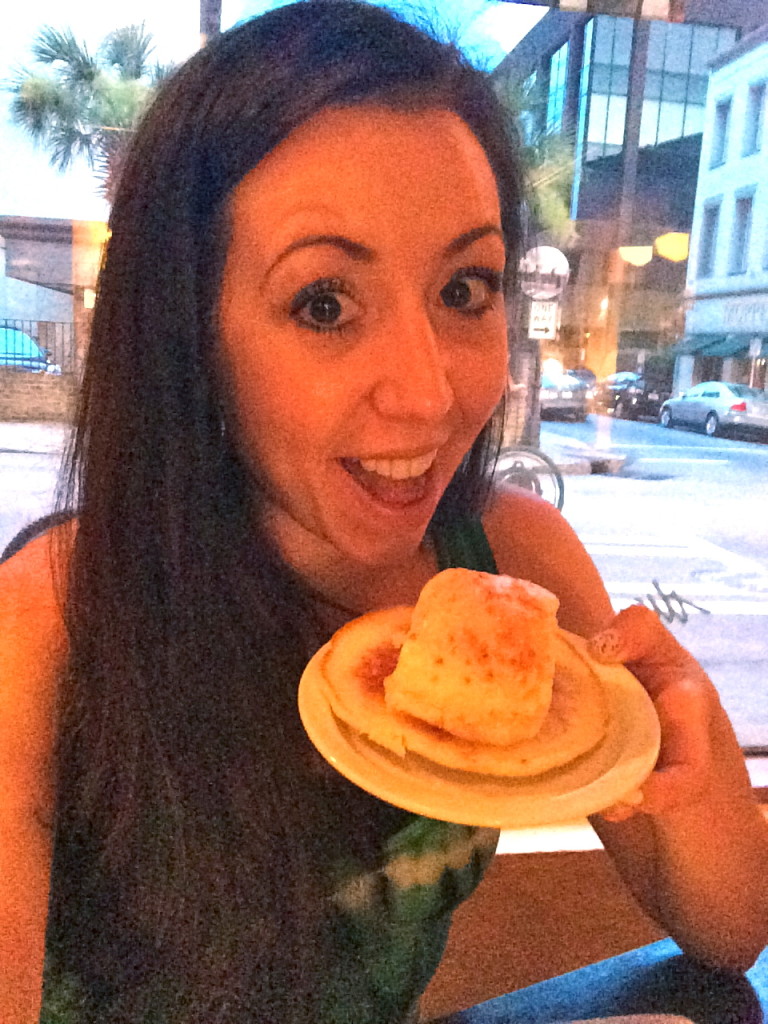 It was just as I imagined it to be, and more!
We started with appetizers, fried green tomatoes and okra. "Yes I will have the fried stuff please with a side of fried stuff".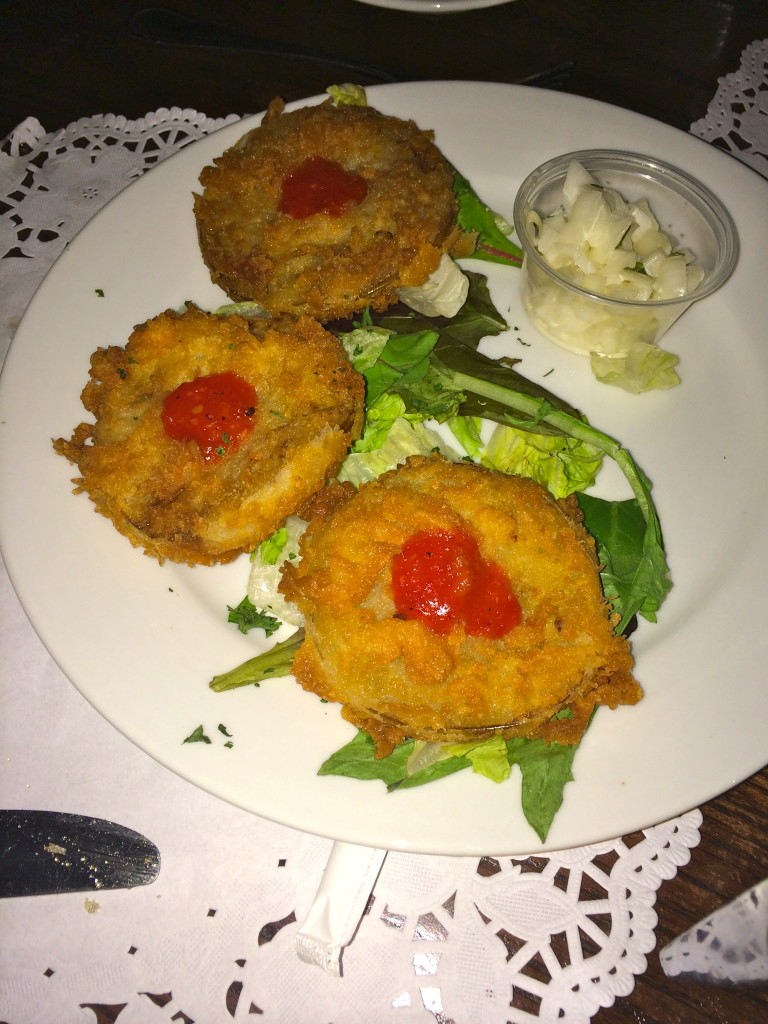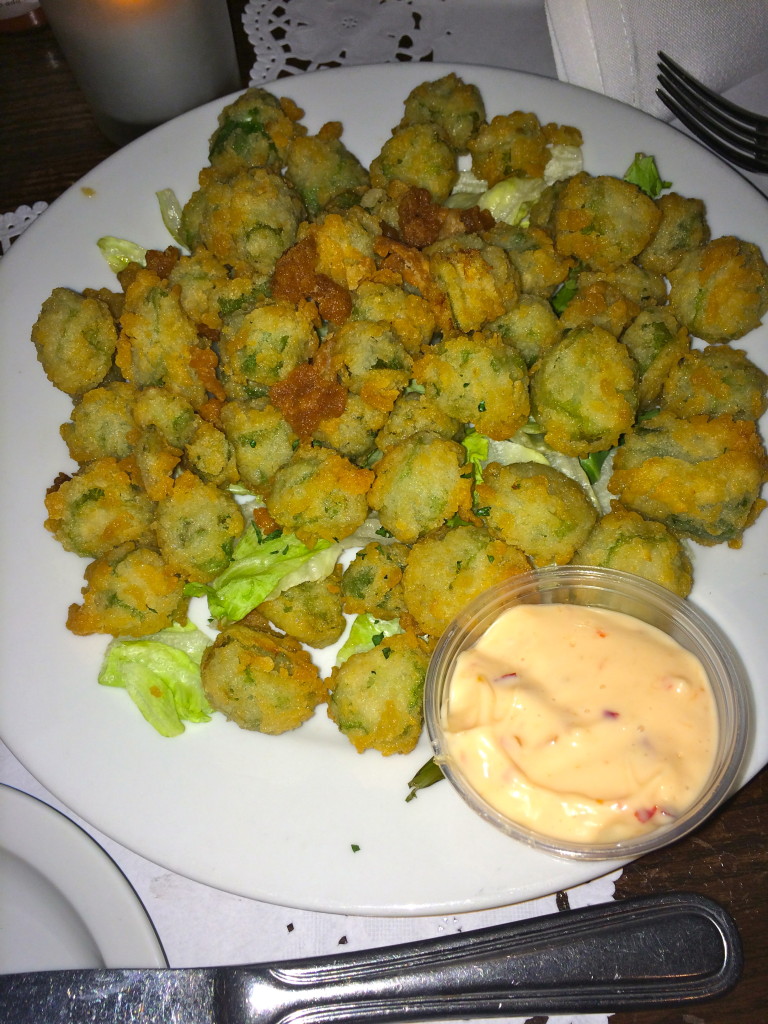 The dipping sauce reminded me of G-Mama, she would have LOVED it. It was a chipotle mayo.
For dinner I got the buffet and loaded up on everything so Mary could try too.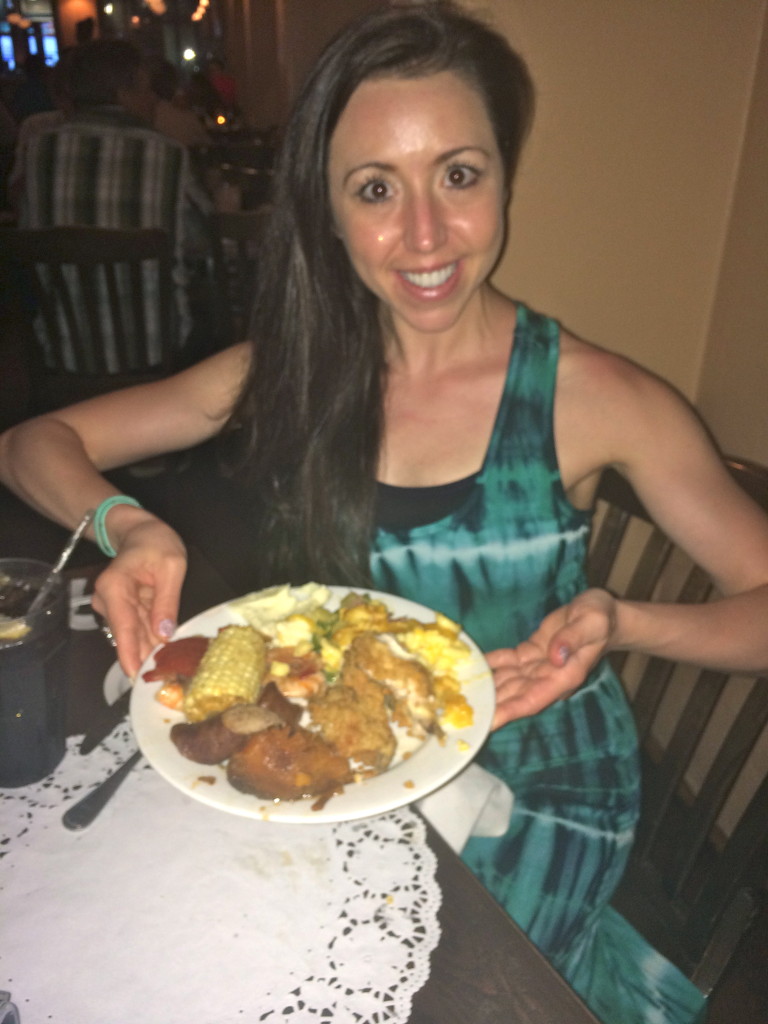 Mary ordered the ENORMOUS pot pie. It had a phyllo dough crust, so good!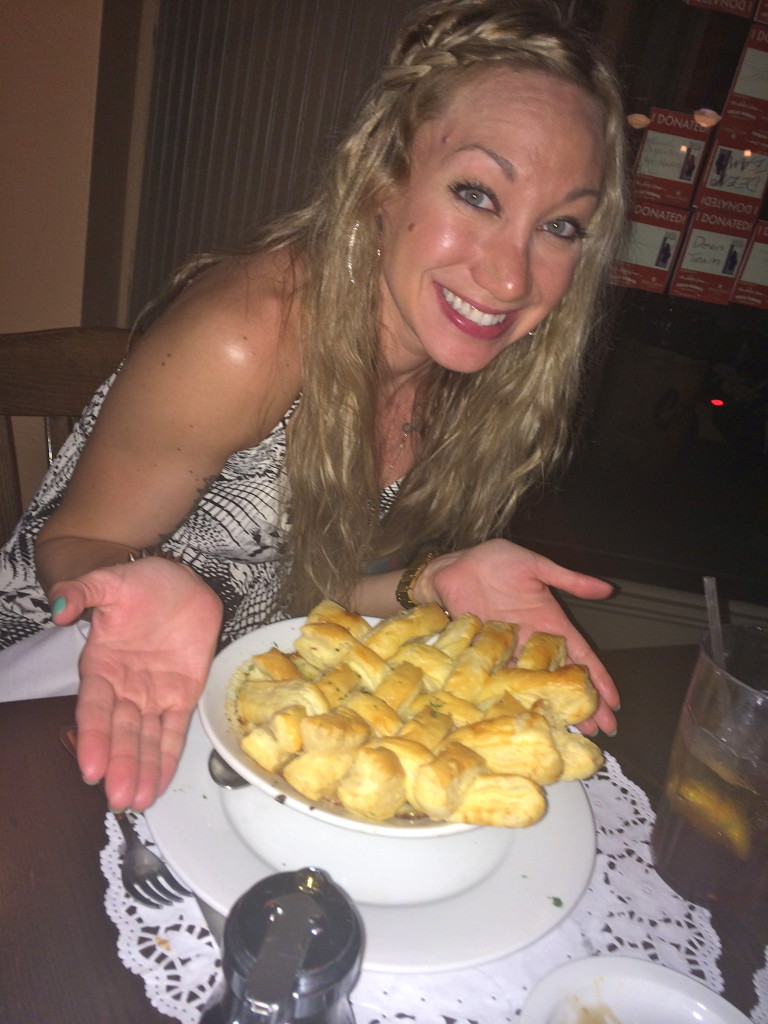 And then our excitement turned into… oh my gosh I hurt!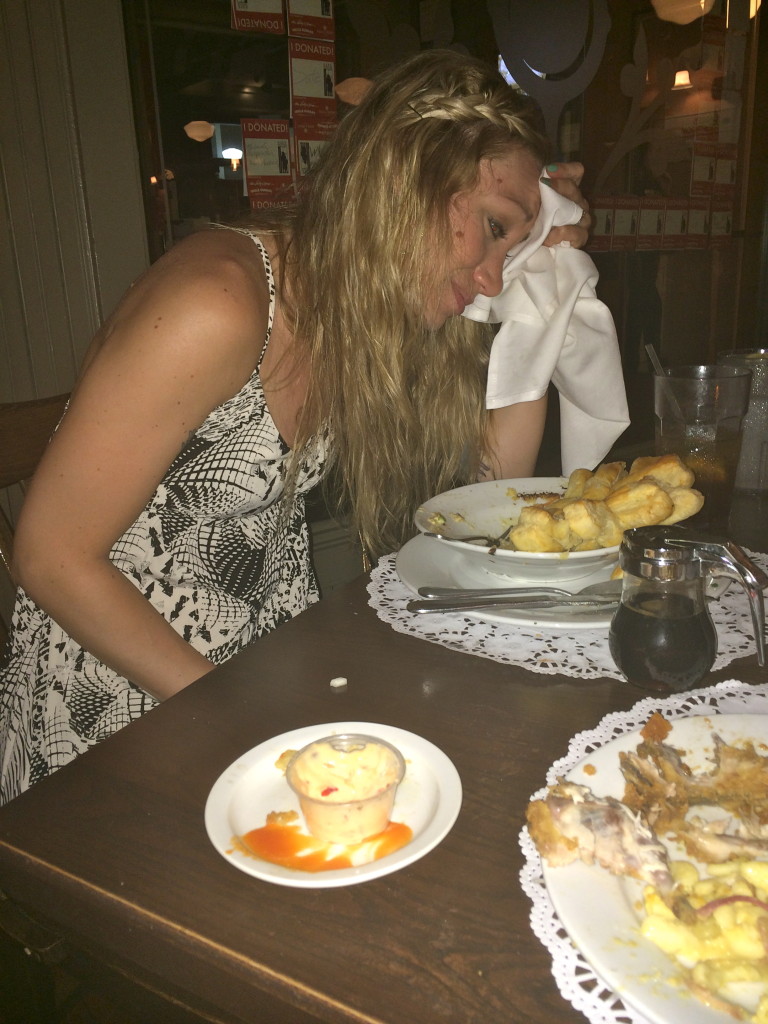 BUT there is always room for pie 😉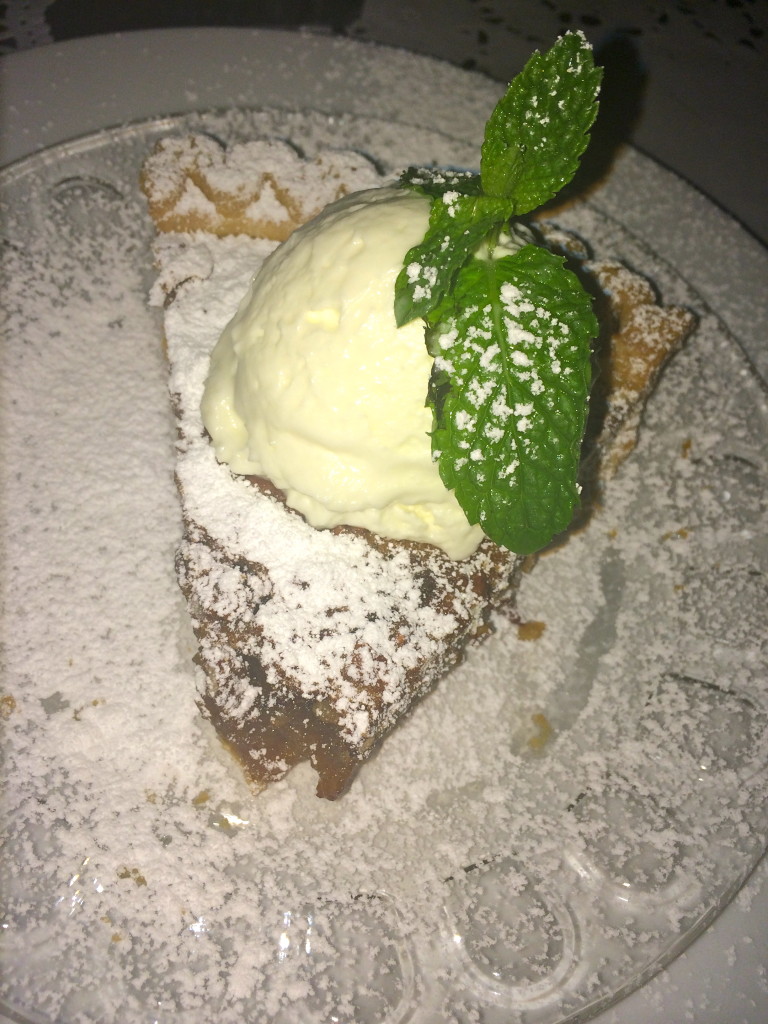 Pecan and Keylime to be exact and yes, we cleaned the plates.
After we left the restaurant we walked around for quite a bit to "walk it off" and ended up back at the treehouse for birthday dancing. I haven't had that much fun and laughs in ages. We hung out with a few of the locals and they were SO MUCH FUN! In fact, I'm still laughing thinking about that night. It felt like  "Night at the Roxbury". The music was great and everyone was jumping and singing along.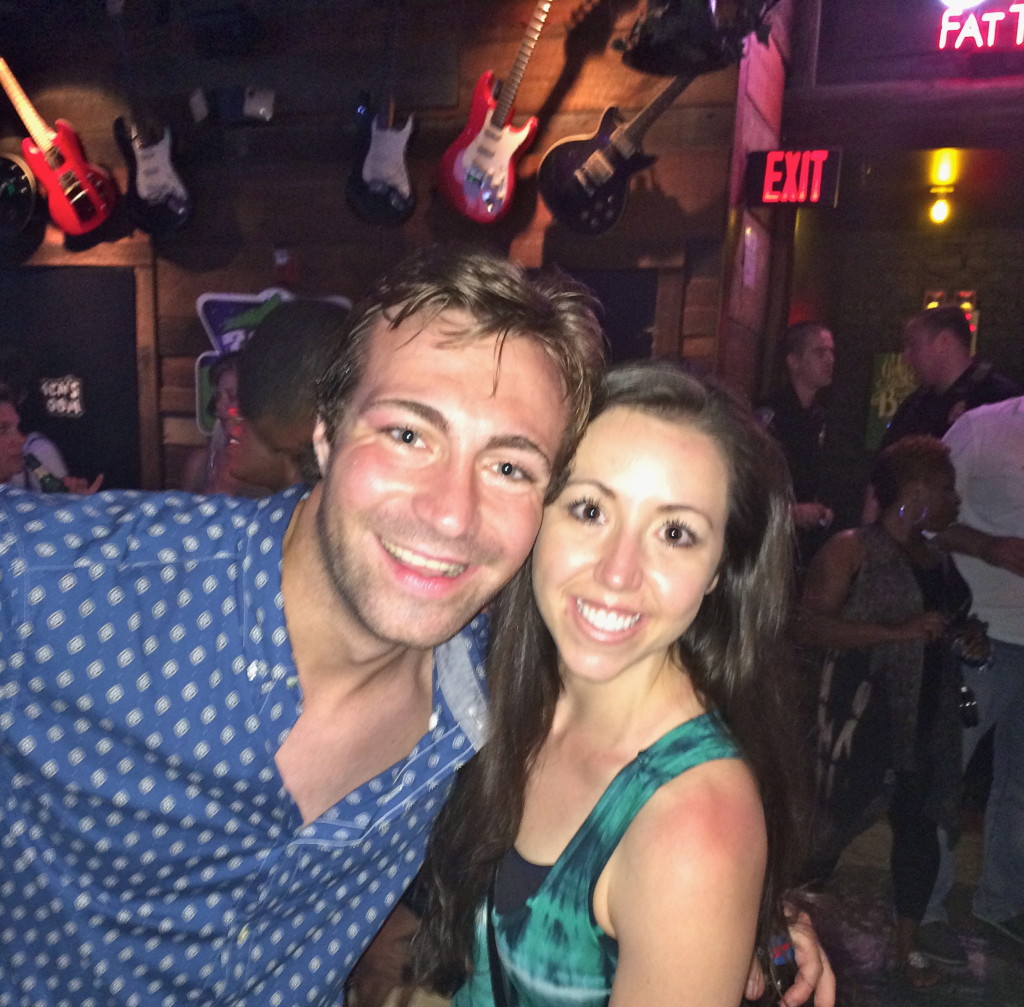 Hey there's Clark! He came to join my birthday festivities. That guy is an incredible dancer!
Here Mary lost her earring, where did she go?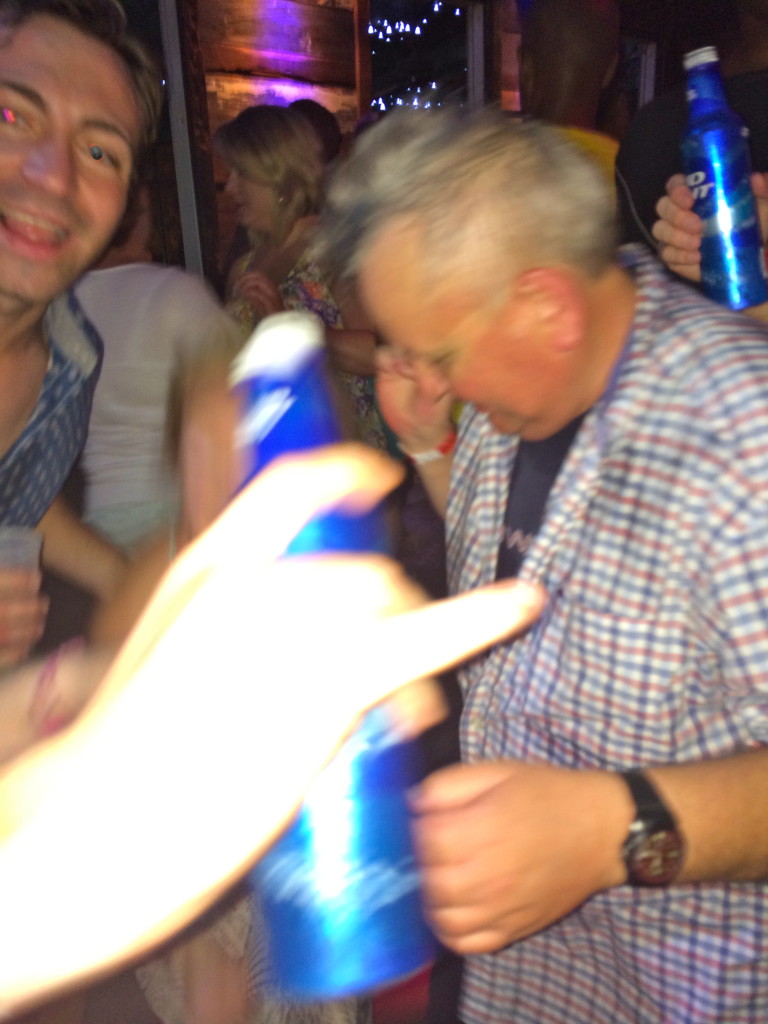 Oh there she is!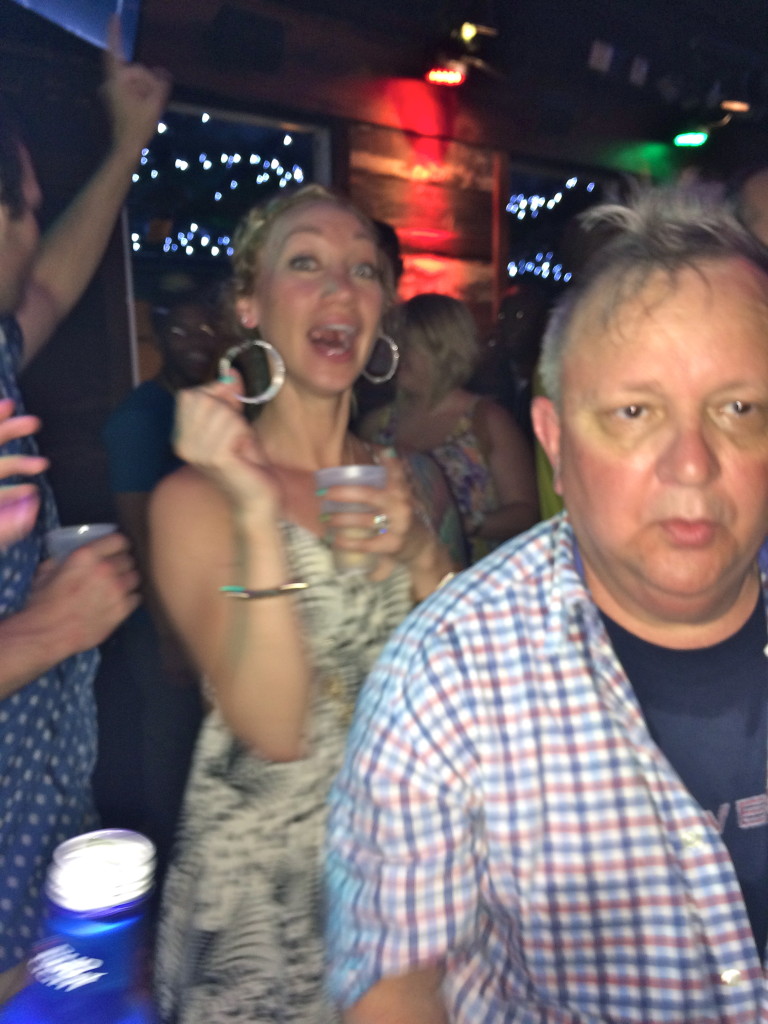 We got back to the hotel late with sore feet from dancing, but laughed the whole way home. The people watching was fantastic and some people had great dance moves and others… well not so much, which were the memories I will treasure the most.
I feel so lucky to have spent my birthday with a friend for life. It was much needed after all the stress I had been under these past few months. I love you Mary and thanks for the awesome time!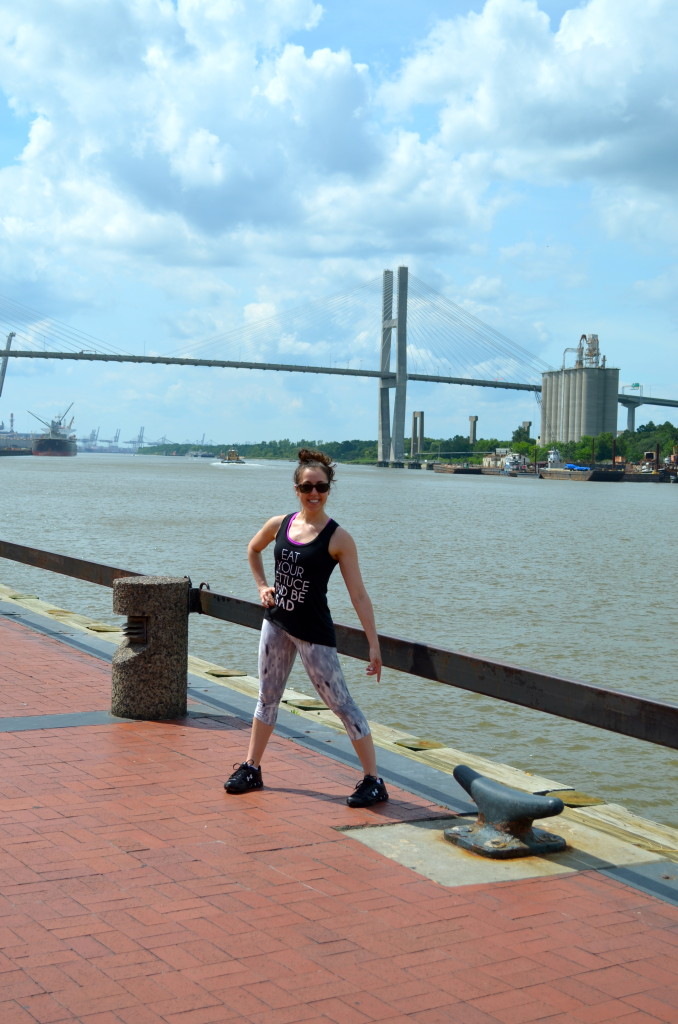 XOXO With a Cherry On Top,
-Minnie