FitBloggin, The Zumba Diaries
Good Morning and Happy Thursday!
I last left off talking about my birthday night, boy was that fun! The next morning I was up for breakfast again and ready to start the workouts that followed.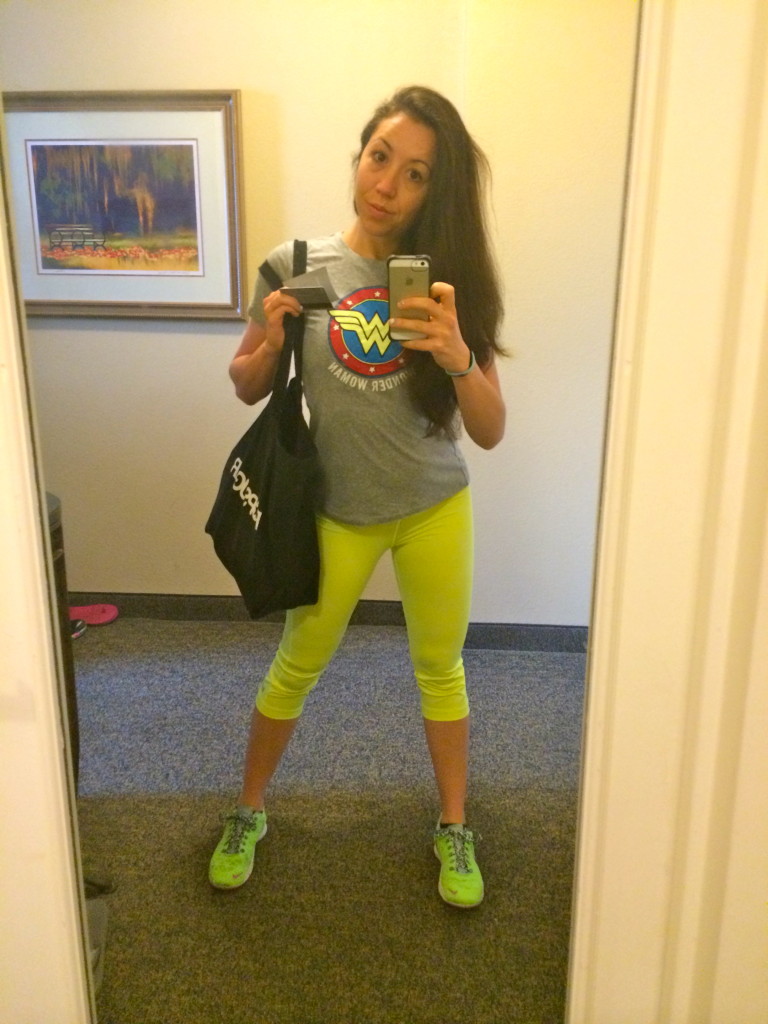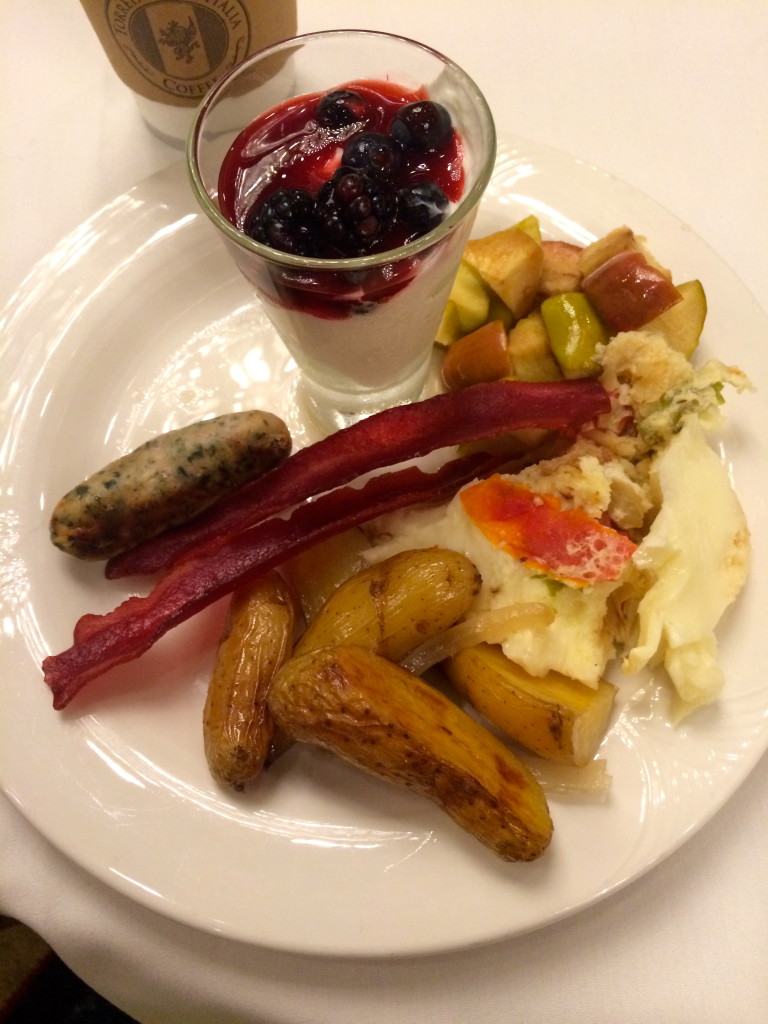 The first one was PiYo (pilates/yoga but faster paced) and Insanity. It was about 30 minutes of each. I'd be a complete hypocrite if I sat here and told you guys how awesome PiYo was. I really didn't enjoy it because it was WAY too fast paced for yoga. I feel like the whole idea of yoga is to stretch the muscles. The movements were so rushed that it caused my form to be incorrect which can lead to injury. Unless you are a pro-yogi I wouldn't recommend this class because it could be easy to hurt yourself.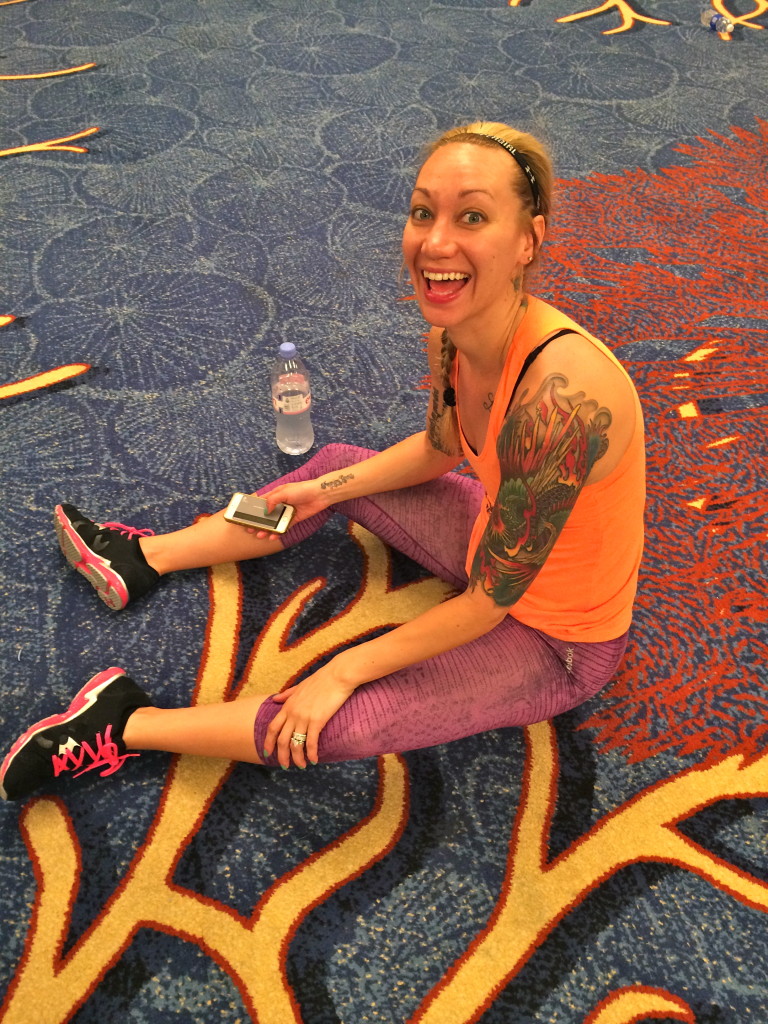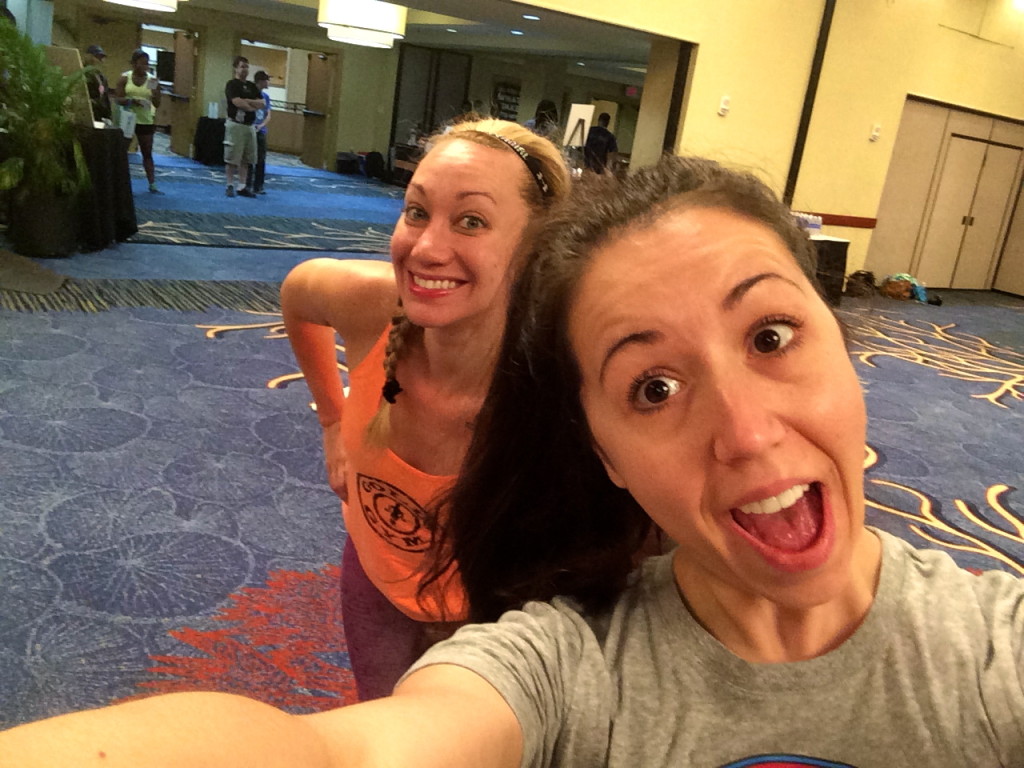 The insanity part I did enjoy. It was a lot of HIIT and plyometrics that made me sweat my butt off! Definitely more my speed 🙂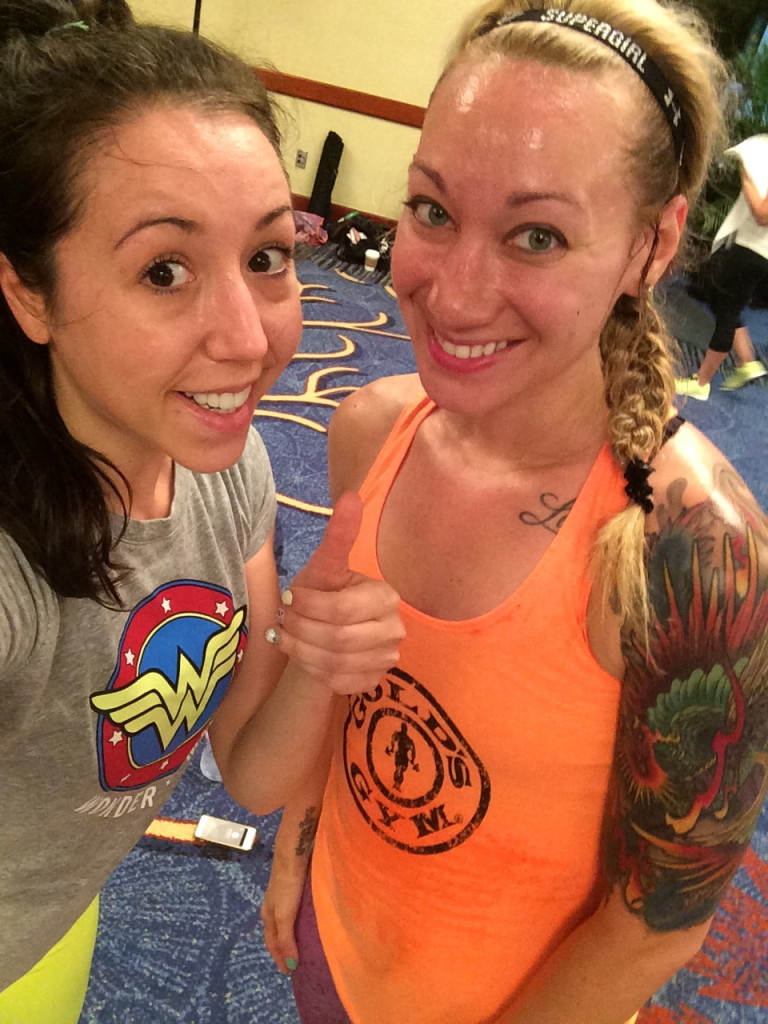 After class we refreshed a bit with smoothies and then it was time for… ZUMBA!
Now let me start by saying Mary HATES Zumba. She had never done it before, and in fact I have only done it once, at last years FitBloggin. We just aren't dancey-workout people and that's okay.
This Zumba class was different because it was an 80's themed class filled with great songs like: Pour Some Sugar On Me, Footloose, Walk Like an Egyptian, Push It, Ice Ice Baby, Let's Hear it for the Boy, and many more that I LOVED! I was singing along the whole time. My favorite was probably Footloose because I loved the Kevin Bacon style kicks.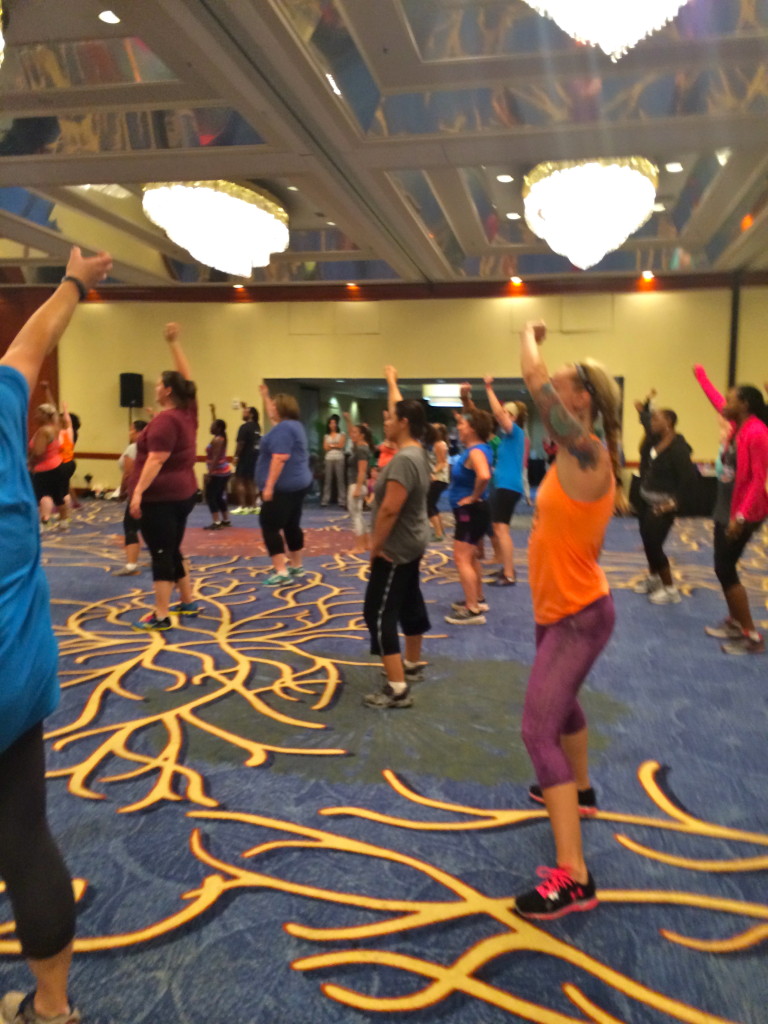 Mary and I laughed through the whole class. It was so much fun and we both worked up a sweat! She thoroughly enjoyed herself so I'm glad her first Zumba class was a success. The music made it!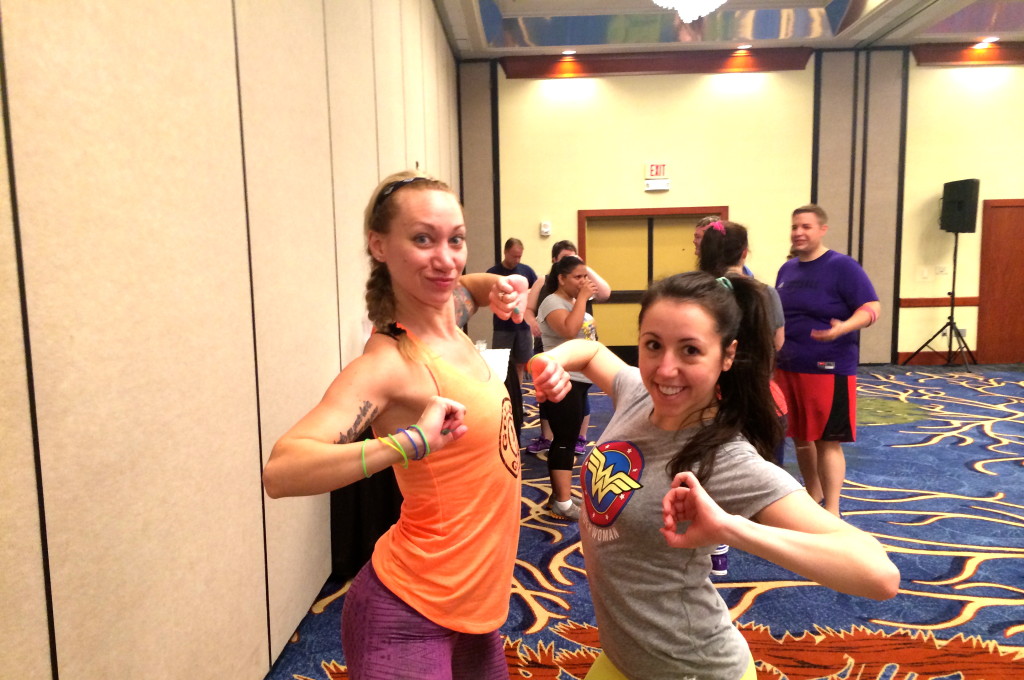 With some of the instructors 🙂
After Zumba, and meeting with a few sponsors, we changed and went out for lunch.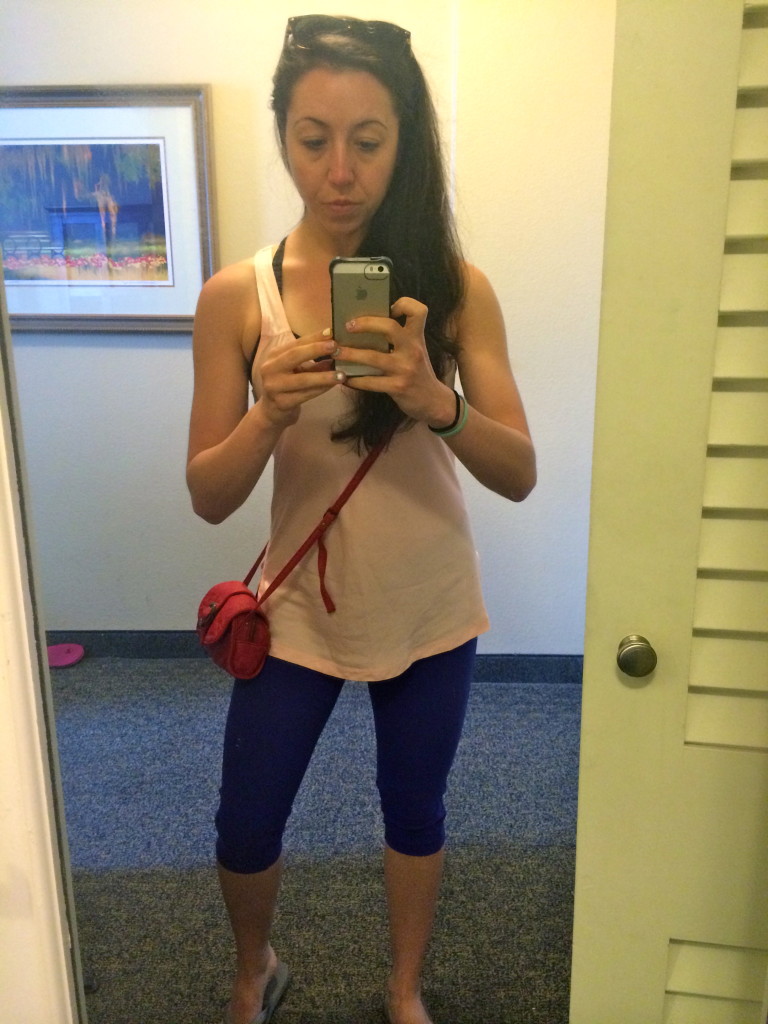 We found an adorable cafe and sat down at a chalkboard table. We took full advantage of it and I had to shamelessly self promote myself.
There was also a cute little bean bag game and Mary scored her first try… if you look close you can see the bean bag mid flight. It's to the left of the black pole 😉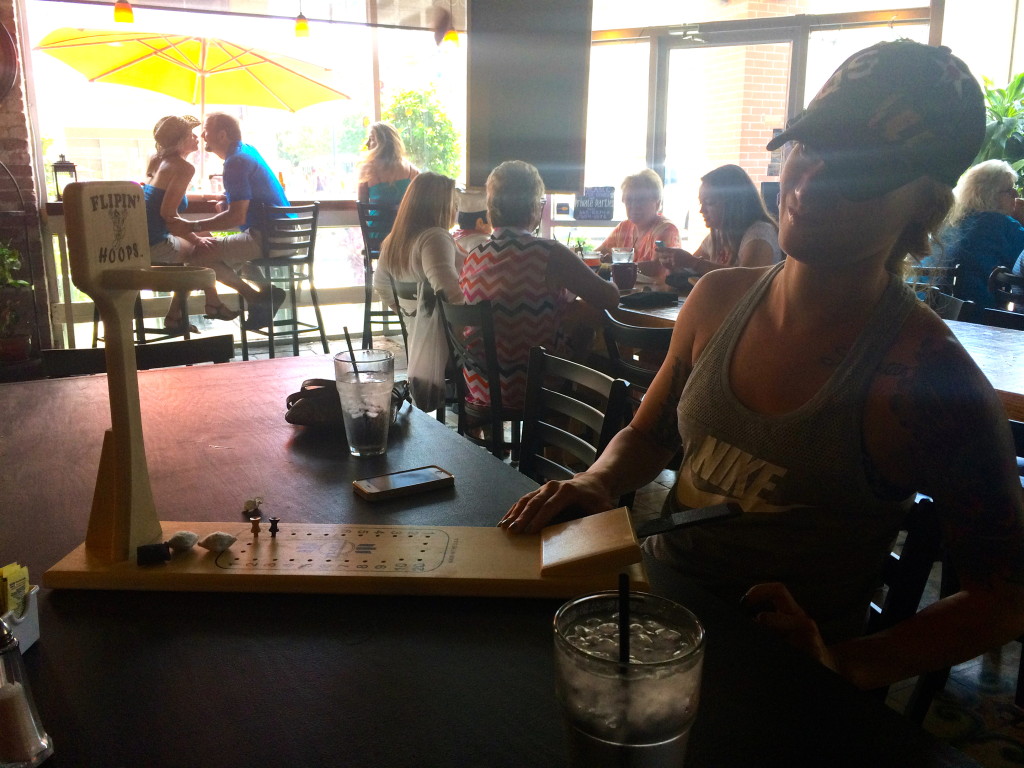 I ordered something I had been craving since my last competition, grilled cheese. Not just any grilled cheese, a black gouda grilled cheese with a blackberry balsamic reduction and carmalized onion. All of my favorite things: toasted bread, cheese, onions, balsamic, jam… UHHH YES PLEASE!
It was so amazing. I also had a side of watermelon with feta, also so great!
Yes, that is jam on my face folks. Not afraid to admit I THOROUGHLY enjoyed that "sammich" !!!
Mary had a toasted chicken panini with cheese that was also so good. The pickles were on point!
Both of us got a cake batter flavored ice coffee to go. Isn't crushed ice the best?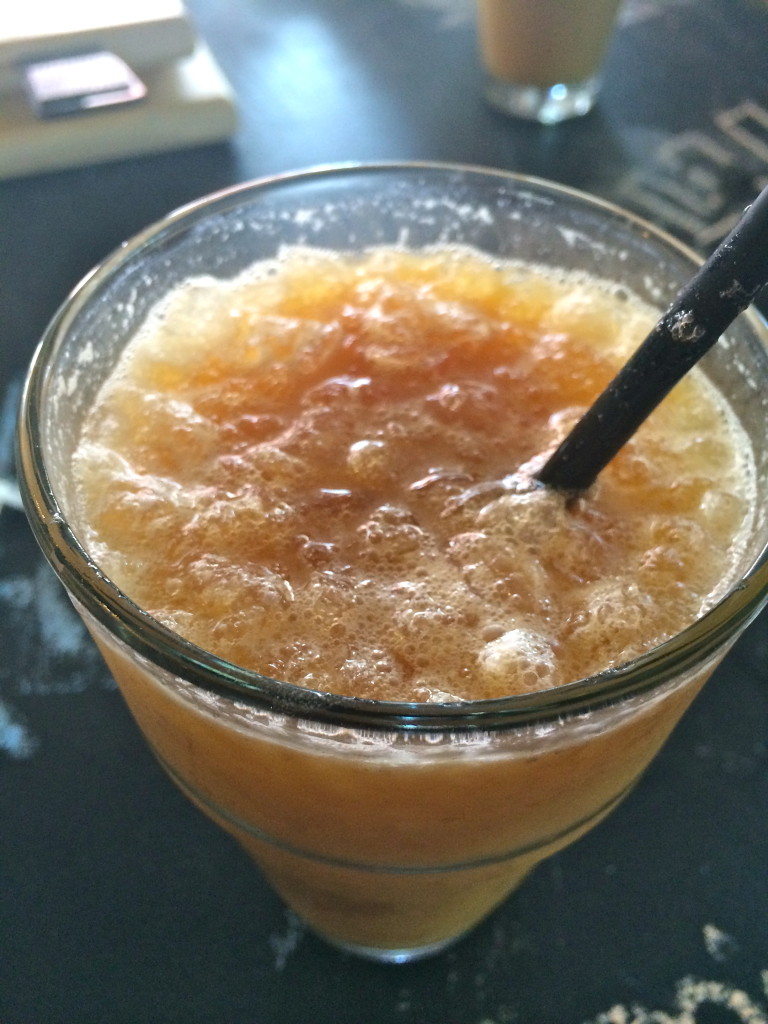 Speaking of coffee, I obviously didn't purchase one, but who knew there was such a thing as an eye opener?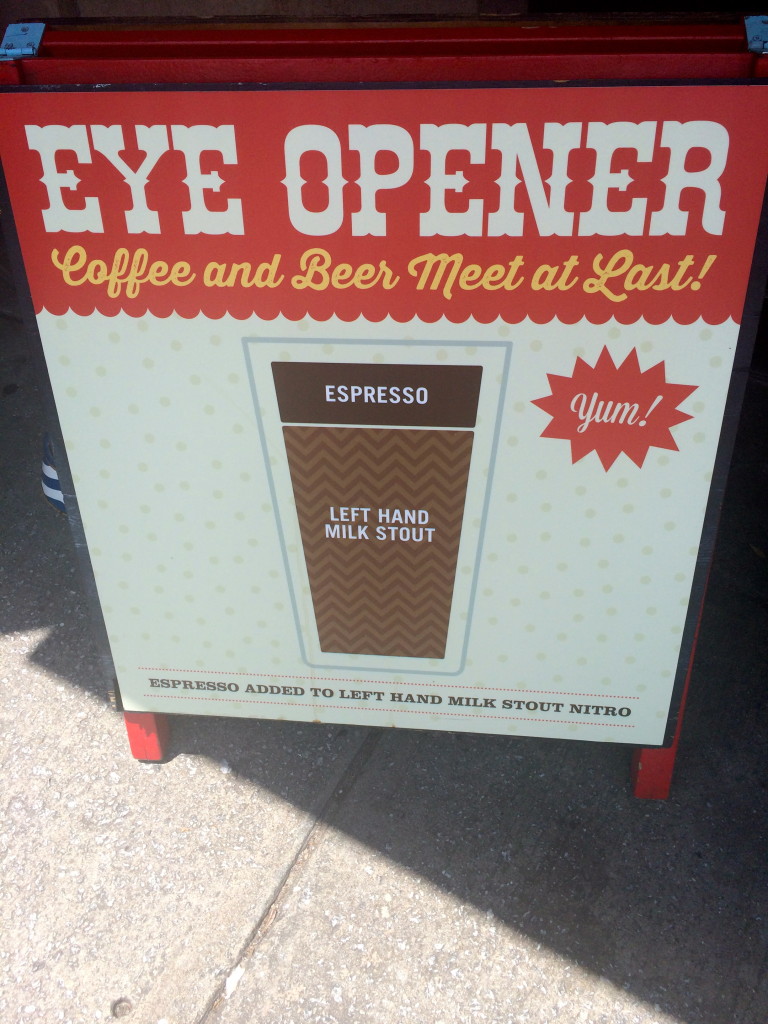 We also stopped at a little tiny macaron shop!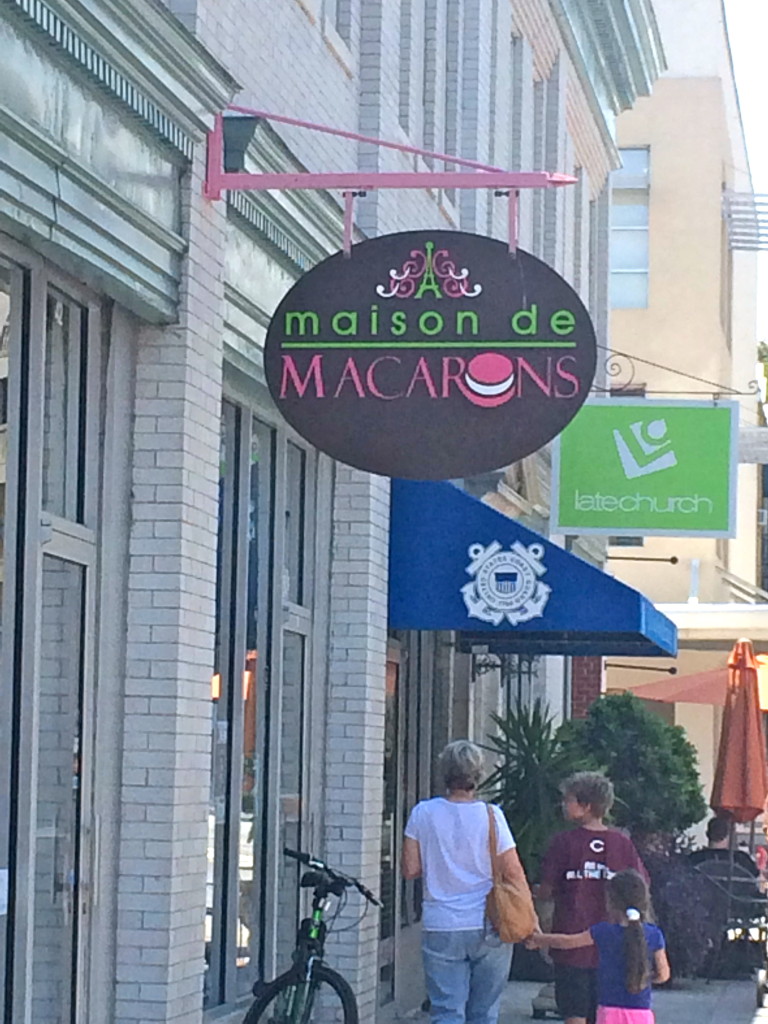 My mouth was watering looking at the case. Mary had never had a macaron before and they were wonderful. The Chocolate Covered Strawberry flavor had strawberry jam in the middle…. yes jam again! It was so good I could have cried.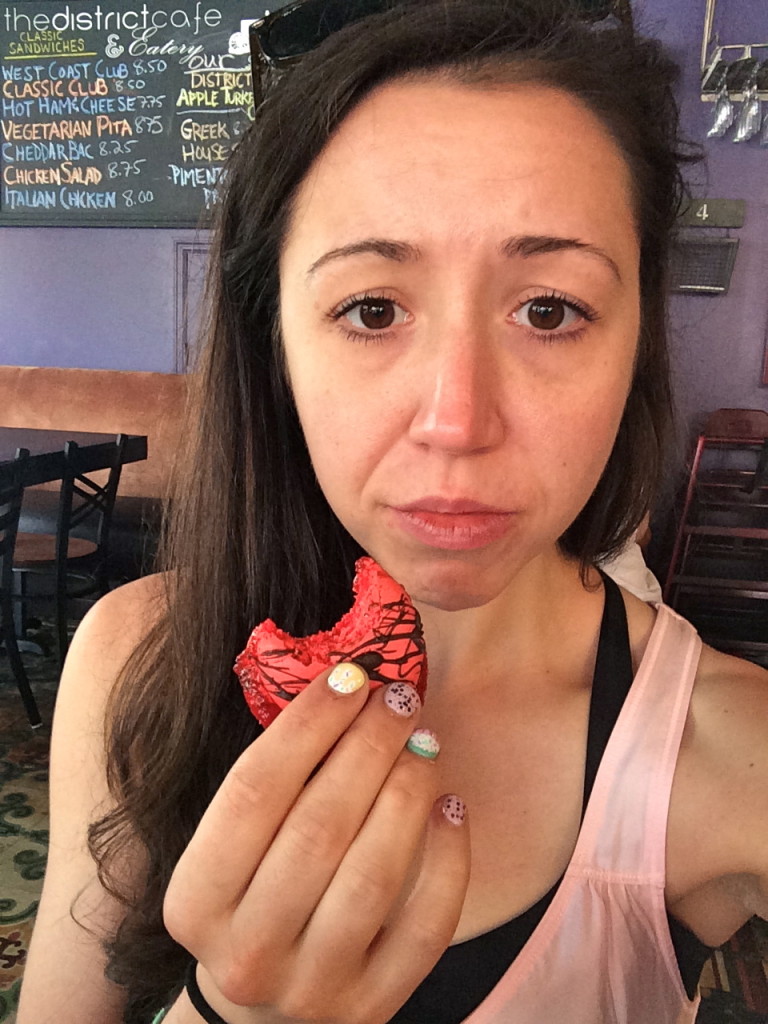 I also had a key lime and a vanilla bean that tasted like ICE CREAM! I could have eaten 10 vanilla bean macarons if given the chance. THAT GOOD.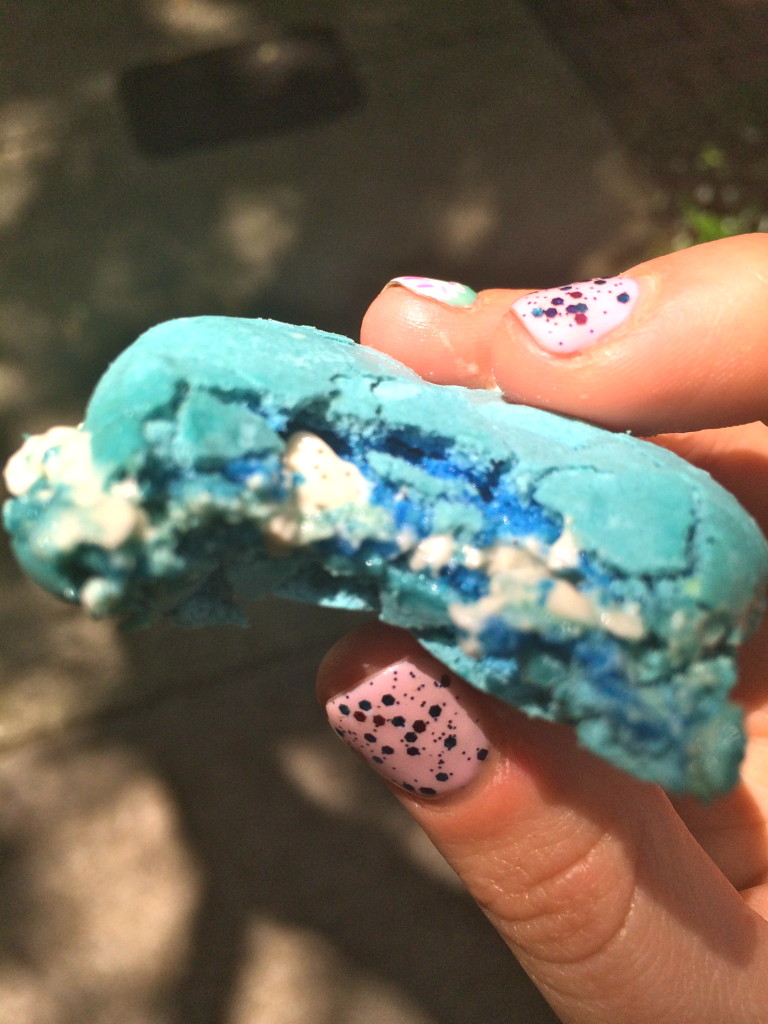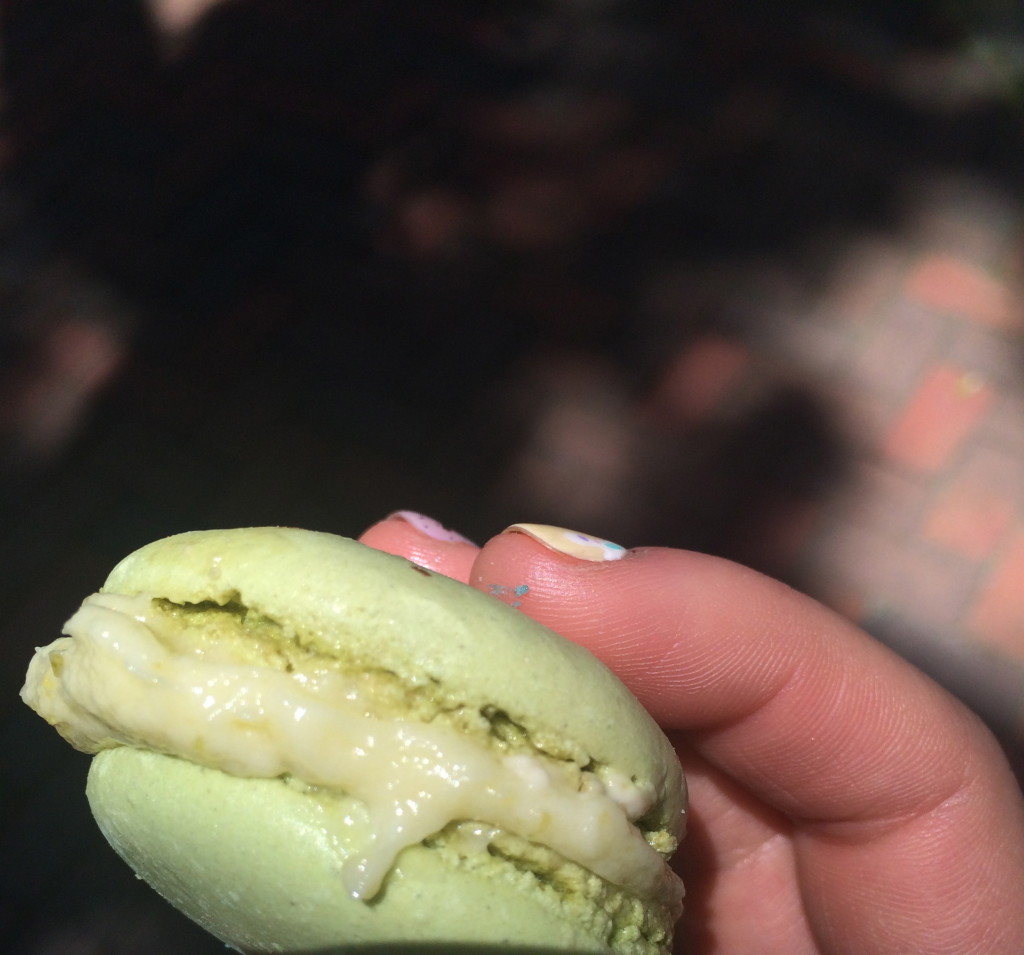 After lunch we continued our exploring and came across this old haunted house. Spooky! Supposedly people were buried underneath it.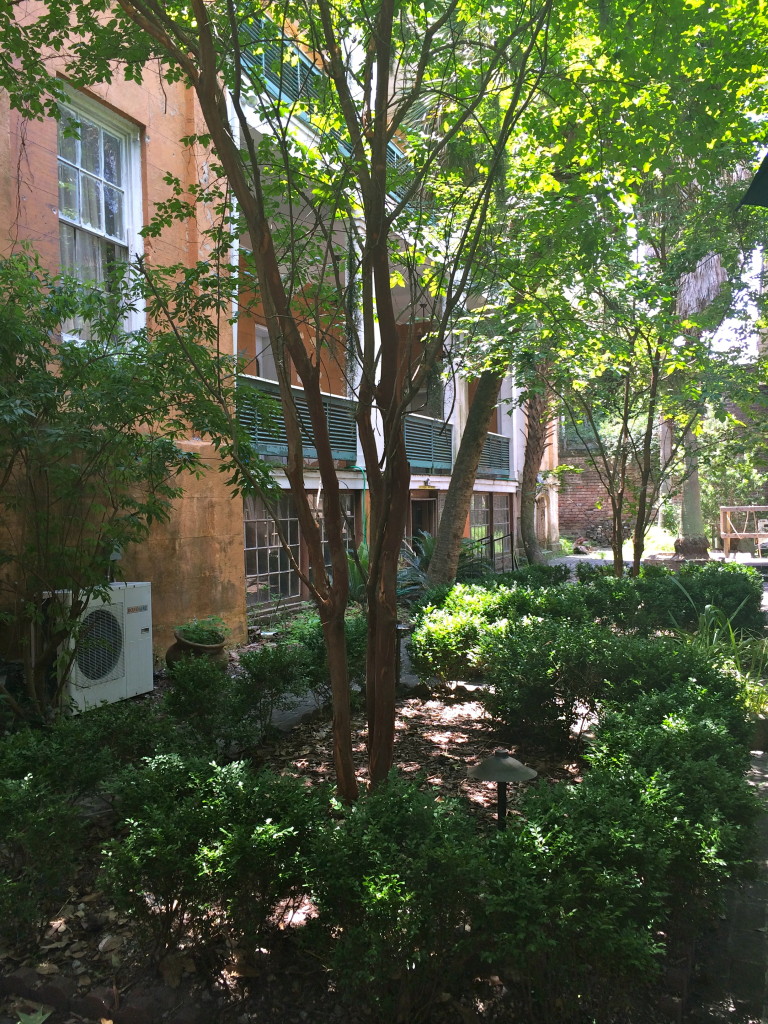 I ended up getting a little sun on my shoulders that day too. It was HOT in Savannah, but beautiful and sunny out.
Back at the hotel I attended a blog talk, and then we got ready for the nightlife again.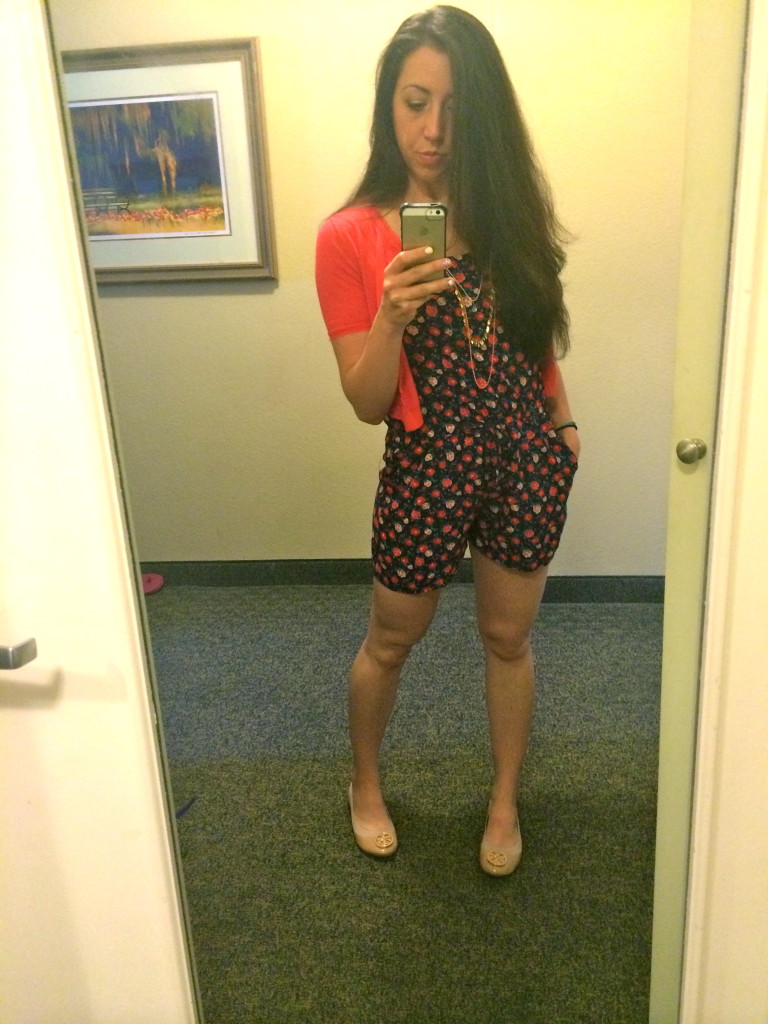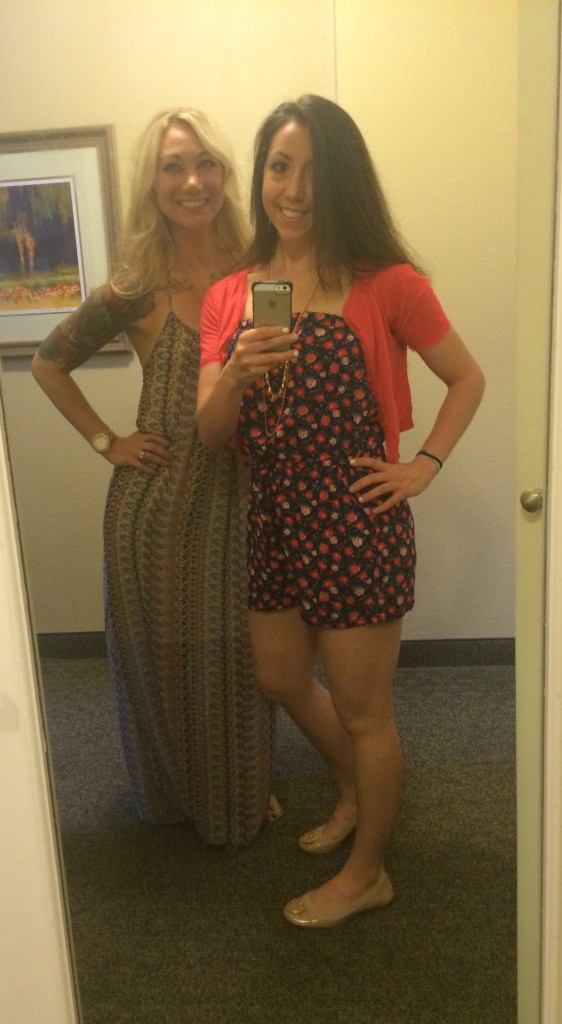 We put on our cute summer clothes for dinner at The Olde Pink House, a Savannah must stop according to a co-worker of mine! Clark went there the night before and said it was great so we decided to go. We sat at the bar so we wouldn't have to wait.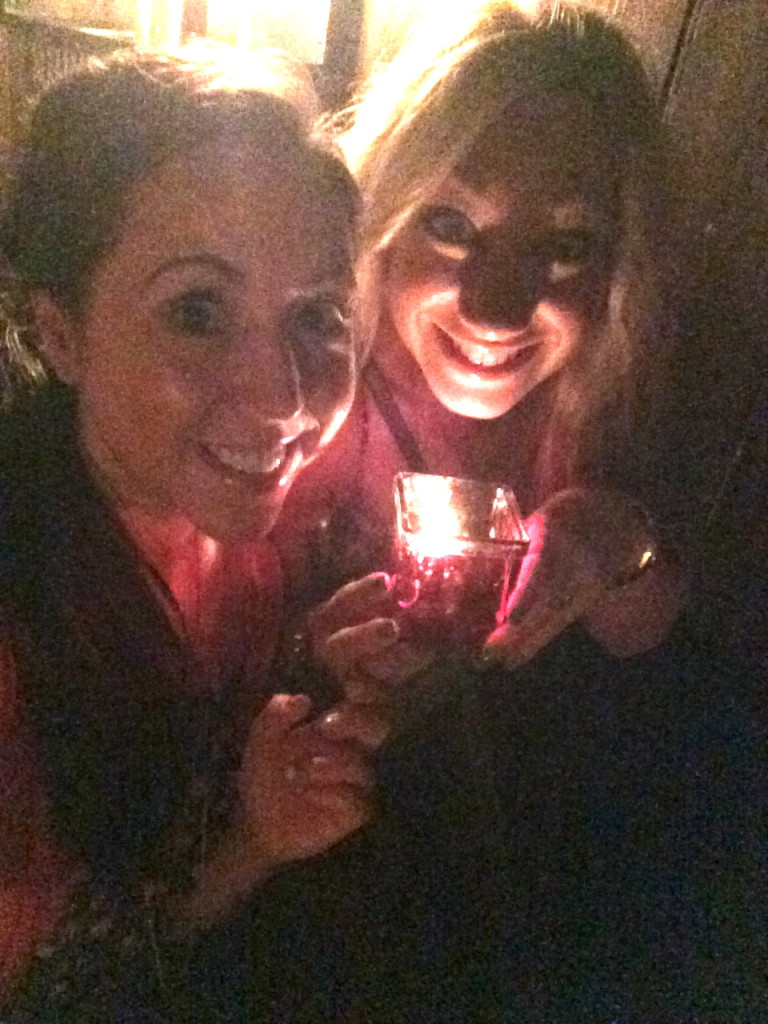 It was so dark in there! And funny story, Mary laughed and blew out the candle, then we laughed harder 😀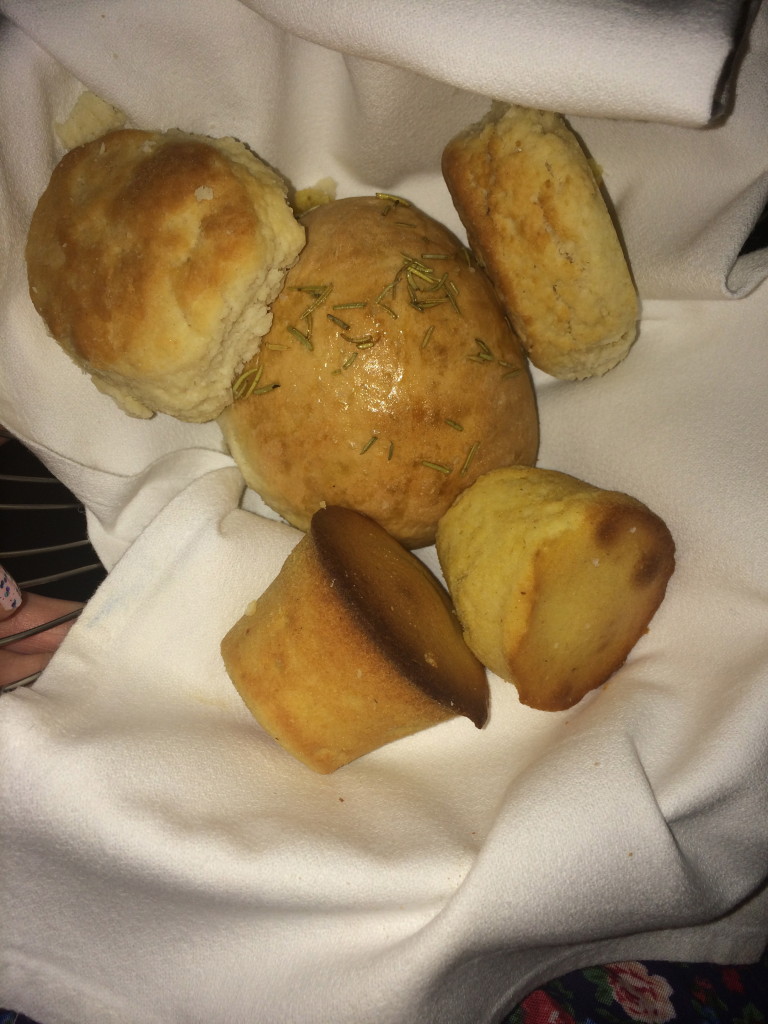 The bread basket was my favorite. Those little cornbread muffins and biscuits, yum!
I ordered a lobster tail (BUTTER!) and a side of BBQ sliders with slaw on top. Mary ordered pecan chicken with greens and a sweet potato. We also shared a cone of sweet potato fries. So crunchy and delicious.
We decided to skip dessert and headed back to the hotel for the FitBloggin' goodbye reception. There were snacks there, the peanut brittle was so good! And more of those delicious pralines.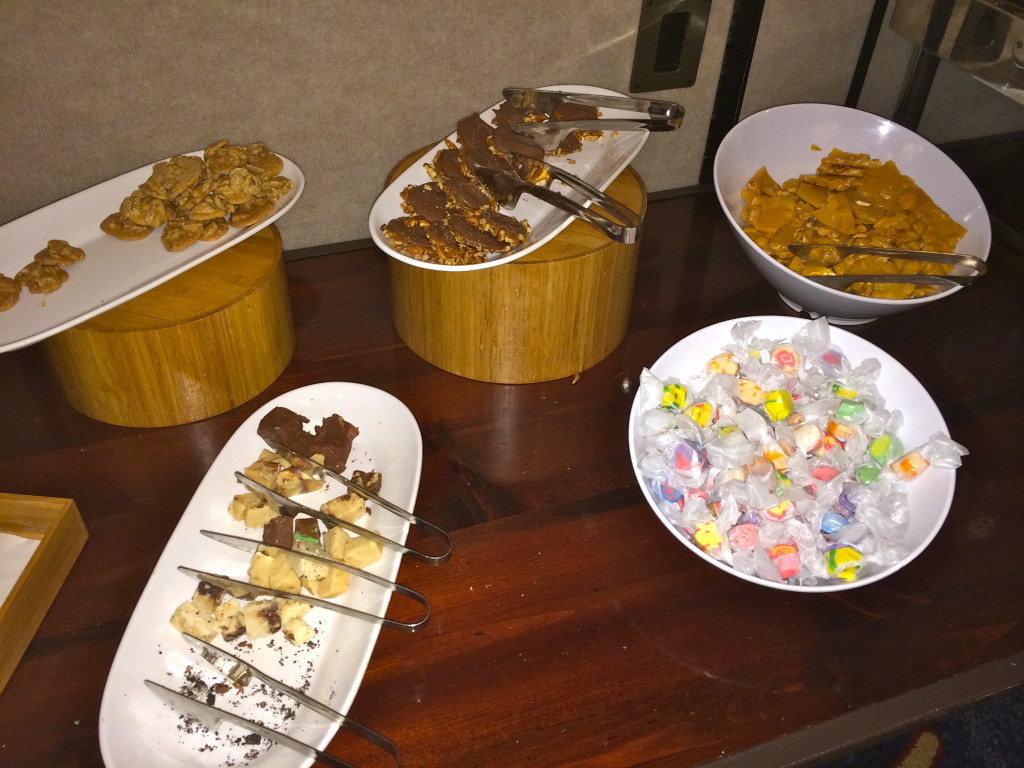 I was able to say hello to a few friends and readers too! I apologize that I was eating something bad for me before pictures, but it was vacation and I knew prep started once I got home.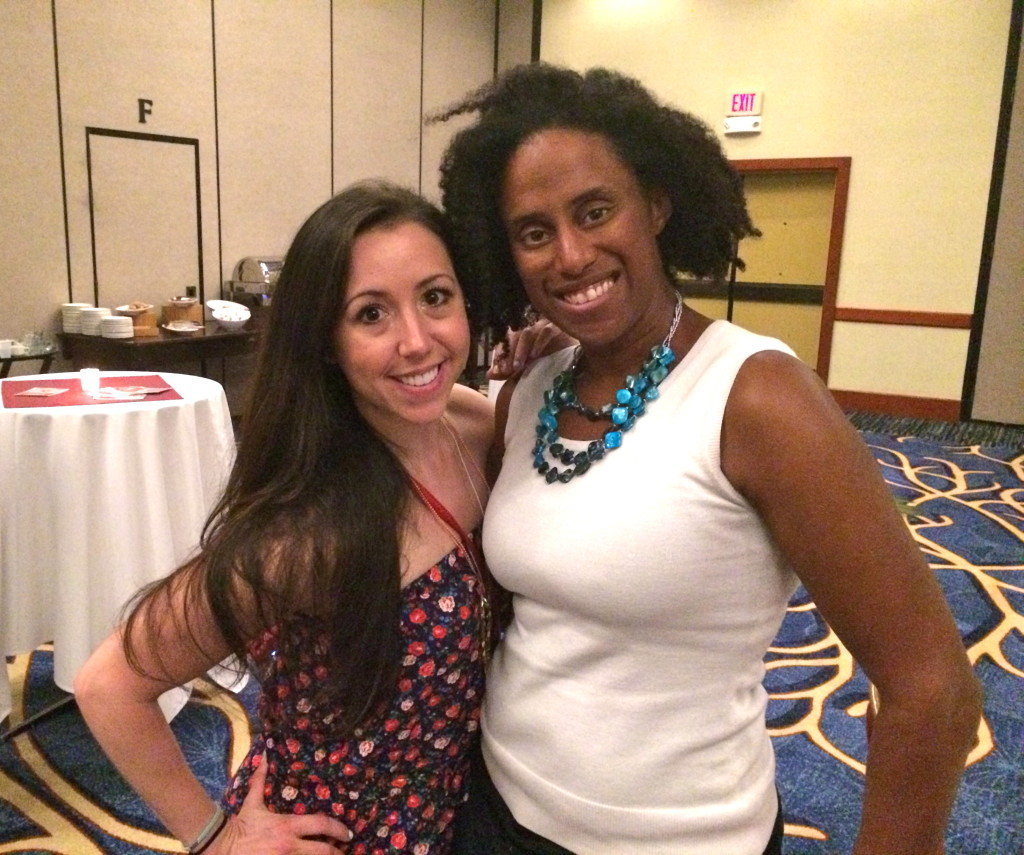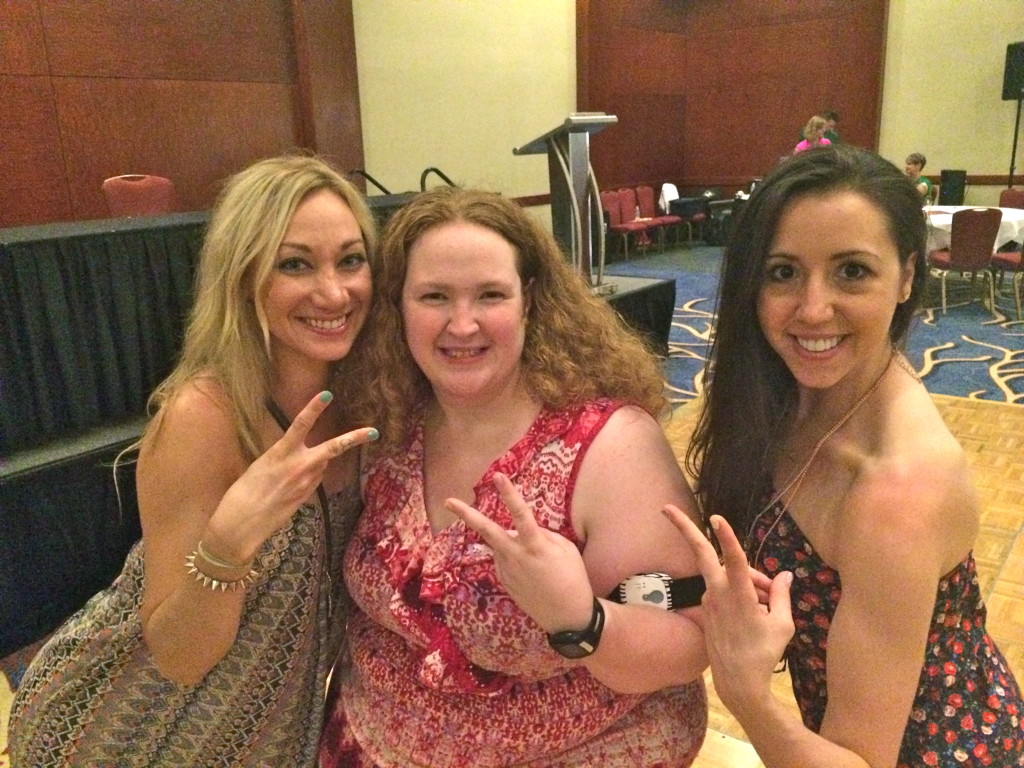 Here Mary and I are with Samantha, she taught the Zumba class earlier in the day. CRAZY story as to why we are holding up the peace signs. Samantha used to live in the Baltimore area, and in fact like the two of us (even though Mary and I didn't know one another as kids), went to the PASADENA SKATING RINK. Yes mom, you read that right! Pasadena is a NOTHING town in Maryland, no one even knows about it, but EVERY ONE in central Maryland from the ages of 8-14 went to that roller rink. We shared stories and I brought up the classic GROSS drink called the suicide. It was basically every fountain soda mixed in one drink. I get the shivers thinking about it. You had to drink it to be cool, but it was so nasty! Anyway, everyone threw up peace signs too.
After a few fun dances, Mary and I headed out to get a daquiri at Wet Willies, but I was a dummy and left my ID in the hotel so they wouldn't let me in. As I was getting turned away at the door, BOOM! The sky opened up and a terrential downpour started. Luckily we were right next to a canopy and a bench. We sat there for about 20-25 minutes before it slowed down enough to walk back to the hotel.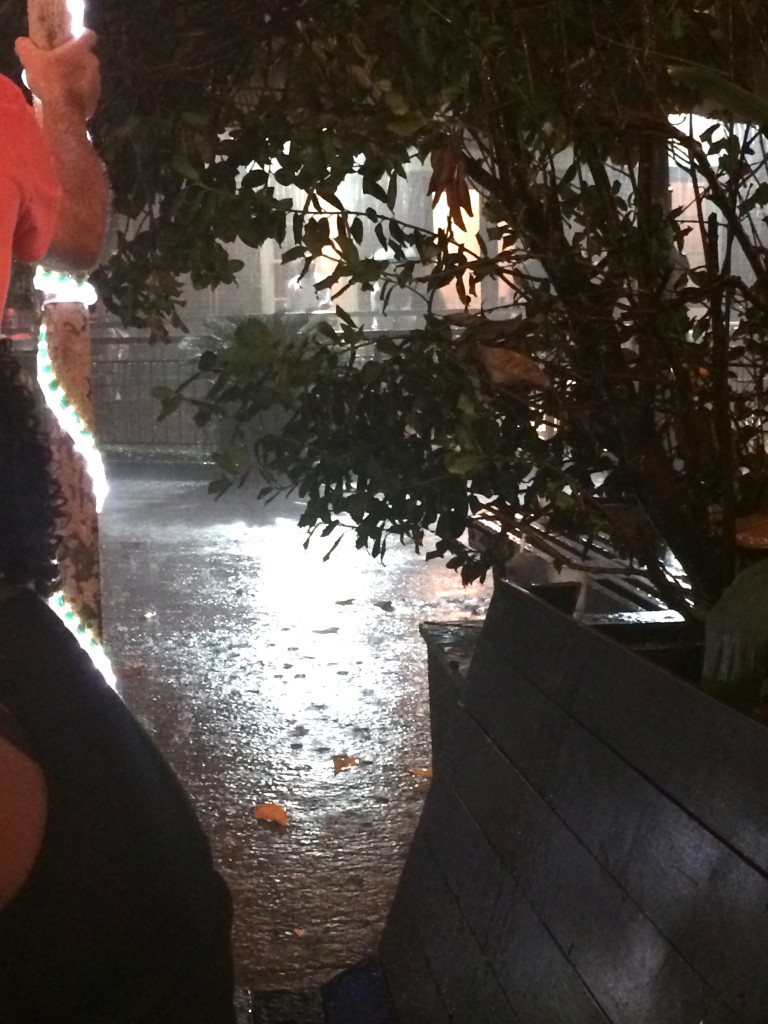 We still ended up wet… 🙁
But I did find my ID and we headed back out!
Some of those daquiri flavors we sampled and I gagged. It was WAY too strong, I'm not used to alcohol so I thought okay where is the fruity stuff? I settle for strawberry mango that I sipped half of and tossed later.
We walked around the town and hit a few bars, but it was a slower night. After a little while we headed back. I still had fun because I was with Mary! I don't think anything could have topped the night before 🙂 Plus the rain put a damper on things a bit.
So a great vacation day overall! Tomorrow we talk going home 🙂
XOXO With a Cherry On Top,
-Minnie
P.S. Stay tuned tomorrow for a FitBloggin GIVEAWAY! I have a bag of goodies to give one lucky reader 😀