Food Coma
Hey everyone!
Did I catch you all off guard by competing? Yeah, who would've thought huh!?
And I found one of the pictures I've been looking for! The top 5 ladies!
Delt poppin' 😉
In order to look that way I followed a VERY strict diet. Super clean, no cheats. At first it was horrendous, but as time went on it was much easier and I couldn't fathom the thought of any other food than what I was eating. However, after 17 weeks of that and a win under my belt, I felt it was only appropriate to celebrate the victory bikini gal style.
FOOD.
REAL FOOD.
I showed you guys yesterday the post competition dinner that "my boys" Chris and Tony took me to. The festivities continued the next day. For about 2 months Tony and I talked about post competition breakfast. We met down at the Inner Harbor, it was such a beautiful day out. What a nice change from snow and ice!
There's a local place in Maryland called Miss Shirley's that is known for their breakfasts and brunches. Okay REALLY it's a place where you have dessert for breakfast!
I have an obsession with jam, so seeing these in the basket made my heart skip a beat.
Don't mind if I do…
We ordered a decadent monkey bread that we've been eyeing for MONTHS. Sinful guys, just sinful. The middle had a chocolate sauce.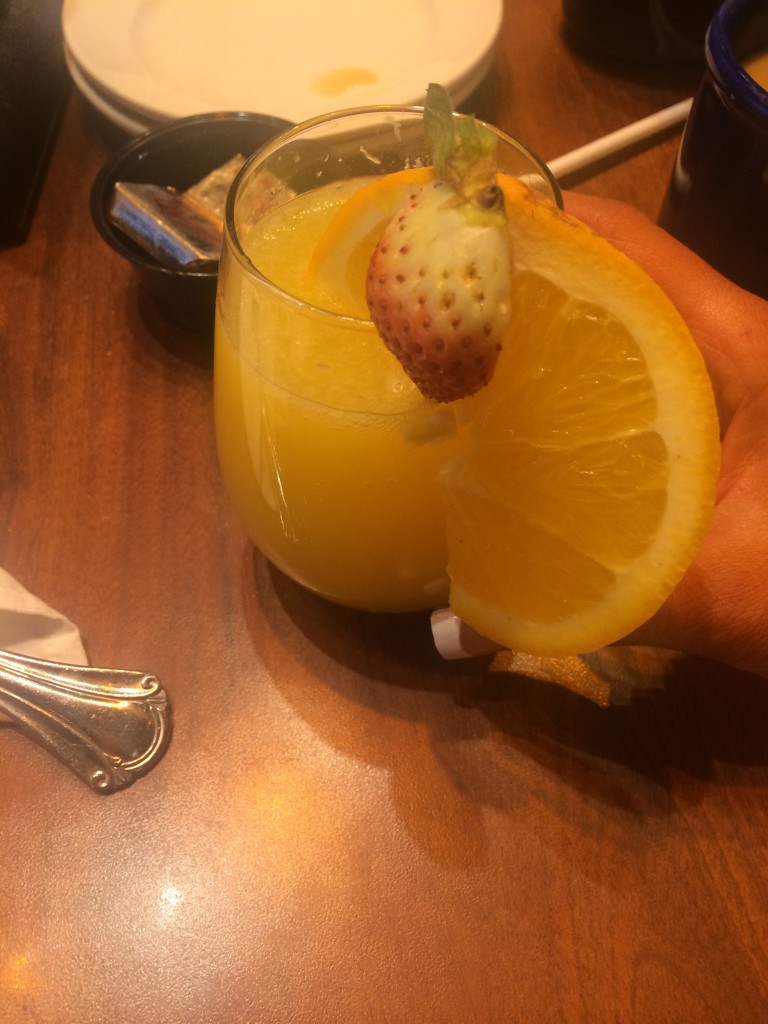 I'm not much of a drinker, but a mimosa felt appropriate.
We both got a dish and split things because that's how I roll! I ordered these amazing white chocolate raspberry pancakes.
Okay, I TOTALLY get the pancake craze now. Evidently I've been eating pancakes the wrong way all these years. These tasted like straight up fluffy, buttery CAKE! Oh my… words cannot explain how delicious they were. Tony and I both rolled our eyes and laughed because it was that good! Dieters unite and eat cake 🙂
He ordered an amazing crab cake sandwich with chicken and an egg on it. INCREDIBLE. I made him get a side of hash browns so I could taste them with ketchup.  There may have been a small bikini woman reaching across the table with her mouth open like a baby bird for those hash browns… but ya know I'm not quite sure 😉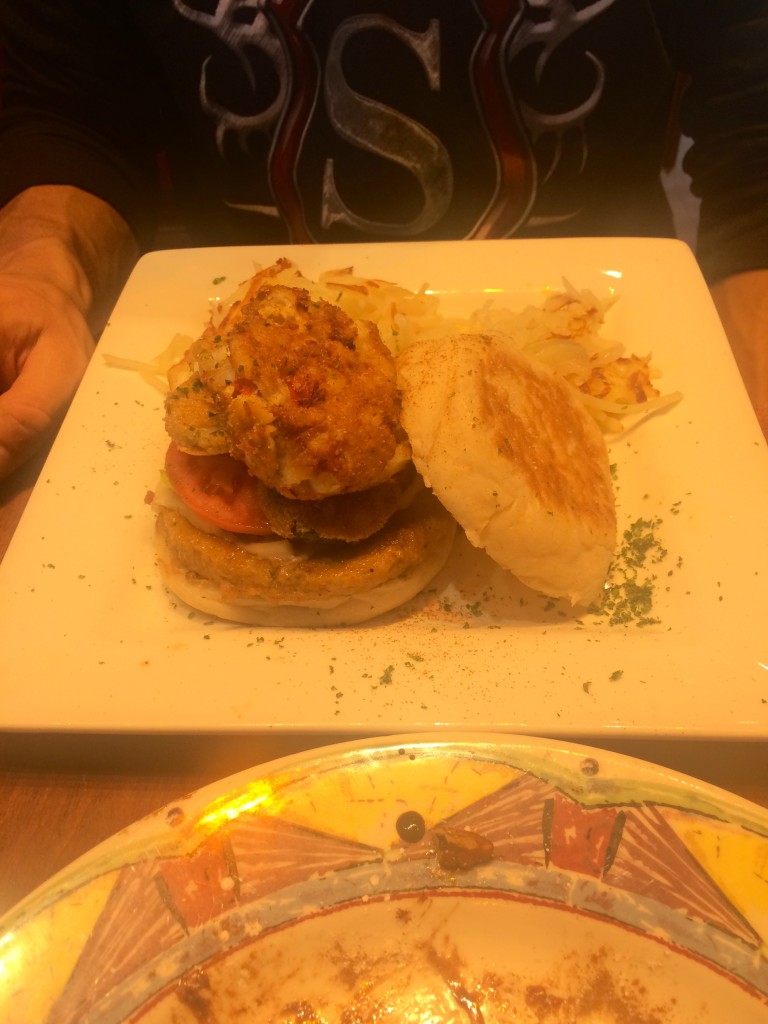 The damage…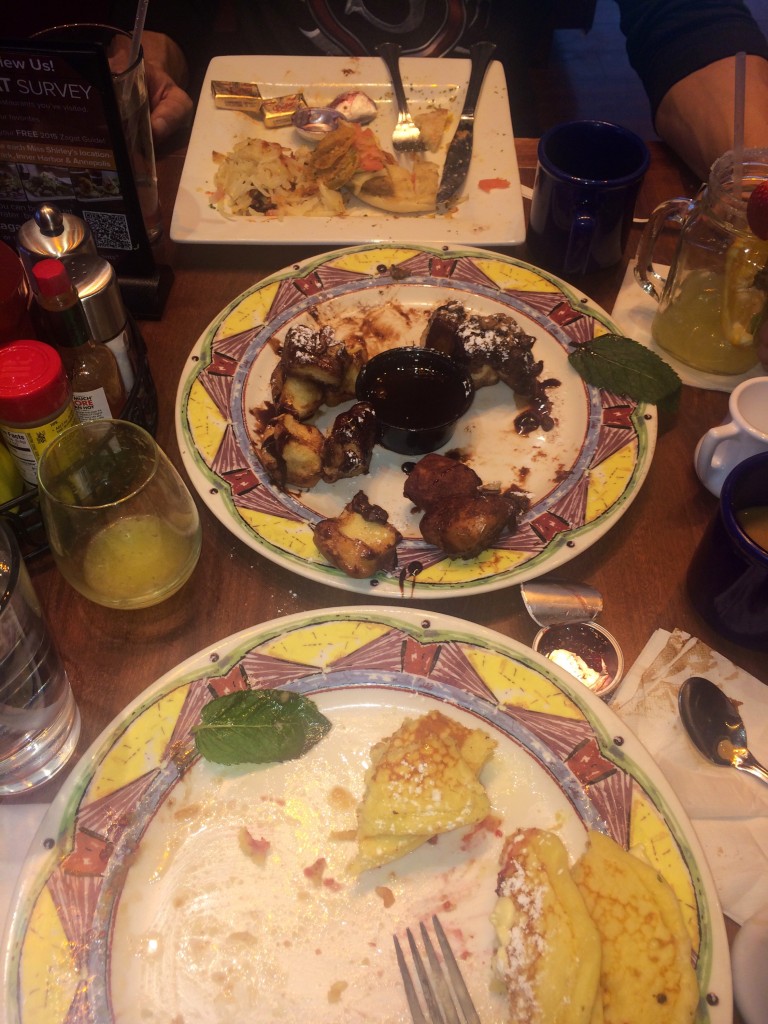 Worth it.
In the evening I met my friend LJ for dinner. This story begins back in September when I spent the day at the race track with him. Remember that? Well I introduced him to my bikini girl lifestyle and told him I'd be back on prep in November for a March show. He's from Boston, so he isn't too familiar with what Maryland and the Baltimore area has to offer. I told him about a place called "Hip Hop Fish & Chicken" and he thought I was kidding. I had never been, but had heard it was the best fried chicken ever. He laughed about the name and said well obviously we have to go get some before you begin prep. We never did.
As the weeks went on, he supported my lifestyle 100%. When he found out the award was a sword he said to me "If you get a sword we are rolling in hip hop chicken the next day". It was a running joke.
After finals I sent him this picture and said "HIP HOP CHICKEN!"
And guess what? He stayed true to his word! A check off the bucket list.
I barely put a dent in that.
It did not settle well. In fact I suffered all night long. I couldn't sleep. I felt pregnant. My body was actually shaking, numb, tingling. I tossed and turned. I had never felt pain like that ever. My little stomach was so stretched I couldn't move. I kept itching all day too.
I definitely learned my lesson. You can't go from eating a bland super clean diet to HIP HOP CHICKEN. You just can't!
The next day after some strong coffee I decided to head to the gym. I didn't have a game plan, I just wanted to loosen things up and move. I did some cardio and a lift, but nothing serious. I went super light.
And yes, I'm still insanely dark. I was sprayed 5 times! It's not coming off for a while.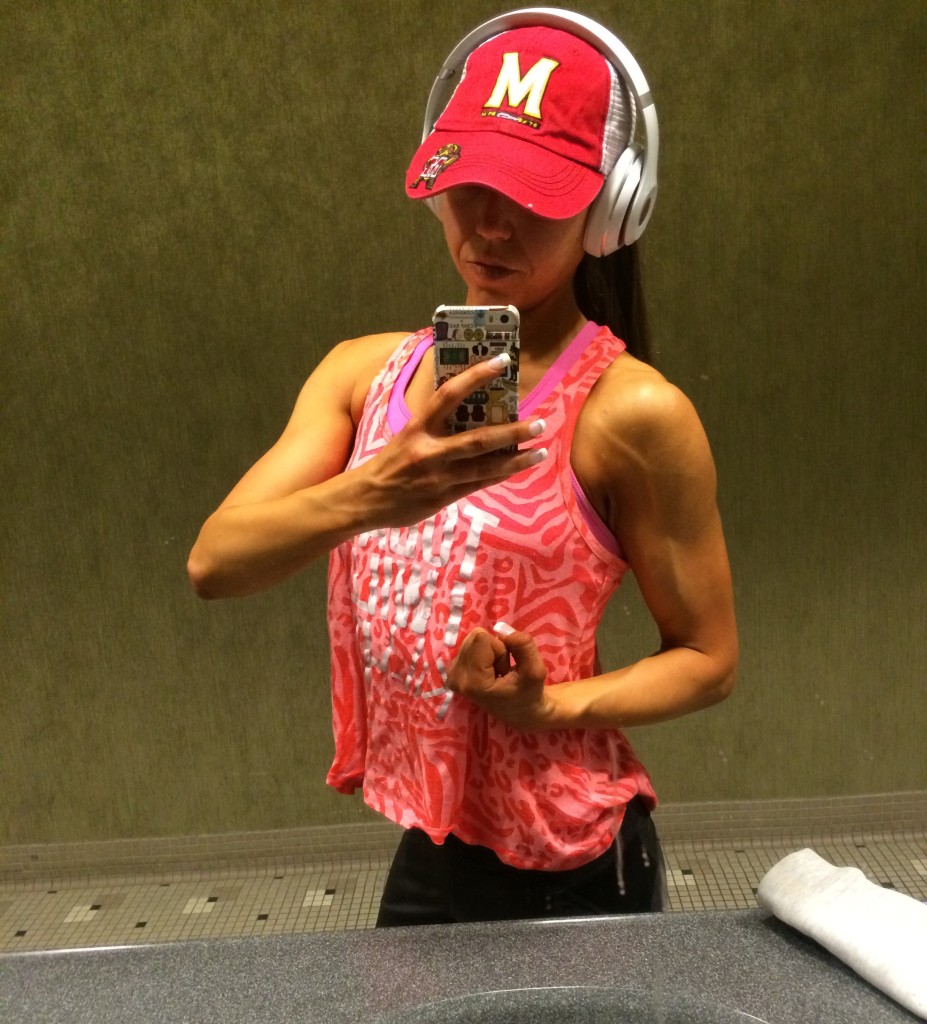 Post cheat pump!
So now what? Well tomorrow I'm going back to a regular gym schedule and lift. It's part of who I am whether I have a show or not. I also plan on eating what I want (but not like the above) until Wednesday. Then I'll go back to clean eating ways and come up with a game plan to reverse diet.
The rest of this week I'll talk about my journey. I have so much to say and show. I took progress pics all along the way, so it'll be a lengthy blog, but it will be up one day this week.
XOXO With a Cherry On Top,
-Minnie