Forgiveness Includes Puppy Kisses
Excellent news! Phoebe and I made up. I did not go into details yesterday, I just said that she misbehaved. Believe me, she really did some bad things. Let's just say my apartment did not smell so great!
She did get penned up, and of course I felt extremely guilty, but had to stay strong! She is still a puppy after all, and puppies have to learn right from wrong. I had a stern face when she saw me, but the second I turned the corner I teared up. But don't let her know that, K?
All is good now. I can't stay mad at that cute little face!
These delicious chips are the recipe of the day! People and Puppy friendly! And super fresh. They are the best right out of the oven. Click the pic or HERE for the recipe!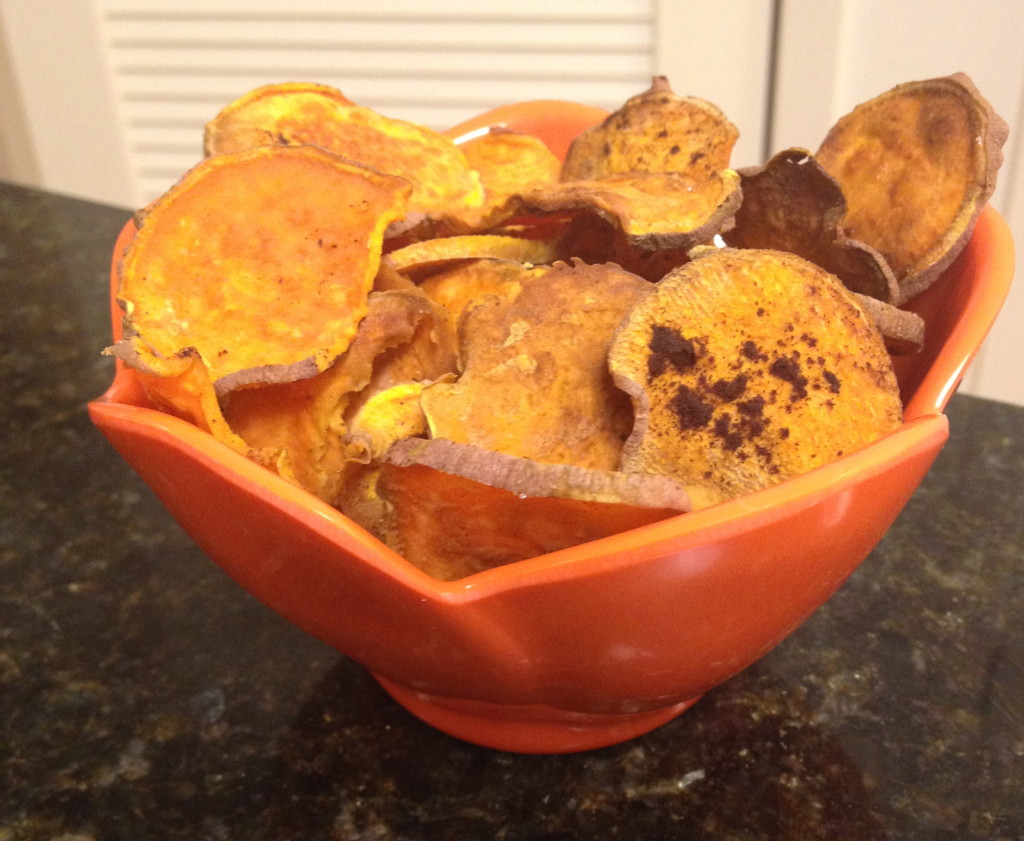 Before the gym I had greek yogurt with some frozen peaches I forgot I had in my freezer! And chia seeds mmmmmm
My gym workout today was cardio and arms. Usually Wednesday's is my spin class day, but my bum was hurting and I wasn't sure I could sit on that seat for an hour!
So while I'm lifting away, what do I listen to in the gym? Really it's a mixed bag. Not all of it is "pump you up" songs. Here's a quick list of some songs on my gym playlist right now:
Muse- Guiding Light, Madness, Survival
Jason Mraz- The Woman I Love, If it Kills Me (Casanova Sessions)
P!NK- How Come You're Not Here, Try, Here Comes the Weekend (really this whole new album is amazing)
Carrie Underwood- Two Black Cadillacs, Cowboy Casanova
LMFAO- Sexy and I Know it (of course!)
Train- 50 Ways to Say Goodbye
Justin Bieber- Beauty and a Beat (hey I like it!)
Adele- Rumor Has It
Christina Aguilera and Blake Shelton- Just a Fool (download this NOW)
The Beatles- Let it Be
Elvis songs… because duh I love him
Matchbox 20- She's So Mean
Scotty McCreery- Please Remember Me (Great Tim McGraw remake)
Really it's a huge playlist, but that's just a taste for those that wonder what's inside those headphones!
Arms today-Triceps/Biceps:
Bicep curls using the cables. Single arms. 20lbs, 10 reps x 4 sets
Tricep pull downs using the rope on the cables. 40 lbs, 15 reps x 4 sets
Tricep pullovers using cables. Standing in a split stance, bring the rope over your head, extending out and back in. 35 lbs, 15 reps x 4 sets
Hammer curls, 17.5 lbs, 12 reps x 3 sets
Bicep rows using a 40 lb bar. Knees bent, underhand grip, row the bar into your belly button and back down. 15 reps x 4 sets
Uppercut punches using 15lb kettle bells, balancing on the bosu ball! 15 reps x 5 sets
Tricep dips using the bench. Dipping your butt up and down, legs straight in front of you, elbows in tight! 12 reps x 3 sets
Bicep curls using a 30lb bar. 10 reps x 3 sets
Tricep extensions using 12lb kettle bells. Arm up to the ceiling, bend the elbow, weight goes slightly under shoulder and back up. Keep your arm in close to your head! 12 reps x 2 sets each arm
Arm workout was pretty fierce as you can see. I felt awesome. I'm starting to see those triceps pop a little bit! Hard for ladies 😉
And don't forget the biceps 😉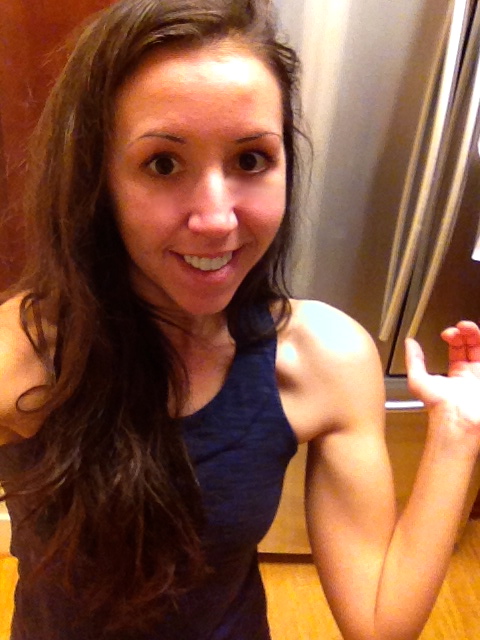 G-Mama was oh so kind to make me a DELICIOUS countertop salad to take with me. It was beautiful too!
Tomorrow is leg day! See you in the gym 😉
XOXO With a Cherry On Top,
-Minnie