Freebie Day
Oh Tuesday. I'm not sure if I mentioned this before, but when I was a kid I HATED Tuesday's. It was something about them. I always felt like something bad was going to happen and usually it did. I think it started with a certain class I had on Tuesday's that I hated in school, and it just followed me like a dark cloud from there.
I enjoy Tuesday's a little bit more now, because really we are one day closer to the weekend! It's not Monday so ha take that!
Work flew by yesterday because I was super busy. Like I mentioned yesterday, I worked with a new team and worried for nothing. Everything went well and I felt perfectly comfortable with everyone. Thank goodness!
My breakfast was my usual greek yogurt- not going to bore you with the picture again. Lunch was a salad with pulled chicken I made from the other night. When I was driving to work in the morning I realized I left the salad dressing in my fridge! I was so mad because I made a new batch the night before especially for my salad. So I had to settle for a low fat honey mustard that they had in the cafeteria. Better than nothing!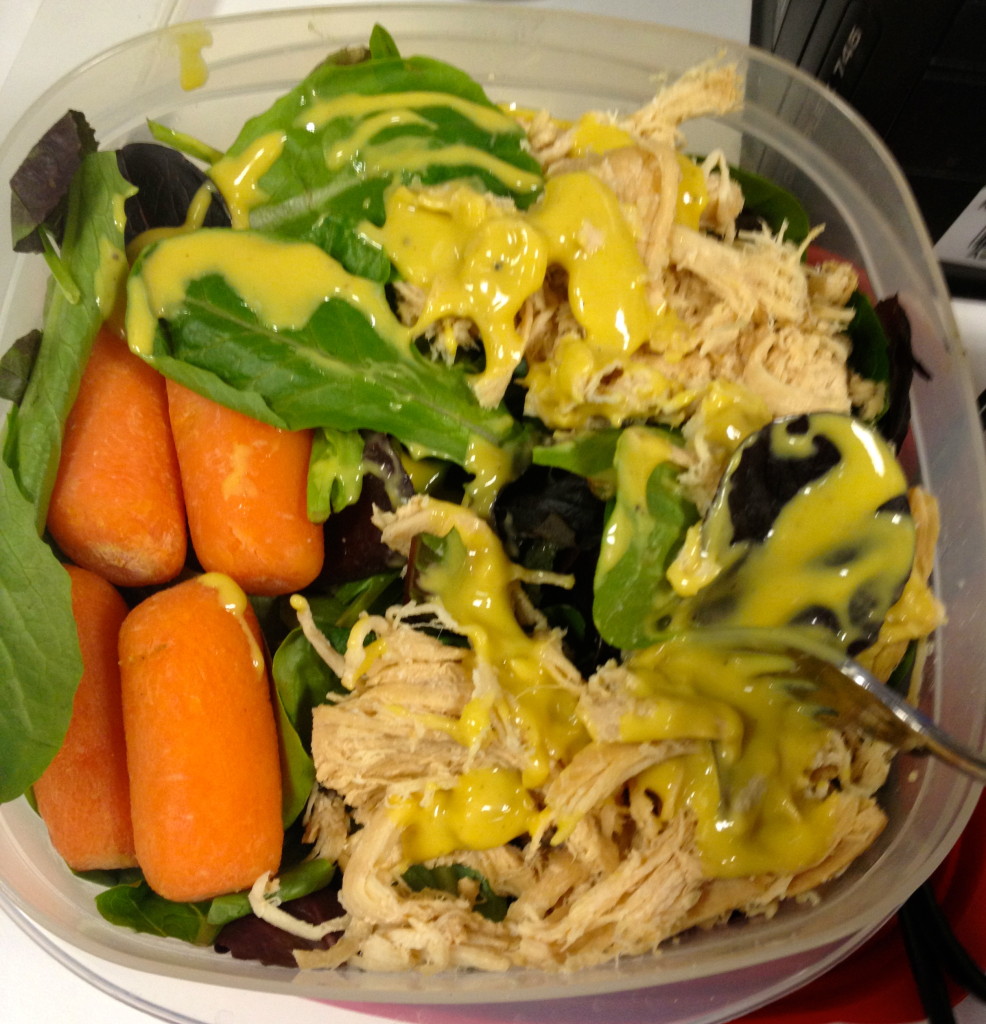 Before I knew it the day was coming to a close and I was out the door for the gym! I actually didn't take a day off last week, but I have been in a funk lately and wanted to go. I considered yesterday a "freebie day" because I didn't stick to a particular muscle group so I wouldn't mess up my schedule. I just did whatever I wanted!  A few of my favorite exercises and some ab work along with my cardio. You would think I would have loved it, but no I didn't. I like structure! I like my routine, and it felt to out of whack for me. I only did an hour or so just to let the day release!
This was my workout:
22 minutes on the elliptical
12 minutes on the stairmaster
Rear Delt Fly's, 20 lb kettles, 12 reps x 4 sets
Kettle bell single arm swings 20 lb kettle, 10 reps x 4 sets each arm
Curtsy Lunges holding 12 lb kettle, 12 reps x 3 sets each leg
Bosu squats holding 20 lb weights, 12 reps x 3 sets
Lat assisted pullups, 15 reps x 2 sets wide grip, then 12 reps x 2 sets narrow grip
Abs:
Scissor kicks, slow (head and shoulders off mat, legs 45 degrees and straight) 10 alternating reps x 2 sets

Bicycle crunches, slow, 10 reps alternating x 2 sets
Pilates roll up, 10 reps x 2 sets
Side crunch (hips stacked) lifting legs up, 10 reps x 2 sets each side
Side plank with top leg lifted and small leg lifts x 10, 1 set each side
The Hundred x 2 sets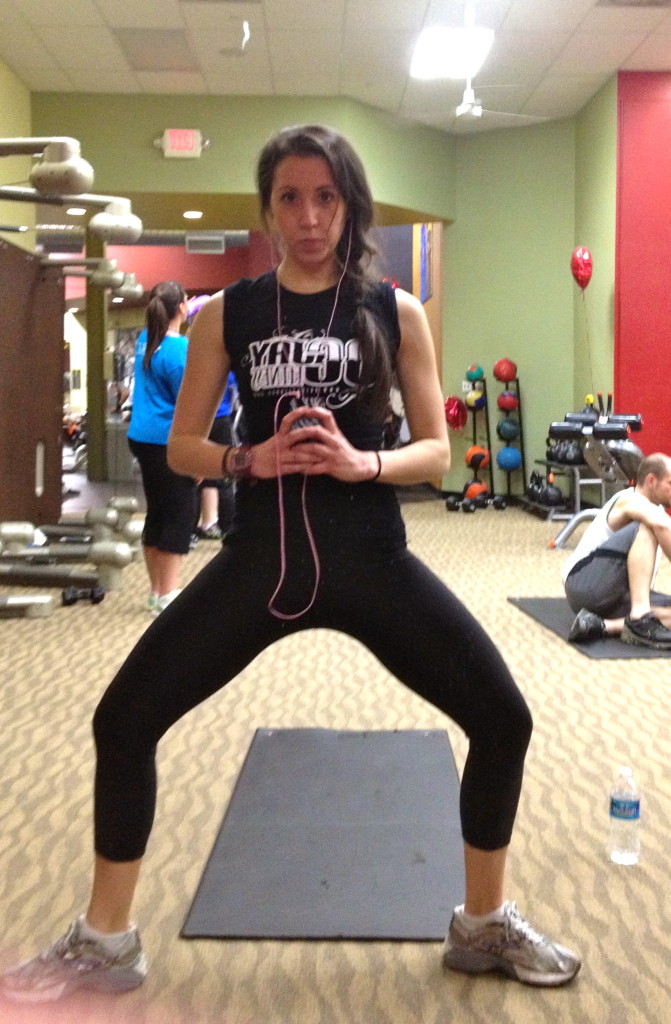 At home I had a Butternut Squash Chicken Burger (my recipe from yesterday). I realized that they are similar to a crab cake because of the shredded chicken! So good. Make these 🙂
I also had a side salad with it!
Dessert was a special recipe I promised to make for one of my regular readers Brandy. She requested a healthy version of her favorite easter treat, Chocolate Peanut Butter Rice Krispie Treats. At first I thought wow, this might be a challenge, but Skinny Minnie LOVES A CHALLENGE! Voila a Healthy Chocolate Peanut Butter Rice Krispie Treat!
I was super pleased with how they turned out, and okay I will admit it, I ate two of these. I couldn't help myself! So good! So click that picture to make these. Took me minutes to bring it together.
Phoebe was being Phoebe again.. which means a little terror
But I still love her just the same
Back day coming at ya tomorrow! Yay deadlifts!
XOXO With a Cherry On Top,
-Minnie