Germ Fest
It's a good thing you can't catch germs via the internet, because you all would be in trouble! Seriously, I feel like a walking germ and I hate it. Yesterday I was finally able to get out of my apartment and head over to my moms house (Phoebe was thrilled). I gathered our things and packed her 2nd new toy I gave her even though she punctured the squeaker in the first 5 minutes of getting it… fail. She still likes it because it's small. Phoebe loves small toys!
My mom and I both just coughed the whole time instead of talking. It was a germ fest. But it did feel really good to see my mama! I'm used to going over there every day I have off. One of the benefits of living close to home 🙂
I am finally getting my appetite back too, eating more than just fluffs. In case you missed it, check the blog below for my Trail Mix Cookies! They are yummy and have 10 grams of protein per cookie. Perfect for a pre or post-gym snack.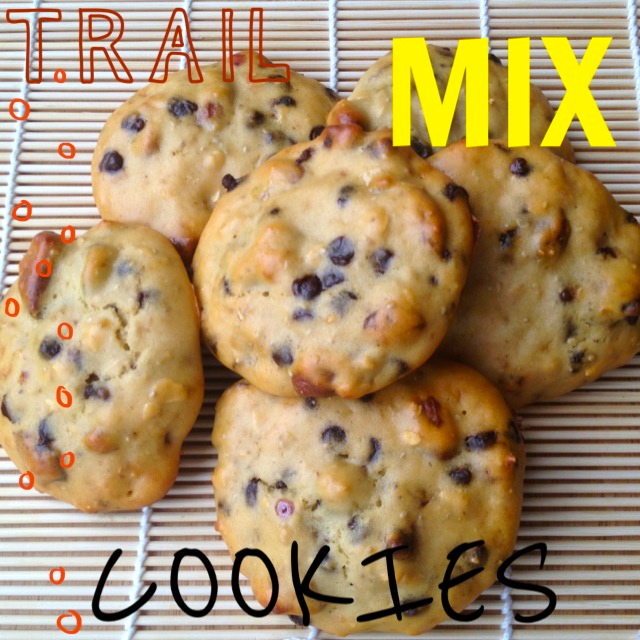 When dinner time rolled around last night I wanted pancakes. Actually it's all I wanted the whole time I was sick but I couldn't find the energy to make them. So I finally did and I enjoyed myself. I did not intend on making these a "recipe" because I threw them together so fast, but they were SO good I just have to share! They are definitely not blog pretty, but are by far my new favorite pancake recipe.
These are Chocolate Chip Cookie Dough Casein Pancakes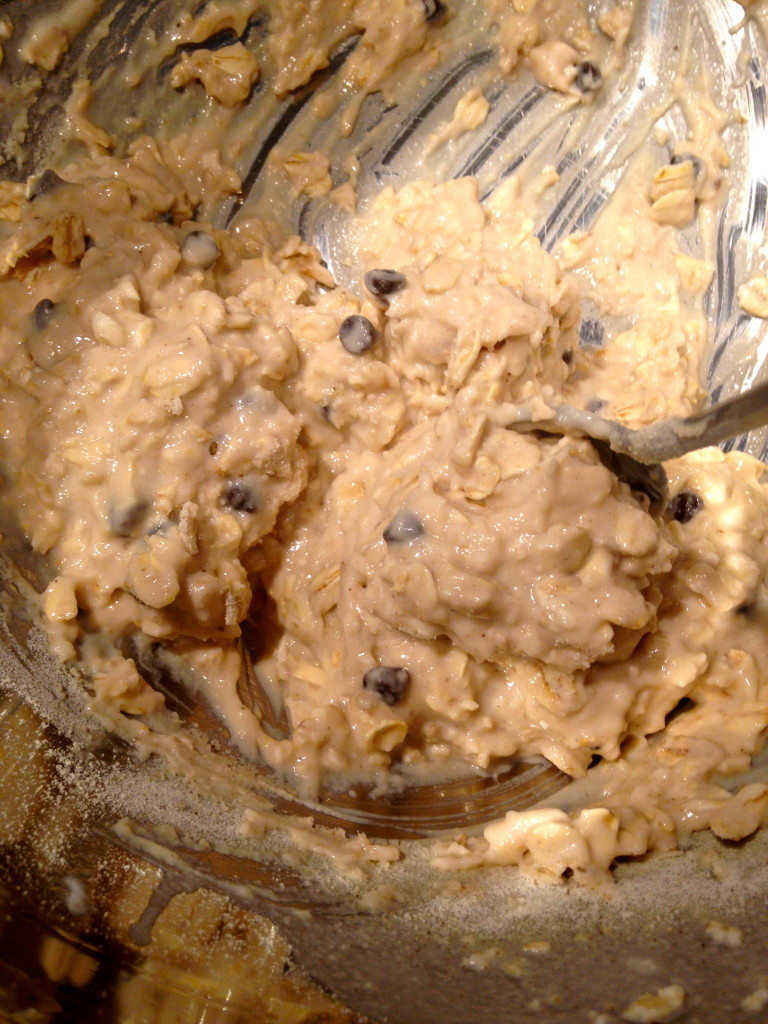 The batter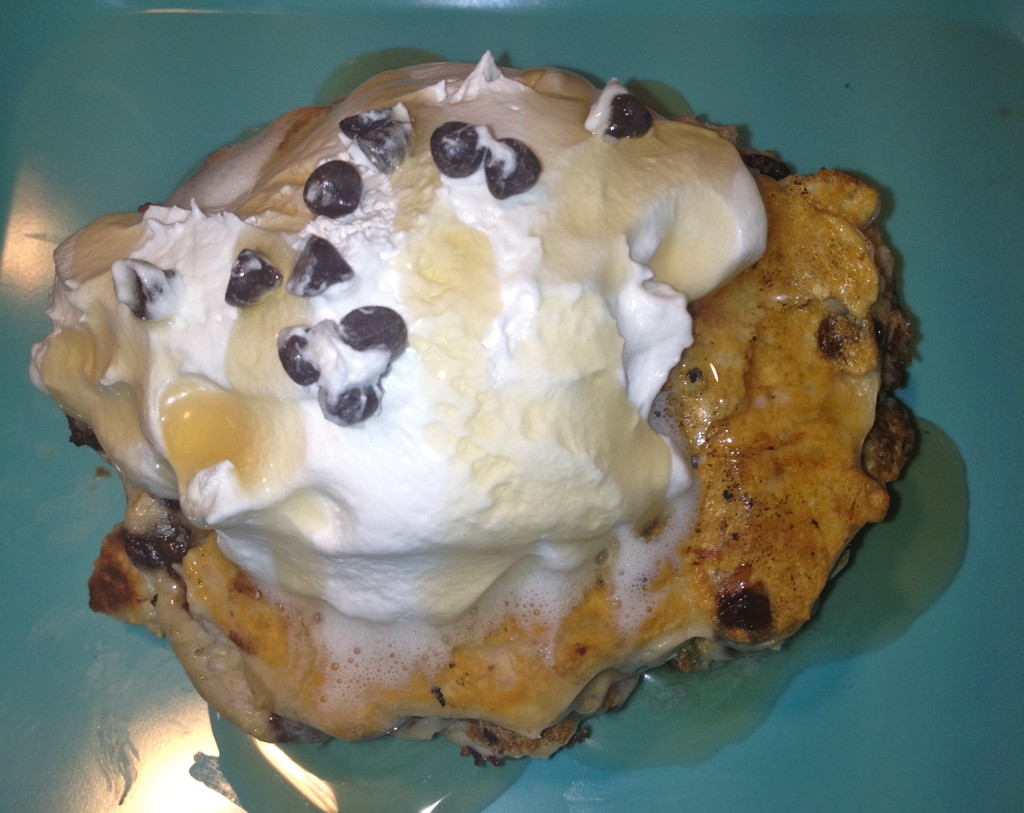 I usually post a separate blog for recipes but I figured I'd just plop it in here:
1/2 cup old fashioned oats
3/4 scoop of cookie dough casein (can use vanilla too)
2 egg whites
2 TBSP nonfat plain greek yogurt
1 tsp vanilla extract
2 1/2 TBSP unsweetened vanilla almond milk
1 TBSP chocolate chips (nondairy)
cool whip lite for topping
sugar free maple syrup for topping
They were excellent and I was a member of the clean plate club! Night dose of casein in! Success 😀
And no cool whip is not a clean food, but hey you have to live just a little! It prevents bingeing later on. I also didn't feel the need for dessert later on since I got my fix.
I also collected all my salt free seasonings that had been all over the place in my cabinet. Some I forgot I had! Put these on your food guys, it can change the flavor of all your proteins so much so you don't feel like you are eating the same chicken over and over. I found the steak seasoning one in the store yesterday. Even though I don't eat steak, it'll go great on other proteins. My favorites are the garlic and herb and fiesta lime. Yum yum!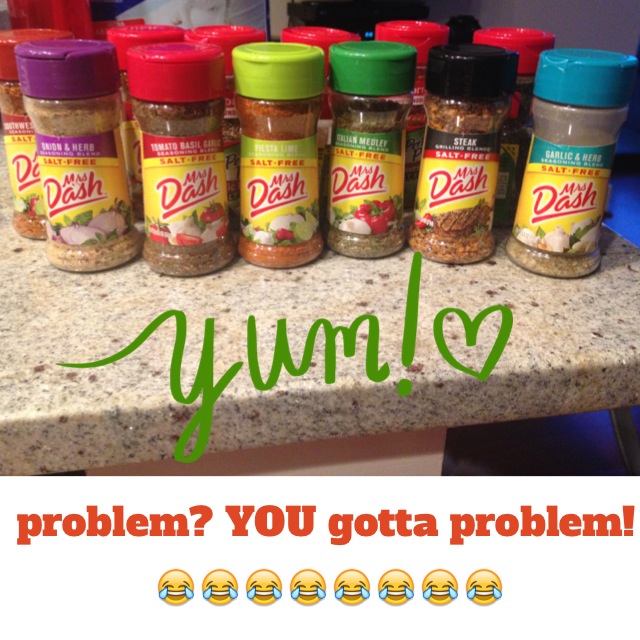 Later on I played on Pinterest. Ever since I saw the girls on Big Brother wearing this headband, I just have to find one now: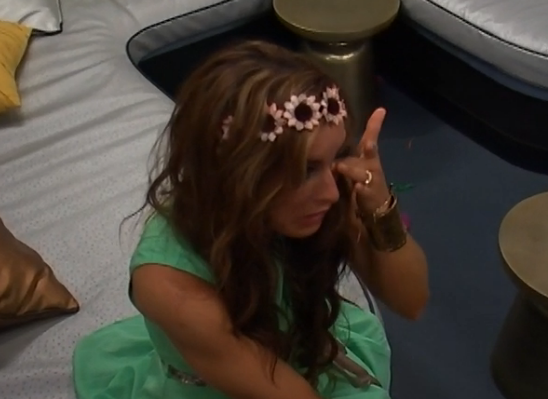 I could probably make it very easily, I just need the flowers 🙂
My night ended the same as every other night. Phoebe jumping at my chair begging to sit with me. You guys probably think I'm mean, but the little dog will not just sit with me. She has to jump at Mommy and pace all around. And if I pet her and STOP… oh no, I can never stop. She starts nudging my hand and huffing and barking until I start petting her again. A tad spoiled eh?
Today I plan on heading back to my second home, the GYM! I am just going to lift and take it easy, no cardio. My body isn't ready for the cardio yet, just getting in there and getting a little pump will help me though. I haven't decided which muscle group I will do, it doesn't really matter since they've all had a break. I guess I will know when I get there. Then a big meal prep is in my future. I was slacking on the meal preps these last few weeks and just grabbing stuff out of my fridge every day, then hating life later on when I needed to pack a lunch. I hate doing it at the time, but it makes the rest of the week easier and less stressful.
Anyway enjoy your Sunday (wah work is coming!) and I'll see you tomorrow 🙂
XOXO With a Cherry On Top,
-Minnie