Gluten Free Funfetti Muffins
It's no surprise I am a huge sprinkle lover. There's just something about those glorious little rainbow pieces that make me smile from ear to ear. Maybe it reminds me of my childhood, because my mom always topped a cake with sprinkles (well Jimmie's as we always called them).
The other night while Tony was at work, I had the sprinkle craving BAD so I made a healthier version and these little muffins taste just like a cake! No, they do not have any protein in them. If you want to add protein, you certainly could I just didn't want to dry out my little treats. Let's face it-protein powder tends to do this if you do not add enough fat in the recipe.
Here's what you'll need:
1 cup + 2 Tablespoons all purpose Gluten Free Flour
2 teaspoons ghee (clarified butter)
3/4 cup liquid egg whites
1 cup + 2 Tablespoons unsweetened flax, cashew, or almond milk
2 teaspoons vanilla extract
1/2 teaspoon almond extract
2 teaspoons baking powder
pinch of salt
1/4 cup rainbow sprinkles
2 packets of honey crystals (Nektar)
Makes 10 muffins
Pre heat your oven to 350 degrees Fahrenheit. Melt the ghee in the microwave for about 20-30 seconds. If you don't have ghee you can use regular butter. I highly suggest ghee or butter over coconut oil because it gives it a better cake taste.
Mix together flour and baking powder, then add the egg whites, milk, extracts, salt, and melted ghee. Once combined, mix in the rainbow sprinkles!
THE BEST PART!
Spray a muffin tin with coconut oil (or spray of choice) and add enough mix to fill 3/4 of the tin. Sprinkle the Nektar on the top (trust me it makes the muffin!).
Source
Bake for 30 minutes. Make sure to do the toothpick test!
Look at those sprinkles 😀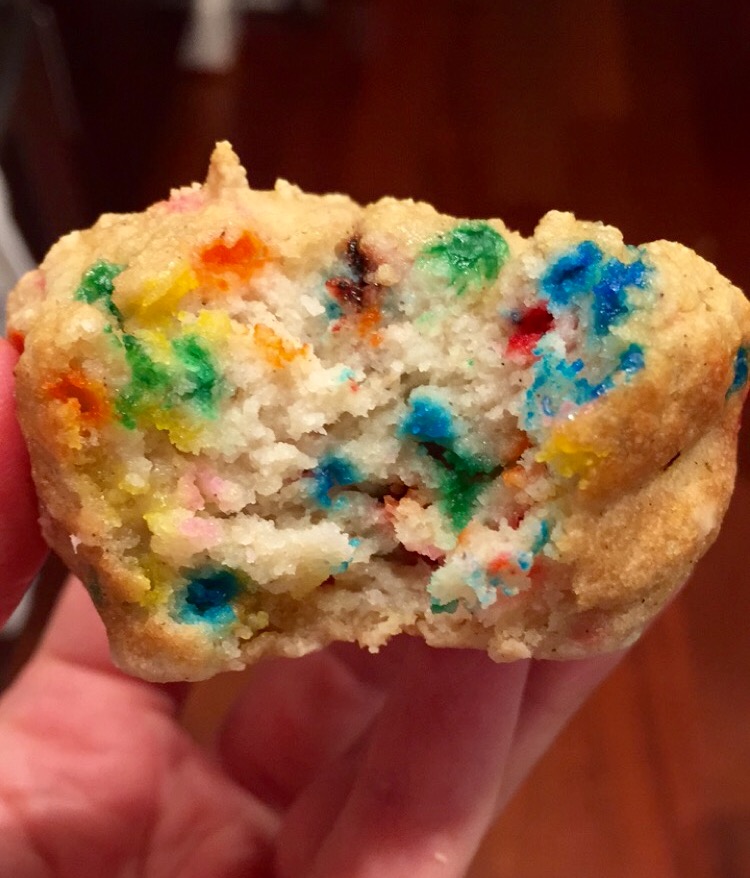 Macros per muffin: 110.1 calories, 2.9 g fat, 18.5 carbs (1.4 g fiber, 3.1 g sugar), 2 g protein.
Happy eating…
XOXO With a Cherry On Top,
-Minnie