I Wish All Mondays Were Like This!
So after my semi-sob session about returning to the work week, I ended up having an easy breezy Monday! Isn't that always the way? And then when you prepare yourself for a good day, it ends up being a disaster! Patient load was low, the day went fast, and I was smiling all the way to the gym (post-leg day too).
I still haven't figured out why my appetite isn't back, but like I said I've been force feeding myself for gym fuel and to keep my metabolism going.
The morning consisted of my usual greek yogurt with raspberries and goji powder sprinkled in
Then lunch was a salad (even though I wasn't hungry at all). I was afraid my headache would return without food or we would get slammed with patients and my blood sugar would plummet, so I ate.
In the gift shop I found this! I wanted it so bad but resisted. Boo is a Pomeranian that looks like a teddy bear, and is supposedly "the cutest dog on the planet", well they haven't met my Phoebs, but okay Boo is pretty cute! Phoebe would look like him if I shaved her!
I changed for the gym when 4:30 hit and was ready for arm day wearing my beast mode tank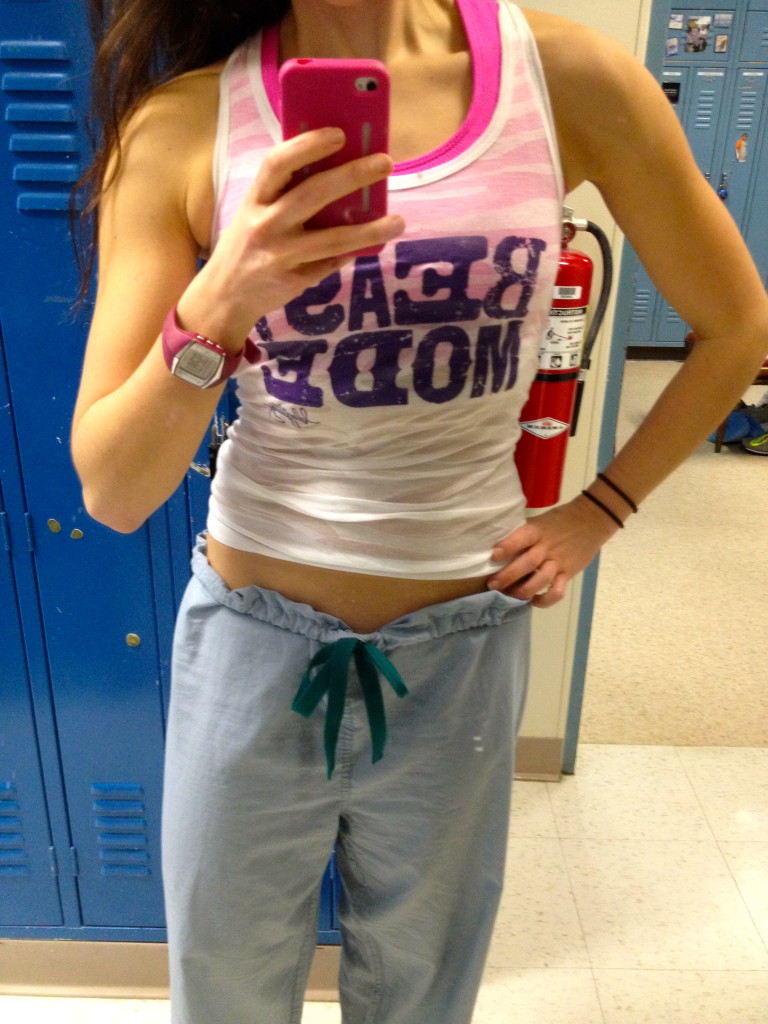 I was so excited for arm day too. I always get really pumped for the gym after I have a really good session the day before. I go into Beast Mode 100%. I was a tad disappointed when I got there because it was so insanely crowded you could barely move around! It seems to be getting worse and worse. I've been a member of that gym for 3+ years and today was by far the worst I've ever seen it! I didn't let it stop me from getting a good workout though! I just had to alter some things because the cables were always taken.
I started with 20 minutes of arc trainer madness. I say this because I did sprints on this baby. It really made me sweat and got my heart rate up. I usually will sprint during the chorus of a song, more fun that way 🙂
Then hit arms:
Bicep bar curls, 30 lbs, 12 reps x 4 sets

Tricep overhead extensions single arm, 12 lbs, 12 reps x 4 sets each arm
25 lb plate curls, 12 reps x 4 sets
Tricep pushbacks with 15 lb kettles, 15 reps x 4 sets
Uppercut punches with 15 lb kettles, 12 punches each arm alternating x 4 sets
Tricep kickbacks with 15 lb kettles, 12 reps x 4 sets
Diagonal hammer curls with 15 lb kettles, 10 reps alternating x 4 sets
Tricep pulldowns on cables with rope, 40 lbs, 10 reps x 2 sets, then 50 lbs, 10 reps x 2 sets
Bicep push outs with 30 lb bar, 12 reps x 4 sets
Tricep overhead extension pulls on cables with rope, 40 lbs, 10 reps x 4 sets
Regular pushups on toes, 10 reps x 2 sets
Tricep dips, 10 reps x 2 sets
ARM WORKOUT COMPLETE! 
I also did a 20 minute elliptical session in between some arm work to round out my cardio for the day 🙂
At home Phoebe was being a giant brat! You all know I love her dearly, but this little dog is worse than a toddler sometimes. I heard some crinkling, I said "hey Phoebe…" and ZOOM off she goes. Which means one thing! She has something she shouldn't!
The dog is seriously a little magician. I sometimes wonder how she does it!
I also got this little package in the mail today. When I opened it up the aroma of vanilla was absolutely amazing.
And as if I haven't stretched my alphabet game enough, W is for water! Hey I chug it like you wouldn't believe at the gym, and I told you guys my appetite has been a little questionable lately! So it'll have to do 🙂
My appetizer for the night are these little Cucumber Bites! They are perfect for a crunchy healthy treat and have a salty bite from the turkey bacon. 18.3 calories a piece! I just love cucumbers! Nice and crisp 🙂
So I am not into spoilers so NO worries here. But can we discuss that Sean (the Bachelor) is a creep!? He tells all the women the same darn thing! I've been meaning to mention this for weeks now. Who knows who the winner is, because clearly he is falling for all of them… (I hope you caught that sarcasm). Ugh I can't believe I was ever into this guy!
Have a terrific Tuesday!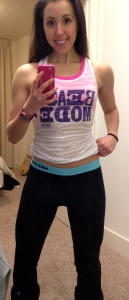 XOXO With a Cherry On Top,
-Minnie