I Wish I Had a Real Tail
Once upon a time there was an adorable little puppy named Phoebe Buffay.
She loved to jump, play, and bite, but something wasn't quite right…. 
It was broken, no bent, wait that doesn't make sense!? 
What is this you say?
Her tail?
NO way! 
Okay enough with the cheesy rhyming…
Phoebe is almost 4 months old now, and since I brought her home at 9 weeks, she has had a bent/broken tail. It actually looks like she doesn't even have one because it's bent and sits on her back, blending in with her other fur. I always said it gave her character and made her extra special. But I could tell Phoebe was jealous of Shelby Ann's (parents pup) beautiful fluffy tail. That's why she bites her so much 😉 Or what I keep telling myself…
Anyway this morning after I went to Pilates, I came home and Phoebe was looking at her tail like she was saying "what the heck is this!?" I looked down and it was a long tail! Sitting up, curling over, and full of fur. WHAT!? I immediately grabbed her and felt it. She grew a tail! Almost like Pinocchio wanting to be a real boy, Phoebe grew a real tail 🙂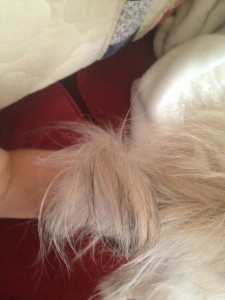 And then Phoebe became a little confused as to what exactly the tail was… so she chased it a bit
OK recipe time! As I've mentioned over and over, I received my PB2 in the mail the other day. And we are going to use it in today's recipe! PB2 Poppers (A Minnie fave)
These little guys are so simple to make and TASTE LIKE TRUFFLES! Mmmmmm 🙂
Okay now that I've drooled over my Poppers, onto the workout portion…
This morning I went to Pilates reformer. If you've never done a reformer class before I highly recommend it! It is SUCH a wonderful workout and stretches your muscles in ways you never imagined! I am always challenged. It's so much better than mat Pilates because you add resistance and there are thousands of different exercises to do on the machine. It never gets old or boring.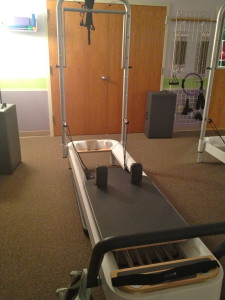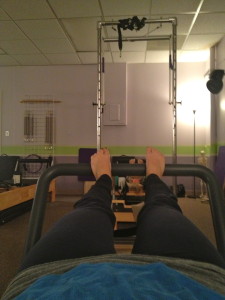 If this big bad machine scares you, call local Pilates studios. Most places offer a FREE trial for new clients. This will be a 30 minute introduction about what to expect. This is how I first  started 🙂
If price is stopping you (reformer classes can be a tad expensive), ask about newbie discounts. Many studios offer new clients package deals where you will receive 3 one on one sessions with a Pilates instructor, then 3 group classes. The prices they offer are a steal for what you get! Also, sign up for packages around the holidays. Studios usually offer discounts around this time! I just received 25% off of a package of 12 for Labor day! Groupon and Living Social often offer deals as well. So check it out!
I also went to the gym to do my back workout and a little bit of cardio, but since tomorrow is my day off from exercise, I'll feature my back workout in tomorrow's blog, so check back!
Have a WONDERFUL WEEKEND!
XOXO With a Cherry On Top,
-Minnie
P.S. Happy Anniversary to my parents! Love you guys so much 🙂