It's a New Day
Yesterday I felt back to my old self. I rolled out of bed, made a pot of coffee (I actually haven't done this in a while), and sat down at my computer to write. I usually write at night, but I hadn't been up to it. I felt good, I felt hope, and I actually said the words "No More". No more slacking, no more sleeping the weekend away, no more feeling lost.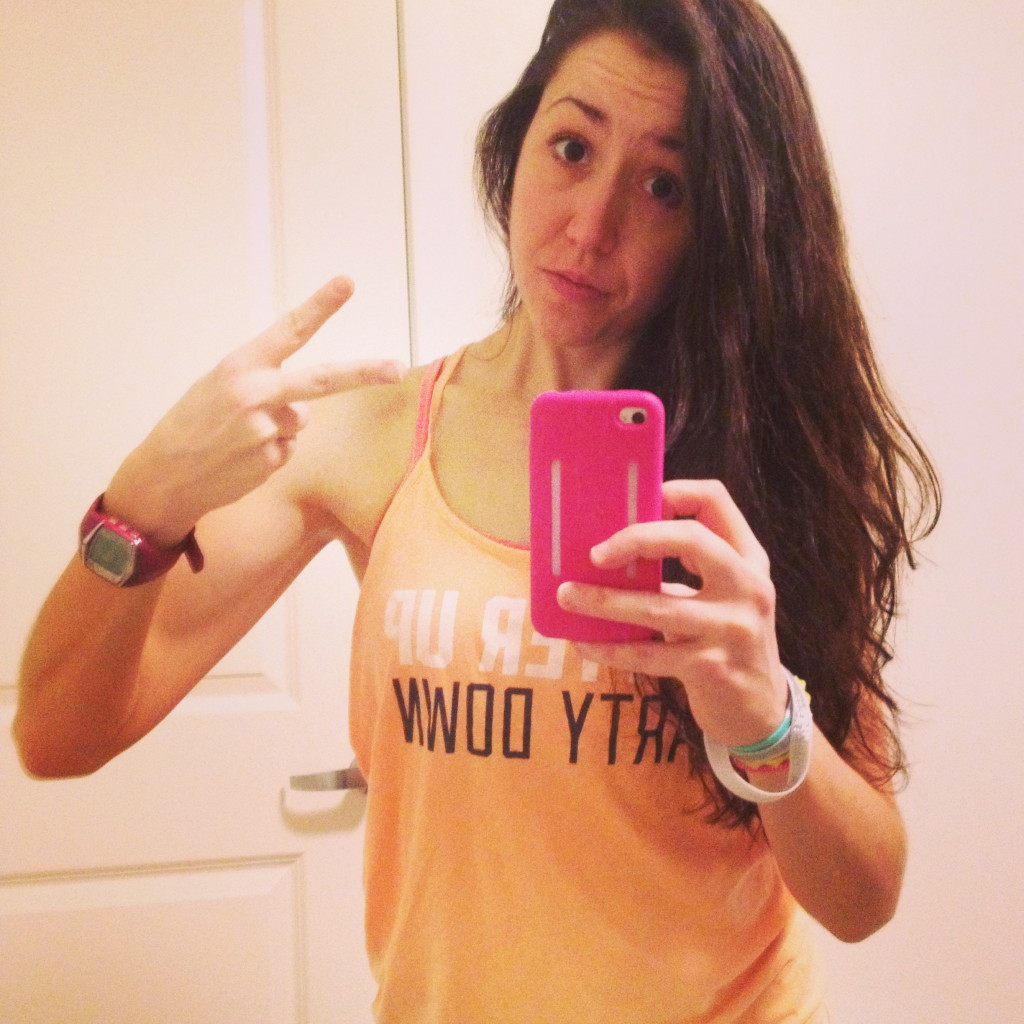 After blogging and munching on some ezekiel toast, I cleaned my apartment. What better way to start fresh than with a fresh smelling home?
Then I headed to G-Mama and Pop Pops. Bella was there and had a really cool Disney game that was a huge look and find. Well when my Dad joined in, and G-Mama and Bella said okay we can't find this item, Pop Pop and I said NO WAY. We are hard headed and won't quit.
Next up was the gym. I did an HOUR spin session and it felt so good!
500 calories! 🙂
I was red, and sweaty, and my hair… well yeah
Then I hit legs:
Leg presses 180-200 lbs, 15 reps x 3 sets and Plie presses, 8 reps x 3 sets (SLOW). I alternated the regular leg press and the plie press.
Standing Calf raises, 100-120 lbs, 10-12 reps x 4 sets
Good Mornings, 50 lb bar, 12 reps x 4 sets, alternated with the exercise below
Slow deep squats, 50 lb bar, 10 reps x 4 sets
Plie Squats with calves raised, 40 lb bar, 10 reps x 4 sets, alternated with the exercise below
Curtsy Lunges, 40 lb bar, 20 reps alternating legs x 4 sets
Side bends, 35 lb plate, 12 reps x 2 sets each side
Plie squats, 40 lb bar, 12 reps x 4 sets, 2 sets of pulses x 10 reps
TRX hamstring curls, 8-10 reps x 4 sets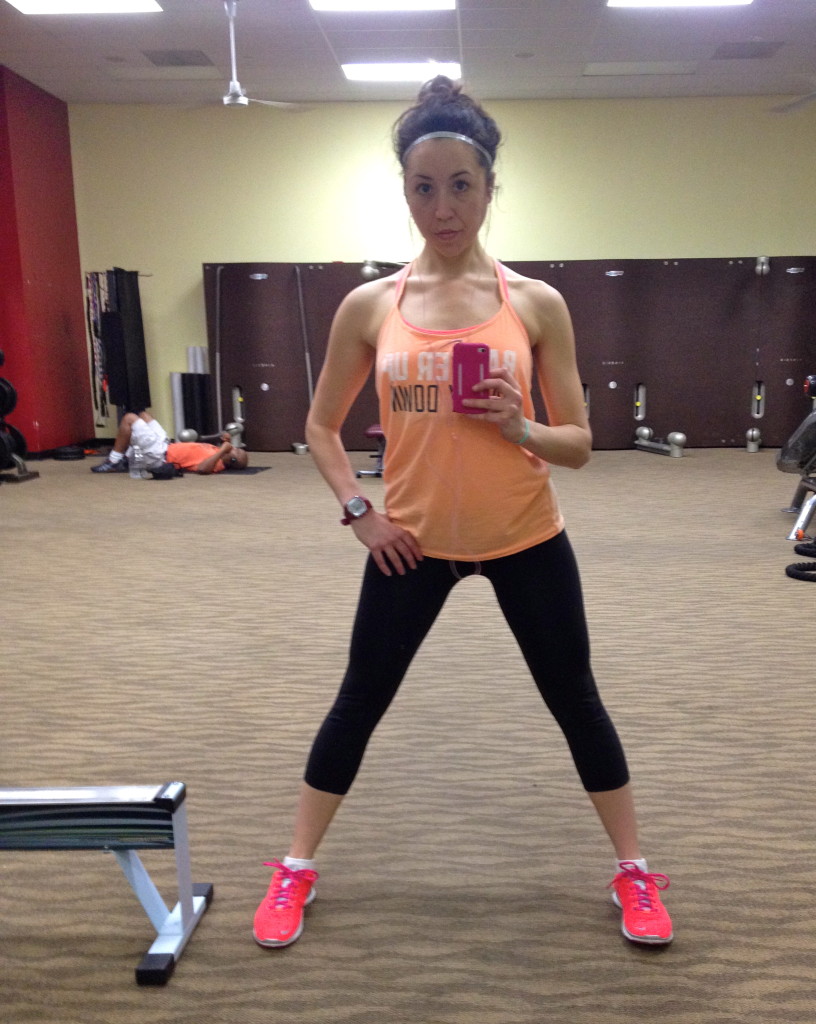 The legs took me about an hour and here was what I burned in all:
After the intensity, I stretched it out.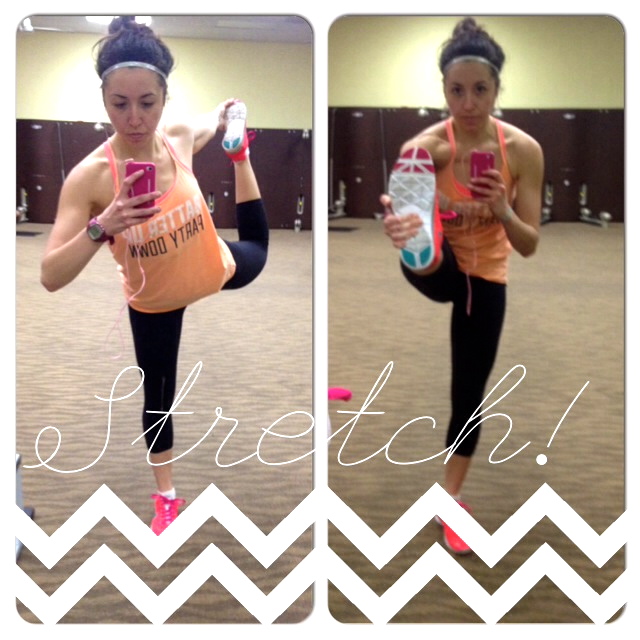 See I told you I could do that yoga pose! And that's snapping a picture too. Pretty cool. I always stretch after my workouts. If I don't my muscles hate me. Do your body a favor and take 5-10 minutes to stretch when you finish. It prevents injury and helps the muscle recover faster.
When I came home, I packed up a protein shake and hit the road for Trader Joes. It had been a while since I'd been because I am such a Wegmans snob, but every time I go you guys know I spend way too much money! So Trader Joes it was. I still spent more than I wanted, but I stocked up on a few goodies. Here are a few of the things I purchased:
In the picture: chia seeds, whole flax seeds, tomato basil hummus, frozen pearl onions (I love these!), edamame, sriracha (not as hot as the regular), hearts of palm, cookie butter, and a variety of salsas… hey I like salsa!
Other things I bought that are not pictured: chicken tenderloins, ground turkey, various lettuce mix packages, asparagus, green bell peppers, portobello mushrooms, frozen spinach and kale, pink lady apples, navel oranges, chives, cauliflower, avocados, silken tofu, and unsweetened vanilla almond milk.
I had to use a few of the goodies for dinner.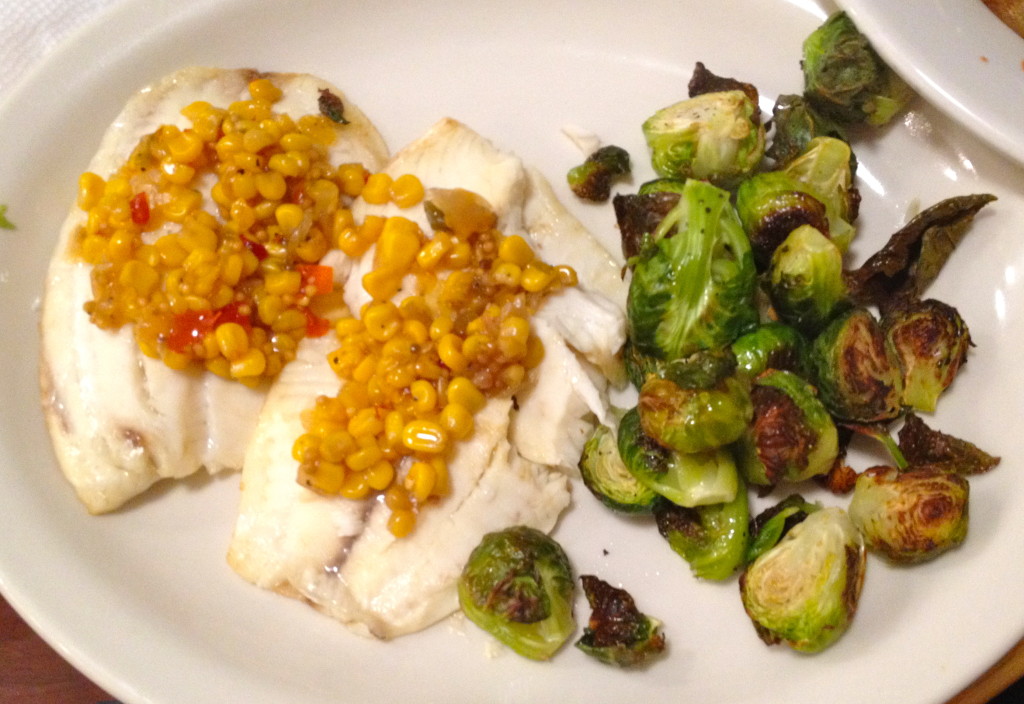 This is tilapia topped with the corn chile salsa. HOLY MOLY is that stuff the best salsa I've ever tasted! Seriously guys, run to trader joes and buy this. It's low calorie too. I am going to have to go back and buy more. It's sweet with a little bit of spice.
I also had some miracle noodles with the pearl onions and zucchini, drizzled with sriracha.
So the cookie butter? I had a Tablespoon of it with an apple after dinner. I wished I NEVER would've bought it. I've heard it is the best thing in the world, and I'd never try it for that reason. Well folks I'm here to tell you it is in fact the best thing in the world. LITERALLY a cookie butter. A spreadable darn cookie! It's a spreadable CHRISTMAS cookie at that. Stupid Trader Joes…
Anyway after dinner Phoebe and I played and snuggled.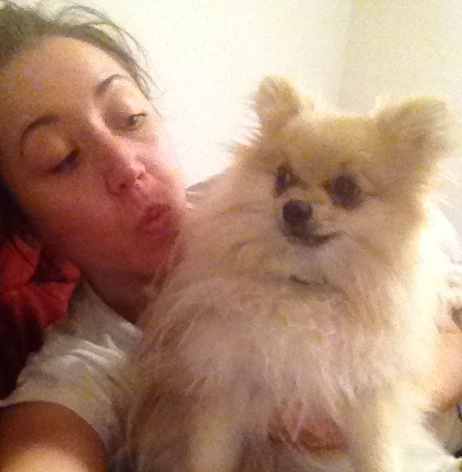 I think this picture is kind of funny… our faces towards each other 😉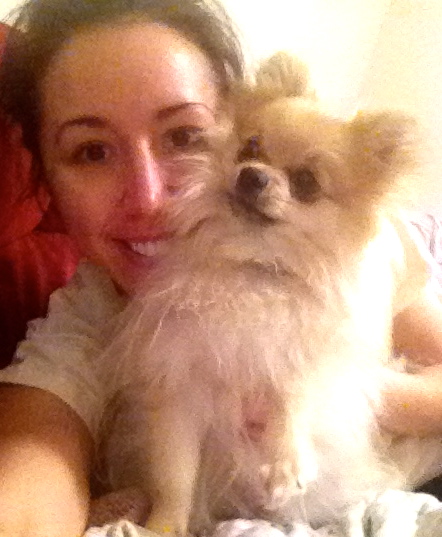 I love this little brat!
Today I plan on doing a little back and shoulders combo in the gym and then a big meal prep! I have to put all the good stuff to use this week. Back to making smart choices 🙂
Have a wonderful Sunday!
XOXO With a Cherry On Top,
-Minnie
P.S. The hidden track on the new JT 20/20 experience is by far the best. "Pair of Wings". Warning: it may make you cry. Beautiful song and melody.