Ladies Night Meets Lady Luck
Hey everyone!
This weekend was another fun filled one for me. After a short cardio gym session, I did some errands and got dressed for girls night.
It was just "girl talk" over at Mary's house with some of her close friends. For those of you wondering, yes Mary and I are still friends! We talk every single day. We just don't see as much of each other because we are both busy ladies and are not competing right now. When we are in competition prep we have posing classes, gym sessions, etc. I did miss her so much though. It felt good to hang out in person again 🙂
Did you guys know Mary has a cat? Not just any old cat, this thing is MASSIVE. Apparently he ate all the dog food, whoops! He's just hungry.
I brought healthy baked goods for the girls: black bean brownies (you can't taste it I swear!) and something I call "protein crack". The black bean brownies were disguised with little orange candy pumpkins on top. I don't care how old I get, I still love the taste of those cheap candies!
If you're interested in the black bean brownie recipe, you can find a similar one over at Chocolate Covered Katie. I modified the recipe a little bit though.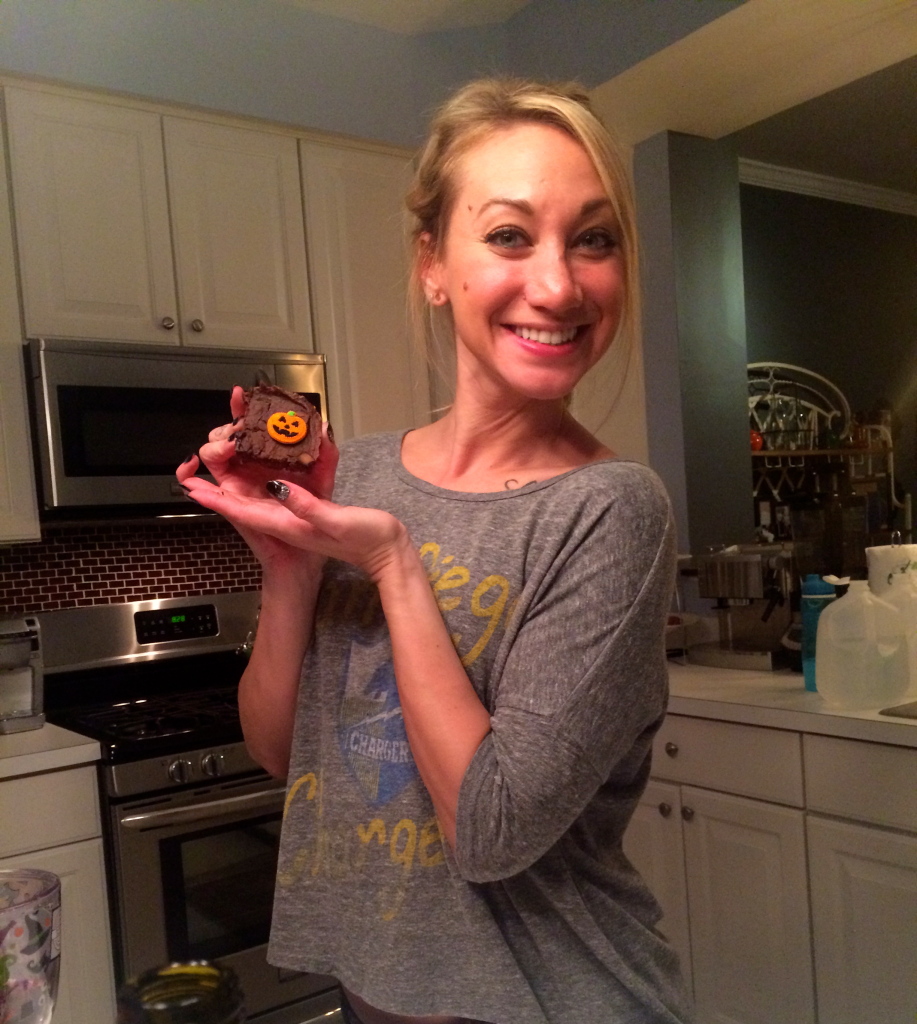 As for the protein crack… well that's a secret recipe for now! It was too good to share yet.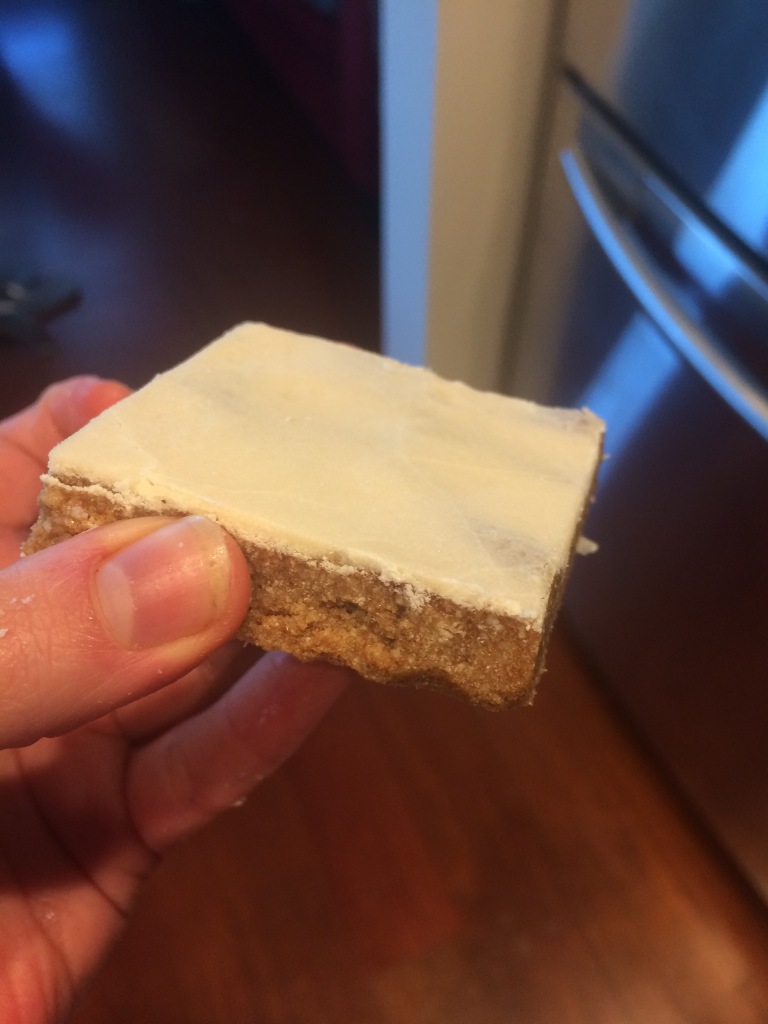 We were supposed to carve pumpkins, but really no one wanted to. It was better just to hang out and chat. Sometimes you just need this with girlfriends! Men don't always get it. You can vent to them all you want, but girlfriends truly understand. Big thanks to G-Mama and Pop Pop for watching Phoebe that night. I did miss her when I came home and she wasn't at the head of my bed!
On Saturday night I got dressed up again for a night out! My outfit is all from Target (minus the boots).
FINALLY pants that I can wear. These are actually "jeggings". They look like jeans, but are leggings. Finally something that fits my glutes and quads. Thank you Target.
Hard to tell here but they are a dark green! Love them.
I went out to the Casino by me. It was the first time I had ever been! There's so much to look at, it was like sensory overload. So many pretty lights, slot machines, signs, and GOOD PEOPLE WATCHING!
For dinner, I had a turkey burger at Bobby Flay's Burger Palace. It had BBQ chips on it.. oh my!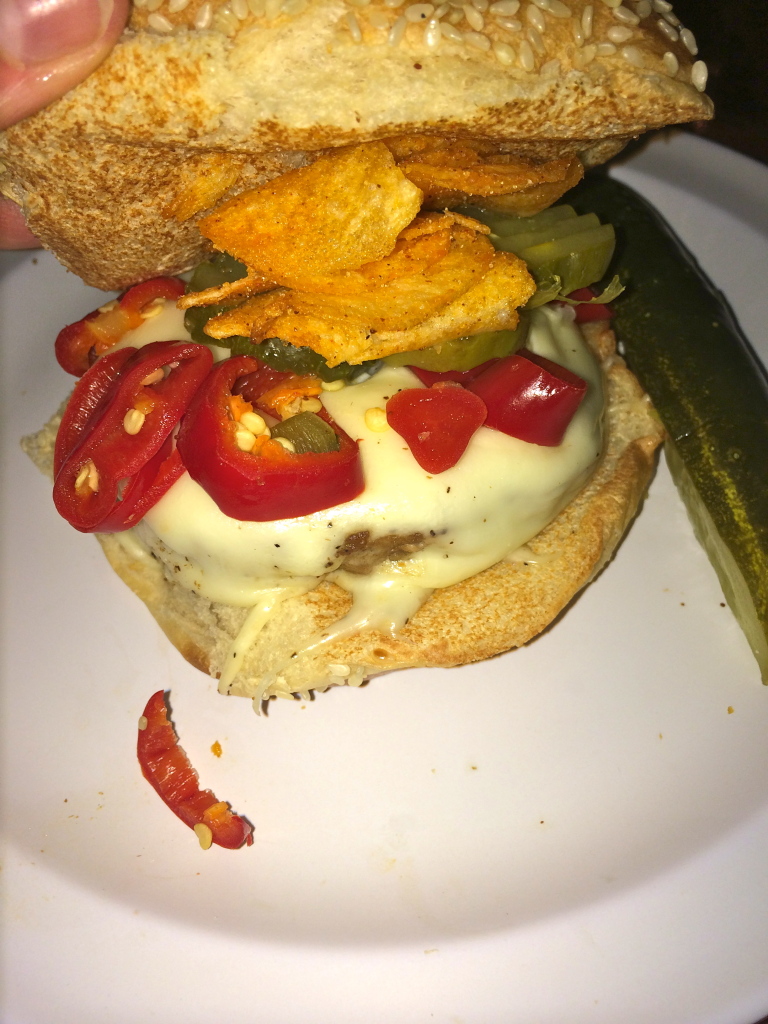 Let's not forget the sweet potato fries. HEAVEN.
I'm loving the splurge life lately. I may not be shredded, but I'm enjoying the balance of eating healthy and indulging when I want to. I work so hard in the gym, it's nice to reward myself!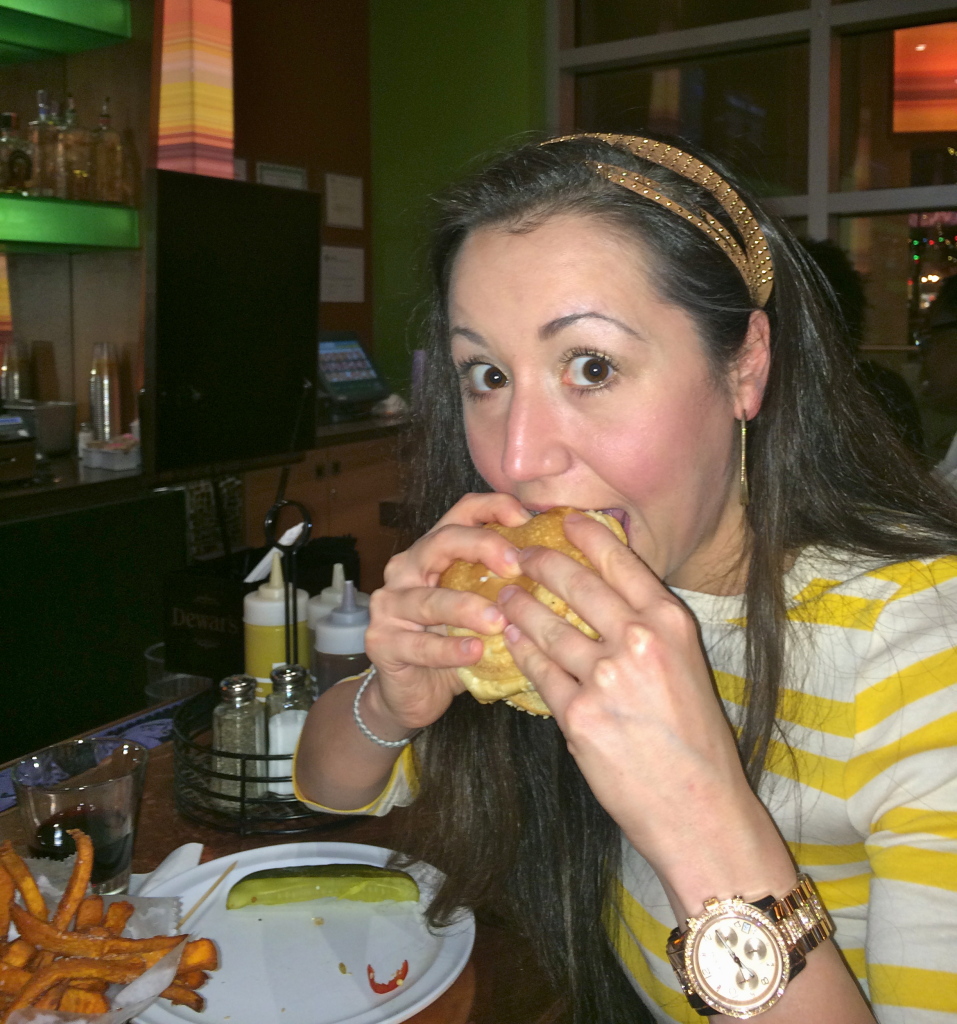 Sunday was a pretty low key day. Well for ME. Miss Buffay got the dreaded bath.
She's actually a good girl and sits very still, waiting for it to be over.
Oh hi little meerkat!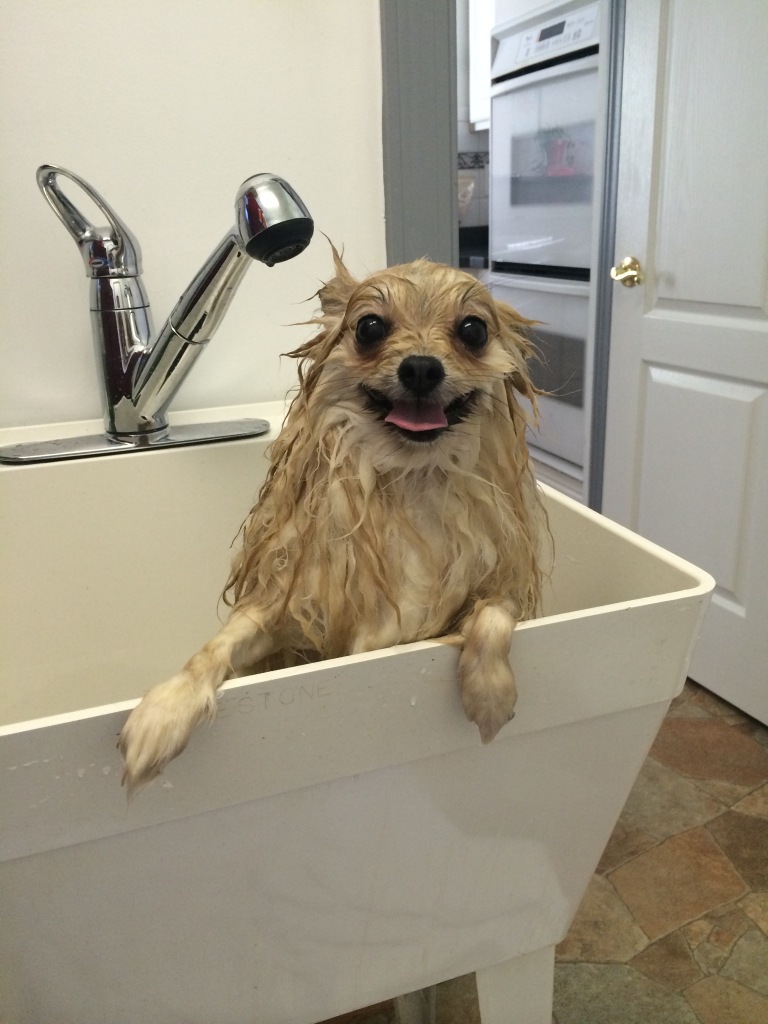 Had to give her a mohawk.
Mommy bundles her up like a baby and I towel dry her a bit and then she air dries. Phoebe is not a fan of the blowdryer and a bath is enough torture anyway.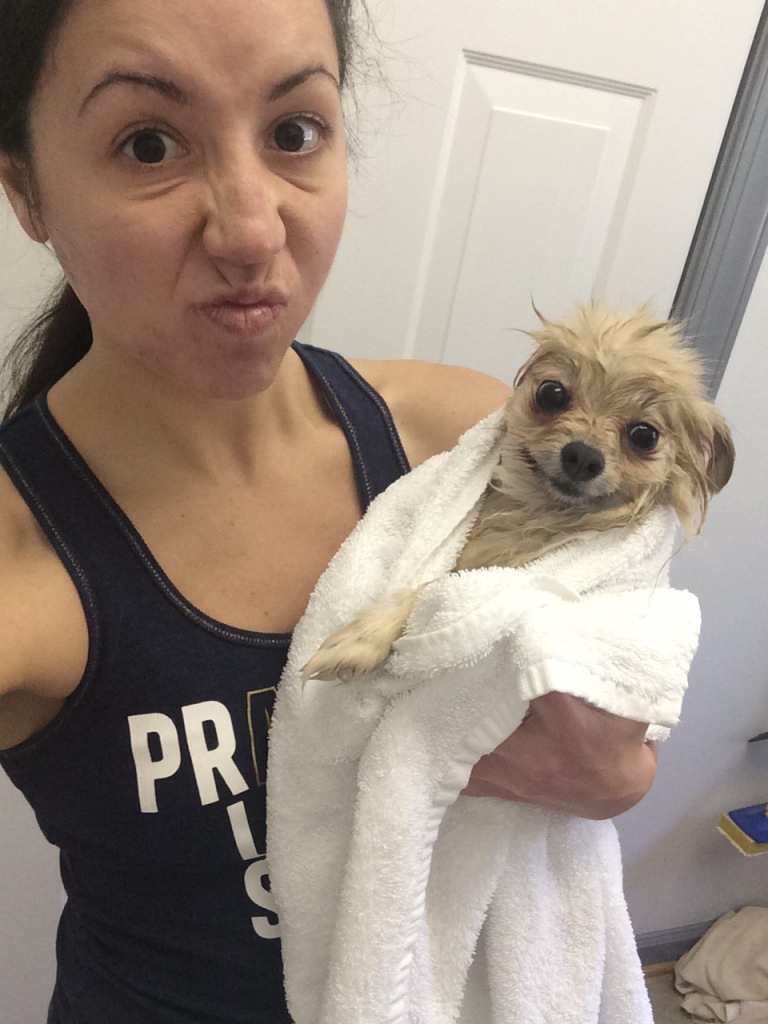 But she's so fresh and pretty now! And she smells like G-Mama's carrot shampoo 🙂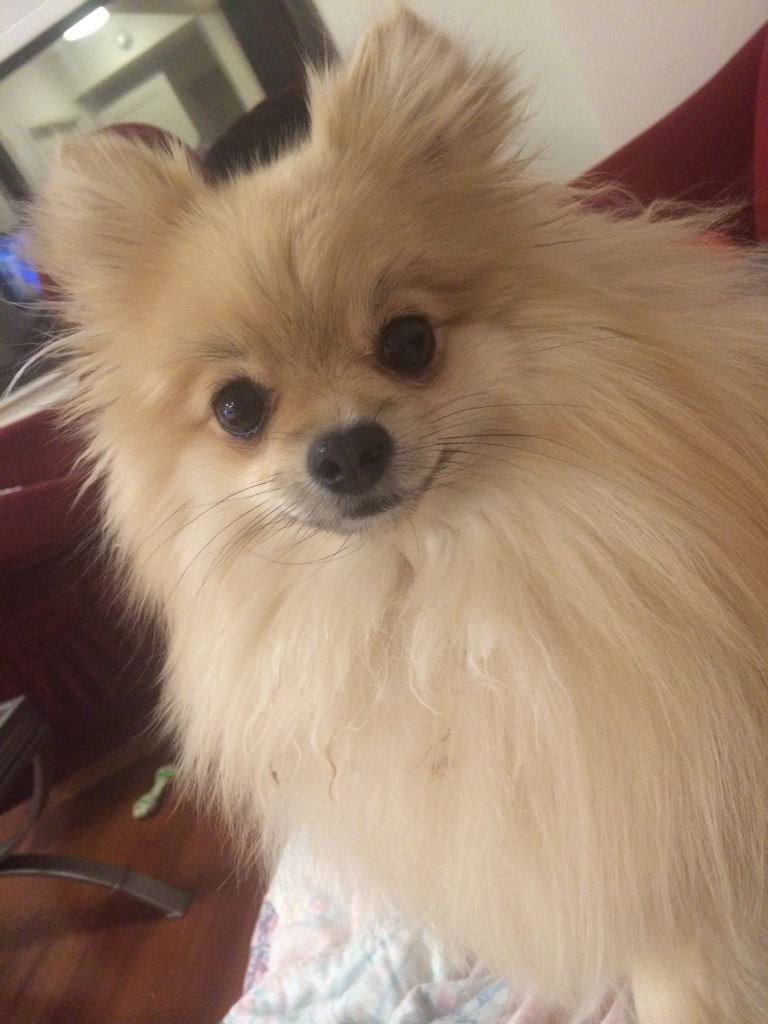 So just a little weekend round up today. Tomorrow I tell you guys all about what I'm currently doing. I call it a little "blog experiment"/ "research", so stay tuned!
XOXO With a Cherry On Top,
-Minnie