Leg Day in Seattle
Hi everyone!
Today I talk the next part of my trip, which includes an awesome workout with my friend Sarah. You all know me pretty well, and when it comes to lifting I fly solo. However, this is a rare situation that I'm in the same gym as Sarah, so I showed her a sneak peak of my leg day.
But first…
We talk my second favorite food place in Seattle: Biscuit Witch.
Okay, it's really not called Biscuit WITCH, it's a curse word that starts with a B, but I'm trying to keep my blog PG 🙂
It was a very small dive, but crowded as they come. I found it on Yelp a few weeks back while searching. Side note: does anyone else go on Yelp and decide on a place to eat just by pictures? I do this, Tony thinks it's weird and he even told our home designer that's how I choose. If it doesn't look good I'm not eating it! 
But anyway, I love homemade biscuits so this was a must-stop. We knew we had the gym coming up and there were so many options.
Like I said, the gym was coming. I'm not the type of person who can eat a huge meal then feel okay at the gym. No sir. Tony can do it with his stomach of steel. I had to stick to basic, which really is what I wanted anyway! A plain biscuit with butter, jam, and honey.
I also ordered vegetarian sausage patties.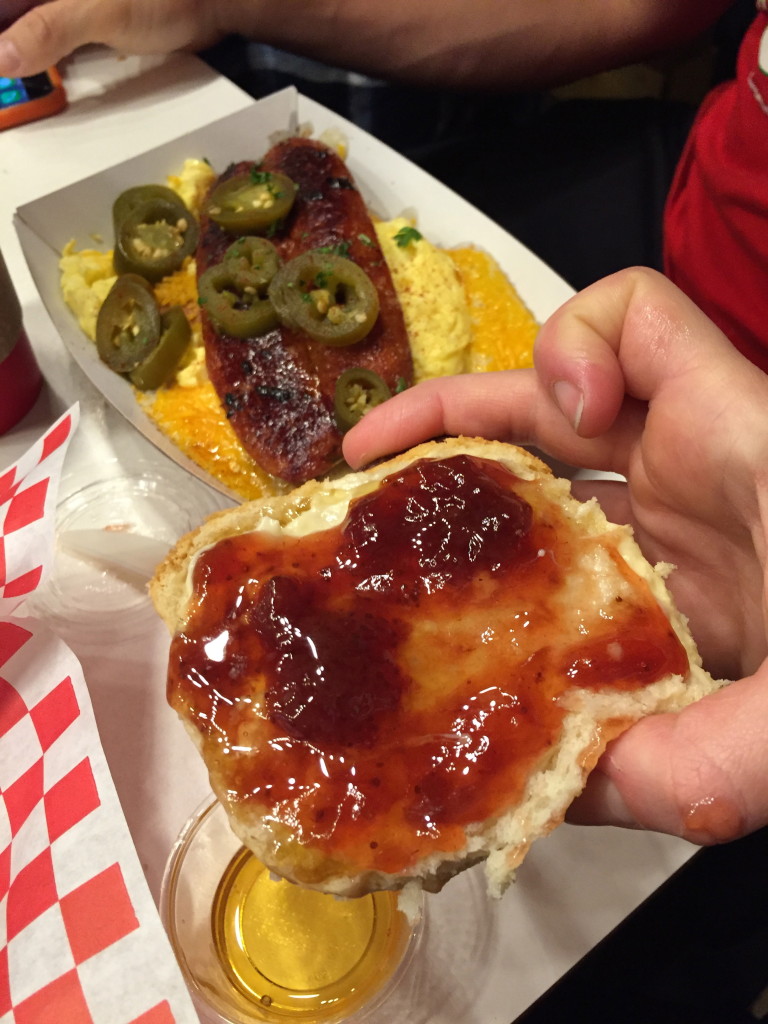 All that jam! If you look at Tony's in the background it just gives you heartburn looking at it. Especially at 8am. His was a biscuit, homemade gravy, tons of cheese, a spicy sausage, and smoked jalapeños. Called 'the smoking' hot witch'. He highly recommends it for anyone visiting the area. When I looked around, it seemed to be the popular item.
Also, let me add that this place is not making a killing here. It's small, probably the size of a wider hallway, and probably family owned. Yet, they fed the homeless while we were in there. It's those kind of gestures that make you realize good still exists. I think we all need to see a little of that right now 🙂
After biscuits, we headed in a taxi to meet Sarah at this fancy competitors gym called David Barton. She had sent me pictures when she visited before and I told her we had to go!
This place was definitely one for fitness competitors, because there were mirrors EVERYWHERE. Look at this huge one when you go down to the locker room.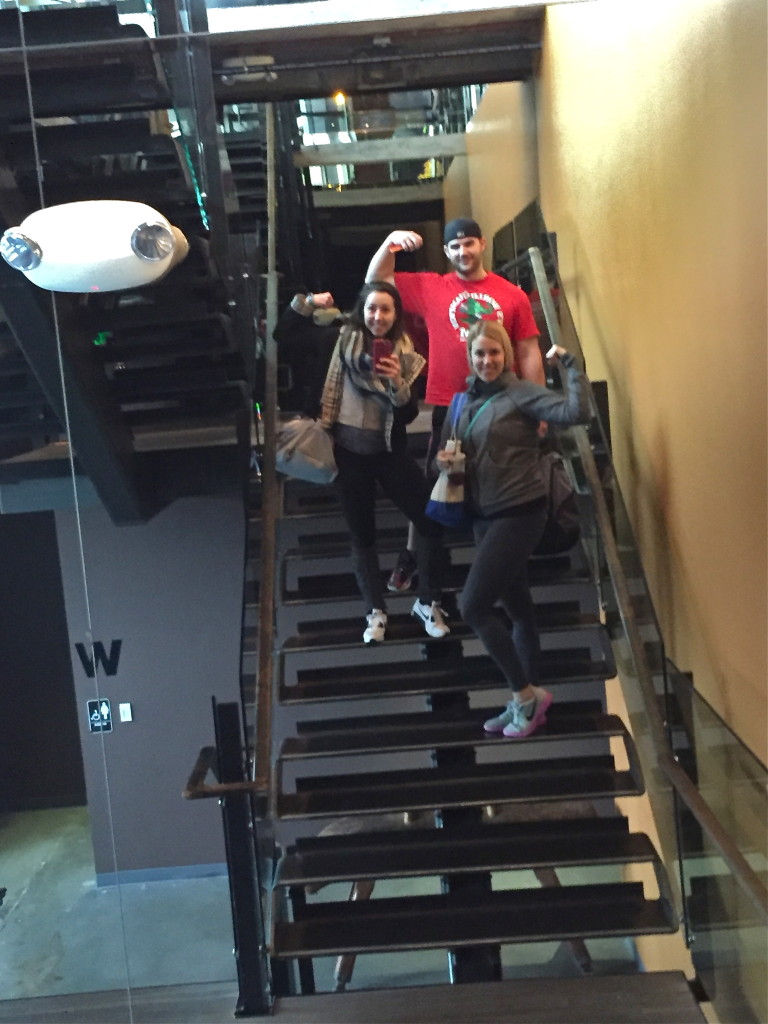 I went with leg warmers because it was a little colder than I was expecting.
Sarah and I warmed up with some light cardio…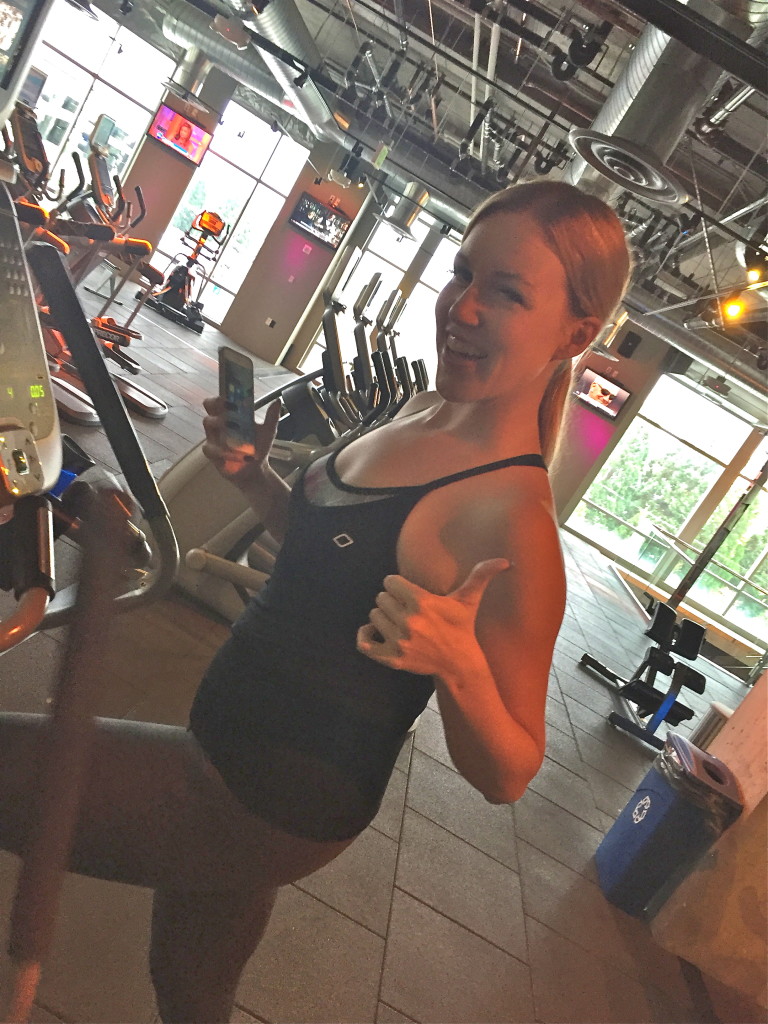 Sorry, it was insanely dark in this gym!
Then hit legs. Here was the routine:
Leg press pyramid- You need to do this with a partner.
We started with 25's on each side. You do 10 reps, then your partner keeps adding weight till you press 10 with as much weight as you can. I think I got to 310 lbs.
Then the partner strips the weight until you get to a plate on each side. 15 reps here.
REMOVE all weight and flush the legs out for 20 reps.
It's crazy hard and I almost threw up. If you think about how many reps you are doing, it's well over 100! This exercise is great for pairs because it not only gives you someone to strip weight, it gives you a support system to cheer you on through those last sets.
The rest of our leg workout:
Seated hamstring curls. SUPER HEAVY for 12 reps, then to failure at half the weight. We repeated 3-4 times.
Super sets of Cable kick backs for 12 reps, then straight leg dead lifts with a bar. (One partner does one exercise while the other person does the other).
Pelvic thrusts with a 50-70 lb bar. 15 reps for 4 sets.
It doesn't seem like a lot of exercises, however if you do a few things until you burn out it's a great way to build muscle.
After some more cardio, I took a few pictures with Tony in the aerobics studio 🙂
And then Sarah took me to an awesome juice bar!
So refreshing for after a hard workout.
That's it for today. Grab a partner and try out the legs!
XOXO With a Cherry On Top,
-Minnie