Like a Boss
Happy Tuesday everyone!
So if you read my blog yesterday, you know Monday was pretty much doomsday for me at work. It lived up to it's expectations. I ran around like a chicken with my head cut off all day. Chased around surgeons for plans, stalked them with telephone calls, and saw lots and lots of patients. Just little ol' me managing it all by myself. LIKE A BOSS! I have to say for what it was, most people would've cried. If you've followed me for a while you know back in March this happened once before and I literally lost it at work, it was the talk of the hospital unfortunately…
Yesterday was JUST as bad, but I was determined that it wouldn't break me. I thought I pulled it off pretty great for no help at all. Especially when I walked in after being away since Thursday, didn't know any of the patients, and never was told anything about them (nightmare). I had to scramble and note stalk, but I got the job done the best I could. I think since I've been there a while now my confidence has built up and I know how to manage and prioritize better. Even though I was physically and emotionally exhausted, I still walked out feeling good! Unfortunately round 2 is coming today, but hey I CAN DO IT!
I barely remember what I ate because I literally inhaled it so fast in between doing things. Heart burn and reflux to the max because of it. I left a little after 5pm with lots of things undone that had to be passed on. I'm one person, and if I would have stayed there I probably would have been there until 1am… not happening!
I was happy to get in the gym. I did a little mini shoulder workout along with HIIT cardio on the arc trainer. Sprint city. Oh and to clear this up my version of HIIT on an arc trainer or elliptical is 45 second-1 minute sprint followed by 1 minute to 1:15 regular pace. Burns more calories! Usually incline is high, resistance I play with depending on how fast I want to go.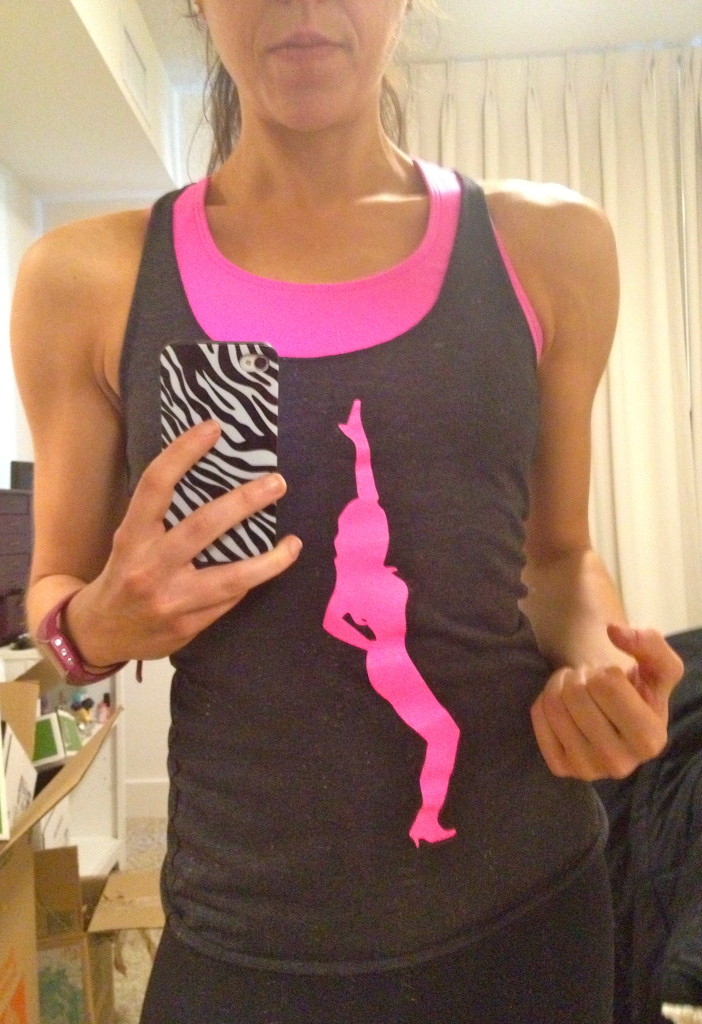 So the top I am wearing is a bikini girl competitor pose. I bought it for Alexis as a congratulations gift! I also bought one for myself because it's too cute. She said she was stopped all backstage with girls wanting to know where she got it from. I'm a cool friend, I know 😉
Back at home I struck a quick little bikini pose in the top. Not my finest work, just being a goof.
I also did LOTS of dishes (meal prepping is constant dish washing, it's quite annoying), and watched Phoebe play around. Sometimes I will just sit there and stare at her. She loves to play by herself and throw her treats and toys in the air and chase them all around the room. When she catches me watching her she stops, so I try not to giggle too much.
Yesterday I also received a couple e-mails and comments about my wavy hair. I used a curling wand or "rod" that I bought from Sephora. It has 4 interchangeable wands so you can change the size of the curls. I love it! You can find it HERE. I also use lots of light mist hair spray.
That's it for today! Coming straight home to workout at my apartment gym to save some time and start packing for Portland. 2 days away! Eek!
XOXO With a Cherry On Top,
-Minnie