Miss Non Social Butterfly
Hi everyone!
I had all intentions of posting these past two days and then Hazel went and ate something she shouldn't have which sent me in a downward spiral. I kept my eye on her for four days straight and I look away for one second and GULP. Needless to say blogging went out the window when Hazel decided to ingest things not puppy friendly. I'd love to be able to have things for you guys 5 days a week, but like I've said before it's just not possible with my current schedule 🙁
Tony and I did manage to make it to the gym together on Monday. It looks like we are working out together, but that doesn't happen. I needed the cables for glute kickbacks and he was using both sides so I worked in with him.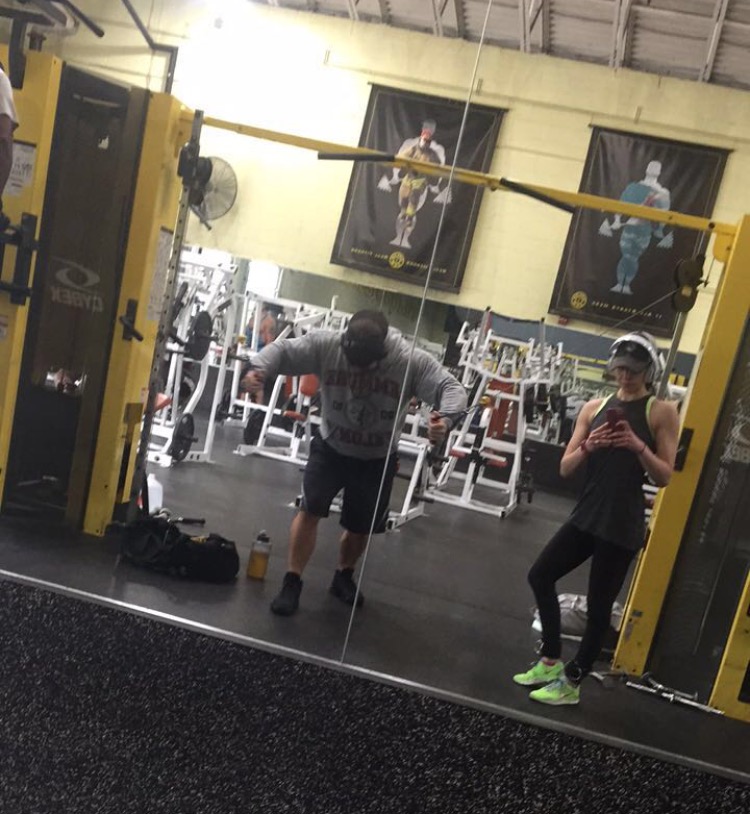 We tried working out together 1 or 2 times and I never lasted the whole workout. Not because he's tough on me, he takes forever and rests too long. I'm a get it done kinda gal 😉 Which is why sometimes we will both go at the same time but drive separate. Especially if he is training with a friend, I know better!
So these past few months I have been the least social person that you can imagine. It's gotten REALLY bad. I think it has a lot to do with the fact that I'm so busy at work 99% of the time that when I'm not there I just want to stay home and relax and do nothing besides gym and be a couch potato with the dogs. Speaking of the dogs, I have this weird dog mom guilt when I leave them for any other reason besides work. I realize this is not normal at all and I need to get it together. Not to mention I have this weird restrictive bedtime that basically runs my life (more on that later, still not ready to talk about it).
Last weekend I took care of Hazel but I was sitting home and realizing how much I was missing out on by staying inside more often. Summer is here and there is a ton of stuff to do around here in the Baltimore/Annapolis area. Fun summer concerts, outdoor events and festivals, pool days. I'm super determined to "get out" more often. This weekend we have a birthday party to attend so it'll be my chance to finally socialize like a normal person. I know somewhere out there someone has to be reading this and relate, probably not a lot of people, but maybe some. 🙂
I'm off for today. I hope to see you tomorrow!
XOXO,
Katie