My 2nd Show: It's Not Always Rainbows and Trophies
Good Morning friends,
Well I competed in my 2nd show, and yes I did place 5th.
Now with this post I might make certain people angry, but as a writer, I'm not out to please anyone. I'm here to write what I think is appropriate, my opinions, and the best information I can give on a topic that has consumed every ounce of me in the past 4 months.
So let's start out with the big question. Did I have the time of my life this show like I did last time? Not even close…
You may be very confused, because in pictures I look over the moon happy. Well yes, I was happy with how I looked and proud of my package, but everything else was a bit of a mess.
Many factors MAY have contributed to this, so I can't even be sure what part of it made me feel.. well frankly, miserable the entire day. Everything was 100% different than my first show.
Here's why:
No break from work. I was REALLY exhausted and not sleeping properly. Plus I was under an extreme amount of stress at work and this was not good while doing peak week.
No break from prep. I went straight through after my first show. Probably should've taken a week off or so then tried another show later.
No Mary. The first go around was so much fun because I had my best friend by my side.
MUCH SMALLER. This show was in a teeny venue- the stage was about 10 x10, not even enough room to walk, and about 40 competitors. And while the bikini category was the largest of the groups, they still wouldn't split us by height.
Going back to #4. The reason I signed up for the show was because I was PROMISED that I would be judged fairly and split by height. I get there the night before and was told that wouldn't happen. I immediately felt like I was given false information just to get money out of my pocket. Honestly I felt like I had been "taken". "Live and learn" 🙁
I didn't feel as tight as show 1. My body was tired, I was holding more water, and I leaned out more in the wrong places (upper body especially and jaw line).
The excitement was completely gone. As my friend Mary said, "it feels more like a full time job" than a fun competition.
Unprofessionalism. Even though I'm "young", I consider my self smart, business savvy (with my blog), and respectful. A lot of this show I felt was handled wrong and some people were very unprofessional. It's extremely disappointing when you change your entire life for a competition, spend a lot of money, and not be handed back proper respect and communication. If I do a business transaction with someone I expect a good product in return for what I paid for. I could list all the things I didn't agree with, but I don't need to do that. I will however point out that it is extremely UNACCEPTABLE for me to receive an award with the wrong show on it. Yes, my medal I was given had the name of a show that happened 2 weeks prior. I cannot sit here and let that slide in my review of this entire day. Will I be receiving the right one? Nope. And I don't know about you guys, but that is NOT okay in my book.
And my next point I need to separate so I can explain more. This sport is VERY political. And I cannot stress this one enough. I am not coming down on people that compete, or those that do these shows in a proper manner,  I just feel like I OWE IT to my readers and followers on what these shows are about. Since doing my first show I've received countless e-mails, messages, and even strangers from my gym stop me and ask me how they get their foot in the door to compete. My first show I had the time of my life and while it definitely wasn't perfect, or maybe not even 100% fair with judging, I still felt good about my placement. This show, not even close.  With competitions you cannot walk in the door with high expectations because the minute you walk in you are going to be faced with disappointment from the get go. Things do not run smoothly as you thought they would. Girls backstage that you are competing against will say awful things about you as you're getting ready (I mean really it's just mean girl central). It will even happen ON STAGE, as one girl this show was told to move her placement and as she walked past me pushed her elbow into my chest as hard as she could and I had to stand there and take it and smile pretending it didn't happen. When in reality I wanted to pull out her extensions on stage.
You may get that smile and head tilt saying "oh you look so great", but she's really thinking "I hate her and I hope she trips on stage". I try not to pay ANY attention to those and stick to my teammates and friends who I know have my best interest at heart. People whisper, people talk, and PEOPLE KNOW PEOPLE. You will be told over 1,000 times "judging in bikini is subjective" and it's the last thing you want to hear when you put 13-16 weeks of hard work in, bring the best you ever could, only to have someone that is less than the full package come out and beat you by a mile. You feel defeated, you feel disappointment, and you wonder "WHY. Why didn't they like me? What is wrong with me? What could I have done different?". The truth is NOTHING. Sometimes you are just always going to get 5th, or not place, or come in 2nd every time. It will seem unfair, and you will sit and stare at pictures puzzled as to why you weren't chosen as "the top 5" or "first place". You will look at judging criteria and think "well a bikini girl is supposed to be symmetric, with muscle tone, look fit, but still a tiny, curvy shape" and then the winner didn't have any of that. It will make your head want to explode and that is when you decide you need to walk away because you cannot change it. And you also have to chalk it up to "you haven't paid your dues yet".
——
Now this post was a little different than what you guys are familiar with. It may not have been the happy, extremely optimistic posts that I normally do. But I don't want ANYONE out there who reads my blog and decides they want to start this sport to go in thinking it's a perfect experience. If you go on Instagram, you are FLOODED with pictures of bikini competitors holding trophies, smiling with big groups of girls, and it looks like the most fun they've ever had in their entire life. And while that may be the case for some of those pictures, it's not for all of them. Yes, I had a GREAT first show, and I wouldn't trade it for anything. The second show, not so much. My regular readers know I'm always honest and I just want you guys to know life is not perfect, we are not perfect, and you will not always get what you want even though you put your blood, sweat, and tears into something. Life is a learning experience and not always fair. The best way to learn is from a mistake.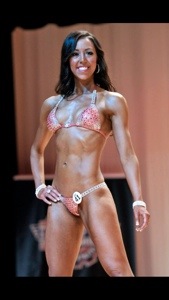 I also believe in things happening for a reason. This show made me realize I need a little break away from this for a while. I've decided not to compete in June and take my time to enjoy life and some of my summer trips planned. If this show would've run 100% smoothly and how I thought, maybe I would've kept competing over and over. My blog would have suffered, my work would have suffered, my life would have suffered because I became consumed in this entirely new lifestyle.  I have BIG dreams for myself. I want to write more, I want to get out my e-book, and I want to grow my blog as a business. I'm not able to do that competing back to back. So even though this show was not "rainbows and trophies", it might have brought a new insight to great things that will happen in my life in the future.
So I still thank ALL OF YOU 100% for hanging with me in this CRAZY bikini journey. I achieved what I wanted out of this. I placed, I gained confidence and sass, and felt beautiful. You guys pushed me to continue when I wanted to quit, and now I want to bring better blogs, new things, and healthy recipes back to you in return. Let's get this spring and summer going with the old Minnie again!
XOXO With a Cherry On Top,
-Minnie