Positive Progress Love
Good Morning Gang 🙂
If you were looking for my blog first thing in the morning yesterday, I am so sorry I disappointed! My days off I sleep in (Friday through Sunday). Days I go to work I update the blog at 5am. Well yesterday morning I REALLY slept in. My body needed it so bad. Phoebe slept in her own bed, so she didn't wake me. Well I woke up at….
12:45!!!
YIKES! First I leaped out of bed, then I thought well wait, why should I feel guilty about this? Sleeping 3-4 hours a night during the week is not good, so the 12 plus hours felt amazing. When I went to get Phoebe she did repay me for leaving her all that time. It was in the form of presents all over the bathroom tile.. if you get my drift 🙂
Breakfast was coffee, Ezekiel toast x2, a banana, and this bar
Yes my breakfast was super carb heavy, but it's best to do them when you first wakeup so you have energy for the day.
Phoebe was acting a fool and really wanted to go to G-Mama and Pop Pops, so off we went!
G-Mama bought the girls new treats and new toys! They each got a pink rabbit and of course fought over the same one, even though they had the same exact toy!
Phoebe also got these little rawhide treats that looked like balls of yarn. G-Mama knows Phoebe likes to throw her treats around and chase them. Well Phoebe had the time of her life with these. At home she acted crazy rolling around in a blanket and throwing it in the air. I couldn't stop laughing at her.
Later on I went to the gym and totally killed it! I had lots of energy and hit the stair master. Well this is what happened!
Yes 62 minute stairs! I felt so good after I finished. I wanted to throw my arms in the air and say heck yes! But then I thought okay I might make a scene.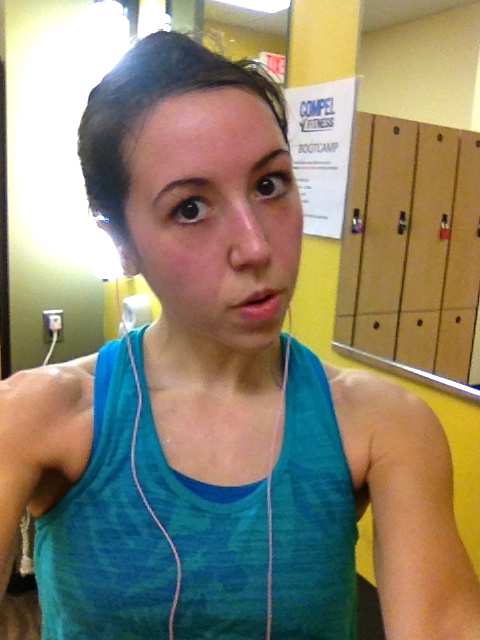 I had to go splash my face with water because it was so red and hot. Then I decided to hit my upper back area instead of doing legs. Here is what I did:
Lat pulldowns (machine), 50-60 lbs, 15 reps x 4 sets

Rhomboid flex squeeze using cables. Arms up like you are flexing your biceps. Squeeze the upper back and pull down your flex (about 5 inches) and back up. 40-50 lbs, 12 reps x 4 sets
Delt cross over using cables, cables cross in front of your chest, squeeze your back! 40-50 lbs, 12 reps x 4 sets
Assisted pull ups, 10 reps x 4 sets
Pushups, 10 reps x 2 sets
Standing cable row (cables at chest level), 80 lbs, 12 reps x 4 sets
Rear delt fly's, 15 lb weights, 12 reps x 4 sets
Before I left for the gym I swallowed my pride and posted a picture of my 'abs' on my Instagram account. I was shaking as I hit submit, and thought wow people are going to make fun of me, or say I shouldn't post this. Well I checked the account when I finished the gym and I couldn't believe the comments I received! People told me I looked incredible, amazing, and inspiring. It felt really good because I work so hard to stay in shape, it doesn't come easy for me like others 🙂 It took a lot of courage to post and I'm glad I did. It goes to show you that hard work pays off and in turn it inspires others. That's why I write this blog! If you want to see the picture you will have to follow my Instagram or my Facebook page 😉 Thanks for all the positive Love! <3
At home I made a NEW recipe! This is a Stuffed Soyrizo Pepper and it was delicious!
Soyrizo is basically a substitute for chorizo, but vegetarian. I had some in my freezer from my veggie days and wanted to use it again. So spicy and tasty.
While this was cooking, I was hungry and impatient so I made a pomegranate fluff! It was good and I love pomegranates but if you didn't mix it long enough the seeds get stuck in your teeth. Not fun.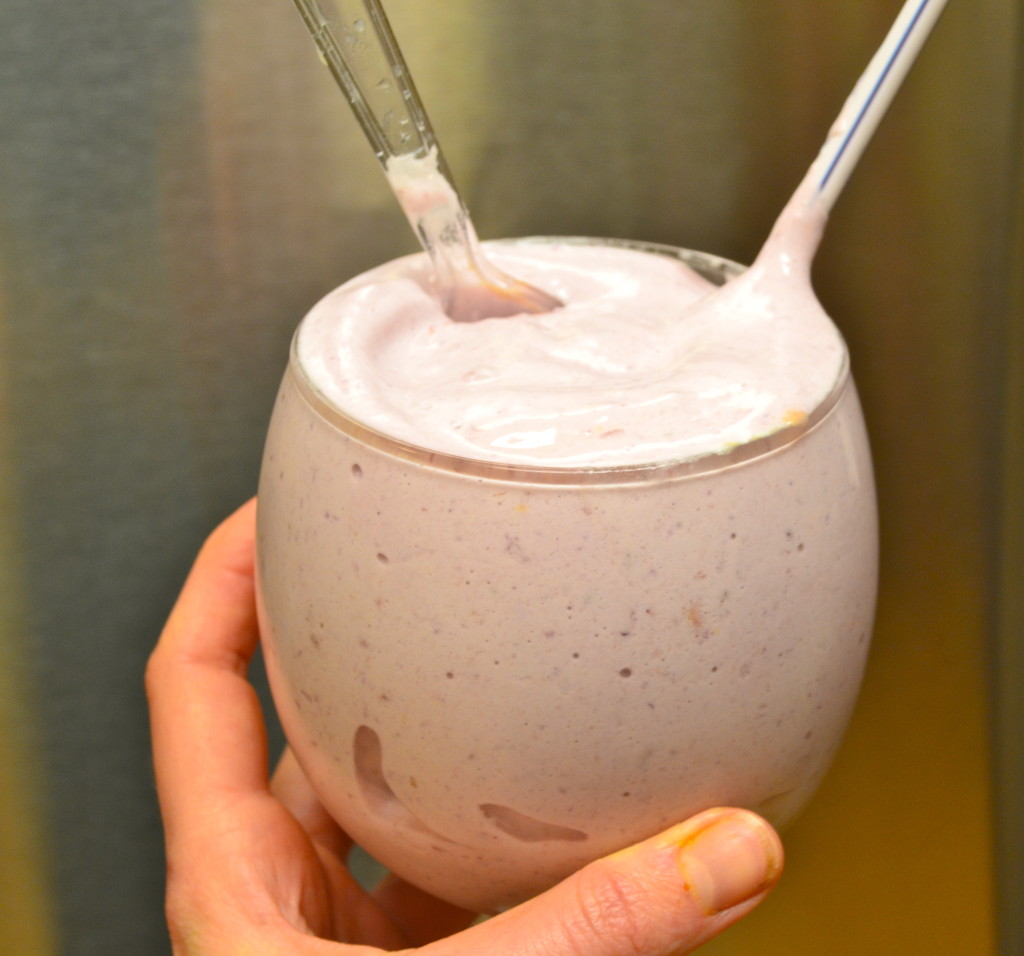 After food I did lots of cleaning and laundry. Very overdue. I felt like I accomplished nothing though! I ended up throwing out a lot of stuff I don't need that I have accumulated over the past year and a half. Since I'm moving, my apartment looks a bit ransacked as I prepare to hull everything. I have 20 days and even though my apartment is small I have so much stuff! Gotta get moving on packing.
Leg day is coming early afternoon today! In the late afternoon my parents are coming to see my new place and I am doing my "move in orientation". I'm excited to see my new home again! I hope they like it 🙂
That's all for now, I'm up early to do some stuff around my apartment before heading to G-Mama and Pop Pops. Make sure you check out the new recipe! It's yummy.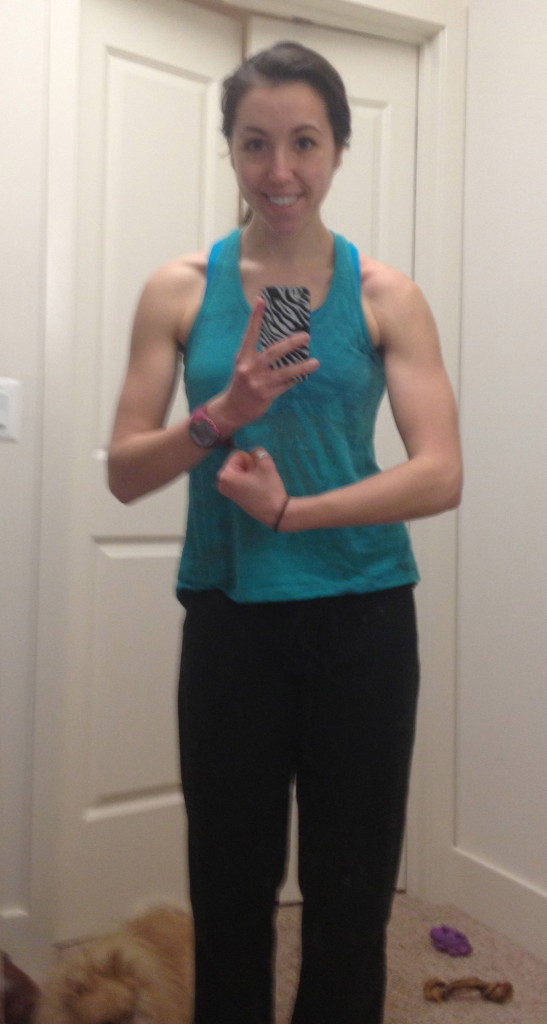 XOXO With a Cherry On Top,
-Minnie
P.S. If you guys liked my Stitch Fix from the other day, please use THIS LINK! I will get credit for sharing 🙂