Stuffed Soyrizo Pepper
I've been wanting to make a stuffed pepper for a while now, but I wanted to do something a little unique. Usually stuffed peppers are bell peppers, with rice, beans, and chicken. I think we all know by now I'm not your average gal, I like different meals! Anyone can cook a chicken dish, make an awesome salad, or a healthy dessert. My recipes are made to give you guys different ideas and tweak them to your liking!
This recipe uses the poblano chile pepper. Poblano chile peppers have a mild heat and are perfect for a little bit of spice, but not too much.
I also used a vegetarian product called 'Soyrizo'. This is a replacement for chorizo, a spicy sausage. I bought a couple packs when I was a vegetarian and had one left over in my freezer. It tastes just like chorizo, but healthier! Just because I'm not a vegetarian anymore doesn't mean I can't enjoy these products. I still eat tofu quite often, just because I like it and it's good for you 🙂
This recipe uses a few particular items, and you can absolutely swap out these things for something you have in your cabinet instead.
For this recipe you will need: 
1/4 cup of wheat berries (grain)

1 1/4 cup of water
1 Soyrizo link
2/3 cup of chopped zucchini
1/3 cup of red onion
Handful of raw spinach leaves
1 large poblano chile pepper
Start by preheating your oven to broil or 500 degrees Fahrenheit
Place the pepper in the oven to get a nice char on it. Leave it in for about 5-8 minutes (keep an eye on it). After it has cooked, reduce the oven heat to 375.
You can substitute with bell peppers
Next, cook your wheat berries. I made 3/4 a cup to eat off of for a few days, but the serving is 1/4 cup for the recipe. You need to add about 1 1/4 cup of water to the grain, bring to a boil, then reduce to a simmer and cook for 15 minutes until the water has absorbed. The grain should have a slight bite to it.
If you don't have wheat berries you can substitute bulgur, brown rice, quinoa, barley, freekeh, whichever healthy grain you like!
Next spray a pan with olive oil spray and add the soyrizo on medium heat. You can find soyrizo in the produce aisle of your grocery store next to the tofu and 'veggie' cheeses.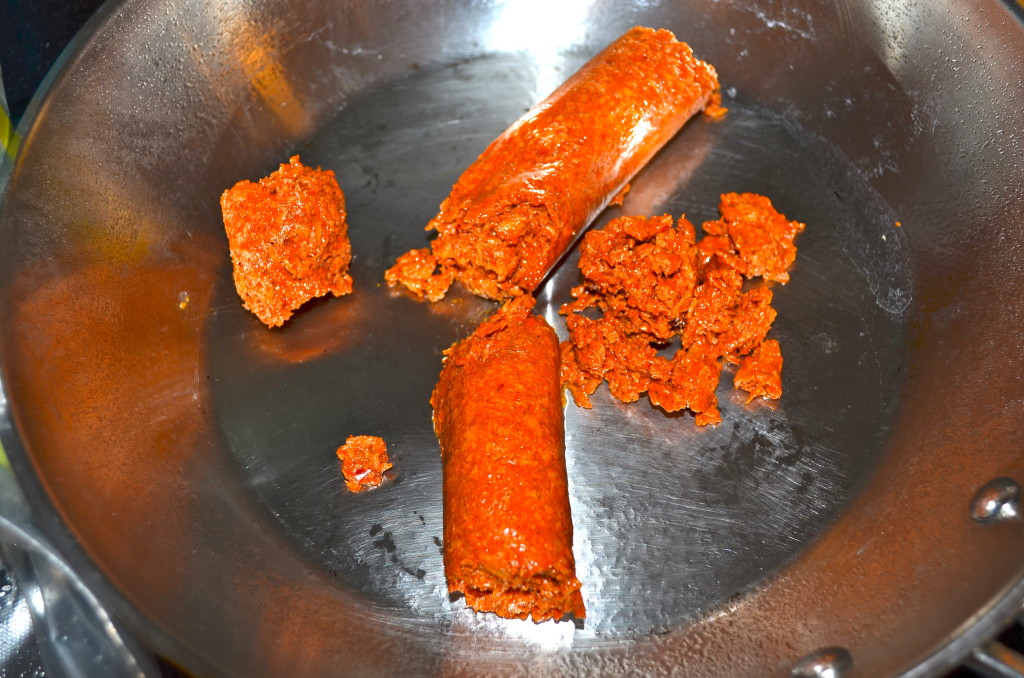 You can substitute with chicken, spicy chicken sausage, or turkey meat!
Next add the zucchini and red onion to the pan
Continue to cook for 10 minutes. (this is 2 servings in the pan!- use half for your pepper)
Slice open the poblano, clean out the seeds and stem
Layer the spinach leaves in the bottom
Add the wheat berries
Now the Soyrizo mix
Cook in the oven for an additional 10 minutes. Everything is already cooked, but this makes everything warm up together, and cooks the spinach a bit.
The finished product:
Doesn't that look good!? I just love all the colors. You eat with your eyes too 🙂
Nutritional info: 344 calories, 7.9 grams of fat, 41 grams of carbs, 20.4 grams of protein.
This was so easy, without a lot of ingredients. I just loved it.
Happy eating…
XOXO With a Cherry On Top,
-Minnie