Protein Pantry Perfection
Hi gang!
When the Vitamin Shoppe invited me to join the protein pantry movement, I was super excited. You guys know I love products that have an extra bump of protein, but taste good too! From nut butters, to pancake mixes, it's easy to add protein into your diet plan to keep you full and satisfied.
Even Phoebe was excited about all the nut butters!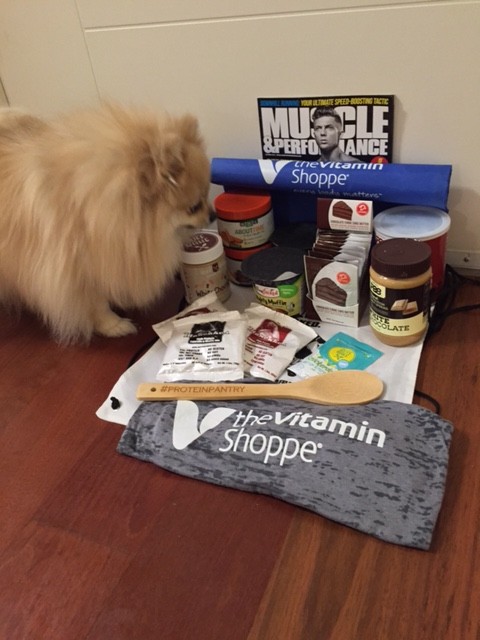 I am NO stranger to protein pancakes, neither is Tony, so he jumped at the chance to try Mancakes. High protein, and Non-GMO, these cakes are not just for men… don't let the name fool you 😉
The verdict? A fluffy homestyle pancake that reminds you of something mom would make on Sunday mornings. Pretty good deal!
We also dug right into the nut butters. You may have seen a preview on my snap chat! Buff Bake and P28 both offer a white chocolate version of peanut butter that is melt in your mouth good. Perfect on a rice cake… or maybe straight out of the jar. 😉
As you see the jars are smudged from our guilty hands being in there 😉
Although these products are good on their own, I am a creative person so I got to work! Protein pancake mixes are NOT just for pancakes folks. It has everything you need right in the container to make other awesome desserts. Since we are finally at my favorite season… FALL, I decided to make Apple Cinnamon Spice Muffins. When Tony and I first started dating I would make him muffins from scratch to eat immediately after a workout. A muffin is a good source of carbs and sugar to spike insulin after hitting the gym. Eating this combination helps with recovery and the muscle building process.
The recipe is SO easy!
1/2 cup About Time Protein Pancake Mix – Cinnamon Spice
1/2 large apple, or 1 small apple
1/4 cup unsweetened cashew milk
1 1/2 Tablespoons egg white
Bake for 18 minutes on 375 and you have 6 amazing muffins! I topped mine with a White chocolate cinnamon glaze which included:
1 Tablespoon greek yogurt
1/2 Tablespoon Buff Bake White Chocolate Peanut Butter
Pinch of cinnamon
Macros per muffin (including icing): 70.5 calories, 2.17 g fat, 8.17 g carbs (4 g sugar, 1.7 g fiber), and 4.3 g protein.
If you don't have the time to make a batch of muffins, I have a great alternative. FlapJacked Mighty Muffins. A muffin in a container? Where has this been all my lifting life?  Now all he has to do is pop one or two of these in the microwave if we've gone through the homemade batch. Pretty cool, huh?
You can find any of these goodies online or at your local Vitamin Shoppe.
And now you have a chance to snag these awesome protein products because I have a $50 gift card I'm giving away to a lucky reader!
All you have to do to enter is follow me on Instagram: Username SkinnyMinnieMoves  and comment a little something below. It could be "hey I follow you already" or anything about one of the products. I think this is a pretty awesome giveaway since Tony and I get all our products from the Vitamin Shoppe!
Contest ends Monday October 19 2015 @ 5pm Eastern time. Winner will be announced Tuesday October 20th and notified via e-mail. You have 48 hours to redeem your prize or it a redraw will be completed.
Don't forget to follow @VitaminShoppe on instagram and twitter for more awesome protein ideas!
Good luck!
This post is sponsored by FitFluential on behalf of Vitamin Shoppe. All opinions are mine.
 Comments submitted may be displayed on other websites owned by the sponsoring brand.
Comments submitted may be displayed on other websites owned by the sponsoring brand.
XOXO With a Cherry On Top,
-Minnie