Shopping like a Gladiator
Good Morning. It's Sunday already! My weekend FLEW by. I guess because I stayed so extremely busy. For real eating cold food in my car the entire weekend. When will the madness stop?
Everything this weekend was… you guessed it! Bikini competition related.
On Saturday I did a home back workout since I didn't get up early enough and I also did my apartment stairs. BOY do I always wake up sore the next day. I've said this before, but real stairs are so much different than a step mill.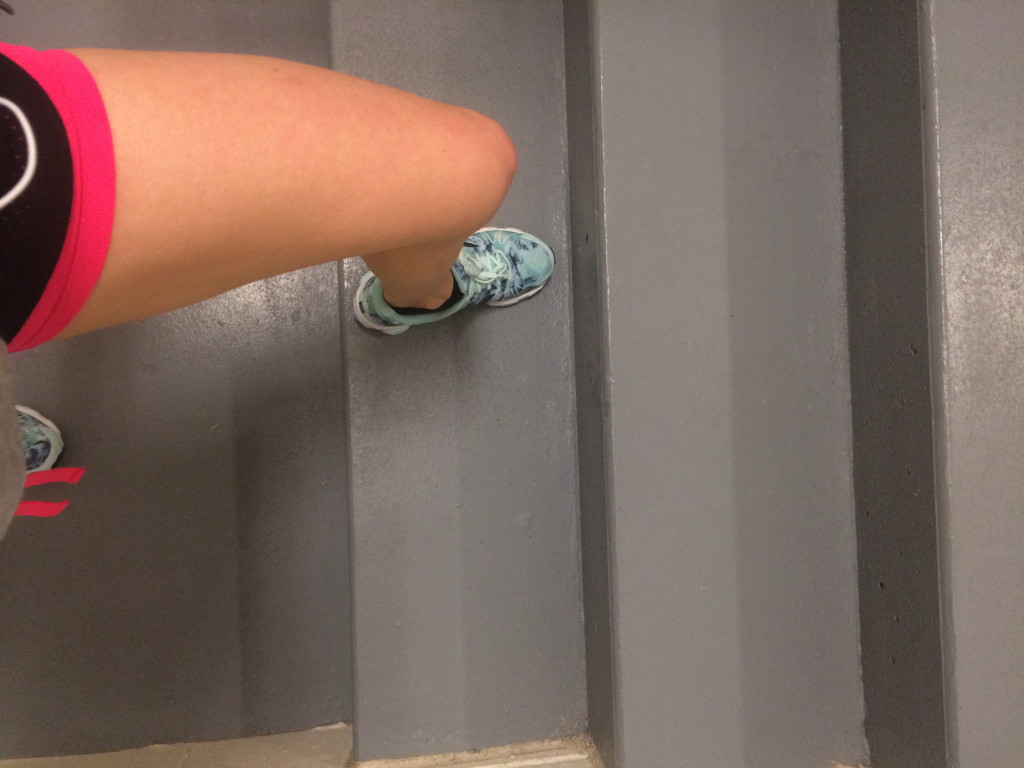 After I was finished I got dressed in real people clothes (actually I did this two days in a row!- check it out)
I love this color combo. So spring. And yes Mom and Dad, I still carry this vegan purse you guys bought me when I was about 18. I still love it! So different and fun.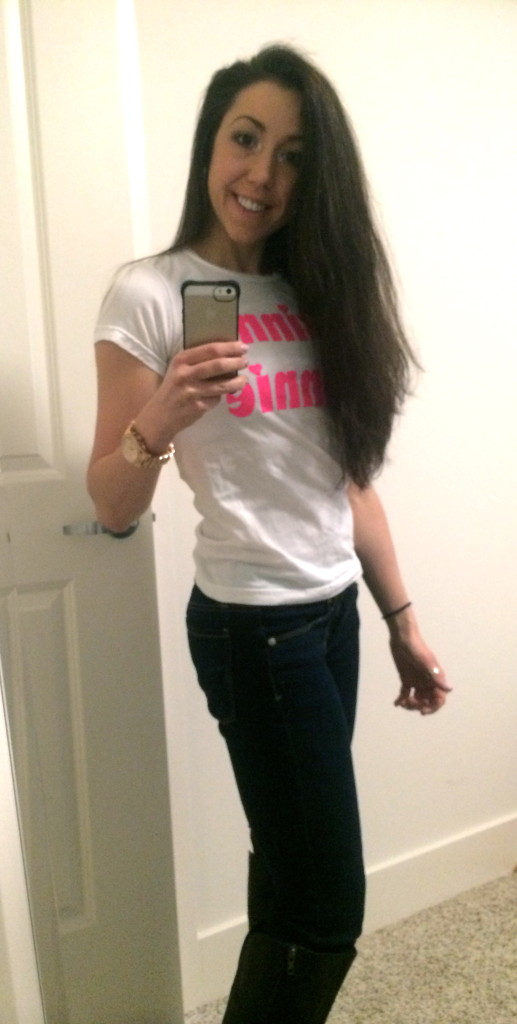 Representing me of course 🙂
I finally got to wear the boots! Wow 😀
I wore my "Minnie" gear and headed to watch the  2014 Baltimore Gladiator Championships. I planned on watching the pre-judging and then the finals show, but when I got there bikini had already gone on. BUMMER! Rushing like a fool for absolutely nothing. Luckily the nice mall is just down the street so I had four hours to kill before the night show. I made good use of my time! 🙂
There were a lot of good quirky kitchen shops and I saw this sign which cracked me up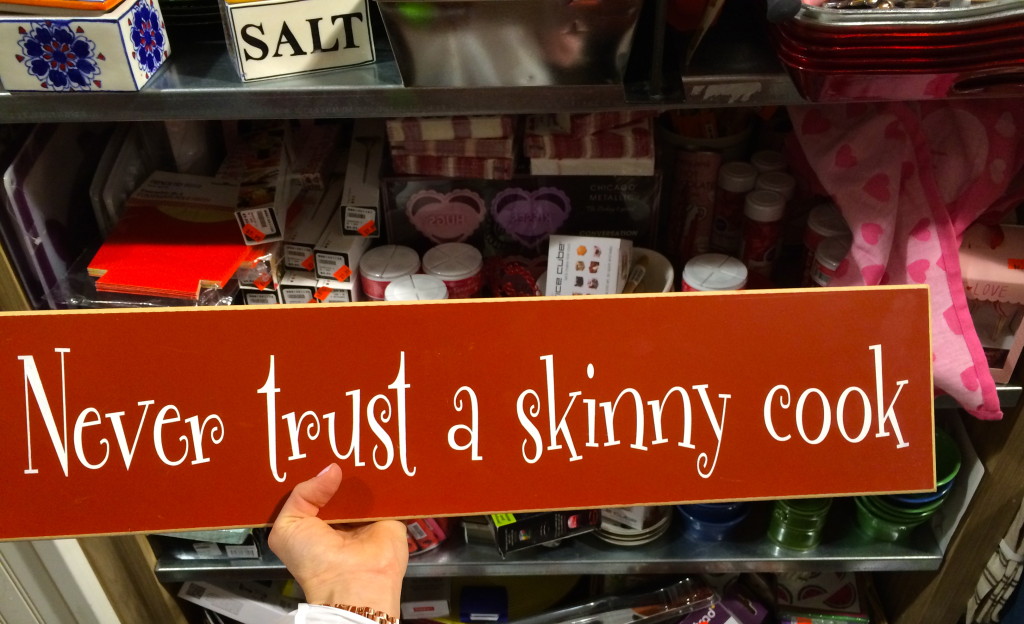 It was marked down, but still overpriced for how banged up it was. If it was $15 or less I would've picked it up, but not paying $35 for something with scratches all over it! Still cute though.
I did a lot of window shopping at Nordstrom. This mall had the BEST bags. Let's look at the beauties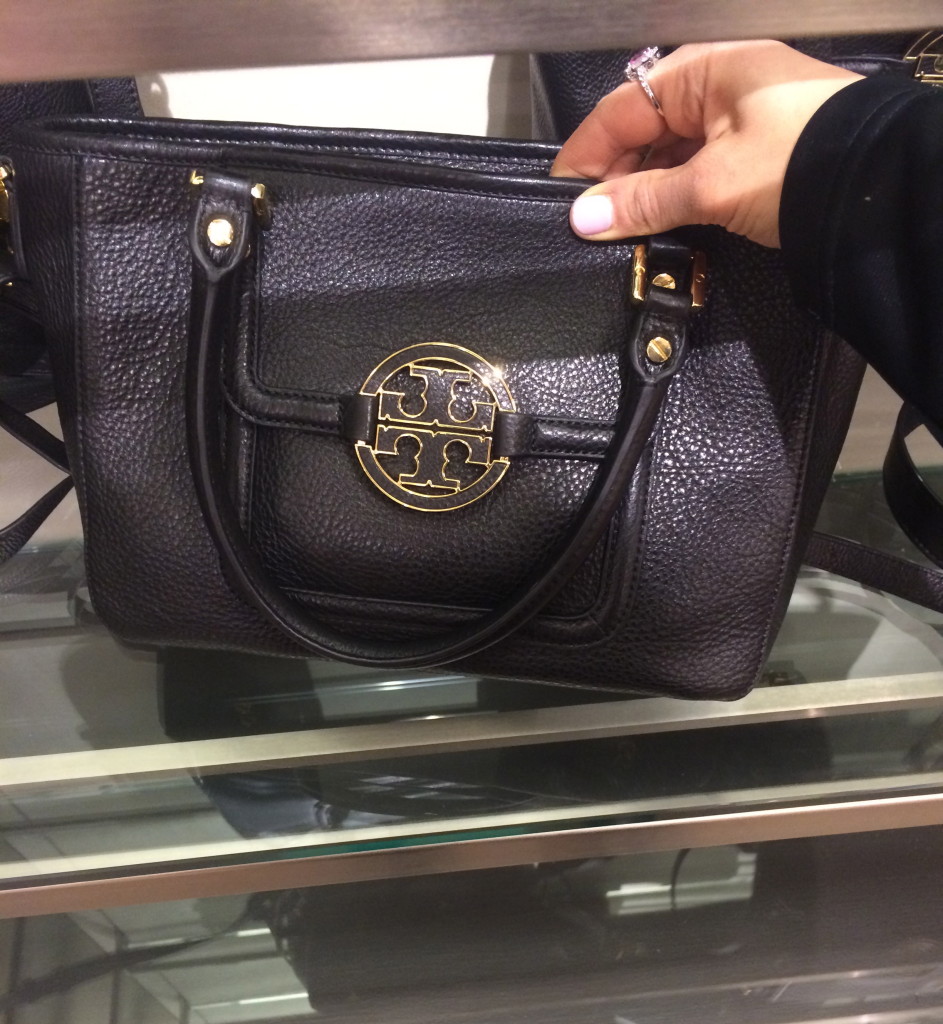 This quilted Tory Burch… well maybe I could've had it if it wasn't for this bikini competition. I did hold it a bit 😉
And let's talk about this stunner. I walked by it and I swear it said "Katie, come to me". The light was beaming down on it, front and center it sat in the designer handbag section. The picture doesn't do it justice. The leather is like butter, with magnificent chains and charms dangling and shining bright. Then I realized this is about a $1,500 bag. YEP THAT'S NEVER HAPPENING! That's 2 vacations this summer. A girl can dream though.
I did pick up a few things though including a very Barbie lipstick and some stage jewelry.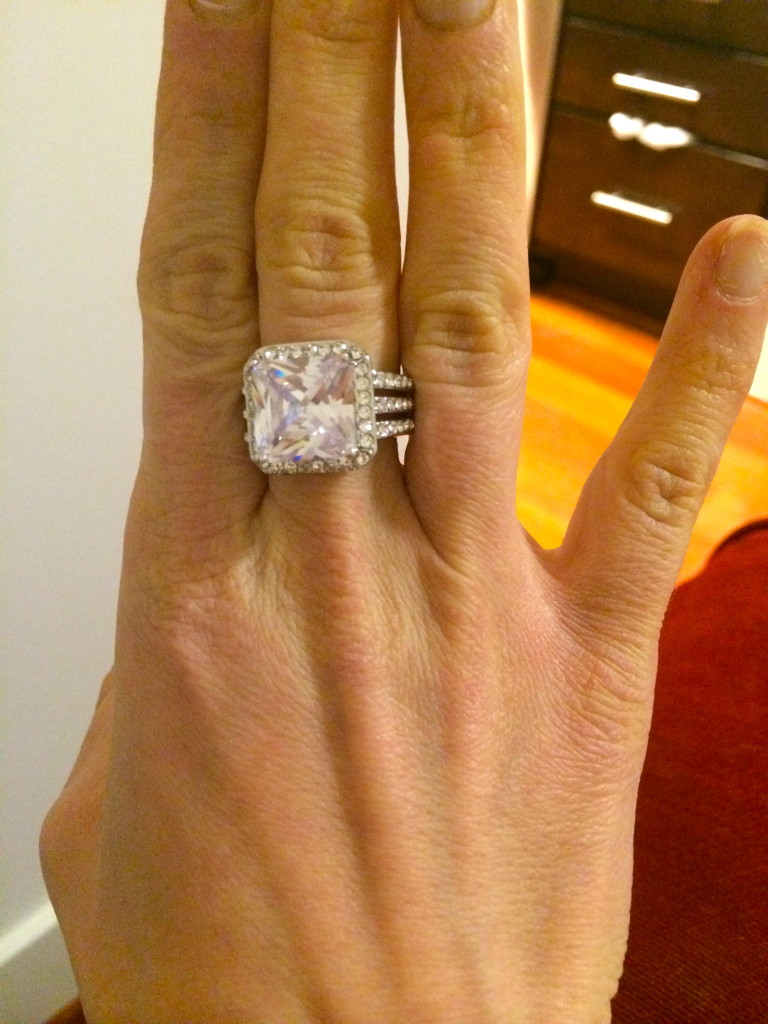 That shiny thing is from Nordstrom rack! Marked down from $60. I think I paid $18? Most of the time if I love something enough I just buy it and don't pay attention to price, MINUS designer handbags 😉
5'oclock hit, I left the mall, shoved food in my face and then went to watch the finals. I was able to get a little work done before the show started.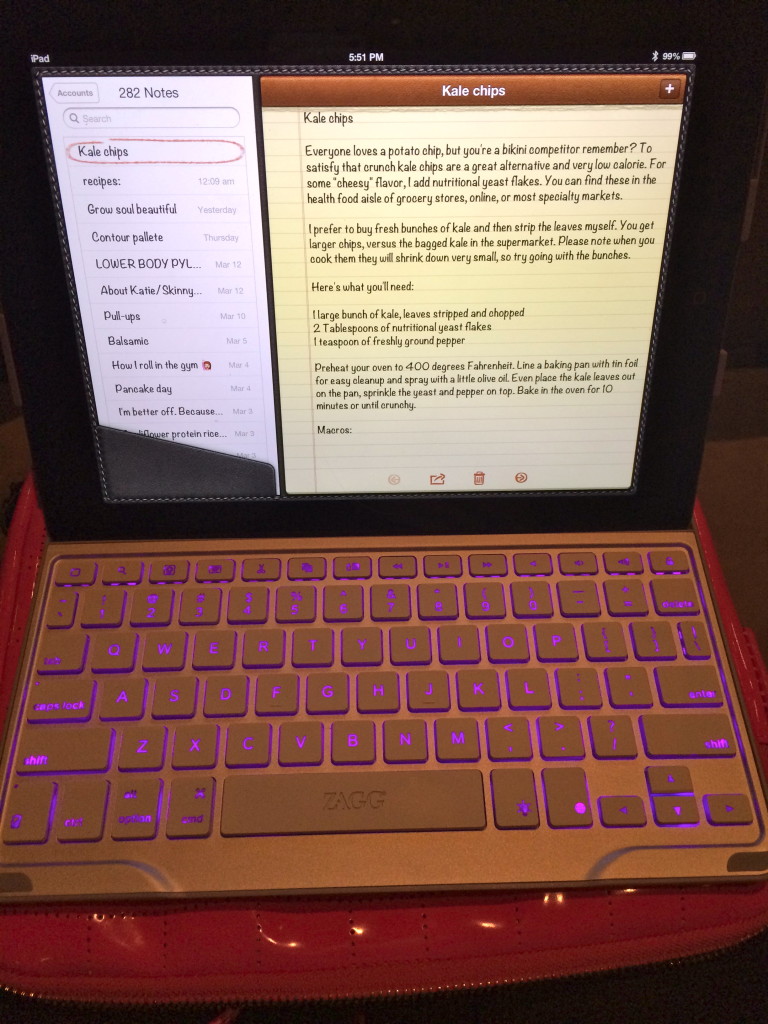 This is actually my iPad with a keyboard, best thing I ever bought. So much easier when I'm away from my home iMac.
The show started and all the athletes came out and posed in a large group, line by line showing off their stuff. I PANICKED. Some girls were really into it with the sex appeal and I thought there is no way I'm doing this in 3 weeks. But then I remembered I am at a different kind of show. This was an NPC show, and I am doing an OCB show. For those who don't know, OCB is natural and as I say "less provocative with posing". That's the best way I can describe it.
I have so much respect for every single one of these athletes. It takes so much to get to that point.
This was my favorite figure girl. She ended up taking overall! Well deserved.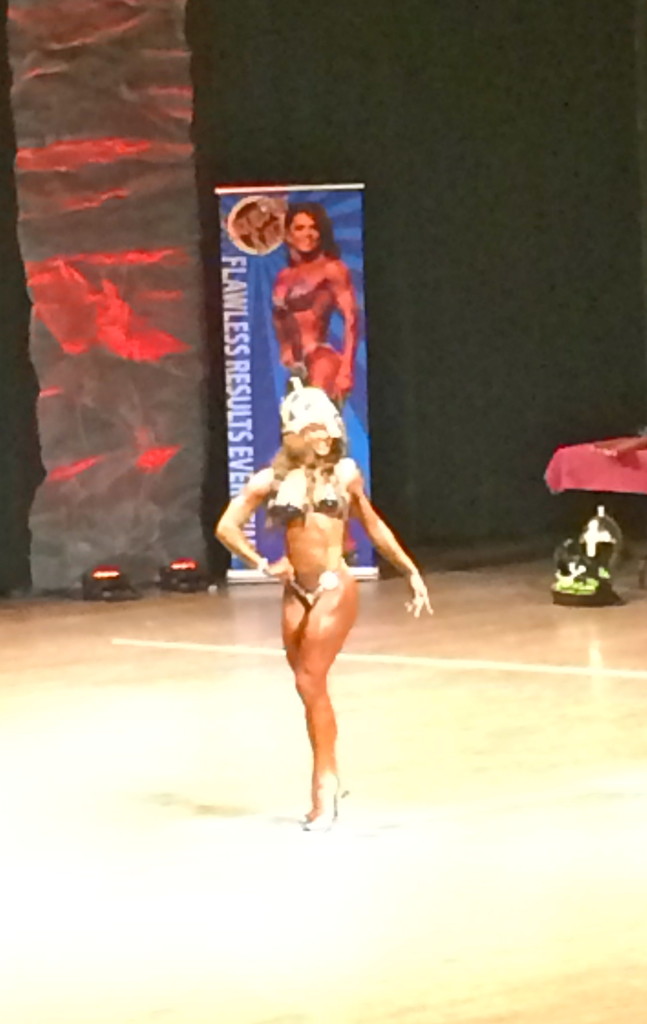 And yes, they make them put on the "gladiator helmet".
LOOK at all these women! This was just the novice bikini group. Holy cow has this sport grown in the past year.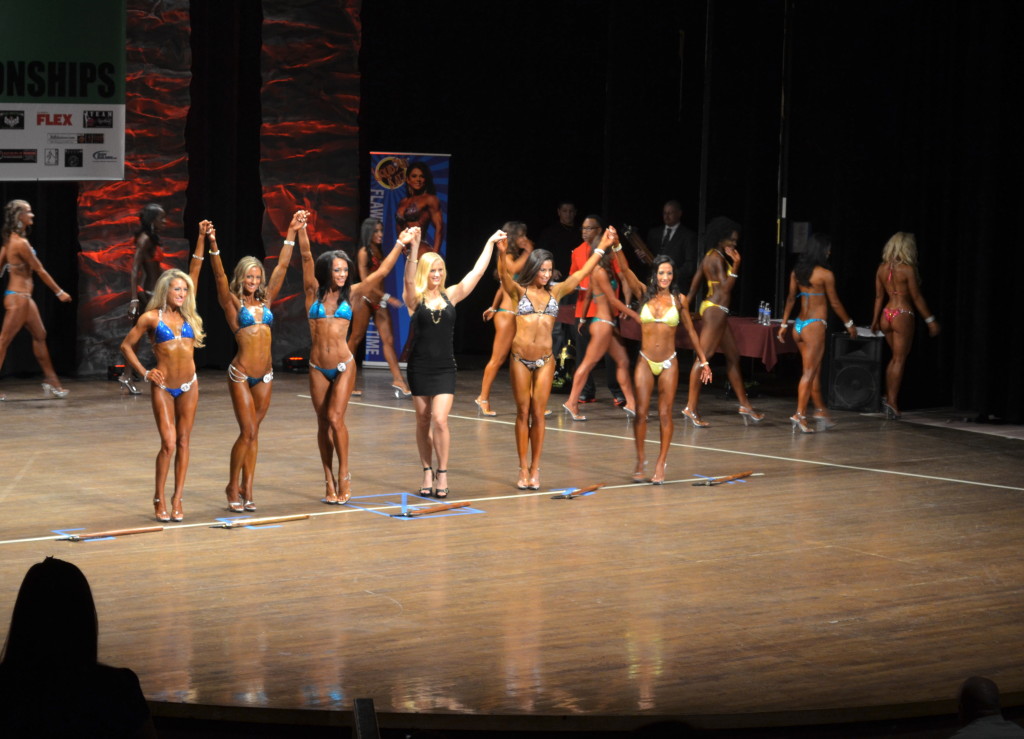 This was Top 5 in Class B I believe (might be Novice, it was a long day… memory is fuzzy), they go according to height. The girl on the left was my favorite. I loved her look, especially her hair. Actually, I ended up finding her on Instagram and telling her she did great. It's crazy how social media connects so many people now. I love it! It's the reason my blog has been successful 🙂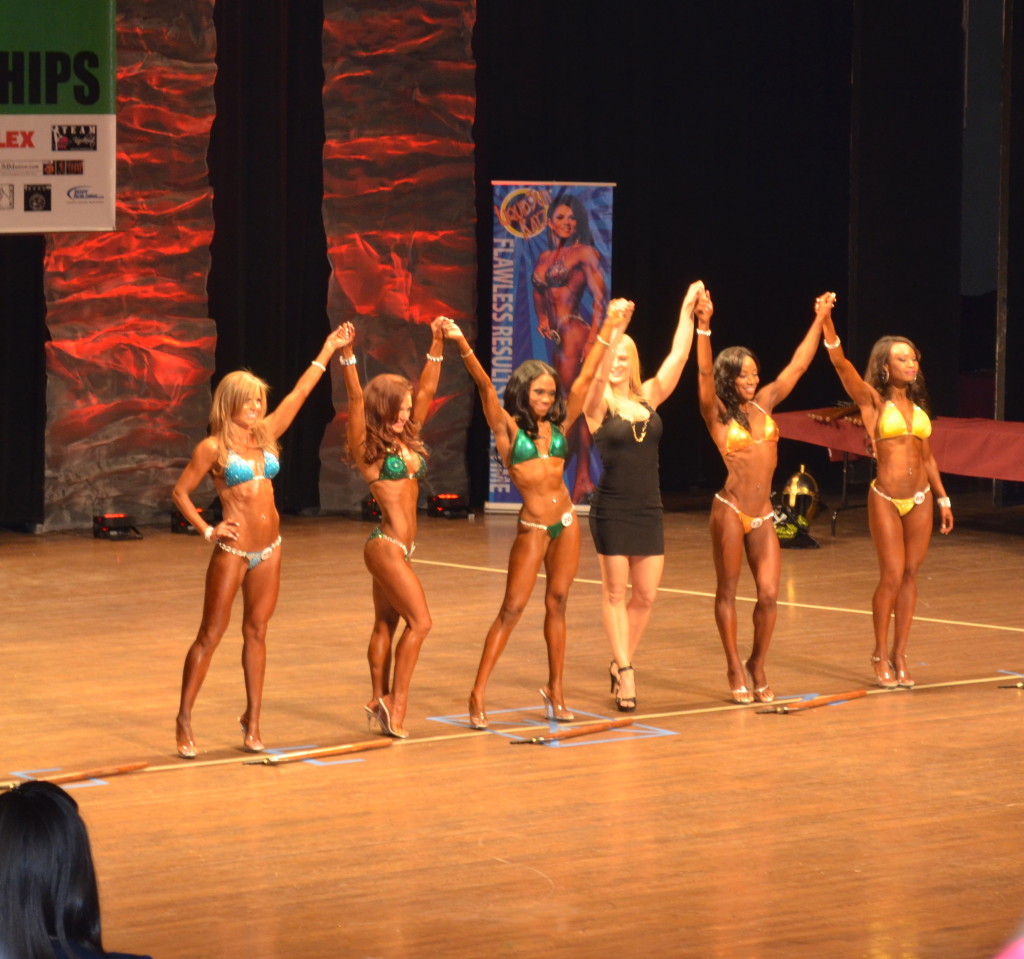 The shortest group, class A. How amazing does the redhead look?
Overall a fun day, but WOW is it a long show. I can't imagine actually competing in it. Well I guess I better… because it's coming soon! 3 weeks to go. HOLY MOLY!
Have a great Sunday!
XOXO With a Cherry On Top,
-Minnie