Sick Days, Not an Excuse to Sleep
Hello Everyone 🙂
I was out sick yesterday from work. I usually just lounge in my bedroom or on the couch, but I thought "hey now this is the perfect excuse to get stuff done". And I did! I'm working on several "new projects" for my blog that I'm keeping under wraps as of right now. I'm not a fan of shouting out to the world just in case things fall through or don't pan out as I wanted.
I also did some recipe testing. These were prototypes so obviously not very pretty, but they will be when I make them better.
Here we have:
Chocolate pumpkin brownies. OKAY, I know you're thinking this girl hates pumpkin. I do. I REALLY DO. However it is a wonderful low carb substitute for baking. The first time I made something with pumpkin I made the mistake of putting too much in. This time the cocoa powder disguised the pumpkin while keeping it low carb and moist. I ended up not baking this in the oven, rather a "mug cake" type thing, but in a bowl in the microwave. I just wanted to try out the taste. Success. Now to make it into a full blown brownie 🙂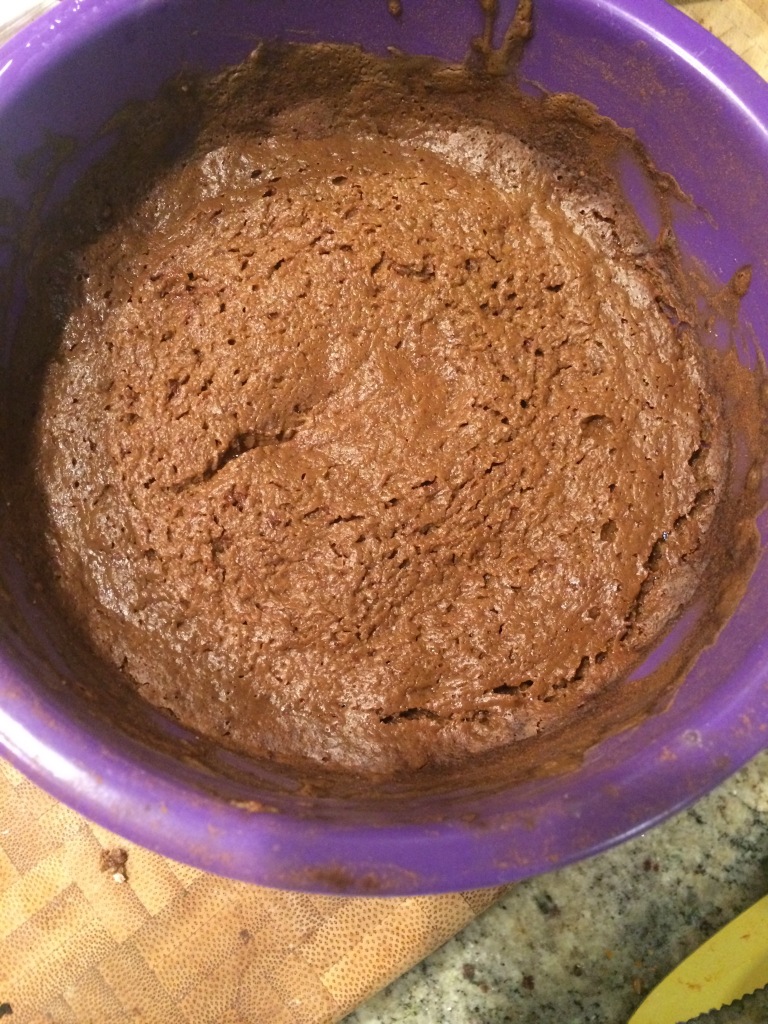 Next up this protein doughnut.
They definitely didn't look like these that were at my work the other day 🙁
Small amount of ingredients here, but they turned out way too dry, a few tweaks needed for this one.
So all of my recipes are not "genius" or "successes". Cooking is just trial and error. Some days it takes me all day to get something right, other times I just stumble into greatness. You just learn how to work with ingredients after time.
The other day when I was at G-Mamas house she made these banging chicken tenders crusted in potato chips. They are freaking heaven. Since  I have to be like my mom, I had to follow suit, but didn't use potato chips. I made my own almond and oat crusted mixture 🙂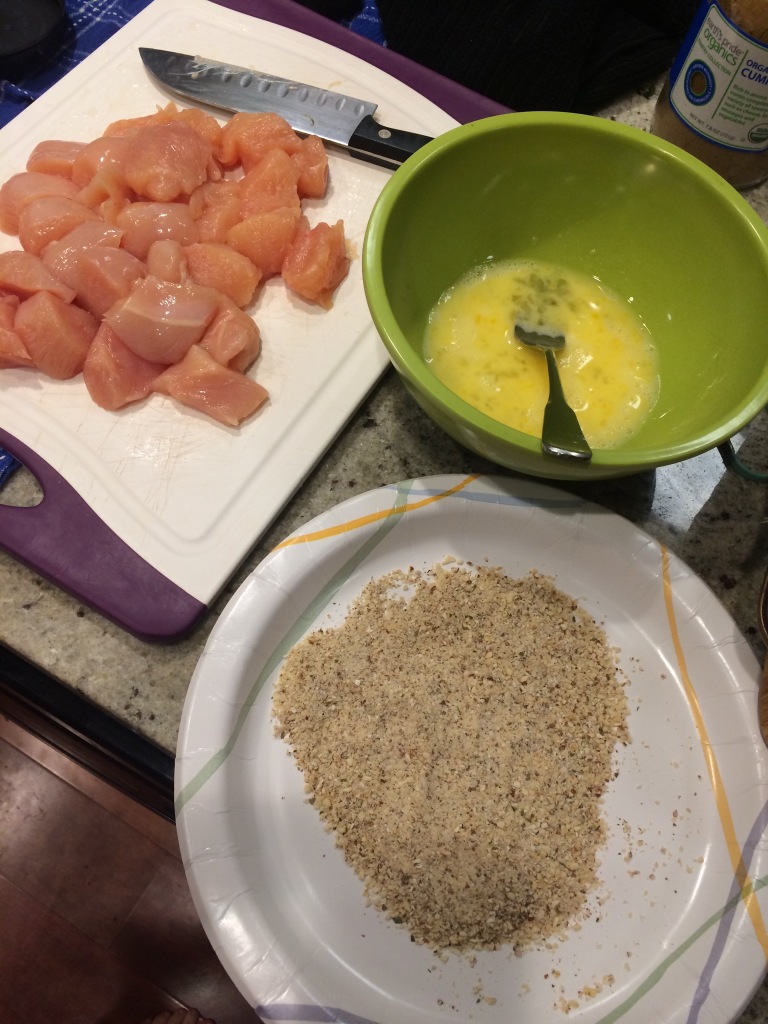 This is just 3/4 cup of ground almonds and 3/4 cup of ground old fashioned oats. Mixed with seasonings: pepper and regular Mrs. Dash. It smelled and tasted like italian bread crumbs!
Sauce is just organic ketchup mixed with balsamic- TRY IT (it's my favorite dipping sauce)
Also on the side? My carrot fries!
I swear you could make these for your kids, your man, or your mom and they won't know it's a carrot if you don't tell them! Looks like a sweet potato fry. Recipe here. 
Miss Buffay was by my side cooking all of these things these past few days. Man is she a little pistol. I noticed last night I took a picture of my cute Apron and sent it to Mary… only to see the little puff ball making the same face in the background. Still laughing over this.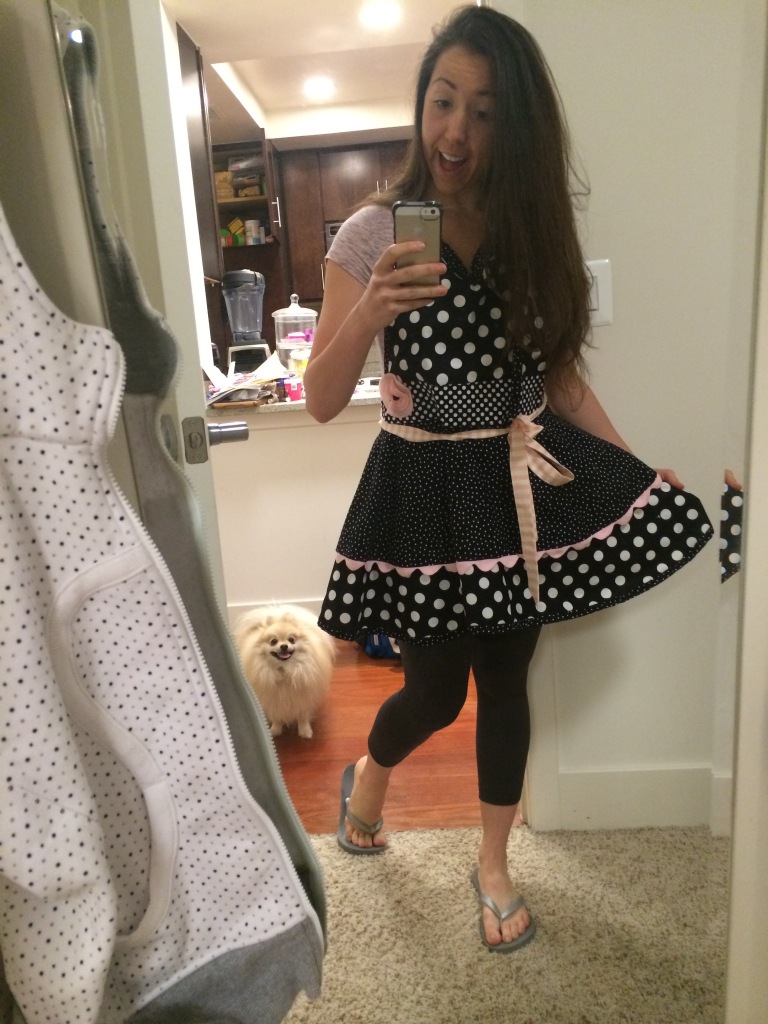 And this morning I wake up to find her in her carrier, holding my business cards hostage. HOW?
I'm just going to stop asking questions… the dog is Houdini.
So I have a busy weekend ahead of me as long as my throat and head behave. I'm now making time for fun now and it's so much better. Don't sit at home guys, it's not good for you. 😉
XOXO With a Cherry On Top,
-Minnie