Skinny Minnie ChocoChip Muffins
I make many variations of these muffins! Usually with blueberries, raspberries, or some other fruit. Unfortunately, these aren't in season and I didn't have frozen. So I went with a few chocolate chips! Yum 🙂 Just enough to satisfy your sweet tooth
If you go to coffee shops, or local bagel places, they have those huge muffins loaded with sugar, calories, and fat! These are a healthy whole wheat version, and low in calories. So munch away 🙂
For this recipe you will need:
-1 cup of whole wheat flour
-1 teaspoon of baking powder
-1/2 teaspoon of baking soda
-1/2 teaspoon of salt
-1/4 cup of Stevia or Splenda (or more according to how sweet you like it)
-1 cup of unsweetened vanilla almond milk
-1 teaspoon of vanilla extract
-1/4 cup of natural applesauce (no extra sugar added)
-1 tablespoon of coconut oil
-1/4 cup of dark chocolate chips
Pre-heat your oven to 350 degrees F
Start by adding your dry ingredients to a bowl
Now in a separate bowl (I'm lazy and kept it in the measuring cup) add your milk, vanilla extract, applesauce, and coconut oil. Mix it up good. 
Now you are going to add the wet ingredients to the dry and stir it together
Add your chocolate chips! I ate a few whoops…
And scoop into cupcake liners (should make 8-10). I made 8 good sized muffins.
Now bake at 350 degrees F for 25 minutes. These are a more dense muffin, that's how I like them!
After 25 minutes, take out, do the toothpick test, and let them cool on the counter for at least 10 minutes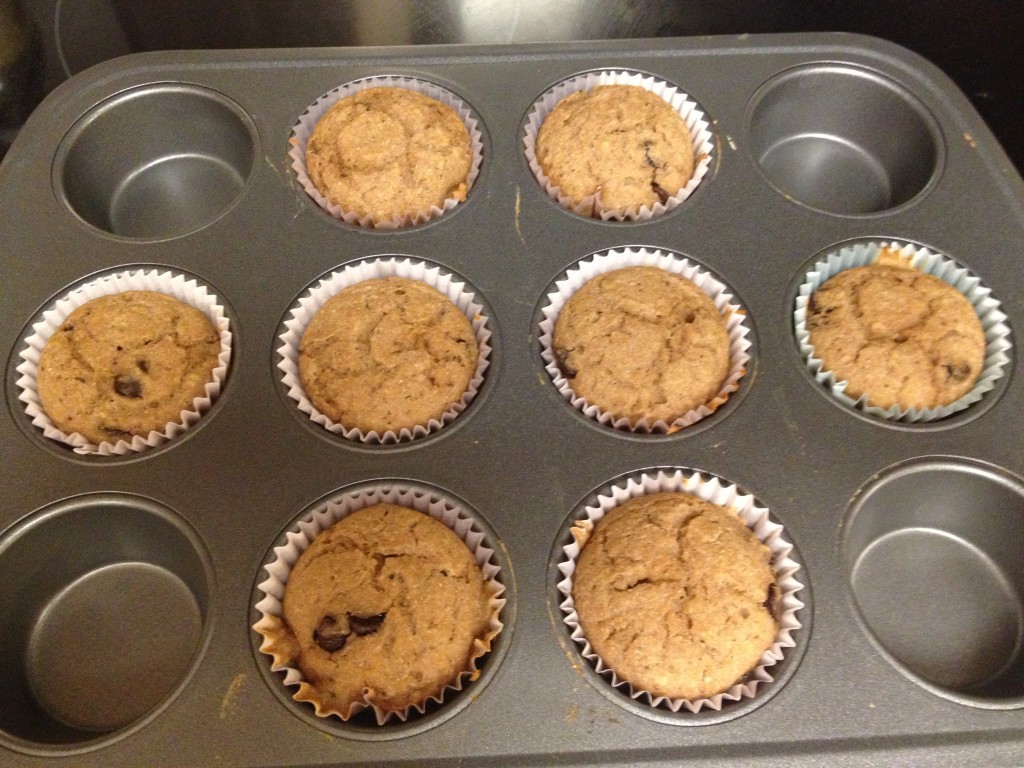 Now ready to munch!
Happy Eating…
XOXO With a Cherry On Top,
-Minnie