Spring Snow
Isn't it supposed to be spring? That's what I thought too! Well here in good ol' Maryland it snowed about 3-5 inches! Depending on where you were. My drive to work at 530 am was not too pleasant, but I made it there safe.
This is what it looked like by the early afternoon. Snow turned into wet mush!
In the morning I powered through a banana and half a pack of almonds because I had to go into the OR to help with a plastics case. It was so much fun! I just love sewing! I wish all days were like that. By the time I got out I was absolutely STARVING! I forgot to snap my lunch, but it was chicken breast, spaghetti squash, spinach and asparagus. I ended up eating my yogurt from the morning too, and then my protein shake a little later. Hungry girl!
Oh yeah and I snacked on these too!
I was so happy when 430 rolled around. I was lacking a little bit of motivation because my legs are EXTREMELY sore from that killer leg workout! I still feel shoulders too from the other day. So all around my body is aching, but the good ache. I bundled up to bear the snow again before heading to the gym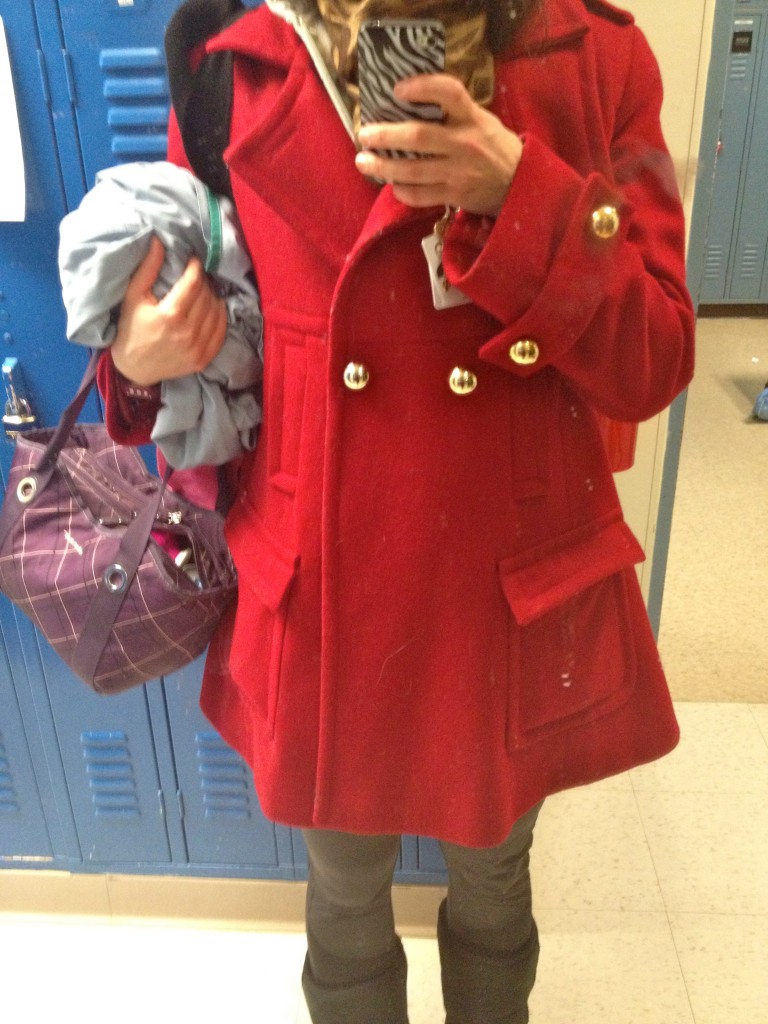 At the gym I did biceps only. Usually I do triceps and biceps together, but I think I'll skip my  cardio-only day this week and break these two up instead. I don't think my body could have handled both muscle groups! Here's what I did:
15 minute on the stair master

Biceps
Curls with a 30 lb bar, 12 reps x 4 sets
Bicep push outs, 30 lb bar, 12 reps x 4 sets
Uppercut punches with 15 lb kettle bells, 10 reps alternating x 4 sets
Forearm raises, 30 lb bar, 12 reps x 4 sets
Hammer curls with 25 lb plate, 12 reps x 4 sets
Preacher curls, 30 lbs 12 reps x 2 sets, then 35 lbs 10 reps x 2 sets
3. 20 minutes on the elliptical
4. Abs
Bosu Oblique Mountain climbers, 10 reps alternating x 2 sets

Side bends with 25 lb plate, 15 reps x 2 sets each side
Diagonal standing oblique knee crunch holding 12 lb kettle, 12 reps x 2 sets each side
And some good stretching of course!
At home I hung out with my baby girl and watched The Voice. I miss Christina Aguilera though! For dinner I made a strawberry salad and another pita pizza with goat cheese. Same same same.. I can't help myself sometimes!
Then I made this Easy Peasy Buffalo Chicken Protein Casserole!
Whipped together in minutes and has lots of protein! Good for an after gym dinner!
181.7 calories, 3.3 grams of fat, 6.2 grams of carbs, and 33 grams of protein! 
Phoebe spent time on the bosu while I cooked. She is so obsessed with it. She thinks the dome is her little spot for her bones!
Even though it's yucky and snowy slush out, I am enjoying the tulips on my coffee table. Aren't they pretty?
It's Tuesday, which means one day closer to Friday! Hey gotta stay positive. Tuesday also means back day! So come back tomorrow for my workout 🙂
XOXO With a Cherry On Top,
-Minnie