Surgery Gal and a Giveaway
Good Morning, happy hump day! Half way through the week. Not bad huh?
Sorry for the lack of update yesterday. I spent 8-9 hours in the operating room doing a facelift on Monday and was absolutely wiped. I pushed myself to go to the gym because I had to finish out my #noequipmentcardio week. I did it! One week of workouts without one machine. I never thought I'd see the day, but I loved it. So from  now on I plan on doing 3 out of 6 of my weekly workouts this way. The only reason I won't continue to do them all this way is #1: convenience. There isn't always room to do my intervals on busy weekdays. And #2 I really did miss spinning and the step mill.
I didn't stay long at the gym, about 50 minutes because my head was pounding and I was so tired. I managed to squeeze in my workout though. Every bit counts.
Like the shirt I'm wearing? My lovely friends over at Meatheads Apparel sent me this tank and they want to give away one of their shirts to a lucky reader! The bonus about this top is 15% of the proceeds go to a non-profit organization that supports the fight against breast cancer. Awesome, right?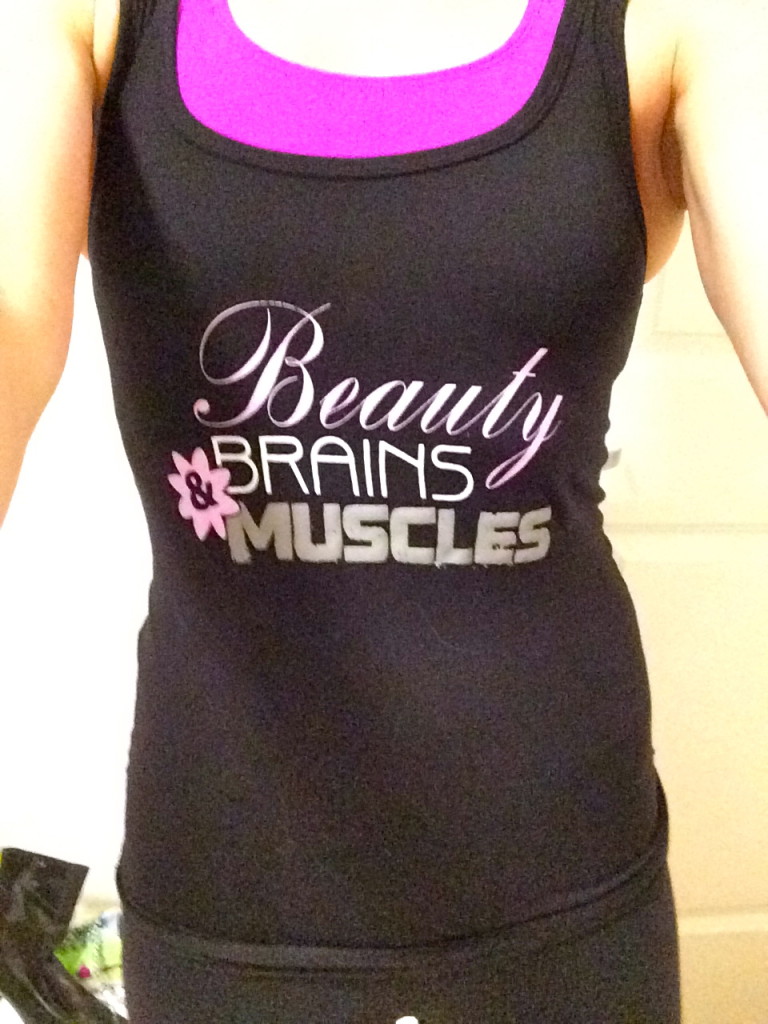 My favorite part of the shirt is that it doesn't just mention beauty and muscles, but BRAINS! I'm most proud that I am a smart cookie. One of my biggest accomplishments was completing PA school and now I'm a surgery PA. I worked super hard to get where I am, so I like that this tank represents the smart side of me too 😉
For a chance to win a Meatheads apparel tank, comment below with your biggest accomplishment. Winner will be chosen at random on Monday, November 11, 2013 and announced on the Monday morning blog. You may enter once. Product will be sent directly from Meatheads Apparel. For official sweepstakes rules- click here.
Oh and don't you love how I continue to break fashion rules? Fancy coat with cashmere scarf, meet high gym socks 😉
——————–
Terrible Tuesday actually wasn't too terrible. I was pulled to the OR pretty much the whole day, so it went super fast. No complaints over here. Fast days, especially TUESDAYS = amazing.
The terrible-ness (a word?) came in when I went home. It was already decided I was taking a rest day, and the night before Phoebe was super sick! My poor boo boo kept throwing up so I called to make a vet appointment Tuesday evening. You know mama was worried!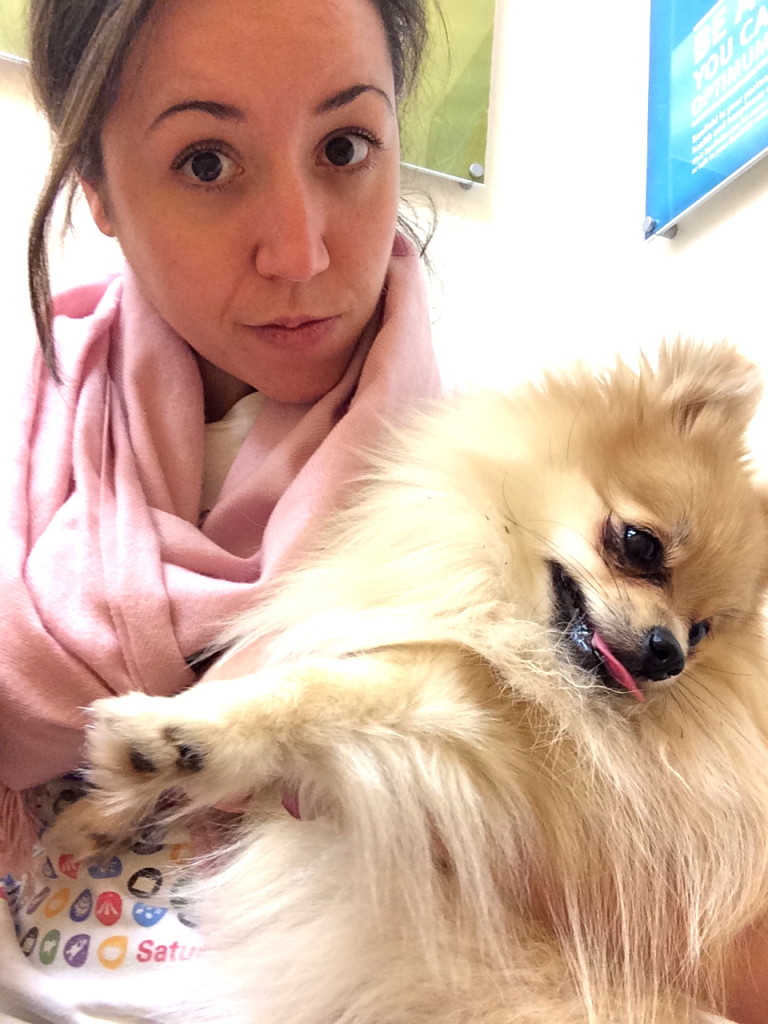 She also is making this burping noise, and I'm not sure the vet believed me at first. We were mid conversation and she burped funny and she looked at her wide eyed and said "what was that peanut?". I said see! The noise! I mean I'm not happy she has been doing it, but happy the vet heard it. Even though she said "I've never heard a dog make that noise before". Just wonderful…
The good news, Phoebe is A- OK. The bad news, she had blood work and a shot of reflux medication. We think it's either post nasal drip, a little tummy bug, or possibly reflux. Luckily she is acting her normal self, bouncing around, she just keeps getting sick. No worries, Mama is taking good care of her 😉
 She insisted I hold her the entire visit.
When we came home we were both EXHAUSTED. What a day indeed.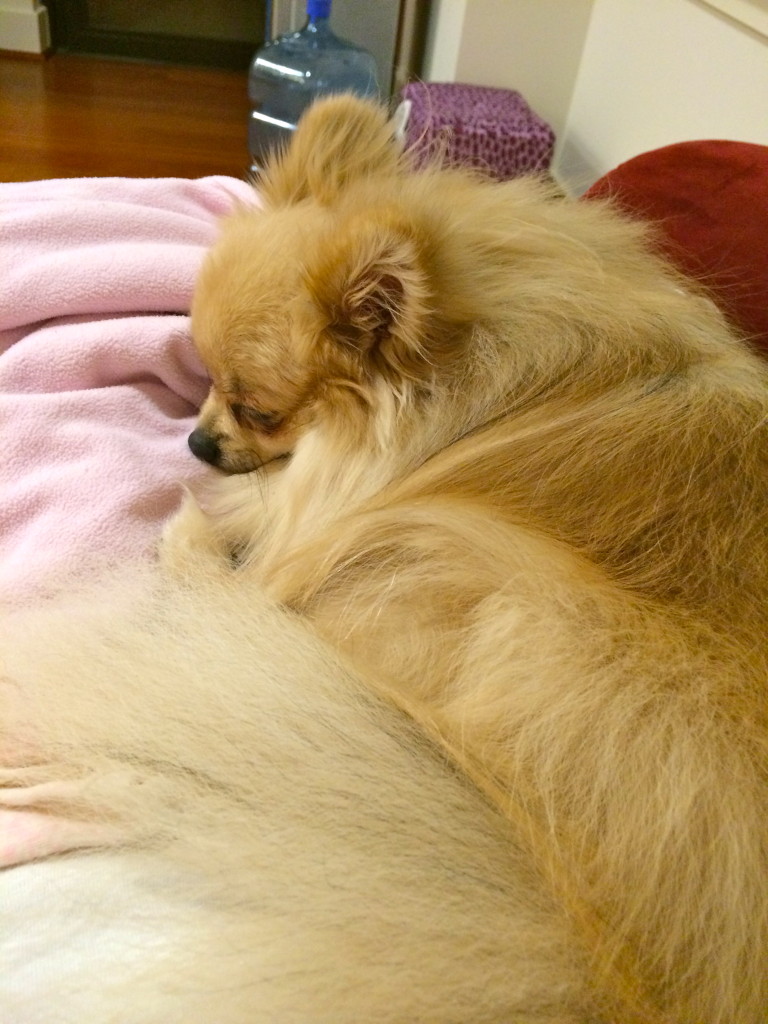 So Terrible Tuesday, not so terrible at work, but terrible that my girl is under the weather!
Onto another day. Don't forget to enter to win a tank!
XOXO With a Cherry On Top,
-Minnie