Tragic Tuesday
Good Morning. Tuesday just continued on a spiral down from Monday. I got sick at work and had to leave. When I got home (mind you I was only gone 3 hours), my fridge was completely DUNZO. I cleared everything out because they came by to switch it. Only to find the food I just bought at Wegmans ruined. I threw away my receipt, because really what is the point in keeping food receipts? Well never will I do that again! Keep your receipts peeps, never know when your fridge will go up.
In a way it was a good thing I got sick at work because I would have been really mad if all my freezer food went bad too. That was saved luckily.
I'm happy with my new fridge though! Shiny and super clean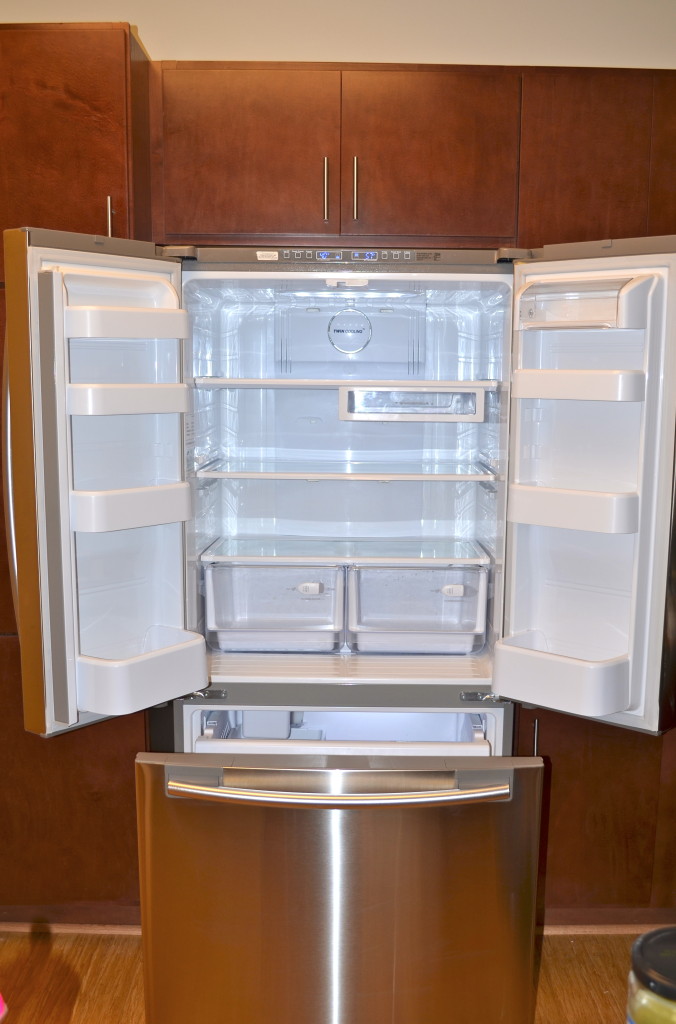 Plus it had a little extra compartment in the freezer. I love reorganizing things, so I went right to it even though I wasn't feeling good. The top drawer of my freezer I dedicated to all my "protein fluff" products. It was very necessary I have a fluff drawer 🙂
Speaking of fluff, I've had this fluff recipe stored for a couple days now and since I didn't do much yesterday, I will post it now. Blueberry Pancake Protein Fluff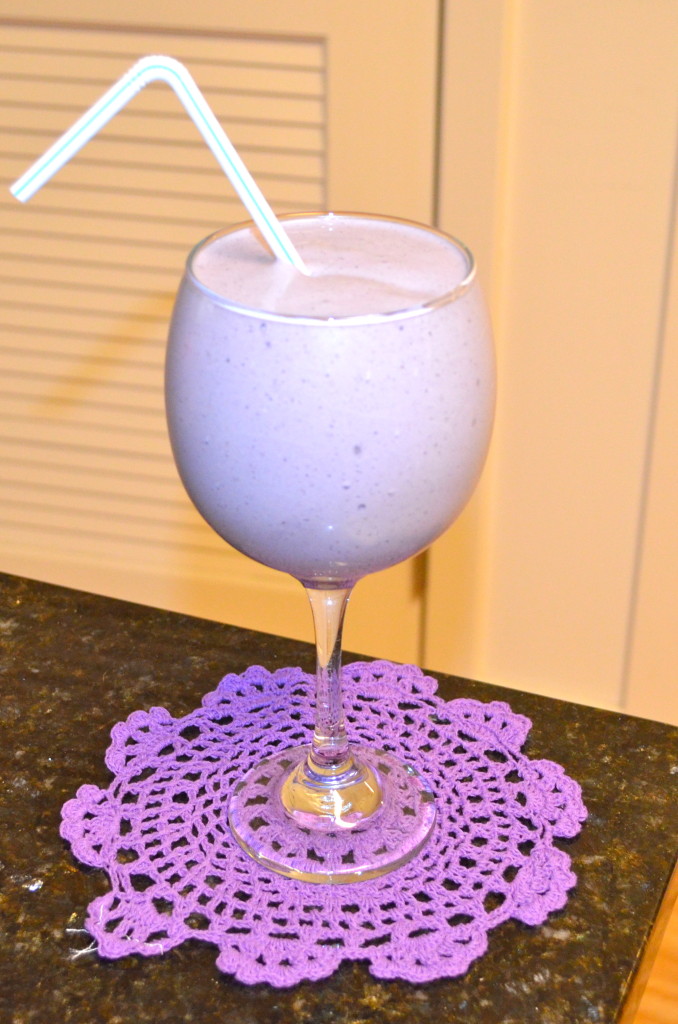 After I placed everything in my fridge I went back to bed. Much needed.
Since I've been down in the dumps and sick, my Dad decided to give me a little surprise. Well my Dad doesn't know the idea of "little" and spoils me rotten! I was extremely grateful to both him and my mom because they bought me….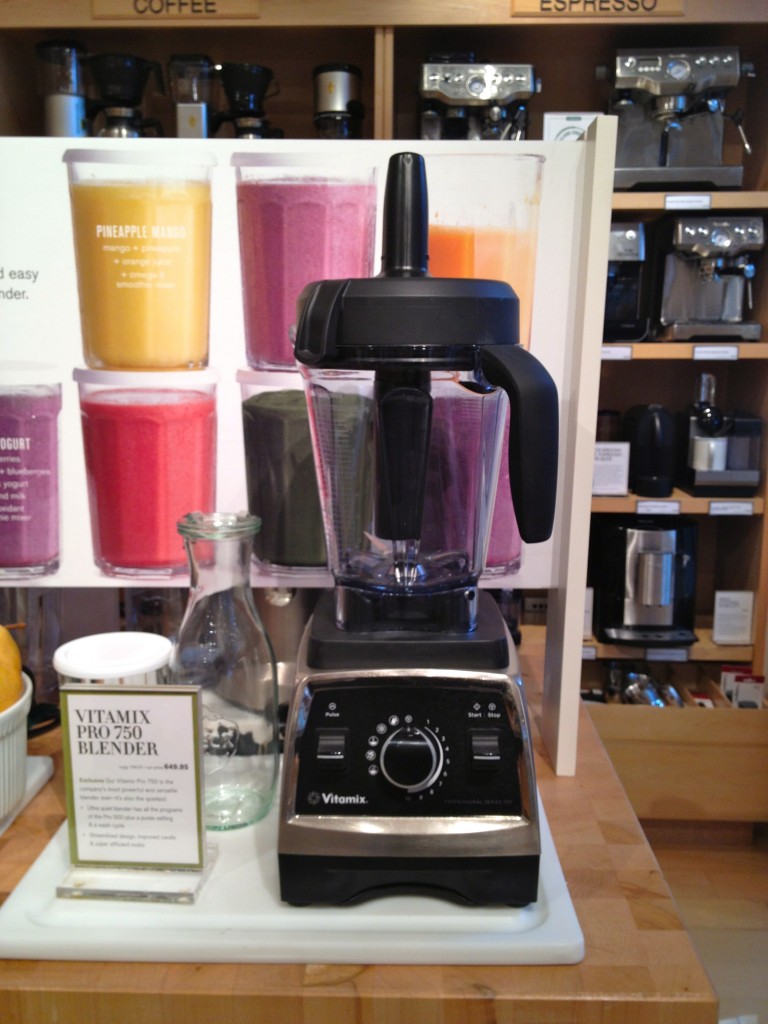 A VITAMIX.
Yes, that's right. The amazing blender I have had my eye on since I started this blog, probably before. It stared at me that day in Williams Sonoma like it was laughing at me saying you will never have me, I'm too expensive for you. And yes, I took a picture of it that day and frowned at home for a few hours. Well my incredible parents bought it for me. They bought me the best one out there too! I cannot even begin to describe my excitement about this. This baby can literally blend concrete. It is going to make the MOST AMAZING FLUFFS. Oh my gosh, I cannot wait to get it. It should be coming by the end of the day on Wednesday! 😀 😀 😀
Nothing will top the above for a good while…. Thank you Mom and Dad so much, yeah I cried a little after we hung up… 🙂 Your Minnie Pooh loves you guys so much!
My night pretty much was sleep, watch friends, eat. My appetite was back (yesterday morning it was not present at all), so I made this dinner.
I also had this trail mix bar.

The other day I bought a whole bunch of trail mix bars to try and test to see which one was my favorite. Why am I doing this? Well for two reasons. To let you guys know which is the best product out there (there are so many!), and because I plan on making my own. I need to find which parts I like from each bar and how I can get the most nutrition out of them. I will do a full review of all the bars in a few weeks once I eat each one!
I also had a double casein shake at night to make up for my calories. I ordered a new casein the other day and it should be arriving today as well as my Vitamix! Going to be a good package day.
I sent this picture to my best friend yesterday when I saw it on Facebook, I remember sending it to her last year too. I thought it was pretty cute….
Can you guys believe it is May 1st already? My pool opens up at my complex! Too bad it's cold and rainy. What a waste 🙁
Today has to be better. I can't keep this pattern up. The bad has to turn back into the good right?
Hopefully if I am feeling up to it, back day is in my future. We will see.
XOXO With a Cherry On Top,
-Minnie