Tuesday Research
Hi friends.
This morning I've been doing some wedding cake research. Tony and I got to play "wheel of cake" a few weeks ago and try all the flavors.
But now I'm trying to figure out what I want in a cake. I had an idea right from the start. NO FONDANT. I absolutely hate it. Yeah it makes everything look nice and pristine, but then you have to peel it off and it takes away half your frosting. No thanks. Trying to find a cake style without fondant has been a challenge. I am a classic kind of gal, but I don't want it to look like a child's birthday cake. Or something from 1970. And don't even get me started on this trend…
I cannot do the naked cake. I apologize if you had one at your wedding, or if you're super into them. I just cannot get with this trend because I'm a frosting gal. My BFF Sarah would pretty much disown me if she knew I wanted a naked cake. We've had lengthy discussions about it (I kid you not). She even told me she once told a bakery "I want an inch high of frosting". The end of that story? "Katie it was an inch high of frosting and the best cake I've ever had". Oh Sarah… 🙂
But anyways, I started searching for "Non fondant cakes" and here is what I came up with so far.
This is probably my top choice. It's simple and elegant and just pretty, right? Our wedding is all neutrals (creams, blushes, ivory's with a hint of burgundy).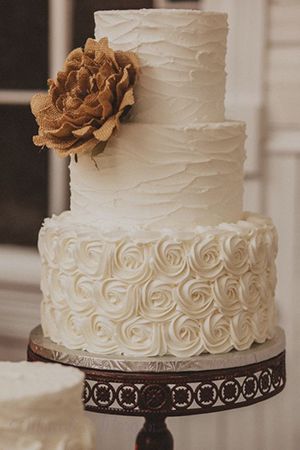 Without the big brown flower of course. I do love the rose pattern on the bottom to add a little something more to the otherwise ivory cake.
Going off of cake number one a bit, but with some ribbon and added design.
What do you guys think? Are you into the fondant? Or do you like a more traditional cake? Even if I went with fondant I wouldn't have any crazy design all over it. I like pretty and elegant. I guess in the end it doesn't matter, as long as it tastes good!
I'm also down to the "little things" of the wedding. Favors (yeah I have to get on that ASAP), picking music, bridal shower invites (well, I have to supply the list), possible bachelorette party stuff? I add a question mark there because I actually do not want a bachelorette party. I don't like going "OUT" on a regular day, but everyone says I have to have one, so I guess it'll be what I want it to be. More low-key and just spending time with my girlfriends. I'm not a drinker, I hate bars, and I'm really not the kind of bride to say I'm going out to celebrate my last days of being single. I never really understood that concept. I don't consider myself single now. I mean I guess I technically still check the box when you fill out some sort of application, but Tony is already my partner and other half. And besides, it's not like once you're married you can't have fun anymore. For instance tomorrow Tony is going to see Metallica in Baltimore. I will NOT be seeing Metallica. We have the kind of relationship where it's "go ahead, have fun! Don't do anything stupid, love you".  Last May I went down to South Carolina to watch our friends Hannah and Steve compete in a national bodybuilding show while Tony stayed home because of work. It's about trust, right? Of course our relationship isn't perfect, no ones is really, but we are happy and it works really well. Plus, our pups are pretty cute too 😉
I hope you have a great Tuesday. I'm off to cook some things and enjoy my day off.
XOXO,
Katie