Weekend Stress Disorder
Yay the weekend! Everyone's favorite time of the week! EXCEPT Minnie's!
What's that you say? You don't like weekends? Well yeah, I like weekends like other people do. Sleep a little later, no work, spend time with people you care about. That's all the great stuff. But, I am a type A personality. This means I like organization, I like routines, I like schedules, and I don't enjoy change at all.
Ya see. I like weekdays. I like my schedule. I like my morning coffee hour. And I like my regular gym schedule. Not to mention TV is so much better during the week! I live for Monday nights just to see how awkward Carson Daly can be on The Voice and what ridiculous outfit Christina Aguilera is wearing.
But weekends Phoebe and I do take our weekly trip to Pet Smart. And I really like that part 🙂
This day she had shots… I think I cried more than she did
The days that Phoebe has vet visits are the days she is treated like queen of all the puppies. Everyday really is like this, but I baby her a little more on vet days.
So today's recipe is for my furry friends out there! Cheesy Chicken Puppy Treats 
Phoebe just gobbles these up and they are good for your pup. Very easy to make too!
Today's gym session was not as intense as they normally are. Weekends I let up a bit so I can be mean and lean during the week. Plus I like to de-stress during the weekdays with longer/tougher workouts. I focused on back muscles today.
First, I started with 40 minutes straight on the arc trainer. I up my cardio on the weekends usually. But I have to say, after the first 30 seconds my legs were burning from that leg workout we did yesterday 🙂
Now onto back
Bent over rows using a barbell (40lbs). Take hands shoulder width apart and row the barbell into your belly button and back down (keep elbows in tight). 15 reps x 2 sets. Then move your hands wide for 15 reps x 2 sets
Rear fly's using the machine (40 lbs). This is the machine that you sit on and you straddle the seat, grabbing the handles that make your arms open and close like big wings. 10 reps x 4 sets
Seated rows (50lbs). This one almost looks like you are rowing in a canoe. 12 reps x 2 sets, then 10 reps x 2 sets
Lat pulldowns (machine using the long bar). Pull down to chest and back up. 12 reps x 4 sets
I finished with 10 more minutes of cardio, then my favorite side bends (20 reps x 2 sets each side) and some stretching.
As you can see, not real heavy on the strength training, but just enough! After all yesterday was a killer on those legs!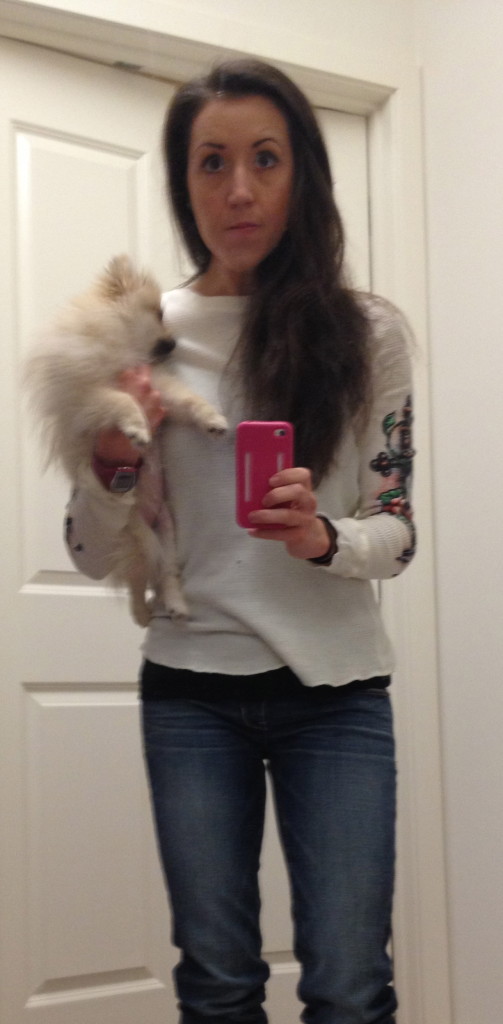 When I came home Phoebe and I played on the floor for a little while before Mommy started blogging…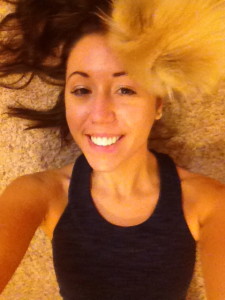 Still working on that before and after page. It'll be coming Monday or Tuesday. So check back!
XOXO With a Cherry On Top,
-Minnie