Weekend Update with Minnie and Phoebs
Hi gang!
Did you miss me? I missed you guys! I have to say writing is very therapeutic for me, even if it is silly updates about my day. It feels good to just sit at my computer sometimes. I've just been so busy I haven't had time to think straight.
So what have I been up to since I last updated? Let's take a look!
On Wednesday at work, I had a push up contest with one of the orthopedic surgeons. I was looking over patient labs when he said "I am so energized from my coffee I feel like I could do 100 push ups". Being the psycho gym rat that I am, I said "You wanna go?". And the whole office watched as we had a PA vs MD pushup contest. It was pretty awesome and the highlight of my stressful work week.
Actually we didn't keep track of how many we did. He was faster, but I was all about the form 😉
The next day he came in and said every Wednesday Katie, it's me and you! I guess Wednesdays are Pushup days now! It fit in with my gym flow anyway because Wednesdays I do chest and triceps.
I also reached the 30 day mark. 30 DAYS!? Holy moly! I'm terrified. Since it's crunch time I took whey and casein out of my diet completely. They are both milk products and I need all dairy completely out of my system in order to prevent any bloat. I also tried taking gum out last week, but I have had a few pieces here and there. As long as I don't have it the last week I think I will be okay.
As far as workouts go, I've been trying to switch things up and get in extra cardio with some pylometrics. One day it was super nice out in Maryland and there was a wonderful cool breeze so I took advantage of it. My gym has an outside "crossfit" type area, but I used the space to do this lower body workout.
TRY IT OUT! It'll make you sweat like crazy and you will definitely be sore.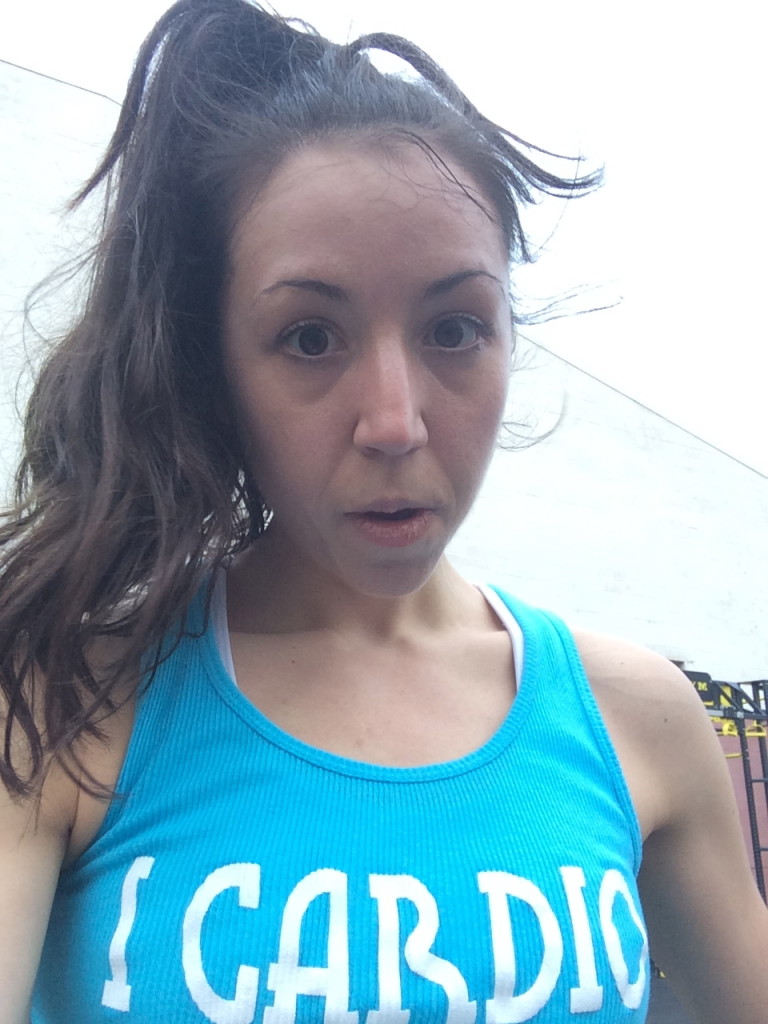 10 long stride jump squats (jump as far as you can forward into a squat)
10 burpees
10 jump squats
10 jump lunges each side
20 mountain climbers
10 single leg lateral jumps each side
10 tuck jumps
10 frog jumps
20 plank jacks
I took 5-10 second breaks in between each one, sometimes I went straight through. 4 rounds of the above with a 2 minute rest in between each round. It took me about 20 minutes to complete and I was breathing SUPER HEAVY!
I was also dirty… but whatever gets that crazy workout in!
My arms have been super pumped lately too. I wish I could say the same about my legs, everyone has their area though.
I posted this on Instagram. What I hide under scrubs. Picture only darkened to show muscle definition. Baby hulk over here.
My Phoebe has missed you guys too!
She was happy the weekend came so we could spend time together and snuggle.
Plus she was so excited to see Shelby, who was groomed like a cute little Teddy Bear yesterday! 🙂
I was so crazy busy yesterday, 2 workouts (I had to split it up with my schedule), but I did manage a manicure in there! I was running around all day long. I love my pretty nails. They remind me of New Years Eve meets Easter!
I rounded out my day using my Ice Cream Maker! Yes I bought one and I'm wondering what took me so darn long. All these years of dieting and I could've been eating ice cream. Since I can't have my casein treats I had to come up with something. I put this baby to use and have made a chocolate ice cream and a vanilla with stevia sweetened chocolate chips. This is just almond milk. How awesome 🙂
This also had rice cake pieces in it and a PB2 drizzle. I needed to up my carbs for the night!
If you want an ice cream maker, I bought this one:

Later today I head to the land of group posing class. I prefer private appointments with my coach, but practice has to be done!
Enjoy your weekend, enjoy gym time, and don't forget to take a selfie on your way out 🙂
XOXO With a Cherry On Top,
-Minnie