Welcome to the Neighborhood
Hi friends!
Well, we made it! We officially are staying in our new home and it's definitely had it's ups and downs. First of all let me start by saying thank you SO MUCH to all of our family and friends, and even my readers for the well wishes. It's a huge step and we are so grateful for the support.
So let's start back to our last night in the apartment. It seemed a little weird to sleep there only one more time, watching the apartment get more empty as each box went to the new house. Like Phoebe, I am also a creature of habit and felt like it was the last episode of Friends where everyone leaves a key on the counter. Let's not get me started on this episode… 
Anyway, we enjoyed the last night there and knew big things were ahead. I was a little jealous of what Tony had for dinner.
But look who he shared with 😉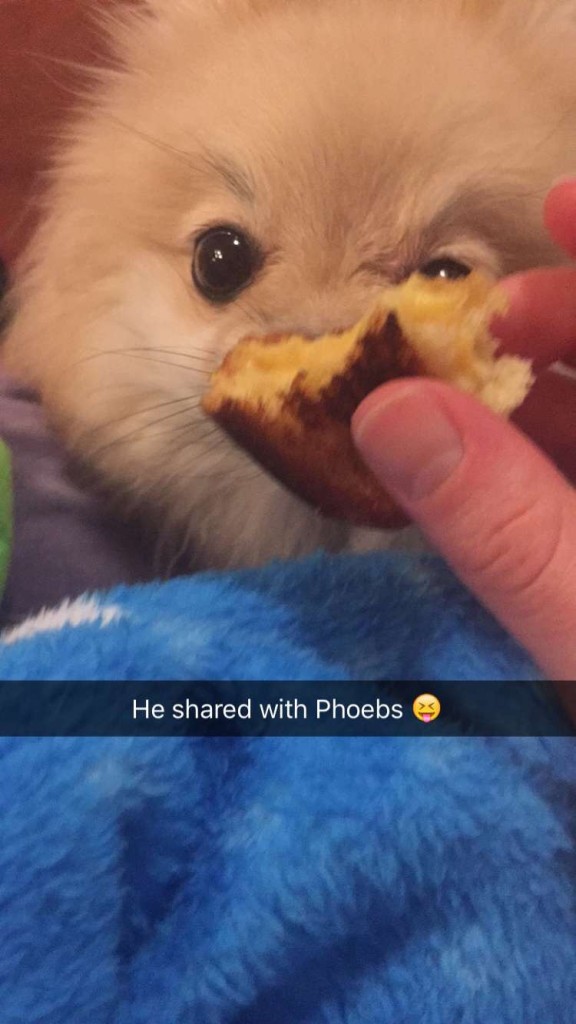 This little dog loves cheese more than any human out there. I mean can ya blame her?
So onto the subject EVERY ONE thought I was being ridiculous over. "You're worrying over nothing… Oh you're exaggerating… Oh she will be fine". PHOEBE.
She wasn't fine… in fact it was like being with a newborn baby for the first three days. She panted, she paced, she whined, and she cried for hours.
I know little Phoebs better than I know myself, and I knew she would have a hard time adjusting. Phoebe loves "home", well this wasn't home to her yet, but I know with time it will be. We are now on day 5 and she's a teeny bit better. She hasn't ever been alone in the house, and she won't be for a while. Luckily my parents are 5 minutes away now, so until Phoebe gets more comfortable she goes to G-mama and Pop Pops. I mean how AWESOME are my parents?
And how awesome is Tony? On Friday while all my delivery men came, he dropped Phoebe off at their house before work. I didn't want anything else to scare her so it was best she go there while I unpack everything. Even Shelby was worried about Phoebe. She saw she was sad so Shelby let Phoebe snuggle her favorite toy, dirty dog. Shelby never shares dirty dog and I couldn't help but get all weepy when G Mama sent me the picture. Tell me dogs don't have emotions and I will argue with you like a presidential debate!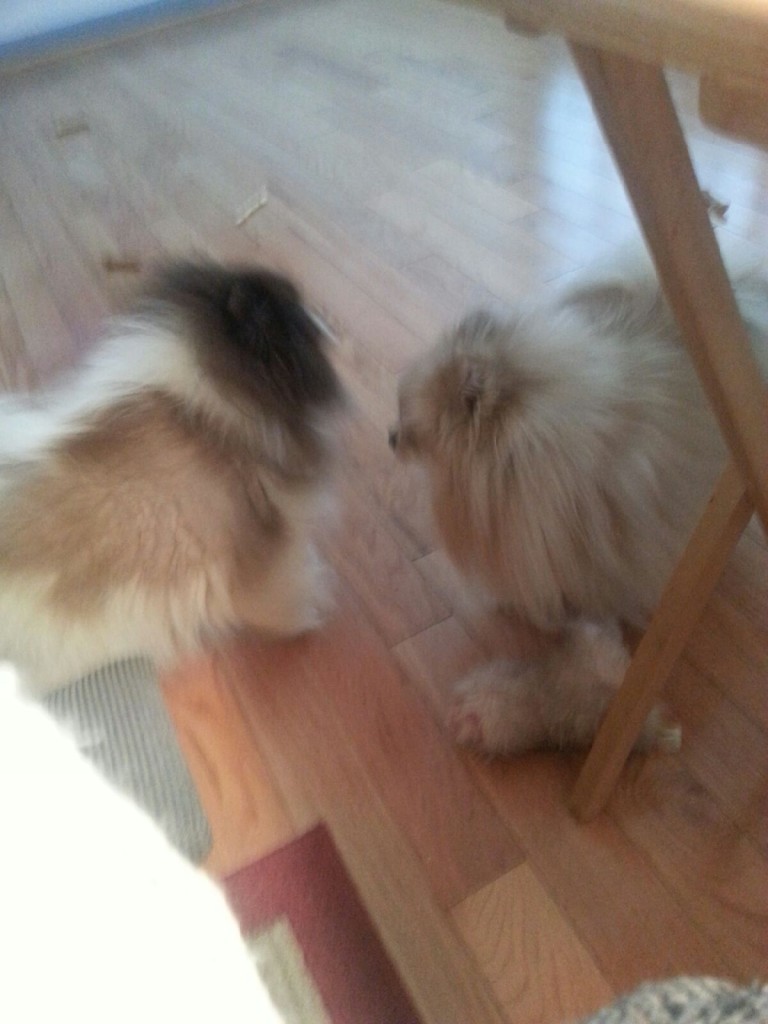 Back at home, I did enjoy my first cup of coffee on our deck and it felt really good.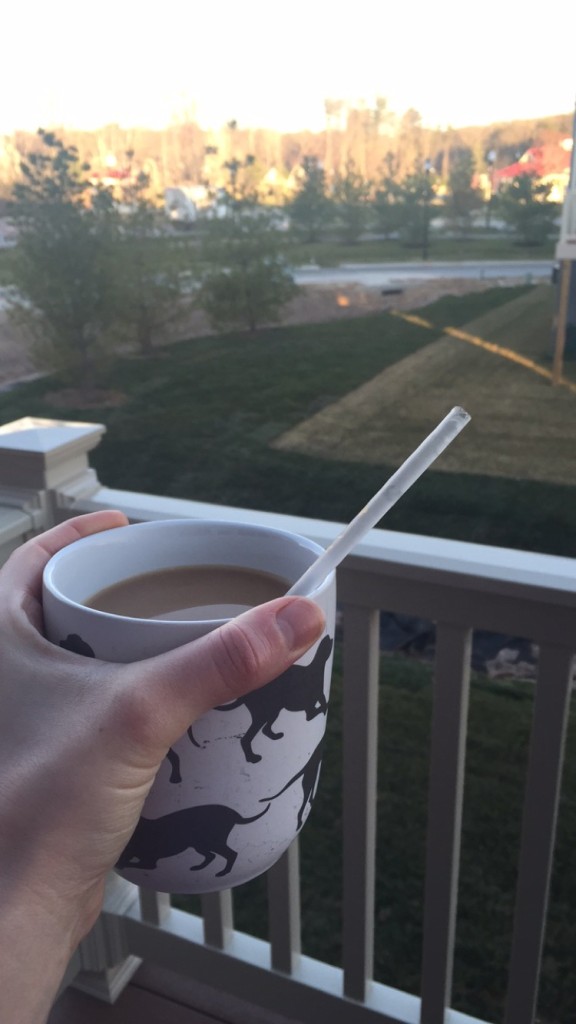 Friday was crazy busy, but Tony's mom and my Dad were a tremendous help as I learned how to be a housewife for the first time. There are things I wouldn't even think about, but they were both there to teach me things I should and shouldn't do. What a relief to have people through this process.
I think my favorite part of the whole new home thing was being able to do my first meal prep in the new kitchen. Of course I was a tad OVERBOARD about not making a mess, but it was the first meal prep in ages that I thoroughly enjoyed and did not dread on Sunday night.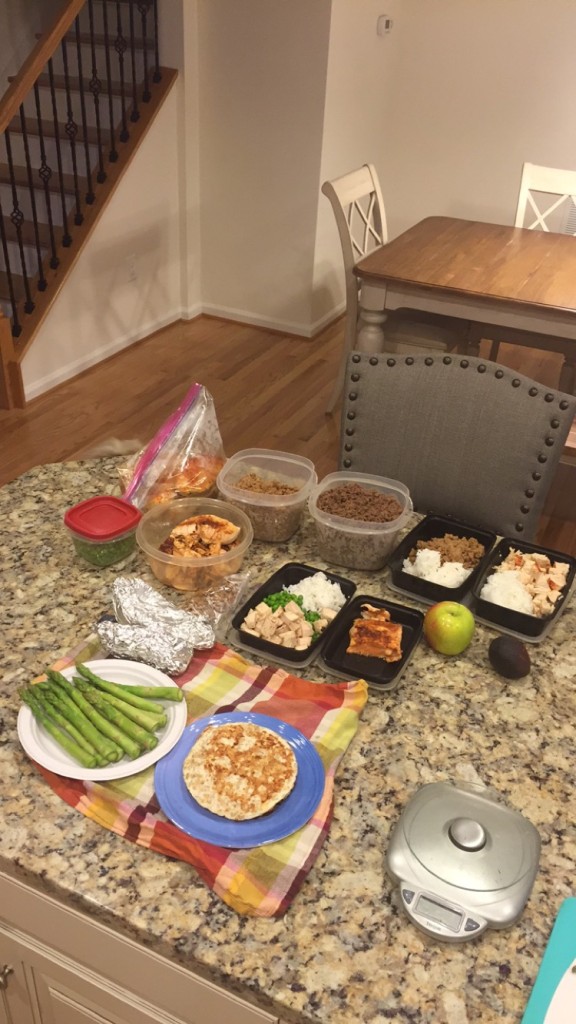 For those interested, I keep it pretty basic for the work week. Healthy eating is not a secret. Anyone that keeps their diet to themselves in a lock box is just trying to make you think they have something you don't. Guess what folks, I guarantee we are all eating similar things. There's no magic pill or certain ingredient to give them an edge. Of course portions are different, but that's about it!
In the picture from the top left corner:
 Phoebe tail.. (do you see it!? I JUST noticed her little fluff peeking out) 😉
Chicken breast
93/7 Ground Turkey
Lean Ground Beef- for Tony, I'm not a fan of ground beef. 
Tony's two work meals
Organic Sweet Peas (probably my new favorite veggie)
Salmon
My two work meals, I also add a small avocado and an apple to my chicken lunch meal because sometimes that's the only meal I'll get throughout the day so I make it a big one.
Sweet potatoes with extra virgin olive oil (in the foil)
Asparagus
Protein pancakes
For spices, we don't take away salt. I learned that the hard way during my preps. I rarely use Mrs. Dash anymore and stick to flavored Weber spices I like instead. On the chicken is garlic sriracha and it's our favorite! The ground turkey I did a light taco style seasoning adding onion and garlic powder, chili powder, cumin, and fennel seed. For Tony's ground beef we usually stick to basic onion powder, pepper, and garlic salt.
This weekend wasn't all moving. We went to the Gladiator on Saturday night. The first NPC Bodybuilding show of the year.
Of COURSE the Gladiator holds a special place in my heart. It was my entire world last year, as you all know I prepped in secret. Little did I know, the universe had different plans for me and that show was the start of my relationship with Tony.
Two hungry people about to fall in love. I can't help but smile every time I look at this picture. I vaguely remember anything regarding the stage or the show. That silly sword is still sitting in dust over at the apartment. What I remember is Tony surprising me with a bag of my favorite candies, and how he was probably a nervous fool hanging out with me for the first time. 😉 Tony has always been a little shy and I love him for that.
ANYWAY now that I've day dreamed off into memory lane we did have a good time at the show! We sat with our friend Steve who is in prep right now too.
Watch out for this guy Pittsburgh! He's going to knock it out of the park. I made sure I was off that day so Tony and I could go support Steve. Big things for him 🙂
The show was great. It was especially fun to watch their new category "Classic Physique". I don't have pictures of those athletes but basically it's in between bodybuilding and physique. You can see Sadik (IFBB pro) doing a pose here.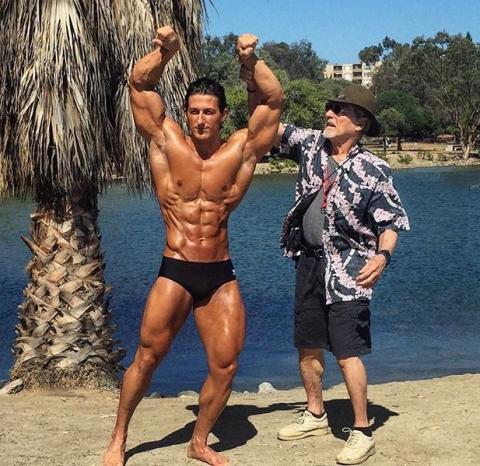 After the show, in true bodybuilder tradition, we went to Abbey Burger. Our favorite burger place in Baltimore. Tony gets SERIOUS at Abbey. Sleeves rolled up, no napkins, burger never goes back on the plate once you pick it up.
But anyway, we had a busy filled weekend, and each day there's more stuff to do around here, but I love it all. As we speak, Phoebe is next to me and I think she's had enough of the blog room for now, so we are probably going to go on a walk. She does love the neighborhood!
I hope everyone has a fabulous Tuesday. I'll be back tomorrow.
XOXO With a Cherry On Top,
-Minnie