What Are Heavy Things, Alex?
The answer to that question is this picture post, and my legs!
I have a very picture heavy post for you today because I want to show the things I did!
And well, my legs are heavy because it was leg day… yikes!  We will get to that soon.
I did return to the land of Wegmans today, after a frightening first experience that ended in tears on the way out because it was so crowded, I was hungry, and well I wasted 45 minutes trying to find a parking spot.
Today was MUCH better, and I finally understand the hype! My best friend, DiPeppe told me to try again and she was right! For those of you who do not have a Wegmans, it's pretty much a large grocery store meets a Costco. They have things in bulk, a lot of good prices, and many organic and health products I frequently buy at off the wall stores. So I was pleasantly surprised when I found some of my tofu shreds and other fun finds.
And I was kind of feeling my outfit today. Super comfy, yet stylish
Let me show you some of the things I puchased!
I spotted these beauties the second I walked in the store. Gorgeous colorful cauliflower! I've always wanted to try these. I see it on food network all the time, and I eat cauliflower a lot, but I've never seen it in stores. I grabbed some purple and yellow/orange.
I did a little research when I got home and the yellow/orange cauliflower has 25 times the amount of Vitamin A that regular white cauliflower does! WOW! And the purple kind is loaded with antioxidants. So if you see the colors buy 'em! (They taste the same)
Radicchio! This is my favorite part of the spring mix. So I was lucky to find whole heads of it and super fresh. It has a bitter spicy taste that I just love.
New hummus flavors! I know what you're thinking.. I am betraying the other brand I love so much. HOWEVER, I am a Maryland girl, and how could I say no to a hummus made with Old Bay!? I tried it, and it's fabulous. Tastes like a creamy crab dip- vegetarian friendly. (And I ended up dropping the Asian flavor on the floor, bummer 🙁 )
Some berries. These actually looked good. They will be in my oatmeal in the AM
Some busy bones for Phoebs and Shelbs. I REALLY hope they keep Phoebe busy!
And before we get to my next purchases… let me explain!
Are you ever in the store looking at something and a little voice in your head says "Really? What could you possibly need that for, you have enough, or stop buying things just to buy them" Well I saw these things and told that voice to shut up!
Adorable new coffee mugs!
More ornaments! I especially love the one in the center (skinny jeans). I thought it was fitting. Plus they were on clearance. So hey it was a deal!
I went to G-Mama's today and she was cooking
And she also made some great pork chops. These also smelled divine, but again, veggie over here 🙂
Don't forget the taters! I helped mash. An extra little arm workout 😉
Speaking of whipping things together… I have a wonderful HOMEMADE recipe for you today that will wow you… Homemade Almond Butter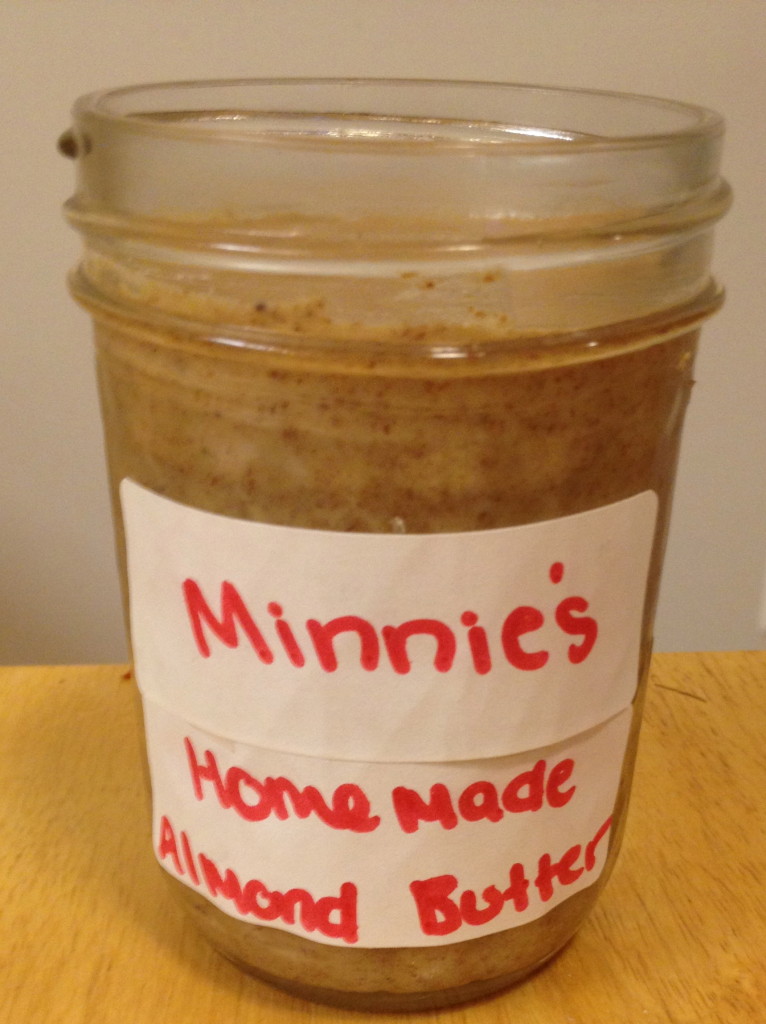 All you need is some patience and you will have the best tasting almond butter you have ever had. You will not believe the difference in a freshly made product. I had to stop myself from eating a lot of it!
So back to the heavy… my legs! Wow they felt like Jell-O after I was finished at the gym.
I started with old Mr. Stairmaster. I decided to change things up a bit today, instead of regular up and down, wide, and side steps, I SKIPPED A STEP. Okay, first let me say I didn't think this was possible. Not only is it extremely scary when you first do it, but I'm only 5'2", my limbs are short! I really had to stretch my legs to do this, but wow did I get a workout! I skipped the steps narrow and then wide. Make sure when you do this you are using your legs and core to help you up. Don't pull up by your arms or it won't be as effective. My heart was racing and I definitely was sweating when I finished!
I then went on to leg exercises. I used a bar with weights on the end to do squats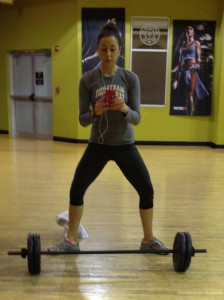 You want the bar on the meaty part of your shoulders/shoulder blades. Be careful with your neck!
44lbs regular stance squats. 15 reps x 2 sets
44lbs plie squats. 15 reps x 2 sets. Pulse for 10 at the end of each set
Deep squats with NO weight. These squats are focused on control and strength. You want to sit back as low as you can, really squeezing on the down and up. 20 reps x 2 sets
Next I went on to lunges. I held plates in each hand that were 5.5lbs.
Alternating lunges. 20 reps x 2 sets
Lunges stepping the same leg back each time. 15 reps x 2 sets each leg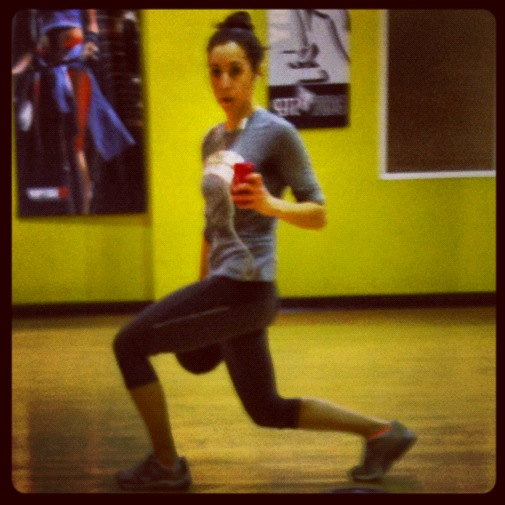 I then did some mat work with a 5 lb kettleball on my foot!
Lay on one side, hips aligned. Do leg lifts. 15 reps x 2 sets each leg. Pulse for 8 at the end of each set!
I then kept my position and kicked my leg behind me (leg straight). It won't go very far. Don't arch your back! 10 reps x 2 sets each side
I always finish legs with my calf muscles. I used this machine today: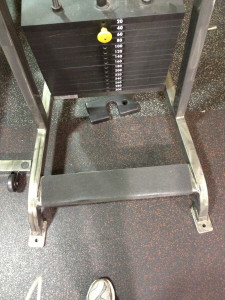 I did 80 lbs both legs. 15 reps x 2 sets
Then 40lbs one leg at a time. 15 reps x 1 set each leg
And what did I do to finish this killer workout? 10 more stairmaster minutes. I need a couch ASAP
When I came home I roasted some of that pretty cauliflower!
And also had a Peanut Butter Banana Parfait. So good!
Empty glass 😉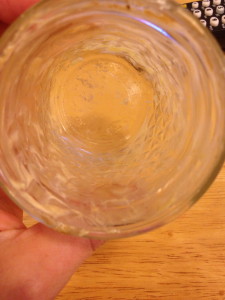 Here comes the weekend!
XOXO With a Cherry On Top,
-Minnie