25 Things
Happy Saturday. My favorite part of US Weekly is a section they do with celebrities called "25 Things You Don't Know About Me". I thought I would do my own version of it. Enjoy!
I spend anywhere from 3-10 bucks daily in coffee
I never go anywhere now without a lint roller because of Miss Buffay and her shedding issues
I forgive but I NEVER forget
I love when people tell me I smell good
Besides my family, I basically have 2 friends, DiPeppe (BFF) and Alexis. Up until a few months ago it was one friend, and then I met Alexis at the gym
I still sleep with my baby blankets
If I could only have one condiment for the rest of my life it would be the awesome orange/duck sauce from PF Changs. Seriously I could bathe in it.
I hate when people tell me no, and I absolutely LOVE making it a yes and proving people wrong
I love a sappy love ballad over a fast beat track any day
I ate dog food as a kid and the story still haunts me to this day…
Speaking of dogs, If I didn't have Phoebe, I'd get a miniature French Bulldog. I like the black and white ones!
I have endometriosis, a very painful condition where the lining of the uterus grows on the outside of the organ and invades other tissues in the body. It's the reason why I often say I am "sick" on my blog
My favorite Justin Timberlake song is probably no one else's favorite. Chop Me Up
The best vacation I had was a time I went to Disney World with my parents, sister, and our boyfriends. I was 18. Her boyfriend is now her husband, mine is um… NOT!
If I'm upset about something or anxious, I sleep in my recliner in the living room and not my bed
My top teeth are fake
Sometimes I wish Facebook never existed
As I kid I really couldn't talk until I was about 6 and went through speech therapy and I thank my mom so much for sticking to her guns on that one 🙂
They say live without regrets, I have regrets
Thanks to texting, I can go a day or 2 without saying a word
If I wasn't a PA, I'd be a teacher and also teach aerobics during the summers
I don't really understand tattoos, there is nothing I'd want on my body forever
I have a terrible doctors signature
I buy my mom the US weekly and People every Friday
I thought Grey's Anatomy was a joke with soap opera drama until I started working in a hospital
Number 12 was a first for me admitting to. But it's something I've never addressed. I plan to discuss it a little more in the future. Baby steps!
Now that I have given you fun facts about me… here is what we've missed these past couple of days.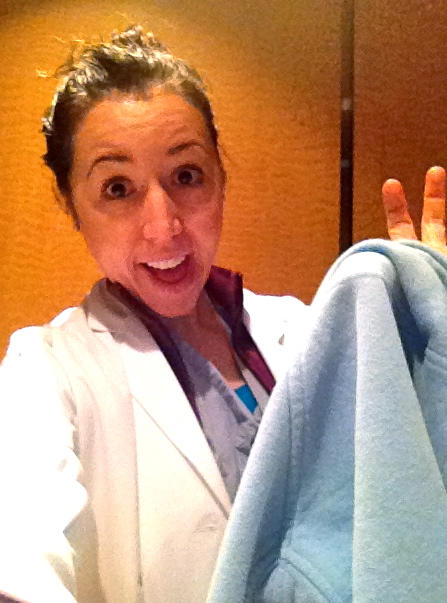 I lost one of my favorite zip ups at work and finally found it on a floor I rarely go to. My YAY! face
I went to the gym yesterday and did a pretty solid back day. 30 minutes on the stair master too.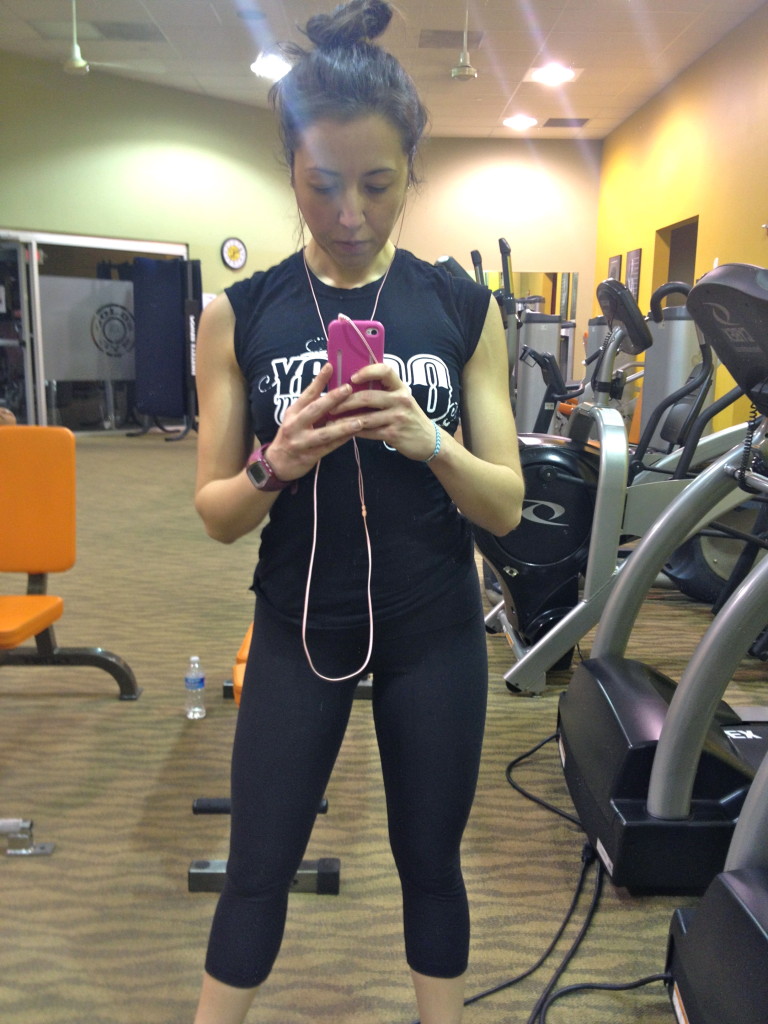 I think the women's gym has a skinny mirror by the way…
Here was my workout:
Single leg dead lifts, 15 lb kettle in hand, 10 reps x 4 sets each leg
Good Mornings with 50 lb barbell, 15 reps x 4 sets
Barbell rows, 50 lbs, 12 reps x 4 sets
Dead lifts, 135 lbs, 10 reps x 4 sets
Lat pulldowns with 30 lb barbell, 12 reps x 3 sets
Assisted pullups, 10-12 reps x 4 sets
Rear delt flys, 20 lb weights, 12 reps x 4 sets
Reverse booty pikes, 12 reps x 4 sets
Kettle bell rows, 25 lbs, 12 reps x 4 sets
Side bends, 25 lb weight, 10 reps x 3 sets each side
No muffin top here!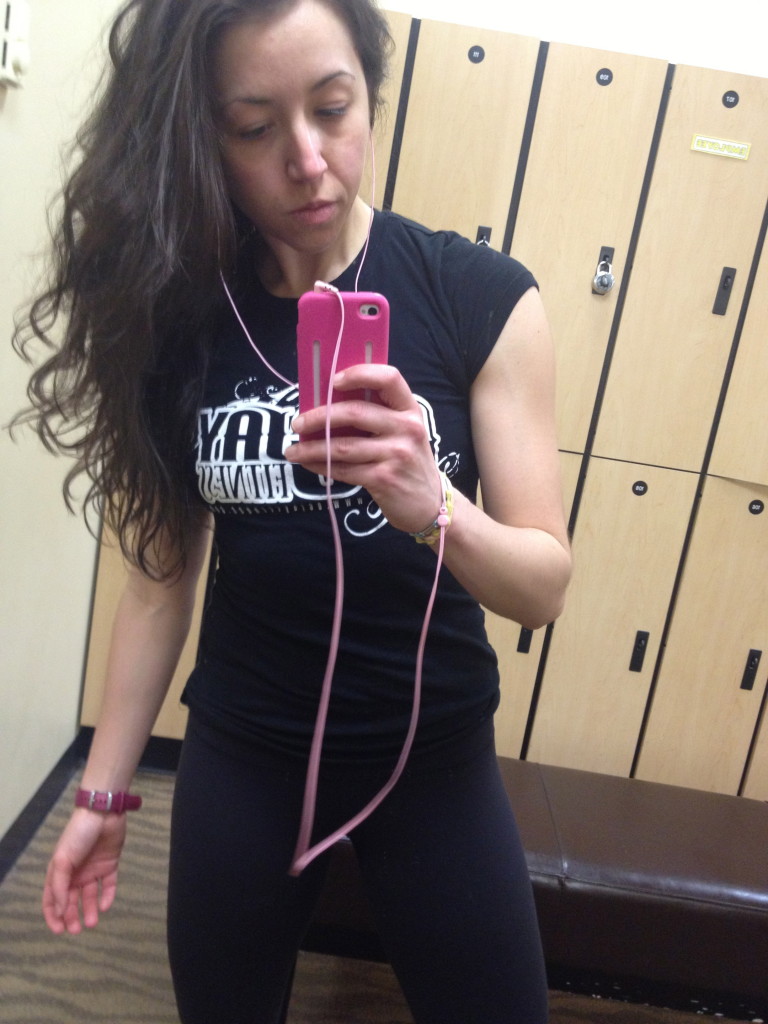 What my hair looks like when I take it down after a workout.. a MESS!
I finally brought Phoebe home too. She was happy to snuggle with mama.
Hitting shoulders today! Do these for your booty workout:
40 bosu squats
50 booty bridges
60 Machine glute kick backs (30 each leg)
40 Weighted Plie Squats with pulses
Have a great day 🙂
XOXO With a Cherry On Top,
-Minnie