I like a Sale!
Happy Sunday! I'm excited this week because it's a short work week. Thanksgiving is Thursday, which means I only work Monday through Wednesday. I know many of you are off on Friday as well so yay for us! If you are working this holiday, a BIG thanks goes out to all of you for doing what you do. Whether you are a doctor, nurse, PA, chef, fire fighter, police officer, or in the service, thank you for keeping the community safe and working on the holiday! A lot of my PA friends work holidays, but I am grateful to have a job where I can be off. Those residents come in handy don't they? 😉
Moving on. Yesterday I woke up feeling proud. In case you missed it, I posted my first cooking show on You Tube. It is a big milestone for me and I'm pretty excited that it turned out nice.
I loved the recipe so much I had another FlexBowl for breakfast yesterday morning.
So delicious and SUPER filling. I wasn't hungry again until much later.
After inhaling, I switched into my gym attire and rocked some new socks! These are the same brand featured in my give away! Don't forget to enter, you have until tonight 🙂
After dropping Phoebe off at my parents house, I  hit a back and shoulder combo day. Time FLEW because I tried new equipment I hadn't before.
My cardio consisted of HIIT on 2 different machines. 20 minutes on the arc trainer and 20 minutes on the step mill. I did intervals 1 minute fast/sprint, one minute normal pace. Boy do I sweat much more than steady state cardio. Plus I burned 50 more calories on the step mill than I usually do. So try HIIT guys, it works!
Here was my lift:
T bar rows- LOVE this piece of equipment. I never used it before. It kills the back and shoulders and makes me feel like a beast! I did 6 sets of 10-12 using 25-35 lbs. 3 sets were a narrow grip, 3 were a wide grip. Don't be afraid of this one. I've only seen guys use it, so I never would touch it, but it's amazing!
Source
Smith Shoulder Shrugs, 120 lbs, 10 reps x 4 sets
Smith Shoulder Press, 40 lbs, 10 reps x 4 sets
Cable Face Pulls, 50-60 lbs, 10 reps x 4 sets
Cable Upright Rows, 50-60 lbs, 10 reps x 3 sets
Rear Delt Fly- machine, 50-55 lbs, 12 reps x 3 sets
Straight arm Lateral Raises, 10 lb weights, 12 reps x 4 sets
Plate Front Raise, 25 lbs, 10 reps x 3 sets
Bent over single arm row using plate, 25 lbs, 8 reps x 3 sets each arm *love these*
Cable lat pulldown, 50 lbs, 10 reps x 3 sets
Bent arm lateral delt raise, 25 lb weights, 10 reps x 3 sets
Single Arm Linear Jammer using this guy…
I was also afraid of this one, only saw men using it. But I will try anything. I added one 5 lb plate to make 50. Here is how it looks when someone is doing the exercise.
Okay his pants are a little tighter than mine… 😉
Source 
You push up and down almost like a shoulder press.
I did 4 sets of 10 on each arm. WOW these burn! Try 'em out!
Okay yes, I am sore right now even as I type this…
But the hard work is worth it to me! Plus ya know.. I love my vein <3
After a good stretch, I hit the road and stopped in Marshall's. I was on the hunt for some housewares at a reasonable price and BOY OH BOY did I find some! In fact, I could've bought out the place because it was really good quality. All glass and porcelain items. I'm not a fan of plastic cookware at all. It doesn't look as nice.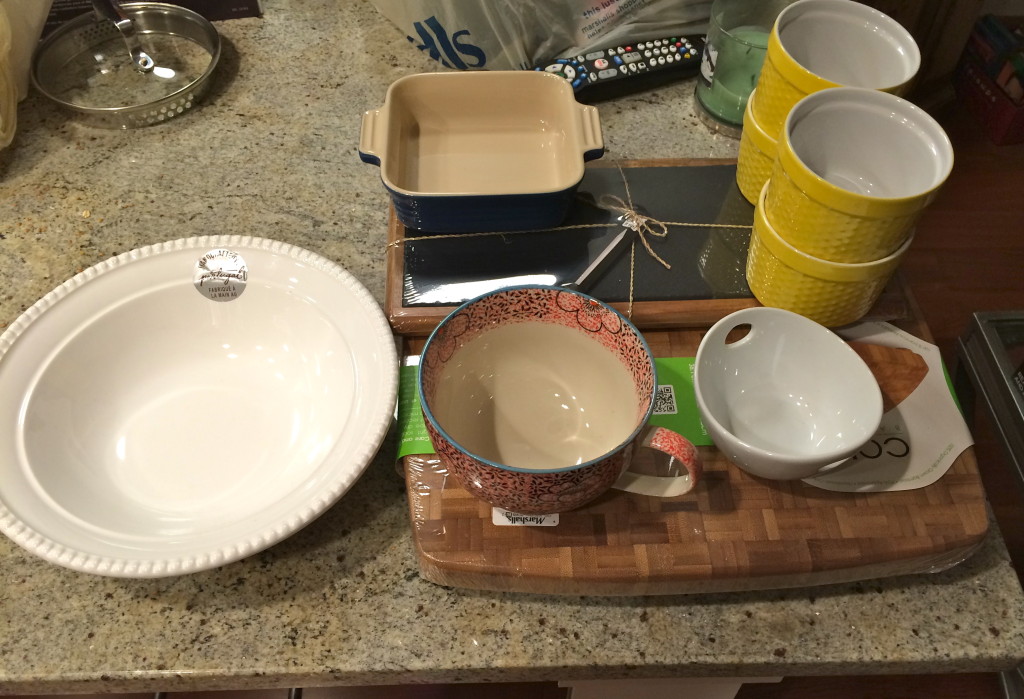 I really am in love with the pearl edged white bowl. So pretty and classic. Also in there? A serving platter with a slate for writing in chalk. This was actually on my Christmas wish list, but when I saw it in the store I snatched it up! Amazon has it for over $30, I purchased for $12.99! Most of the items you see were between $1.99 and $7.99. Major win for the kitchen.
I also finally got a new coffee pot. This isn't from Marshall's, it was from Kohl's and came in the mail today. My old one leaked like crazy and I held a rag to the bottom of it… whoops! I just love the look of this one. Very cute and retro! Plus the color is amazing.
Also on sale from Kohl's, my foodie necklace. Perfect for the food blogger in me 🙂
My night ended with blogging and preparing for my next video. I just had so much fun doing it, so many more are on the way. Phoebe slept.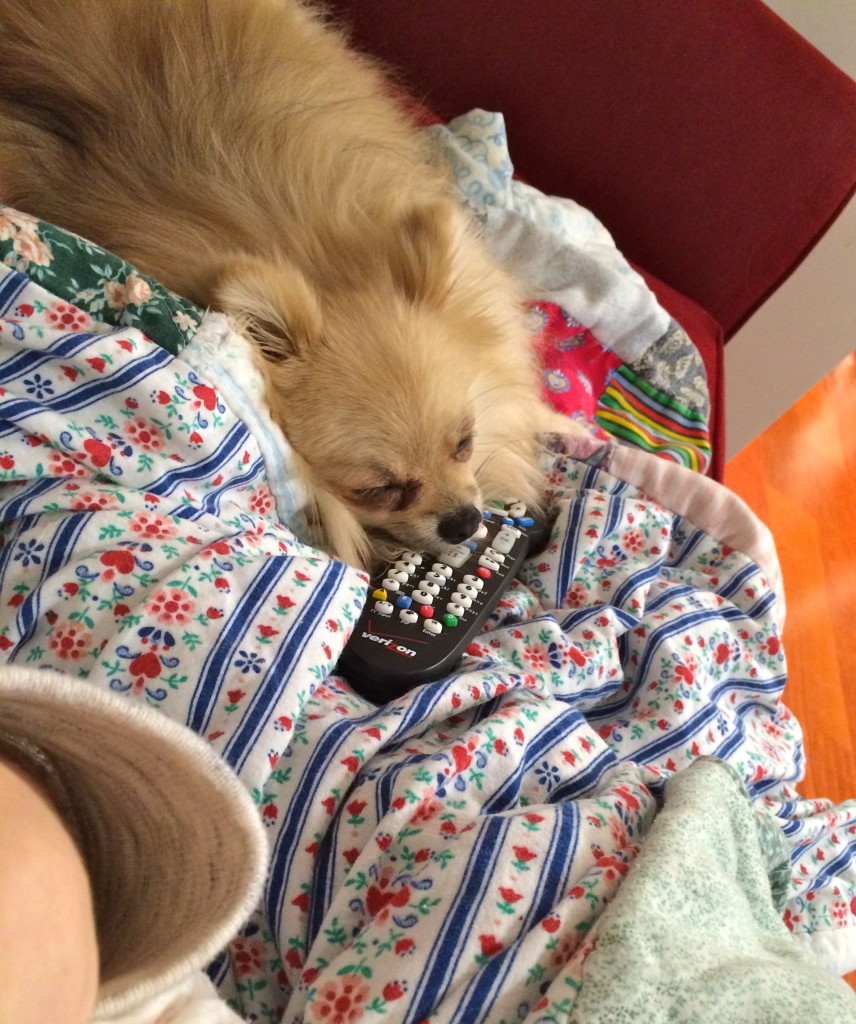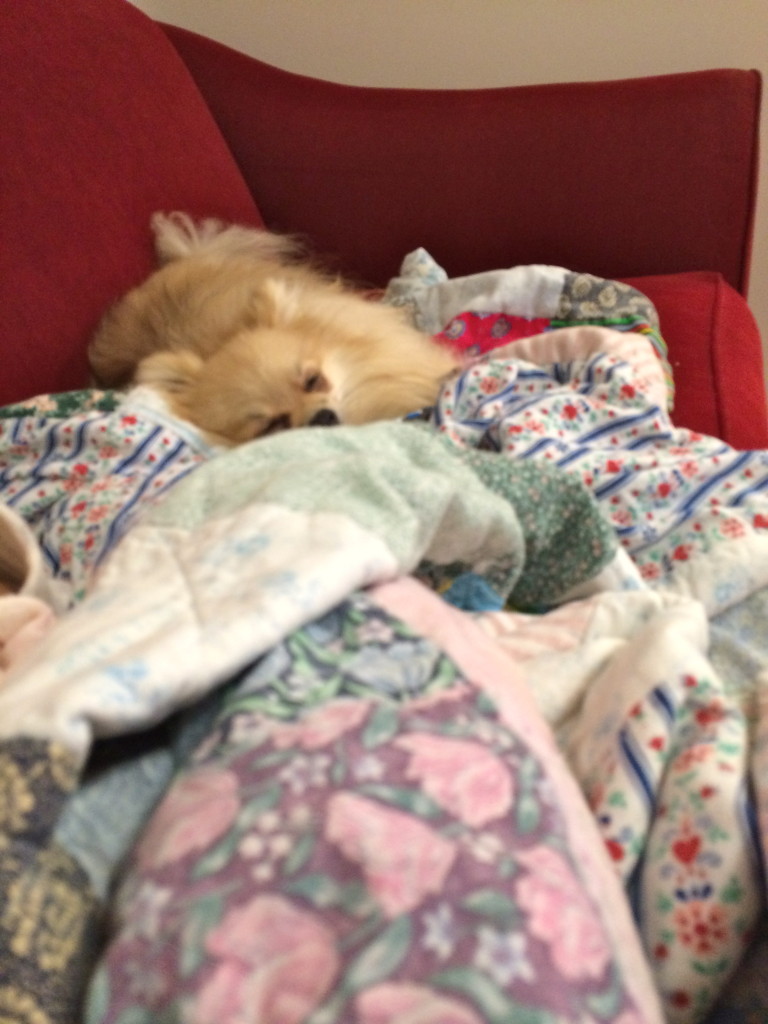 Have a great day and hey we only have to meal prep for 3 days this week! 🙂
XOXO With a Cherry On Top,
-Minnie