Not to Pull a Jodie Foster But…
Welcome to Wednesday again. It's not Friday, but it's better than Monday right? That's how I look at it!
Yesterday was a mixed bag of emotions for me. At one point I was really happy and in a good mood, then I felt sick, then happy again, then I was extremely angry, then in the evening a bit melancholy. Oh being a woman…
The morning started with my cottage cheese and jam
And a LARGE coffee 🙂
The morning went super fast. I was actually able to sit down and have lunch with some of the residents! It was nice!
In the afternoon I was pulled to the OR. I was super excited! But I started to have a headache right before I went in. By the time the case was almost over I felt full blown nausea again. I don't know what is going on! Maybe I have some sort of bug? Not sure. And before I get asked this question again, NO bun in the oven, promise!
Luckily by the time 4:30 rolled around I was feeling better and changed for the gym. Look at my new tank! Obsessed.
I did a back routine along with 30 minutes of cardio (15 arc trainer, 15 elliptical)
Back:
Low cable back rows (narrow), 70 lbs 12 reps x 1 set, 80 lbs 12 reps x 2 sets, then 90 lbs 12 reps x 1 set
Underhand lat pulldowns, 40 lbs, 15 reps x 3 sets, then 50 lbs, 10 reps x 1 set
Lat pulldowns behind neck, 40 lbs, 12 reps x 3 sets, then 50 lbs, 10 reps x 1 set
Wide low rows/mini squeeze with 20 lb kettles each hand, 12 reps x 4 sets
Back extensions using the stand and a 25 lb plate, 10 reps x 4 sets
Light dead lifts with 35 lb kettle bell. Bend over, flat back, legs straight, hold kettle bell with both hands, mini pulses up working the low back. 10 pulses x 4 sets
Lat pulldowns with single handle grips (cables), 45 lbs, 12 reps x 2 sets, then alternating singles, 16 reps x 2 sets
Sexy backs all around 🙂
I finished with bosu pushups and then alternated with some squats on the bosu just to loosen up my legs!
So why was I so angry? Well because you could barely move in my gym yesterday. I'm really glad I get creative with my workouts and can adapt easily because all the machines are taken! There was no way I was getting a stairmaster, I refuse to wait around! I also refuse to leave, so I just make do!
When I came home Phoebe was so happy to see me!
We made Skinny Deviled Eggs!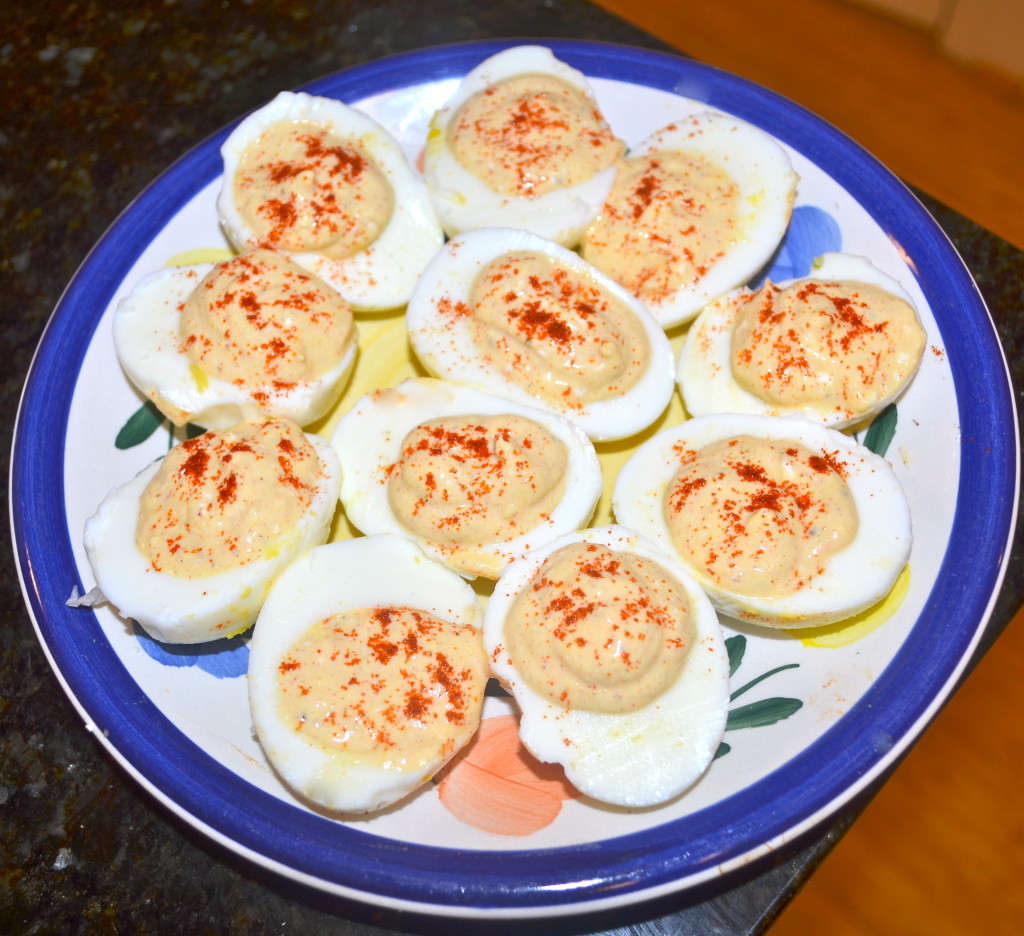 This appetizer has 65 calories per serving (2 pieces), 1.3 grams of fat, 1.5 grams of carbs, and 11.6 grams of protein! Protein packed!
I also had some leftover Muffin Truffles in my freezer that I thawed and added some Xylitol to (hey X for Xyltiol!) I needed a sweet pick me up 🙂
I have to end today's blog with a quick mention about my Facebook accounts. I realize I share about 80% of my life with my readers and the world, but there are certain things I choose not to share. This is just because I want to keep certain things private, which I'm sure you guys understand! Sorry for pulling a Jodie Foster about privacy 😉
While I am so flattered by the friend requests to my personal Facebook account, I like to keep this account separate from my blog life. I do post my blog on my personal account for friends to take a peek at, but I think I will end doing that as well and keep all blog related things on my SkinnyMinnieMoves Facebook page. So if you want to talk to me on Facebook you can contact me there! I update it everyday. Thanks so much 🙂
XOXO With a Cherry On Top,
-Minnie