Pilates and Positive People
Good morning/afternoon/evening 🙂 Happy St. Patrick's Day! If you are out celebrating, I ask you to be careful! And if you drink (I do not) and down lots of calories, keep reading below and try this class I did to burn it off!
Yesterday, I woke up to my normal coffee and blogging, my favorite part of the day by far. I'm also on a smoothie/protein shake kick. It's seriously like having a milkshake for breakfast if you do it right! This one was chocolatey!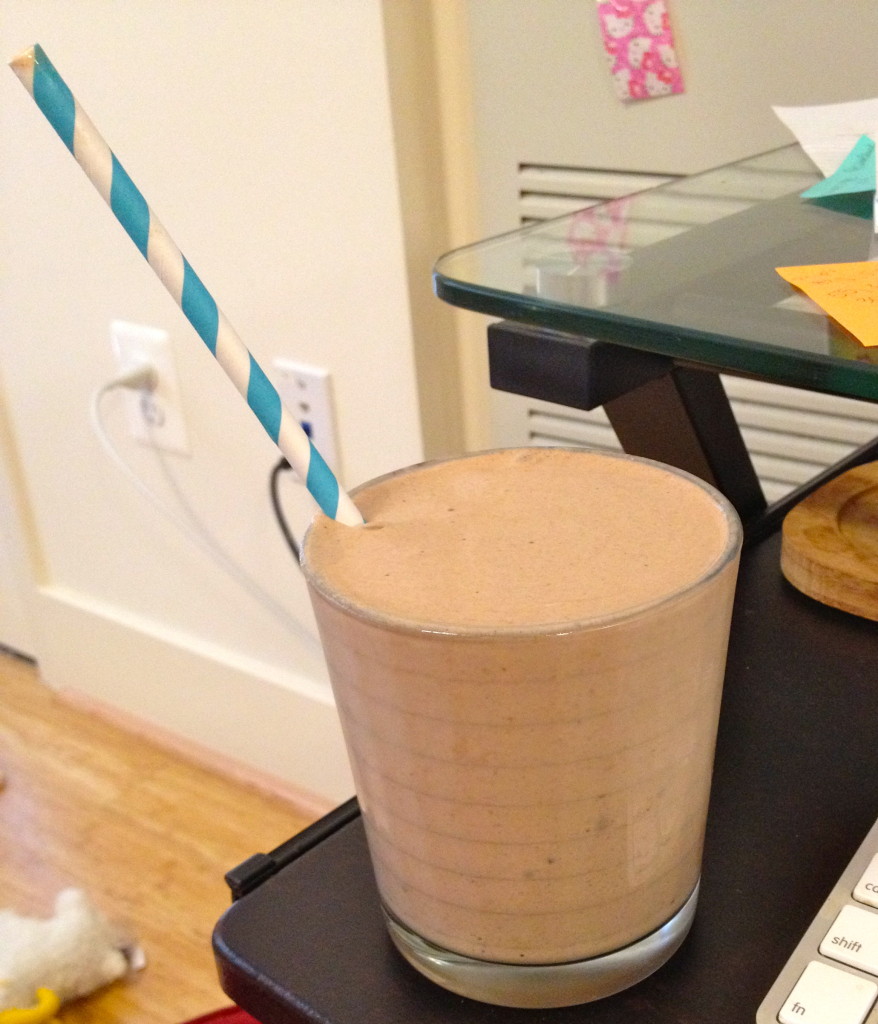 It's 1 frozen banana, 1 cup of unsweetened almond milk, 1 scoop of chocolate protein powder, a little extra cacao powder, and 1 Tablespoon of PB2 powder (regular). Yummy chocolate milkshake!!!!
After downing my shake I headed to the Pilates studio. It's been a while since I had been there. I've been focusing on my lifting, plus I couldn't exactly afford the reformer classes in between jobs and then trying to catch back up on bills. I did a level 2/3 reformer class then a Barre class. Let me tell you the Barre class was killer! If you want a booty/hip workout go find one of these classes. I walked out and my butt was on fire! I know I'm going to feel it tomorrow. (And abs from pilates class). It's also really good to switch it up and challenge your body so you don't plateau. If you are not familiar with barre class, I did a review when it was first introduced to the studio I go to, so check that out!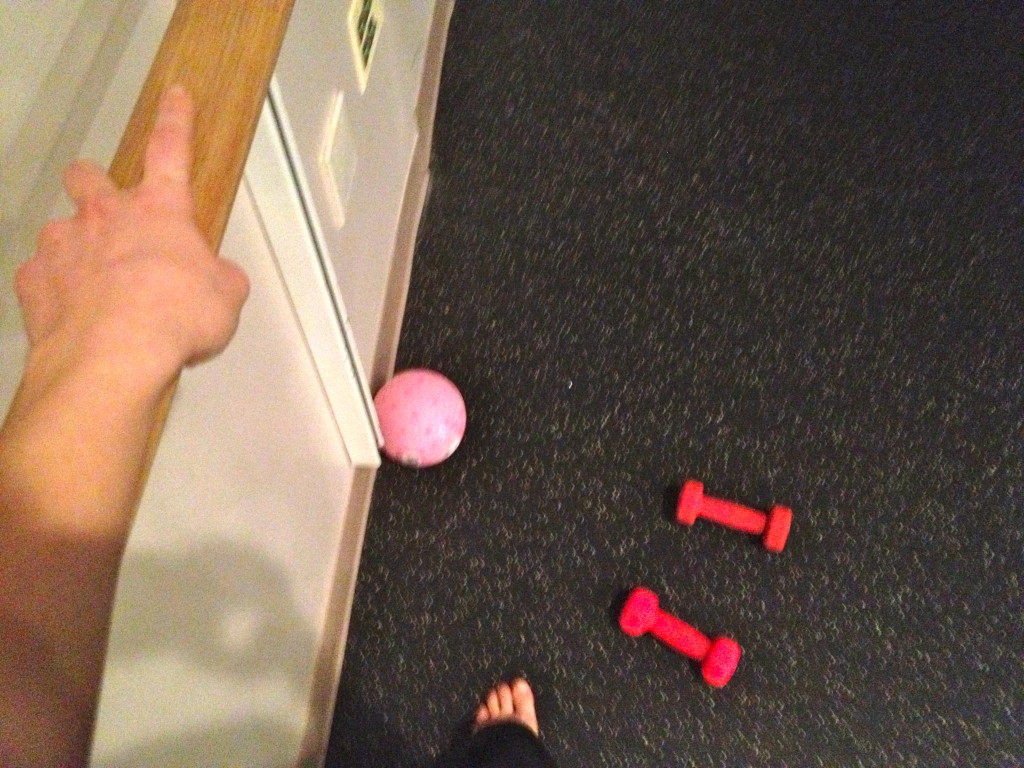 I went back to pick up my girl and was starving! I downed an ezekiel english muffin (cinnamon raisin-yum) with a laughing cow strawberry cream cheese spread. Pretty darn good!
I also had some fruit and other stuff I grabbed out of the cabinet before heading to G-Mama's. As I was gathering my things I was telling Phoebe to stop pulling at my my laundry, well she decided she was going to ignore that and help herself…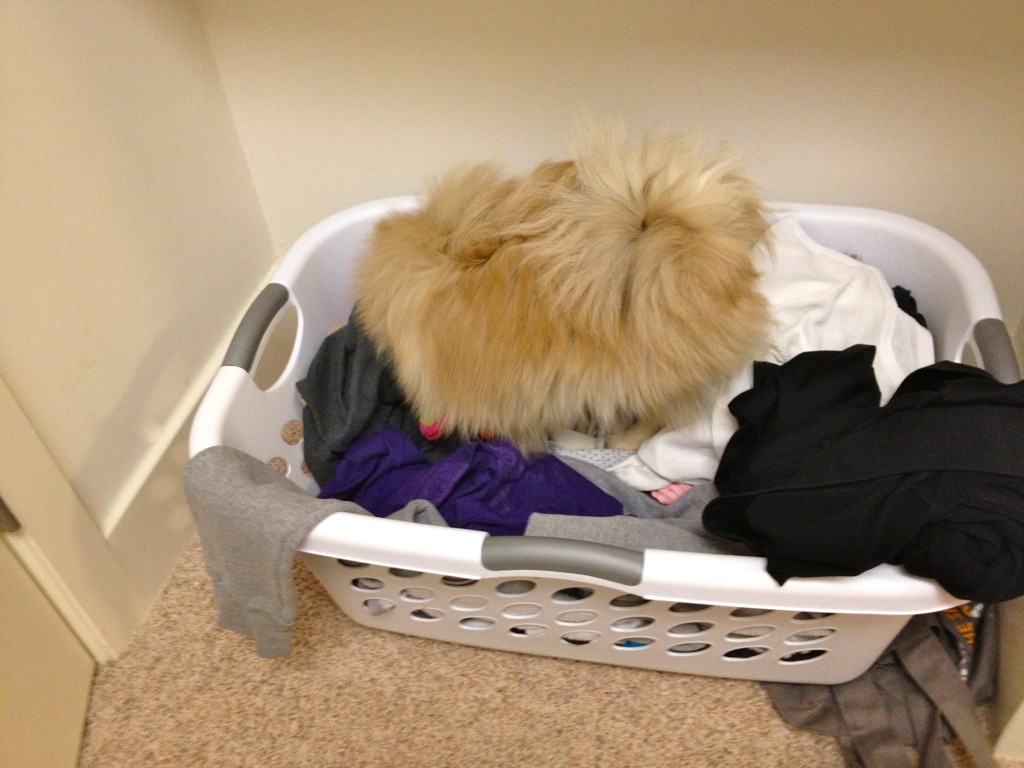 Luckily I had my camera near because I was taking this post-pilates/barre picture because I was burning!
We finally made it to G-Mama and Pop Pop's and I fell asleep. Typical. I can't help it! I just feel so comfortable there and when I close my eyes I drift off.
We went back home after a while and I made dinner and did some laundry. I'm also working on a few recipes and unfortunately I don't have one for today, but I will tomorrow!
—— Transition here (sorry this blog is awful choppy today)
Did you watch Justin Timberlake on Jimmy Fallon all week? If you missed it, Youtube some of the skits and interviews. Even if you are not a JT music fan (don't tell me if you're not) you will appreciate the comedy. All week long I seriously laughed until my cheeks ached. Jimmy and Justin together are comedic gold. You can tell they are really good friends. They just feed off of each other. As I said before, I love comedy like that. It just happens, rather than forced or planned. I'm actually really sad this week is over, as is Jimmy!
————–
I want to finish today with a couple things. This is not a rant, more "clearing the air". I need you guys to know I do not post every single thing I eat. What I post are different things to give you guys an idea of snacks you can have or mini meals. The negative comments, I don't do. Anything negative will be deleted. This blog is meant to be a positive place! I've never once posted on here that I barely eat and then spend hours and hours in the gym. If you would like to e-mail me, you may do so, but please keep it friendly or I won't even bother to respond. In other words, save the drama for your mama! 🙂
But big thanks to all the people who follow and enjoy reading my blog, and have said positive things along the way! It means a lot and I'm constantly thinking of things my readers would like to see! I love writing this blog and a few people that come by and say negative things will never stop me from continuing!
XOXO With a Cherry On Top,
-Minnie