That's More Like It!
The weekend is back. I'm sure you all are as happy as I am!
Yesterday it felt so good to have a nice relaxing Friday off since the day before was pretty much a buzz kill. I slept in, went to G-Mama's with Phoebs, went to the gym, and did some light grocery shopping (my idea of light anyway). That's more like it!
I started the morning off with a smoothie/protein shake using my cookies and cream protein powder
Ingredients for this guy: 1 scoop of cookies and cream protein powder, 1 cup unsweetened almond milk, 1/2 cup of plain greek yogurt (makes it thick), and ice. A little under 200 calories! But this glass didn't hold it all, so the glass I'm holding is probably around 120 cals 🙂
Phoebe and I finished some things up around the apartment and then headed to G-Mama's. She cried the whole way there she was just too excited! I enjoyed the sunshine and nice weather. Love driving on sunny days
My snack/lunch consisted of egg whites, corn cakes with jam and a teeny bit of almond butter, and then carrots with dips! I had some hummus and my favorite trader joe's spicy black bean. Mmmmm
I brought one of my newer almond butter packets with me and let me tell you I GAGGED! Never ever ever my dear friends buy phytoplankton almond butter. It sounds weird I know, but let's face it, I like to try new and different healthy foods. It was supposed to be a "super food" almond butter. Well it was one of the worst tasting things I've ever had. Plus it was this awful green color and looked like baby poo. Yuck
After snacks and chatting with my mom, off to the gym I went for shoulder day! I was there a while to make up for lost time 🙂
I started with a strength training warmup:
Kettle bell swings with 25 lbs, both arms- 20 reps x 3 sets

Plank on forearms for 30 seconds
Kettle bell swings single arms with 25 lbs, 10 reps x 2 sets each side
Plank on palms for 30 seconds
Lateral single delt cable raises 20 lbs, 10 reps x 4 sets each arm
Then I hit the elliptical for 30 minutes!
Back to shoulders I went:
upright rows 20 lbs each hand, 12 reps x 4 sets

rear delt fly's 20 lbs each hand, 15 reps x 4 sets
rotator cuff open and close, 20 lbs each hand, 12 reps x 4 sets
seated shoulder press (sitting on stability ball), 15 lbs, 15 reps x 2 sets, then 12 reps x 2 sets with 4 pulses at the end of the sets
Cross punches with 15 lb weights, 12 reps x 2 sets
Shoulder hinges with 8 lb kettles (hold kettle balls up, elbows bent, knuckles face each other. Open your arms to straight and bend back together). 8 reps x 3 sets
Standing military press with 20 lb bar, 15 reps x 3 sets
Front raise with 25 lb plate, 10 reps x 4 sets
Standing shoulder press with 25 plate, 10 reps x 4 sets
Shoulder shrugs 35 lbs each hand, 12 reps x 4 sets
Wow those shoulders!
I hit the arc trainer for 10 minutes too
And also did some minor leg work which included bosu squats, plie squats, and these stability ball lunges- 8 reps x 2 sets each leg
Finished with 10 minutes on the stairs and nice LONG stretching. Felt good!
At home I made some Strawberry Balsamic Vinaigrette (my favorite homemade dressing) and used it on a strawberry salad
And I FINALLY ate that Mini Minnie Lasagna. And let me tell you I'm glad I waited for a time I was actually hungry because it was fabulous! I took off the string cheese and used a Light Babybel I bought at the store earlier. Melted much better.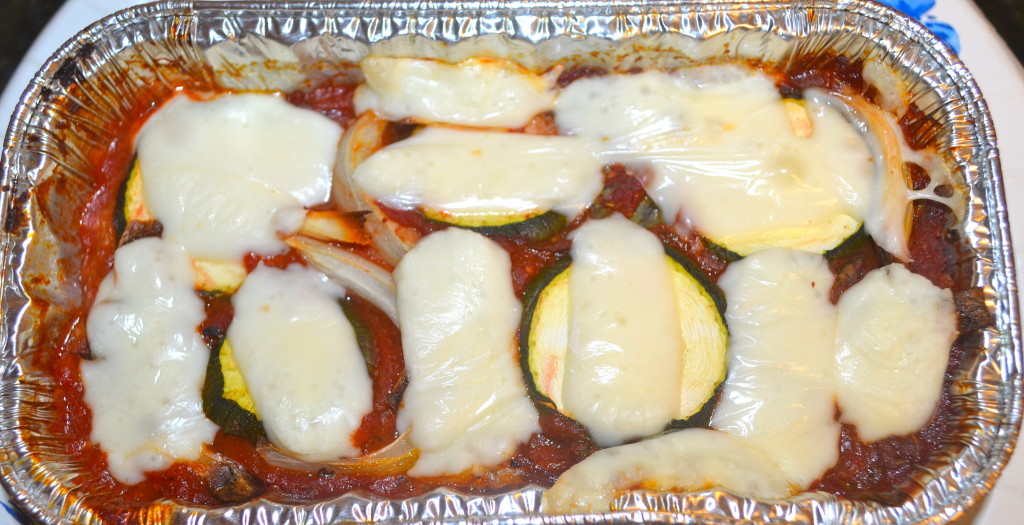 And since it was a success, it's the recipe of the day! So click away at that picture 🙂
My night ended with laziness. I planned on making a few recipes and doing some laundry, but I'm still exhausted, hopefully one more night of sleep will do me good!
Enjoy your Saturday! (Love saying this)
XOXO With a Cherry On Top,
-Minnie