The Stairmaster Will Have Your Soul
Good Morning/Afternoon/Evening! Whenever you read my blog. And thank you by the way! I'm always shocked each day that so many people are reading this and look forward to reading it everyday. I really expected it to be my mom and dad only. So thank you so much 🙂 Especially my Instagram followers! (username SkinnyMinnieMoves). You guys are always SO sweet and supportive! I love updating it daily.
Morning update: I am Fit Bloggers featured fitness blogger of the day! Check me out here: FIT BLOGGER
Anyway, in case you missed Tuesday's blog, I wore my heart rate monitor for almost 24 hours straight and burned 2,465 calories! I was happy to ditch it, but it was a fun experiment!
Yesterday was a decent day at work, nothing too crazy and I had a fabulous lunch
The day always zooms by after lunch and I love changing for the gym!
I hit the stairmaster for… wait for it folks. 62 MINUTES! Yes you read correctly, an hour and 2 minutes straight. Do I recommend doing this all the time? Absolutely not. Did it feel amazing when I finished? YES! Although I looked like I jumped in a swimming pool. People were staring… But it could have been because I maxed the machine out. I SPRINTED up this machine at 162 steps per minute (not the whole time of course). That's as fast as it'll go. My "normal" speed is 111 steps/min which is fast anyway, but I've been doing the stairmaster for a year now and anything below this is too slow.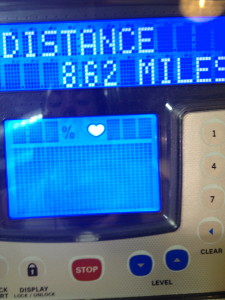 That 2 minute cool down matters!
Here is a little outline for those that want to do the stairmaster routine I do (I'll do 20 minutes and you can repeat as needed if you do it for longer)
3 minute warmup
2 minute faster speed, stepping wide
2 minute side stepping to the right
1 minute normal step
2 minute side stepping to the left
1 minute normal step
3 minute normal step alternating with 20-30 second sprints (I like to pick a song and sprint on the chorus!)
1 minute skip steps normal stance (slow machine down here)
1 minute skip steps wide stance
1 minute skip steps normal stance
1 minute stepping normal without holding on
1 minute faster speed alternating normal stance step and wide (I usually do a 4 count of normal, 4 count of wide, repeat)
1 minute faster speed step holding over the top of the machine
2 minute cool down!
That's 20 minutes + the 2 minute cool down. Pretty great workout. And variety helps make the time go by faster!
After my power hour this is what I looked like…
I am posting these pictures to show you guys you don't need to look pretty in the gym! I am not there to impress, I am there to do a job! Real beasts sweat it out!
And as if I wasn't crazy enough, I decided to end with squats on the Smith Machine! 4 sets of 12, with 60 lbs added to the bar, then Plie squats, 4 sets of 12 with 80 added lbs.
Of course I stretched too! I NEEDED IT!
I think a part of my soul was left on the stairmaster today. I definitely left my mark. I hope I get it back soon!
I felt so accomplished when I left. But also super gross
I walked out without my coat on. Couldn't bear to put it on! I needed a cold breeze to hit me
When I came home I made a yummy dinner, JUMBO shrimp, (J for Jumbo!), zucchini, peppers, and peach salsa on the side.
I also took some beautiful Phoebe pics while I worked on a new recipe! Valentines Day is tomorrow! So I wanted to bring you something SWEET and festive!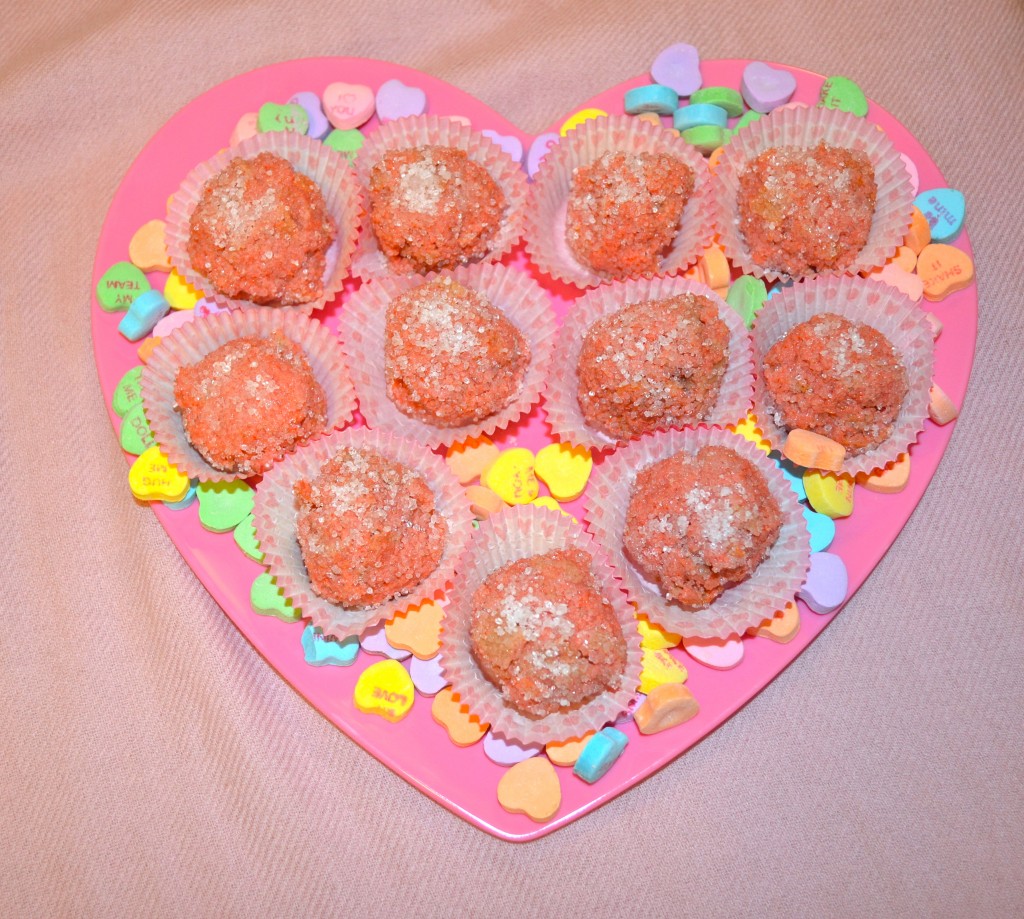 These little beauties are Minnie's Muffin Truffles! I am actually super proud of them. Just one is only 27 calories and a half gram of fat! WOW!
When you click the recipe, the step by step instructions are so easy, but the appearance of them along the way might make you think twice. DON'T! They are so tasty! And of course figure friendly! I'm not going to do all that work on the stairmaster and then blow it am I? Of course not! PLUS they are made using a J- food (I doubled up!) J for Jell-O 😉
Here are the pics of my girl!
Phoebe really is the happiest little dog. Too bad she has an attitude on her! 😉
Hope you have a wonderful Wednesday! And remember to SWEAT IT OUT!
XOXO With a Cherry On Top,
-Minnie